Deck:
How merchant funding is remaking the rules for renewables.
Author Bio:
Bruce W. Radford is publisher of Public Utilities Fortnightly.
Six weeks ago, FERC opened a notice of inquiry to invite industry comments on whether wind, solar, and other intermittent energy sources face unfair obstacles in wholesale power markets.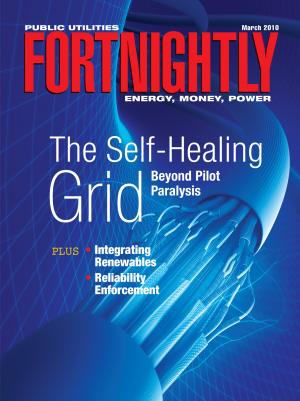 Now assigned their own acronym—VERs, for "variable energy resources"—renewables make up a growing percentage of the nation's energy supply portfolio. But as FERC notes, they present "unique challenges," especially in terms of constraints on location and limits on the degree to which system operators can control or dispatch individual VER units. Thus, FERC suggests that certain common rules and practices, such as those for unit commitment, dispatch, and scheduling, might make it overly difficult to integrate VERs into the grid.
To give VERs a stronger footing, FERC has asked the industry to comment on a string of ideas:
• Generation Forecasting. Can grid operators devise and then perhaps share improvements in the data sampling and forecasting of outages and meteorological conditions for wind and solar resource performance?
• Unit Scheduling. Would shorter intervals (intra-hour scheduling) reduce reliance on costly regulation reserves to manage variability in gen unit output?
• Day-Ahead Markets. Intermittent resources famously tend to avoid bidding in regional DAMs, electing instead to self-schedule supply (as a price taker) in real-time markets. Can operators alter DAM design to attract bids from VERs?
• Reliability Commitment. Should grid operators juice up the day-ahead reliability commitment by introducing intra-day assessments, or even sandwich a third market auction between DAM and real-time bidding?
• Balancing Areas. Would operational coordination or virtual combinations among smaller balancing areas achieve economies by expanding the geographic diversity of location-constrained wind and solar arrays?
• Ancillary Services. Create another category of service for VERs to reduce their over-reliance on expensive regulation reserves to maintain reliability during ramping (powering up)?
• Capacity Markets. Should the regions with RTO-sponsored capacity markets boost VERs' thin participation by relaxing the typical requirement that capacity bidders also must offer supply in day-ahead markets? (See, Docket No. RM10-11, Jan. 21, 2010, 130 FERC ¶61,053.)
These ideas appear perfectly logical and, as the solutions center largely on technical and engineering fixes, rather than political collaboration, they should prove perfectly doable over the long haul.
Meanwhile, however, there remains another, more fundamental factor that also affects the integration of variable resources— the growing participation of private (non-utility) money in the renewable infrastructure.
Recall that FERC's twin tenets of electric restructuring—unbundling and open access—stem directly from the assumption that infrastructure funding comes from utilities: "monopoly" money raised from captive customers. Under this assumption, the industry needs open access to protect itself from market power. But merchant money behaves differently from monopoly money. Merchant money craves certainty. It's more uncompromising, yet also twitchy and nervous.
Does merchant-funded infrastructure also require open access as protection from market power?
Virtual Open Access
In late January, SunZia Transmission LLC and the various owners of the SunZia Southwest Transmission Project (www.sunzia.net) petitioned the FERC for a declaratory ruling that, if granted, will further erode FERC's commitment to unbundling and open-access principles in the renewable energy sector.
In short, the project sponsors have asked the commission to descend a bit further down the slippery slope that FERC first announced a year ago in the now famous Chinook case. That's when FERC allowed power line developers to set aside a 50-percent share of future line capacity for the exclusive use of an unnamed "anchor tenant" in the interest of helping with upfront construction funding. That ruling meant that 50 percent of line transmission rights would be handed out privately to well-heeled investors, outside of any open season solicitation, or any other sort of open-access allocation process. (See Chinook Pwr. Trans., Docket Nos. ER09-432, 433 Feb. 19, 2009, 126 FERC ¶61,134.)
In this new case, however, the "anchor" would weigh a tad more. SunZia project sponsors have asked FERC to sign off on an 80-percent private allocation of transmission rights to owner-anchors, outside of any direct open season allocations process. What's left for open access now?
At this date, the SunZia project remains somewhat in flux. As currently proposed, the transmission line would run about 460 miles through the desert Southwest, potentially linking otherwise stranded renewable resources in New Mexico and Arizona with California markets.
Two possible configurations are in play: a) two single-circuit 500-kV AC transmission lines, with 3,000 MW total capacity; or b) if justified by higher market demand, a hybrid plan that includes a single 500-kV AC line, coupled with a 500-kV bipolar DC line, comprising 4,500 MW capacity.
The project ownership structure also is a bit atypical, featuring a mix of merchant investors and traditional, regulated, load-serving utilities, both publicly supported and investor-owned. At present, SunZia boasts three distinct tenants-in-common: Salt River Project (a 13-percent total project ownership share), Tri-State G&T (1 percent), and SunZIA Transmission LLC, whose members are SouthWestern Power Group (40 percent), Shell Windenergy Inc. (5 percent), Tucson Electric Power (1 percent), and ECP SunZia (40 percent), which is wholly owned by the Energy Capital Partners investment funds.
The merchant owners would take on all investment risk (to the extent of their shares) and seek to charge negotiated rates, while the utility owners would offer their line capacity shares pursuant to their FERC transmission tariffs (OATT) already on file. Nevertheless, the project already has been vetted through various regional transmission planning regimes, such as SWAT (the Southwest Area Transmission Subregional Planning Group), and reportedly is coordinating its plans with RETA (the New Mexico Renewable Energy Transmission Authority), as well as the state utility commissions in Arizona and New Mexico. (See Petition for Declaratory Order, FERC Docket EL10-39, filed Jan. 29, 2010.)
But to justify taking 80 percent of project capacity out of play, the project sponsors have come up with a clever argument—an open season not for signing up actual transmission rights, but rather an open season for the right to invest.
From the very beginning in 2006, Southwest Power Group (SWPG), the project manager for the SunZia line, has been busy courting potential investor-owners, conducting meetings in the Phoenix area and emailing notices to various parties active in transmission and generating planning and development. SunZia reports that by mid-January 2007, SWPG had received at least 16 formal responses indicating interest in participating in the project as owners or investors.
In essence, then, the SunZia case presents FERC with a novel and fascinating issue. If a transmission project developer invites any and all to sign on as investors or owners, is it then OK to turn all grid rights over to the participants, carte blanche, and dispense with rules that otherwise would dictate an open-access allocation of the line's physical capacity?
Getting Clipped
The effects of injecting more private merchant money into renewable energy also can be seen at smaller levels. Consider the experience of the small power developer, Clipper Windpower.
Having already proposed the 400-MW Concepcion II wind project for La Rumorosa in Mexico's Baja California, to produce renewable wind power for export to the U.S. California market, Clipper reported late in 2009 that it had decided regretfully to withdraw the project from the interconnection queue at the California ISO, simply because it felt it no longer could justify the financial risk of having to pledge a $7.5 million letter of credit, as required by CAISO rules.
In point of fact, Clipper had second thoughts about the project when CAISO completed its preliminary Phase I system impact study and notified Clipper that the Baja project would require some $538 million in grid network upgrades to make the renewable capacity deliverable to California markets on a firm basis. Compare that cost—$1,345/kW—with the Lawrence Berkeley Lab's 2009 study citing a nationwide median cost of $300/kW for transmission net-ups for wind power development. (See March 2009 Commission Watch column, "Titans of Transmission.")
Seeking to lower its risk, Clipper decided to scale back its interconnection request from "full capacity" (qualifying as firm enough for resource adequacy requirements) to "energy only." By accepting a lower-priority status, Clipper's project would require less in the way of grid upgrades—only so much as to bolster reliability, with no added investment to guarantee full deliverability, to the tune of only $4.5 million in total—less than one percent of the upgrade cost for a capacity-qualified project.
Yet Clipper's strategy didn't help much. The developer faced a CAISO tariff that still would require financial security based on the upgrade costs required for the project as first filed—with full capacity deliverability.
That's because CAISO's intent in Phase I of its generation interconnection procedure isn't designed so much for the convenience of developers, as it is to help CAISO keep control over its project queue. As a regional system operator in charge of interconnecting lines and gen units to its grid system, CAISO wants a tidy process. It wants to assign a fair amount of risk to would-be developers. It wants project applicants to think carefully about potential costs before choosing the more expensive capacity-qualified project status, or otherwise filling the queue will ill-considered or even phantom projects.
Without the potential penalty of an onerous security requirement, project applicants might well turn the process into a high-stakes poker game. Developers could choose initially to propose a project with firm deliverables, but then back off to nonfirm status once third parties have committed to the most expensive grid upgrades.
As CAISO's Stephen Rutty, manager of grid assets, testified in the case, any other rule would leave developers free "to work directly against each other's interest and gaming opportunities would abound." (See Demonstration of CAISO Regarding Justness and Reasonableness of Existing Tariff Relating to Financial Security, FERC Docket No. EL10-15, filed Dec. 17, 2010.)
The bottom line? Clipper's now energy-only Baja wind project still would need a $7.5 million letter of credit, as determined under a CAISO tariff requiring financial security equal to the lesser of:
• 15 percent of the required grid upgrade (that being $80.7 million, or .15 x $538 million), or
• $20,000 per megawatt ($8 million for a 400-MW project), or
• $7.5 million.
Moreover, if Clipper were forced to abandon midstream, due to unforeseen events (such as failing to obtain permits or a viable purchased power contract), CAISO rules would force Clipper to forfeit 50 percent of the $7.5 million letter of credit.
Of course, if the project were carried to completion, CAISO eventually would conduct a second system impact study, based on Clipper's Phase II switch to energy-only status. This new study, conducted after the opportunity for gaming behavior was passed, would reset Clipper's required grid upgrade to that needed for an energy-only project (presumably only $4.578 million). It also would reset Clipper's required letter of credit to only $686,000 (15 percent of $4.578 million).
Clipper's only loss in that case would be the time value of money—specifically the carrying cost of the $7.5 million security over the intervening term. But Clipper didn't see things quite that way, as it explained to both FERC and CAISO why, exactly, it had chosen eventually to abandon the project entirely, rather than to post the onerous $7.5 million letter of credit:
"The carrying cost [of the credit] was nonetheless not the principal burden … rather [it was] the extraordinary risk associated with its nonrefundable half." (See, Comments of Clipper Windpower, FERC Docket No. EL10-15, filed Jan. 19, 2010.)
Clipper continued: "For small and mid-sized companies, a letter of credit of $7.5 million effectively requires that the principal be held by a bank in escrow and, hence, is not unlike being required to make a deposit of the same amount. Seven and a half-million dollars is a great deal of operating capital to have tied up throughout the entire Phase II study for a project which will ultimately have only cost responsibility … totaling only $686,700."
Now imagine how this story might have turned out, had the developer been a regulated utility, able to draw on monopoly money to do its investing.
A Veto for States?
The widespread divesting of utility-owned generation has shifted regulatory authority from the states to FERC. Yet, in Illinois, a coming together of merchant money and clever legislative lobbying has put that state's lawmakers and regulators in the catbird seat, leaving Illinois now able to dictate to FERC regarding rates of return earned in the wholesale power sector.
This curious turn of events involves the Taylorville Energy Center (TEC), the $3.5 billion commercial-purpose, clean-coal IGCC (integrated gasification combined-cycle) project proposed by a startup joint-venture formed by Tenaska, the international power development and energy marketing firm.
Alternative Retail Electric Suppliers (ARES) in Illinois call the situation discriminatory, "and perhaps even unconstitutional." But if Congress continues to drag its feet on carbon control, Illinois stands ready to step into the vacuum, showing what merchant money can achieve when aligned with a state's economic interests.
The Taylorville plant would convert high-sulfur Illinois coal to pipeline-quality synthetic natural gas (methane), remove the sulfur and mercury, and then capture some 3 million tons of carbon dioxide per year, sequestering the CO2 in local sandstone formations, or selling it for enhanced oil recovery operations. CO2 emissions from the coal wouldn't be eliminated, but merely reduced to the level emitted by comparable power generation operations if fueled by natural gas.
Armed with nearly $2.6 billion in DOE loan guarantees, TEC will be able to play power and gas markets against each other. With twin gas combustion turbines and single steam turbine (730-MW gross output; 500-MW net after SNG manufacture and CO2 compression operations), the plant could choose perhaps to toll one gas turbine and sell off the surplus methane, or even purchase pipeline gas for all its power generation, selling all its coal-gas production in natural gas markets. As the nominal developer of the project, the merchant startup Christian County Generation LLC (CCG) has sought a guarantee from FERC that the wholesale return on equity (ROE) equal at least 11.5 percent. (See FERC Docket No. EL10-27, filed Dec. 23, 2009.)
But here's the twist. Without federal legislation enacting a carbon tax or cap-and-trade program to put clean-coal power output on an equal footing with cheap and traditional fossil-fired power, no utility or retail supplier ever would buy it.
So Tenaska went to the state legislature to win a preferential deal for itself, as explained by attorney Karen Hill, writing for Exelon, which has intervened in the FERC case:
"If CCG succeeds in getting TEC built, it intends to price the output of the plant at cost-based rates … [which] … will almost certainly be above market. For that reason, Tenaska approached the Illinois general assembly and persuaded it to enact a law that will require Illinois utilities and [ARES] to purchase the entire output of TEC … under long-term purchased power agreements known as 'sourcing agreements.'" (Protest of Exelon, Docket EL10-27, filed Jan. 22, 2010.)
In fact, the state legislature has authority not just to OK these mandated purchased power agreements, but also to incorporate a maximum allowable ROE into those agreements, and to weigh in on the overall cost impacts on Illinois ratepayers over the projected 30-year life of the sourcing agreements.
Driven into a corner by the demands of merchant financing, Tenaska in effect has signed a deal with the devil. On one hand, Tenaska gets an assured market for clean-coal power in the form of mandated purchased power contracts. But on the other hand it now becomes beholden to the state lawmakers and regulators for return on capital. The state law that seals the deal, known as the Illinois Clean Coal Portfolio Standard Law, signed in January 2009 (Ill. Pub. Act 95-1027) even sets a ceiling of 11.5 percent on the Taylorville plant's wholesale ROE.
Thus, despite its jurisdiction granted by the Federal Power Act, FERC is literally driven out of the picture, as Hill explains further in the Exelon protest:
"The Illinois General Assembly of course has no power whatsoever to set rates for sale of power at wholesale … however, the General Assembly reserved to itself the determination of a fair rate for the PPAs …"
So unless the Illinois legislature acts, Hill adds, Tenaska and CCG would have a FERC-filed rate but no way of cajoling utilities or retail suppliers to buy the plant's above-cost output:
"Such a rate would be of no use … and the proposed TEC would not be built."
This case must surely mark one of the very few in current wholesale power practice where state regulatory interests hold sway over FERC jurisdiction. Nearly all parties in the case suggest that any attempted FERC action now would be pointless. In fact, the Illinois attorney general appears to have won an informal agreement from Christian County Generation and Tenaska to hold off on its filed request at FERC, and to stand and wait for further action from the Illinois General Assembly to cement the terms of the expected 30-year purchased power agreements. (See Unopposed Motion by Illinois Attorney General to Hold Proceedings in Abeyance, FERC Docket No. EL10-27, filed Feb. 4, 2010.)
In this case, at least, the merchant money will have to cool its heels.