Deck:
New turbine technologies offer unprecedented flexibility.
Author Bio:
Scott M. Gawlicki is Fortnightly's contributing editor based in Hartford, Ct. Email him at: sgawlicki@yahoo.com.
New turbine technologies offer unprecedented flexibility.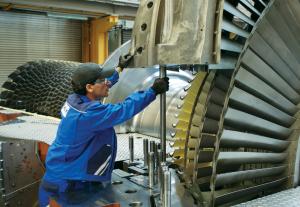 If there's an electric power project under development that best reflects the current state of the U.S. gas turbine market, it might be the Northern California Power Agency's (NCPA) 280-MW, natural gas-fired combined-cycle plant in Lodi, Calif.
Scheduled for startup in 2012, the plant will serve some 14 different entities, including eight area municipalities. More important, it's the first application of a new combined-cycle plant specifically designed to operate at a wide range of loads at 57-percent-plus efficiency and deliver up to 200 MW of power to the grid in just 30 minutes.
In addition to reducing the carbon footprint of the NCPA's membership, the system—which the manufacturer, Siemens Energy, calls the Flex Plant 30 power island—will allow the agency to react quickly to the uncertain market conditions many expect will result when state-mandated renewable energy plants begin pouring power into California's wholesale electricity pool.
In other words, the plant will provide financial cover, a hedge if you will, against whatever California's energy future brings.
"California's renewable energy program will certainly bring change, but at this point we're not sure how much," says Ken Speer, the NCPA's assistant general manager of generation services. "So we based our decision on the belief that a more flexible generating resource, one with a fast start capability, will be a valuable asset."
Following the Market
Most U.S. electric utilities and independent power producers looking to add new generation share concerns similar to those at NCPA. With cap-and-trade legislation still pending, gas-fired turbines provide the lowest possible carbon footprint, next to renewable sources.
"For some participants, the Lodi plant will replace coal-based (power purchase agreements) that expire in 2012 and 2013," Speer says. "Those contracts represent a carbon footprint of 2,100 to 2,200 lbs of CO 2 per MWh, while this plant will be less than 800 lbs per MWh. So, these participants are cutting their carbon footprint by nearly two-thirds."
And with new renewable portfolio standards now in effect in 33 states, combined-cycle plants increasingly will be called upon to serve as a back-up power source. A new plant must be able to cycle up and down efficiently, while staying within its emissions limits, even at low load operation.
It's not surprising then, that when it comes to the latest original equipment manufacturer (OEM) gas turbine offerings, the new catchphrase is "operational flexibility." Such suppliers as Siemens, General Electric (GE) and Alstom are rolling out an assortment of upgrades to existing machines that will boost output and efficiency and enhance the ability to react quickly to changing load requirements.
"In the U.S. roughly 45 percent of the generating capacity is more than 30 years old and a number of those plants will need to be replaced near term, even if economic growth remains sluggish," says Patrik A. Meier, Alstom Power's gas turbine product manager. "With the delays in permitting coal and nuclear plants, a natural gas-fired turbine plant represents a comparatively quick