T&D and Smart Grid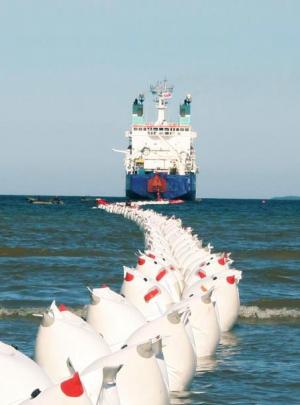 The ZigBee Alliance and the Wi-Fi Alliance entered an agreement to collaborate on wireless home area networks (HAN) for smart-grid applications. The initial focus of the collaboration will be ZigBeeSmart Energy Profile 2.0, which is the next-generation energy management protocol for smart grid-enabled homes based on today's successful ZigBeeSmart Energy Profile. The ZigBeeSmart Energy Profile 2.0 is expected to be extended to operate over Wi-Fi technology as a result of the collaboration.
Capgemini launched Smart Energy Services (SES), a new global service line that will provide the full spectrum of smart metering, smart grid, smart home solutions and smart analytics to utilities across the globe. The offering leverages a range of proven services and best practices successfully developed by Capgemini since 2004 working with more than 20 North American and European utilities. Also central to the new SES offering is the company's proprietary Managed Business Services, a usage-based pricing model designed to offer greater flexibility for the utility, which reduces risk by minimizing large upfront capital expenditures.
Itron Inc. and TroposNetworks agreed to jointly develop products for the utility market including an integrated network solution. That solution will allow utilities to extend their smart-grid foundations into a comprehensive, privately-owned broadband network for utility applications. This aligns with the larger goal of the partnership, which is to simplify utility smart-grid deployment and management while laying the foundation for additional smart-grid applications.
Open Systems International (OSI) released ISIS (Inline Serial Information Shield), OSI's serial communications security solution. OSI says ISIS is a fully NERC, FERC and NIST compliant serial security solution, designed to integrate with existing serial communications infrastructures currently used by the electric, gas, water and other industries.
ABB agreed to charter a new vessel from Aker Solutions for use in subsea cable installation. The state-of-the-art ship will be equipped to install heavy power cables across long distances. The vessel, to be named Aker Connector, is currently under construction and expected to be operational from 2012. ABB will charter the vessel for 2012 and 2013, with an option to extend the contract for a further three years. In addition to the cable-laying vessel, Aker Solutions also will provide a range of related engineering, project management and installation services for the execution of marine and offshore projects.
S&C Electric announced an enhanced product and software suite for the intelligent distribution grid featuring IntelliTEAM SG, S&C's 3rd-generation automatic restoration system. This performs fault isolation and rapid self-healing of the distribution system, restoring power in seconds, and reduces the complexity of deploying advanced distribution automation. This continues S&C's innovations for the smart distribution grid, including the award-winning IntelliRupter PulseCloser and SpeedNet Radios. When combined, these products—hardware, software, and communications—provide a solution for advanced automation.
Also, S&C and Oracle are working together to develop and promote advanced distribution management systems for the smart grid. The integration is designed to achieve complete interoperability between Oracle Utilities Network Management System and S&C's IntelliTEAM SG automatic restoration system.
The GridWise Alliance and Future of Privacy Forum signed a memorandum of understanding to collaborate on data privacy issues and will continue to hold joint meetings and work toward policy solutions as the electric grid begins to collect and use digital information. The meeting to sign the MOU was hosted by the Embassy of Canada at which data privacy issues around the smart grid were discussed.
The Electric Power Research Institute (EPRI) published a report describing the design of a superconducting direct current (DC) cable system capable of moving thousands of megawatts of electricity between regions, and that is ready for commercial development. The EPRI analysis points to significant efficiency gains using superconducting DC transmission lines, with the capability to reduce transmission losses at full load by more than 150 percent compared to alternating current (AC) or high-voltage DC systems. Such a line could become an option within a decade along with extra high voltage (EHV) AC lines that are currently used to move large amounts of power over long distances. The superconducting cable system would provide 10 GW power capacity with a nominal current and voltage of 100 kiloamps and 100 kilovolts. The report also points to the cable system's potential to enhance the safety, reliability and efficiency of the existing AC power grid. "A Superconducting DC Cable" is available at my.epri.com.
On-Ramp Wireless entered into distribution agreements for its wireless communication systems with Uniquest, a Korean technical distributor, and Meta-Tech, a Taiwanese technical distributor. A channel partnership with Uniquest allows On-Ramp to reach the Korean market and begin developing new market segments in green and smart-grid infrastructure. MetaTech has existing market presence in such market segments as metering and street lighting in Taiwan, China, Malaysia, Philippines, Vietnam and India. The distributor agreement includes sales and technical support in each of these regions.
Metering
Lockheed Martin and Itron agreed to integrate Lockheed Martin's SEEload demand-response management solution with Itron's smart-grid platform. The integrated solution, which includes the OpenWay smart metering and Itron Enterprise Edition Meter Data Management (IEE MDM) systems, is intended to reduce the cost, complexity and risk for utilities deploying smart meters and implementing demand-response programs.SEEload is one of Lockheed Martin's SEEsuite Smart Grid Command and Control applications, and enables utilities and ISOs to precisely manage demand-response events across an entire distribution network, including substations and individual feeders. SEEload provides complete DR life-cycle management, including DR program definition and customer enrollment, real-time DR event management, and post-event DR analytics.
The California PUC selected TheStructureGroup to conduct an independent evaluation of Pacific Gas and Electric's (PG&E) smart meters. The PUC authorized Southern California Edison to install approximately 5.3 million new smart meters, San Diego Gas and Electric Company approximately 1.4 million electric smart meters and 900,000 natural gas meters, and PG&E approximately 5 million electric meters and 4.2 million natural gas meters. As these smart meters have been rolled out, the PUC has received just over 600 complaints, almost all from PG&E's service area.
NSTAR's smart-grid pilot program has been approved by the Massachusetts DPUC and soon will begin enrolling customers interested in tracking and reducing their energy usage. Tendril will work with NSTAR to leverage its existing automated meter reading (AMR) infrastructure to offer near-time energy information and management to 2,800 customers.
Mergers and Acquisitions
NavigationCapitalPartners(NCP), an Atlanta-based private equity firm, acquired Specialized Technical Services (STS), a provider of smart-grid infrastructure upgrades and meter-related services. NCP says STS is the first in a series of acquisitions planned in support of its initiative to build an industry-leading provider of value-added field and data management services to electric, water and gas utilities. NCP plans to help STS expand into a one-stop shop of high-value field and data management solutions to manage utility assets.
AREVA's transmission and distribution division acquired PSD, an engineering, procurement and construction (EPC) company located in Canton, Ohio. The company employs 18 people and has more than 30 years of experience managing EPC projects. The acquisition will strengthen AREVA T&D's presence in the U.S. market primarily for the integration of power electronics solutions for air-insulated substations, gas-insulated substations and wind farm grid-connection solutions.
Solutia reached an agreement to purchase Etimex Solar GmbH, a supplier of ethylene vinyl acetate encapsulants to the photovoltaic market. Etimex Solar is a wholly owned subsidiary of Etimex Holding GmbH, which is controlled by funds affiliated with Alpha Gruppe. The purchase price of $240 million in cash is expected to be financed from existing cash on the balance sheet and additional debt.
Trimble acquired privately-held LET Systems based in Cork, Ireland. LET Systems specializes in incident and outage management system (OMS) solutions for utilities. Financial terms were not disclosed. LET Systems provides OMS, network modeling, customer contact and mobile workforce management software for electric, gas, water and wastewater utilities.
Generation
Virent Energy Systems and Shell started production at the world's first demonstration plant converting plant sugars into gasoline and gasoline blend components, rather than ethanol. The demonstration plant, located in Madison, Wisc., has the capacity to produce up to 10,000 gallons a year, which will be used for engine and fleet testing. This new biofuel can be blended with gasoline in high concentrations for use in standard gasoline engines. Virent says its patented BioForming platform technology uses catalysts to convert plant sugars into hydrocarbon molecules like those produced at a petroleum refinery. The sugars can be sourced from non-food feedstocks such as corn stover, wheat straw and sugarcane pulp, in addition to conventional biofuel feedstocks such as wheat, corn and sugarcane. The demonstration plant is currently using beet sugar.
Cheng Power Systems was granted the Variable Speed |Synchronous Generator (UEM) patent for wind power from the Chinese patent office. Cheng says the UEM reduces weight and physical size by 50 percent over the doubly fed electrical generator now used for wind generation, and reduces system cost. UEM is a set of electronics added to the current production generators. Further, UEM can be retrofitted to diesel generators to reduce fuel consumption for standby power generation. The company is in discussions to license the technology.
The Spanish system integrator, Assyce Fotovoltaica, is building the largest, first solar free-field solar power plant in Spain's Extremadura region, with a capacity of more than 26 MW. The power plant with a land area of 69 hectares is expected to be completed by the end of the year.
People
Black & Veatch hired Dr. Eric Woychik as a director in its energy strategy practice. He previously was v.p. of regulatory affairs with Comverge.
Comverge announced that R. Blake Young, a member of the company's board of directors since 2006 and a 25-year industry veteran, has been appointed president and CEO.
SightLogix has named Gary Green as director of sales for the Southeast U.S. region. Green comes to SightLogix from a sales management position at Siemens Building Technologies' electronic security business.
Open Access Technology International hired Fred Fletcher as smart grid chief architect.
Second Wind announced that Larry Letteney has been named CEO. Letteney succeeds Second Wind's founder, Walter Sass. Sass was named executive chairman of the board and chief technology officer.
eSolar hired Gary Breton, formerly of Amkor Technologies and Cypress Semiconductors, as eSolar's SVP of operations. Breton will work with newly appointed eSolar CEO John Van Scoter, previously of Texas Instruments.
Ice Energy appointed Mike Hopkins as executive v.p. and general counsel. He was a partner in the Canadian law firm, Bennett Jones LLP.
Skipping Stone announced that Eric Alam, an early founder of Skipping Stone, has rejoined the company. He will lead the Houston office as a Principal. Paul Maffa has joined the company in a business development and consulting role focused in the company's natural gas practice area. He also will be responsible for new client development for the company's subsidiary, Capacity Center, an interstate gas pipeline real time information system.
Renewable Energy Systems Americas Inc. announced the resignation of President and CEO, Craig Mataczynski..
Siemens appointed Jens-Peter Saul as CEO of its wind power business unit. Saul was managing director for Siemens Energy in the UK and responsible for energy for the North and West European regions.
S&C Electric Co. appointed Michael Edmonds as global smart grid strategies director. He was v.p. and general manager of Siemens energy and automation.
Storage and EVs
Maxwell Technologies introduced its new K2 Series large cell BOOSTCAP ultracapacitors. About the size of a soda can, the K2 series BOOSTCAP cells operate at 2.7 volts and incorporate design and construction enhancements to ensure high performance, durability and long operating life. Primary applications for Maxwell's K2 series products, which range from 650 to 3,000 farads, include grid stabilization, renewable energy systems, back-up power, automotive subsystems, hybrid and electric vehicle drive trains and other applications that require burst power and heavy cycling that can't be efficiently provided by a battery or power supply alone. The company is currently shipping K2 cells in production volumes and multi-cell modules ranging from 16 to 125 volts. The K2 replaces Maxwell's previous MC series ultracapacitors.
NaturalNano, Inc. was issued a second patent dealing with use of its proprietary Halloysite materials (HNT) in high-performance energy storage devices known as Ultra Capacitors The company's first patent for Ultra Capacitors comprised of Mineral Microtubules, takes advantage of the extremely small size and high surface-to-volume of Halloysite, as well as its chemical stability, to provide improved electrolyte performance in high energy storage capacitors such as ultracapacitors and supercapacitors. These devices hold the potential to surpass batteries in applications such as hybrid and pure electric vehicles, cordless tools and appliances, and other distributed power applications due to their long life, extremely fast recharge times, and lower environmental impact at the end of their useful life.
Energy Services
RentBureau launched UtilityView, a reporting product that provides energy companies with multifamily housing data that can help maximize returns on new business bids. UtilityView reports address occupancy rate, resident risk, payment behavior, apartment turnover and demographics – key markers that utility companies can use to decide which communities are best to target for new business. Gas South, one of Georgia's fastest-growing natural gas marketers, partnered with RentBureau to test the UtilityView beta, and now has elected to purchase the reporting tool.
Energy Automation Systems, Inc. (EASI) announced that Trevecca Nazarene University of Nashville, Tenn., has installed energy-saving technologies developed by EASI that
are estimated to reduce energy use by nearly 15 percent. EASI's technologies were installed in the 25,000 square-foot A. B. Mackey Building, built in 1961. The three-story building serves as classroom space and home of the School of Education. Payback on the $17,000 project is expected in less than 34 months and there is a 30-year life expectancy of the EASI technologies.
Vertex signed a multi-year contract to consolidate, upgrade, and host NorthWestern Energy's existing customer information systems (CIS). NorthWestern Energy provides electricity and natural gas, serving approximately 661,000 customers in Montana, Wyoming, South Dakota and Nebraska. NorthWestern Energy already uses Vertex E-CIS customer information platforms, which are Vertex hosted or supported. With the new contract, Vertex will be upgrading and consolidating the existing E-CIS databases into one hosted eCIS+ platform, the next generation enterprise CIS from Vertex. With eCIS+, NorthWestern Energy expects to streamline and gain efficiencies within contact center and billing operations while reducing costs. In addition, the company will be providing enhanced customer care through better online customer self-service functionality.