Deck:
Constitutional questions about state-mandated renewable tariffs.
Author Bio:
Steven Ferrey is professor of law at Suffolk University Law School, and has served as a primary legal advisor to the World Bank and to the U.N. on global warming and renewable energy policy in developing countries. Chad Laurent is a project consultant with Meister Consultants Group in Boston, and was manager of renewable energy programs at Massachusetts Energy Consumer Alliance. Cameron Ferrey is president of Computers Across Borders, a non-profit NGO distributing computers to schools in renewable energy-powered developing countries on three continents.
There's a schism between the needed expedited transition to renewable resources and the requirements of the U.S. constitutional system. The attempt by states to copy the European model of feed-in tariffs (FIT) to promote renewable power is running afoul of U.S. constitutional requirements. With 10 states now moving forward to implement or consider FITs, they will face the long reach of the U.S. Constitution, which controls states acting in a regulatory rather than proprietary manner, and which could set back state implementation efforts. The legal gauntlet already was thrown; Recently, the first legal challenge to state regulation of carbon emissions from power plants was filed and settled in favor of the challengers. In May 2010, California's PUC and its three major investor-owned utilities took their battle over the constitutionality and legality of California's FIT to FERC adjudication.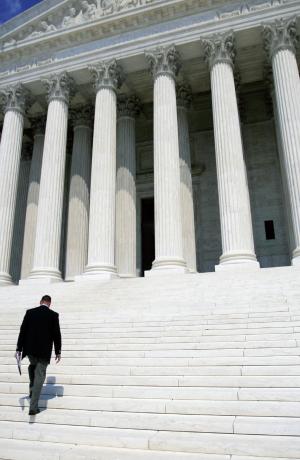 For the past two centuries, the Constitution has limited both good ideas and bad. And even in the interests of abating global warming and promoting renewable energy, the Supremacy Clause of the Constitution remains a legal backstop that might become a barrier to certain state mandatory regulatory actions. In a federalist system, there are limits on what the states may do without preemption. European nations' penchant for mandating that utilities and their ratepayers pay more for renewable power through FIT would run afoul of precedent interpreting energy and environmental state regulation permissible under the U.S. Constitution. The ways in which the United States and Europe can attack global warming mark a major legal divide.
Nonetheless, 10 states now are considering the adoption of European-style FITs to mandate that their electric utilities pay more for renewable power than for all other power. This likely will invoke a confrontation over the Supremacy Clause that will call into question state discretion over such mandatory renewable power initiatives. These constitutional limitations can't be overcome by passing a state statute. The Constitution remains the ultimate law of the land, and its Supremacy Clause embodies an essential element of the United States' legal system. A European-style FIT could be implemented by states as a requirement for their regulated utilities in the United States only via prior amendments to the Public Utility Regulatory Policies Act (PURPA), the Federal Power Act (FPA) and/or the U.S. Constitution.
But renewable energy resources still can be incentivized in a variety of ways that pass legal muster. Primarily, aside from global-warming emission reduction requirements, other incentives include tax incentives, renewable trust funds, and carefully sculpted renewable portfolio standard requirements.
The legal systems of European nations and the United States are distinct. What is permissible in one doesn't always seamlessly translate legally to the other.
International FIT
FITs are the most widely employed renewable energy policies in Europe and, increasingly, the rest of the world. As of 2006, 17 European Union countries, as well as Brazil, Indonesia, Israel, South Korea, Nicaragua, Norway, Sri Lanka, Switzerland and Turkey all used them to promote and support renewable energy. In March 2008, the Kenyan Ministry of Energy proposed the adoption of FITs for wind, biomass and small-hydro resources.1
A FIT establishes a secure contract for wholesale electricity at a set price that results in a rate of return attractive to investors and developers.2 Typically, FIT structures are either fixed payments based on an electricity generator's cost to produce electricity, or a fixed premium paid above the spot market or wholesale market price of electricity. These fixed payments are long-term contracts for anywhere from five to 30 years in duration.3
FITs increase the price for certain renewable technologies to an amount deemed administratively and politically necessary to encourage their development. FITs typically might exceed utility-avoided costs, and therefore are justified only by their objectives and results, and not typically by accepted ratemaking methodology, which aims to minimize prudent generating costs. Often fixed-payment feed-in rates and terms are differentiated by technology and are based on the cost of deploying a given renewable energy technology.4 FITs for sale of renewable power typically decline over time as the high front-end capital costs of renewable energy are amortized and as the number of installed systems increases. FIT laws usually also guarantee interconnection for distributed generation and utility scale projects. FITs have been successful in encouraging significant renewable energy development in nearly all of the countries in which they have been deployed.
The high initial capital costs of permitting and construction can hinder the development of renewable technologies, while FIT price premiums can help to offset the risk associated with those high capital costs. FITs offer a fixed-price long-term contract for payment from utility or electricity suppliers to the wholesale renewable energy generator. The structure of a FIT can be either a long-term payment based on the cost of generation—including profit—or a premium added on to the wholesale or spot-market price of electricity. So long as a generator feeds power onto the grid, it's guaranteed a long-term contract at the government mandated feed-in price for the renewable energy commodity. A FIT also can be structured to reproduce the benefits that renewable energy sources provide that aren't reflected in traditional fossil-fuel resource-based pricing structures, including pollution costs, climate-change costs, security costs, and future fossil-fuel cost uncertainty.5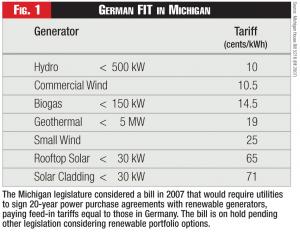 Costs of a FIT are passed on to consumers by purchasing energy suppliers and reflect a public policy decision to increase the percentage of renewable electricity sources used. Germany, Denmark, and Spain, while only a small fraction of the size of the United States in square miles, were responsible for 53 percent of total installed global wind power capacity between 1990 and 2005. Germany receives 5 percent of its total energy from wind power, Demark nearly 20 percent, and Germany met its 12.5-percent goal of renewable electricity by 2009, a year earlier than expected. Germany's FIT program has created one of the world's largest solar energy markets, and Spain is close behind.
The European debate on renewable energy incentives has considered both FIT policies and renewable portfolio standards (RPS). According to Rickerson and Grace, Italy, Sweden, and the United Kingdom initially favored RPS, while Germany, Spain, and other countries favored FIT. Consequently, Germany has 200 times the installed solar capacity and 10 times the number of renewable energy jobs created as does the UK.6 In Germany, the current debate concerns whether the expense of FIT is too high compared to what the public is willing to support.7 The average German electric bill has increased by roughly $3 per month (e1.45/month)8 over the period of FIT implementation. The German public generally has supported the increase, especially since many individuals have taken advantage of the incentives to install their own renewable energy generation systems.
For the renewable energy developer, the FIT decreases investment risk. A FIT guarantees an investor or developer a long-term contract at a secured price with a return on investment of 8 percent to 9 percent. By contrast, RPS policies require developers and investors to secure contracts, which might not be long-term, for energy and for RECs. Fraunhofer Institut research found that capital costs for renewable energy investments are significantly lower in countries using FIT than in those countries using policies that create higher risks of future return on investment. The European Commission concluded that FITs are more effective than quota-based systems like RPS.
U.S. FIT Policies
FITs historically haven't been sanctioned in the United States. The most prevalent renewable energy policy enacted by states is the RPS. The two are similar to the extent that they only qualify renewable power that is actually produced. The FIT does this by actually linking the renewable subsidy to the price paid for renewable power, while the RPS does this by creating a separate tradable renewable attribute, or REC.
However, the momentum and impact of European FIT policies have dwarfed RPS initiatives in the United States, and some states have begun to propose legislation and adopt policies similar to European FIT. Utilities and industry groups are considering innovative ways to encourage development of renewable resources, and FITs have been mentioned as a potential policy option.9 As many as 10 states have introduced actual FIT legislation, while a handful of others are considering FIT policies. In addition, a federal FIT has been proposed by Representative Jay Inslee (D-Wash.).
FITs have been discussed in 18 states: Arkansas, California, Florida, Hawaii, Illinois, Indiana, Iowa, Maine, Michigan, Minnesota, New Jersey, New Mexico, New York, Oregon, Rhode Island, Vermont, Virginia and Washington State. Below, are elements of some of the early FIT implementation in Vermont and California.
• Vermont: Vermont was the first state to implement a FIT in 2009 by passing H. 446. In 2008, the Vermont Sustainably Priced Energy Enterprise Development Program was amended to allow projects less than 1 MW in capacity to enter into contracts 15 years in length, at prices adequate to promote renewable resources. The Vermont FIT provides long-term contracts for 15 to 25 years and provides specific tariffs differentiated by technology and size, and with an overall program cap of 50 MW. The legislation instructs the Vermont Public Service Board to review and reset the tariffs every two years and set the tariff rate based on the rate of return for Vermont electric utilities. The individual project cap is 2.2 MW. The current rates by technology all exceed the wholesale price of power: Wind <15 Kw $0.20/kWh; Wind >15 Kw $0.14/kWh; Landfill and Biogas $0.12/kWh; and PV $0.30/kWh.
• California: The California Public Utilities Commission (CPUC) established the California Solar Initiative. This initiative is a performance-based incentive where solar energy generators can receive a five-year contract worth up to $0.39 per kWh for power sold. The program is similar to a German-style FIT, but is shorter in contract term and well below the rates in Germany. The incentive amounts decrease over time after legislative targets for installed solar capacity are met. In February 2008, the CPUC adopted the Onsite Renewable Generation FIT, which provides a 10-, 15-, or 20-year contract for renewable energy systems smaller than 1.5 MW in capacity. The contract price is based on the average cost of electricity production, adjusted for the spot market and time of delivery value. There are other additional statutes in California that apply FIT options for combined heat and power facilities under 20 MW that satisfy certain efficiency requirements (AB 1613) and for renewable energy generation smaller than 3 MW at wholesale prices set by CPUC (SB 32).
In December 2008, "the presiding commissioners accepted the California Energy Commission (CEC) staff's recommendation that California implement a system of feed-in tariffs."10 A final report was prepared in 2009 for approval by the full CEC. "The recommendation called on the Public Utility Commission to … implement a system of feed-in tariffs for projects up to 20 MW in size." The CEC also recommended that the CEC and CPUC "continue" to evaluate FIT for projects greater than 20 MW. On Dec. 17, 2009, the CPUC rendered an order requiring investor-owned utilities to purchase from certain combined heat and power facilities at a price set by the CPUC. In May 2010, the CPUC and the investor-owned utilities in California each moved separately to ask FERC to declare the CPUC action legal or unconstitutional, respectively.
• Florida: In December 2008, the Gainesville, Fla., city commission approved a tariff of $0.32 per kWh under Gainesville Regional Utilities' proposed FIT program.11 The program pays both residential and business customers the $0.32 rate.12 The city launched the program in March 2009. However, because municipal utilities generally are exempt from the FPA, municipals can enact FITs without encountering Constitutional conflicts
Conflict of Laws
Sections 205 and 206 of the FPA empower FERC to regulate rates for the interstate and wholesale sale and transmission of electricity.13 In doing so, the Act bestows upon FERC broad powers to shape the energy market and affect all stakeholders: generators, retailers, and consumers. By exercising exclusive authority over "just and reasonable" rates and terms, FERC ensures that wholesale generators of electric power will charge fair rates to retailers, and that wholesale generators receive a fair rate of return, and thus "have the incentive to continue to produce and supply power."14 The act creates a bright line between state and federal jurisdiction with wholesale power sales falling on the affirmative federal side of the line.15 FERC jurisdiction preempts state regulation of wholesale power transactions and prices. Where federal law occupies the field and there is evidence of a pervasive federal scheme in a given area, by inference, courts will find state or local legislation preempted. Even where there is no congressional intent evident to federally occupy a field, the conflict principle requires that a court strike inconsistent state or local law. State regulation isn't allowed to veto the regulatory scheme of a superior level of government. FERC jurisdiction is plenary and extends to all sales in interstate commerce.16
There's no doubt that renewable power sales are typically both wholesale power transactions and interstate power transactions. Both of these are subject to exclusive federal jurisdiction; state authority is preempted. Recent jurisprudence has accentuated the exclusivity of FERC's power in not only setting "just and reasonable rates" but also exclusively ensuring the performance of the energy market. As the Ninth Circuit has remarked, and the Supreme Court confirmed, when combined with federal preemption precedent, energy market regulatory reforms have contributed to "a massive shift in regulatory jurisdiction from the states to the FERC."17
The Filed-Rate Doctrine
The so-called filed-rate doctrine holds that state regulatory commissions may not second-guess or overrule on any grounds a wholesale rate determination made pursuant to federal jurisdiction. The Supreme Court in 1986 and again in 1988, 2003, and 2008, upheld the filed-rate doctrine..18
Pursuant to the filed-rate doctrine, the filed federal rate becomes "the legal rate."19 Outside the regulatory scheme, the filed rate can't be attacked on the grounds that it was the result of improper conduct.20 "[T]he filed rate doctrine bars all claims—state and federal—that attempt to challenge the terms of a tariff that a federal agency has reviewed and filed."21
FIT rates above avoided cost result in at least a temporary, and perhaps longer, increased cost of electricity. And here lies the conundrum: Does this conflict with either the requirements of PURPA, which are part of the FPA, or the general rate-setting requirements of FERC under the FPA? A series of court decisions over the past two decades makes this a very appropriate question under the Supremacy Clause of the U.S. Constitution.
PURPA was designed to promote renewables while protecting consumers from the resulting artificially increased costs of electricity. The promotion of renewable energy is premised on renewable energy generators receiving only the utility's avoided cost.22 Thus, retail energy consumers should be indifferent to the amount of renewable power purchased at these rates, because the rates are identical to the utility's costs. PURPA, therefore, specifically provides that no rule requiring a utility to purchase energy from a QF, "shall provide for a rate which exceeds the incremental cost to the electric utility of alternative electric energy."23 "Alternative" in this context doesn't refer to renewable energy sources, but rather to electricity produced by any generator but that utility.
Congressional hearings emphasized the use of avoided-cost methodologies to determine the cost of acquiring alternative electric power, and showed the desire that no particular electricity producer would subsidize the inefficiency of another.24 These hearings also illustrated that Congress' intent was to avoid promoting alternative energy sources beyond the cost of other power. During hearings on PURPA, Senator Percy stated that "[i]t would be wrong to subsidize small [power] producers at the expense of other customers."25 The Congressional Record reported, "Senator Durkin added during floor debate that utilities should be required to set purchase rates for hydroelectric generators at cost, rather than at a subsidized rate."
Only two very limited exceptions legally allow states to require that utilities pay in excess, of avoided costs to a QF for renewable energy produced and delivered. These exceptions are necessary unless the state is acting in a proprietary, rather than regulatory, manner, regarding a utility. The first exception is if the excess cost is for a green-energy program in which utility customers individually voluntarily agree to higher rates covering the costs above the utility's avoided cost.26 A cost-recovering and appropriately-priced green electricity purchase likely would be prohibitively expensive to many consumers, compared to the rates for conventional purchases of electricity. For example, voluntary programs consisting of RPS-eligible RECs and future RECs can vary in cost much less than $0.01 per kWh in some states to as much as approximately $0.05 in Massachusetts during certain years. In March 2010, according to the Boston Globe, the price rose dramatically for those 8,000 customers electing to purchase renewable power in the greater Boston area from regulated entity NSTAR (the owner of Boston Edison).27 Of that one-quarter of the nation's utilities that offer such renewable energy purchase options, it's typical that only about 2 percent of customers elect this more expensive option.
The second exception applies to net metering. On March 28, 2001, FERC held that state net metering decisions weren't preempted by federal law, because no sale occurs when an individual installs distributed generation and accounts for its dealings with the utility through the practice of netting.28 FERC deemed that a netted transfer of title to power doesn't constitute a "sale."
Eighty percent of the states have electively adopted net metering, which runs the retail utility meter backwards when a renewable energy generator puts power back to the grid. Net metering can pay the eligible renewable energy source as much as four times more for this power when it rolls backwards at the retail rate than paid to any other independent power generators for wholesale power, and much more than the time-dependent wholesale value of this power to the purchasing utility.
By turning the meter backwards, net metering effectively compensates the generator at the full retail rate for transferring just the wholesale energy commodity. Most states compensate the generator for excess generation at the avoided cost or market-determined wholesale rate.
State RPS Standards
An alternative to FIT is state mandatory minimum renewable energy supply requirements, which are usually imposed on electric utilities and/or independent retail suppliers. These alternatives typically are known as RPS. State RPS program designs vary as to:
• Energy versus capacity obligations;
• Single-tier or multi-tier credit determinations;
• Duration of purchase obligations;
• Requirements for resource diversity;
• Incentives for resource or technology diversity;
• Participation requirements for default service providers;
• Geographic eligibility for credits;
• Differentiation by type of renewable resource;
• Rules governing which generation units can earn credits;
• Definitions of new or incremental generation, where applicable;
• Categorization of multi-fuel facilities and off-grid resources; and,
• Eligibility of customer-side distributed generation.
Half of the states have enacted RPS programs to promote renewable energy power production. Half of those employ differentiated tiers of RECs. Some states distinguish tiers of RECs by the year in which the REC was created or the type of renewable resource used in creation of the REC, so as to promote certain technologies. Some states create technology set-asides or bands of technology. Other states have only a single type, or tier, of REC regardless of the technology used to create the REC, with only newly constructed renewable energy projects permitted to sell RECs. Other states have a single tier that allows both new and existing projects to qualify. This creates myriad variations on state RPS models.
RPS programs exist in 29 states plus the District of Columbia; four more states have non-binding RPS goals.29 These mandatory RPS programs cover almost half of nationwide retail electricity sales.
The RPS programs in the states are very different in terms of what qualifies as a renewable resource. In those states that have RPS programs, more than 90 percent of renewable energy additions (and more than 80 percent of average capacity supplied) is from wind power, with biomass a distant second and limited geothermal resource development. It also has been estimated that RPS motivated approximately 45 percent of the 4,300 MW of wind power installed in the United States between 2001 and the end of 2004. An additional 15 percent of these installations were motivated by state renewable energy trust funds and subsidies. The required percentage of energy delivered from renewables ranges from 2 percent to 30 percent of annual retail sales in different state programs, but these numbers can be deceiving, depending upon whether electricity produced by preexisting renewable resources are eligible to be counted.
States regard differently the geographic location where RECs are created. At least three states expressly require that the RECs be created by in-state power generation, and two additional states require that RECs be created either in-state or in the service territory of a state utility. Some states require an in-state transmission interconnection to count an out-of-state REC. Several states require that a REC actually be associated with energy that is, or could be, by virtue of contracted transmission capability, delivered in-state. Some states allow a wider trading area within an independent system operator (ISO) or similar electric transmission system region. Some states encourage, but don't require, RECs to be traded in-state by attaching a multiplier value to in-state RECs. Distributed generation typically is required to be located in-state to qualify to create RECs. However, requirements to create RECs in a state raise dormant Commerce Clause issues, and multipliers can raise similar concerns.
Several states give preferences to in-state projects. California's amendments to its RPS law in 2006 for the first time in a decade allowed new out-of-state generation to be counted toward RPS requirements of load-serving entities in the state.30 Eight states require that the power eligible for RPS RECs must be delivered to in-state load-serving entities. Such geographic program restrictions raise Commerce Clause concerns under the U.S. Constitution.31
FIT Endgame
Federal case law and FERC precedent indicate that PURPA and the FPA prevent utilities from being mandated or required to purchase renewable energy above their avoided cost for wholesale purchases. Even state FIT legislation can't mandate a wholesale electric purchase at a price above the avoided cost under principles of federal preemption. Any theoretical FIT proposal, in order to be effective, would have to require prices well above purchasing utilities' avoided costs, and therefore would be subject to a Federal Power Act challenge by ratepayers or utilities. These challenges began in May 2010.
PURPA regulations and FERC provide that they don't limit the ability of parties to negotiate agreements for rates and terms different from those called for in regulation.32 However, a situation where regulated utilities voluntarily agree to purchase power at a rate clearly exceeding their wholesale avoided cost also could be open to legal challenge as imprudent under the FPA or its PURPA amendments, or state ratemaking law, by other parties, such as industry or consumer groups, if the latter are consequently compelled to bear the cost of a higher retail electric rate. It's unclear that voluntary utility participation, at the utility's own cost and risk, would provide the long-term investment certainty desired from a FIT incentive program.
Grafting onto American constitutional law a mandatory FIT for renewable power, at above the typical wholesale market cost of all power or above a purchasing utility's avoided cost of alternative equivalent power resources, confronts existing legal precedent and provisions of the FPA. This renders the European option of wholesale FIT legally barred from state mandate under America's legal system. Despite this, some states are ignoring these issues and moving toward mandating above-wholesale-cost FITs for state-regulated investor-owned utilities by their state regulatory authorities. Great legal care is necessary in this regard. This leaves the RPS with tradeable RECs as the legally viable alternative to monetarily incentivize the adoption of renewable power technologies for power generation by independent power producers in the United States. States should look to implement those elements of FITs that make them successful—namely investor security, low transaction costs and contract certainty—without treading into Constitutionally suspect waters.
Editor's Note: This article was adapted, in part, from a more detailed article, "Fire & Ice," published in volume 20 of the Duke Energy & Policy Forum (2010).
Endnotes:
1. See Kenyan Ministry of Energy, Feed-in-Tariffs Policy for Wind, Biomass and Small Hydro Resource Generated Electricity (2008).
2. See Wilson H. Rickerson et al., If the Shoe FITs: Using Feed-in Tariffs to Meet U.S. Renewable Electricity Targets, Electricity J., May 2007, at 73, 73–74.
3. Anne Held et al., Feed-in systems in Germany, Spain and Slovenia: A comparison (2007).
4. Janet L. Sawin, National Policy Instruments: Policy Lessons for the Advancement & Diffusion of Renewable Energy Technologies Around the World5 (2004).
5. See Wilson Rickerson & Robert C. Grace, The Heinrich Boll Found, The Debate over Fixed Price Incentives for Renewable Electricity in Europe and the United States: Fallout and Future Directions 1 (2007).
6. Ashley Seager, Green Power: Germany Sets Shining Example in Providing a Harvest for the World: Thanks to Tariff Guarantees, Germany Has 200 Times as Much Solar Energy as Britain, The Guardian, July 23, 2007, at 27.
7. Mark Landler, Germany Debates Subsidies for Solar Industries, N.Y. Times, May 16, 2008, at C1.
8. Bundesministerium für Umwelt, Naturchutz und Raktorsicherheit, Development of Renewable Energies in Germany in 2007 at 7 (2008).
9. Ethan Howland, "Utilities, Solar Developers Should Seek New Procurement Approaches, Report Says," Electric Utility Week, Dec. 15, 2008, at 28.
10. Paul Gipe, CEC Recommends Cost-Based Feed-in Tariff, Wind Works, Jan. 5, 2009.
11. Paul Gipe, "Gainesville Moves Rapidly to True Solar Tariff," Wind Works, Jan. 5, 2009.
12. Ucilia Wang, "Budget Shortfalls Could Shrink States' Solar Incentives," greentechsolar, Jan. 14, 2009.
13. Federal Regulation and Development of Power ("Federal Power Act"), 16 U.S.C. §§ 824d–e.
14. Pub. Util. Dist. No. 1 of Snohomish County Wash. v. Fed. Energy Regulatory Comm'n, 471 F.3d 1053, 1058 (9th Cir. 2006), vacated on other grounds, 547 F.3d 1081 (9th Cir. 2008)
15. Id. at 1066, aff'd, Morgan Stanley Capital Group v. Pub. Util. Dist. No. 1 of Snohomish County, Wash, 128 S.Ct. 2733 (2008). For a discussion of the California and Western energy crisis that spawned this litigation, see Ferrey, Soft Paths, Hard Choices: Environmental Lessons in the Aftermath of California's Electric Deregulation Debacle, 23 Va. Envtl. L.J. 251 (2004)
16. N. States Power Co. v. Minn. Pub. Util. Comm'n, 344 N.W.2d 374, 378 (Minn. 1984).
17. Pub. Util. Dist. No. 1, 471 F.3d at 1066; see also Entergy La., Inc., v. La. Pub. Serv. Comm'n, 539 U.S. 39, 47 (2003) (noting that the filed-rate doctrine applies to the states through federal preemption).
18. Nantahala Power & Light Co. v. Thornburg, 476 U.S. 953, 966–67 (1986); Miss. Power & Light Co. v. Miss. ex rel. Moore, 487 U.S. 354, 371 (1988) ("FERC has exclusive authority to determine the reasonableness of wholesale rates."); Entergy La., Inc., v. La. Pub. Serv. Comm'n, 539 U.S. 39, 47 (2003) (noting that the filed rate doctrine applies to the states through federal preemption); Pub. Util. Dist. No. 1 of Snohomish County Wash. v. FERC, 471 F.3d 1053, 1066 (9th Cir. 2006), aff'd in part and rev'd in part, Morgan Stanley Capital Group v. Pub. Util. Dist. No. 1 of Snohomish County Wash., 128 S.Ct. 2733 (2008).
19. Mont.-Dakota Utils. Co. v. Nw. Pub. Serv. Co., 341 U.S. 246, 256 (1951); Keogh v. Chi. & Nw. Ry, 260 U.S. 156, 163 (1922): See Ark. La Gas Co. v. Hall, 453 U.S. 571, 577–78 (1981): See also, People of Cal. ex rel. Lockyer v. Dynegy, 375 F.3d 831, 853 (9th Cir. 2004); see alsoTransmission Agency of N. Cal. v. Sierra Pac. Power Co., 295 F.3d 918, 929 (9th Cir. 2002).
20. Ark. La Gas Co. v. Hall, 453 U.S. 571, 577–78 (1981).
21. People of Cal. ex rel. Lockyer v. Dynegy, 375 F.3d 831, 853 (9th Cir. 2004) (internal citations omitted); see also Transmission Agency of N. Cal. v. Sierra Pac. Power Co., 295 F.3d 918, 929 (9th Cir. 2002).
22. Id., 16 U.S.C. § 824a-3(b) (2006) (providing that a rate may not "exceed[] the incremental cost to the electric utility of alternative electric energy"); 18 C.F.R. 292.304(a)(2) (providing that no electric utility shall "pay more than the avoided costs for purchases").
23. Windway Techs., Inc v. Midland Power Coop., 2001 WL 1248741 at *4 (N.D. Iowa 2001) (quoting 16 U.S.C. § 824a-3(b)).
24. Steven R. Miles, Full-Avoided Cost Pricing Under the Public Utility Regulatory Policies Act: "Just and Reasonable" to Electric Consumers?, 69 Cornell L. Rev. 1267, 1284 n. 99 (1984) (citing Public Utility Rate Proposals of President Carter's Energy Program: Hearings Before the Subcomm. on Energy Conservation and Regulation of the Senate Comm. on Energy and Natural Resources, 95th Cong., 1st Sess. pt. 1, at 189 (1977)).
25. 123 Congressional Record, 25,848 (1977) (statement of Sen. Percy).
26. The Florida Public Service Commission found that a Green-Pricing program does not violate PURPA and its implementing rules. However, the Florida PSC made it clear that the Commission did not answer the question of whether circumstances might exist where prices in excess of avoided cost could be borne by the general body of ratepayers, or the question of the amount the utility or its green electricity customers could pay. In re Fla. Power & Light Co., 219 P.U.R.4th 46, 49 (Fla. Pub. Serv. Comm'n, 2002).
27. D.C. Denison, "NStar Green Seeks Rate Hike," Boston Globe, March 6, 2010, B5.
28. Steven Ferrey, Net Metering, in 1 Encyclopedia. of Energy Engineering and Tech. 1096, 1098 (Barney L Capehart ed., 2007).
29. Ryan Wiser & Galen Barbose, Renewable Portfolio Standards in the United States: A Status Report with Data Through 2007, Report No. Lawrence Berkeley National Laboratory, 154E, at 1 (2008).
30. See S.B. 107, 2006 Leg., Reg. Sess, (Cal. 2006).
31. Ferrey, Environmental Law: Examples and Explanations (5th ed. 2010).
32. 18 C.F.R. § 292.301(b)(1) (2009).