Deck:
Manufacturers scale up for utility applications.
Author Bio:
Lori A. Burkhart  is Fortnightly's managing editor.
Manufacturers scale up for utility applications.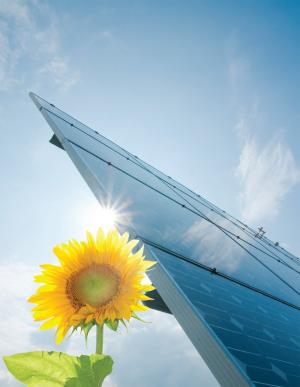 Solar energy is growing fast in the United States—largely because the technology is scaling up to serve utility requirements.
The top 10 utilities' solar megawatts grew 66 percent from 2008 to 2009, and represented an estimated two-thirds of the nation's solar installations in 2009. A large share of that capacity came in the form of utility-scale projects—as opposed to the traditional customer rooftop market, according to a new report released May 18 by the Solar Electric Power Association (SEPA).
And one needn't look far to find big new solar development deals. On June 3, the California Public Utilities Commission (PUC) approved 335 MW of renewable power contracts for Pacific Gas & Electric (PG&E), including a 290-MW solar farm project in Yuma County, Ariz. The contract is with NextLight Renewable Power LLC, which is in the process of being acquired by First Solar. The solar farm, called Agua Caliente Solar, will provide power to PG&E when it comes on line with an expected 2014 in-service date.
And while PG&E leads SEPA's top 10 rankings for 2009 with the most solar megawatts (85.2 MW) added to the grid for the second straight year, other utilities also are pushing solar forward. For example, Florida Power & Light made the list in position four, and wasn't even in the top 10 in 2008.
For insight into how solar-technology companies are advancing their designs and scaling up for the utility market, Fortnightly looked to top gurus in the solar industry. They include:
• Robert Gillette , CEO, First Solar
• Mike Hall , CEO, Borrego Solar Systems
• Alan King , Director of National Strategic Accounts and Eastern Region Sales for U.S. Operations, Canadian Solar
• Dr. Shihab Kuran , CEO, Petra Solar
• Bob MacDonald , CEO and co-founder of Skyline Solar
• Michael Splinter , Chairman, CEO and President, Applied Materials
• John Woolard , President and CEO, BrightSource Energy
Fortnightly: What's your company's pitch? Why do you believe your technology is the most cost effective for utility-scale solar generation?
Kuran, Petra Solar: Petra Solar is currently constructing the largest utility-scale solar project in the country—with PSE&G of New Jersey. Last year, PSE&G contracted with us to install 200,000 of our pole-mounted SunWave systems, each capable of generating 200 watts of power for a total of 40 MW.
I can't presume to speak for the utility, but I think there are very compelling selling points for our model of distributed solar generation. Our pole-mounted systems rely on existing infrastructure. Utilities already own power and street light poles and they employ line crews that install and maintain equipment on these poles every day. These same crews consistently install our systems in less than 30 minutes using time-tested tools and techniques. Also, pole-mounted generation eliminates the need to buy or lease acreage for larger traditional solar installations. It generates power where it's needed; at the secondary side of the distribution grid; it avoids infrastructure upgrades and interconnection fees and it