Deck:
Smart-grid planners feel the heat.
As America approaches summer's Dog Days, the debate over smart meters is heating up. In an effort to understand the controversy, it's tempting to view it as a purely political argument—albeit a complicated one. In some jurisdictions, opposition is coming from people on the left side of the political spectrum, whose main complaint stems from distrust of big corporations and the technologies they're promoting. At the same time, right-leaning opponents seem convinced that smart meters are part of a leftist scheme to advance a radical green agenda—and in the bargain to impose big government control over individuals.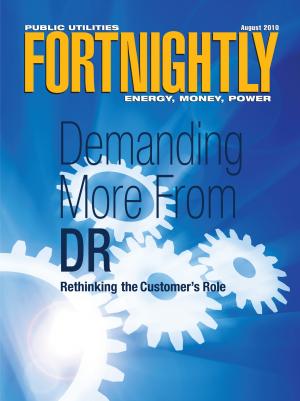 "This is all part of President Barack Obama's cap-and-trade plan," wrote Westerville, Ohio, realtor Petra Hinterschied, in a lengthy blog post on her city's smart-meter project. "We must ask ourselves: Do [the] benefits outweigh the possible unintended consequences, loss of liberty, immediate and future costs of the smart grid system and huge security/privacy issues?"
But as politically motivated as some of the arguments might be, at least two themes unify virtually all public opposition to smart meters, namely:
1) People fear what they don't understand, and a lack of information translates into a perceived threat. The human imagination fills dark corners with hideous monsters; and
2) The people who are most likely to protest and picket are the same ones who most fervently distrust governments and companies—especially when those institutions try to force changes ostensibly meant for consumers' own good.
Combine these themes with companies' inexpert approaches to customer engagement and an ideologically charged political environment, and you get a PR powder keg ready to explode. The upside—if there is one—is that the whole painful process is teaching utilities the delicate art of customer engagement.
Smart Smackdown
As this issue went to press, utilities in at least four states were facing public backlash against smart-meter rollouts—and that's not counting the class-action lawsuits previously filed against Oncor and Pacific Gas & Electric in Texas and Bakersfield, Calif., respectively.
For example, in Northern California, about 60 residents picketed offices of the California Public Utilities Commission in San Francisco on July 20, carrying protest signs and chanting such slogans as, "One, two, three, four, smart meters no more." The demonstrators voiced concerns about privacy and personal choice issues, as well as the meters' radio-frequency transmissions and their possible effect on human health. Several local governments in Northern California, including Berkeley, Marin County, Santa Cruz and San Francisco, petitioned PG&E to stop its smart-meter rollout pending further public hearings and studies. The Marin Independent Journal published an editorial on July 20 that stated, "Forcing your customers to do something without first making sure they are comfortable with it is not the best way to run a business."
In Maryland, executives at Baltimore Gas & Electric were stunned when the Maryland Public Service Commission (PSC) decided in June to deny the company's DOE-funded smart-grid investment plan. The decision came in the midst of a heated gubernatorial campaign, in which Gov. Martin O'Malley (D) is campaigning on a theme of green jobs, while former Gov. Robert Ehrlich (R) accuses the O'Malley administration of killing jobs with anti-business regulations. Against this backdrop, BGE petitioned for expedited re-hearing and amended its plan to address the PSC's concerns—most notably by deferring and limiting BGE's proposed capital-expense "tracker"; making time-of-use rates voluntary instead of mandatory; and proposing a customer communication and education plan. The commission agreed to schedule hearings for early August.
Meanwhile, in the aforementioned Westerville, Ohio, the city council voted in a closed-door meeting on July 20 to postpone a final vote on the municipal utility's federal stimulus-funded smart-grid project. Chairman Mike Heyeck announced afterward that the postponement would allow the council to field questions and comments from Westerville residents, and to "provide additional opportunity to learn more about advanced metering" via a series of public events and outreach efforts. The council's decision came in the wake of growing public discontent, expressed at a July 6 city council meeting, where the residents who showed up spoke overwhelmingly against smart meters. ThisWeek newspaper quoted resident Charles Voight Jr., "This process seems to have been predetermined, with the grants being applied for without the public giving their full consent. I personally will not let you into my home, remember that."
Andy Boatright, electric utility manager for the city of Westerville, told Fortnightly that many of the 30-plus people who have expressed opposition to the project have focused on the federal government's role. "I think it's primarily a function of the federal grant," Boatright said.
And further west, Xcel Energy awaits a decision by the Boulder, Colo., city council on whether to recommend that voters renew Xcel's utility franchise. That's right; the celebrated Smart Grid City might actually walk away from its utility partner.
Xcel's 20-year agreement expires at the end of 2010, and the utility wants Boulder to sign up for another 20 years. But surveys indicate voters would reject such an agreement, as well as an alternative plan that would impose an excise tax on Xcel—which the company would pass through to customers in monthly bills. Council members reportedly are considering municipalizing Boulder's utility services if voters reject both initiatives.
Cold Beer and Reality TV
Negative public sentiment over Xcel's franchise agreement might be tied to the company's Smart Grid City project, which has encountered its share of problems—from ballooning capital costs to disappointing participation in its demand-response program. Xcel CEO Dick Kelley told Fortnightly in June, "There's huge value on the utility side of the meter, but it hasn't been that successful on the customer side. I guess some people thought Boulder residents were super-environmentalists, but in fact they just want their TV to work and their beer to be cold when they get home."
Of course, such truths shouldn't surprise anybody in the utility industry; the regulatory compact ensures reliability is our overriding goal, and the smart grid doesn't change that. What the smart grid does change, however, is the need for sophisticated customer communications strategies.
"Utilities are trying to deploy new technology and potentially a radically new approach to energy conservation, but doing it in an environment with extremely low customer engagement," said Ogi Kavazovic, senior director of marketing and strategy with Opower. "Deploying something like that without having a meaningful customer relationship first is a fundamental problem."
Opower has gained an impressive list of utility customers in the past year for its service, which uses interval-metering data to generate individually customized mailings to utility customers in support of efficiency programs. The keys to success, according to Kavazovic, include demonstrating tangible value to customers on an ongoing basis, and approaching communications with a clear understanding of what motivates people's behavior.
"The financial value proposition, in most cases, isn't enough to excite customers," he said. "We've found other ways to get people's attention and get them to take action." Examples include using peer pressure—i.e., comparing the customer's usage to that of neighbors—and also carefully wording messages to position the conservation opportunity as money lost rather than potential savings.
"A subtle change in wording can have a profound result," Kavazovic said.
Subtlety, of course, has never been the industry's strongest trait. But over time, we'll learn how to sell the smart grid to customers across the ideological spectrum—from Joe Six-Pack to Jenny Granola.