Deck:
Northeastern politicians declare war on capacity auctions.
Northeastern politicians declare war on capacity auctions.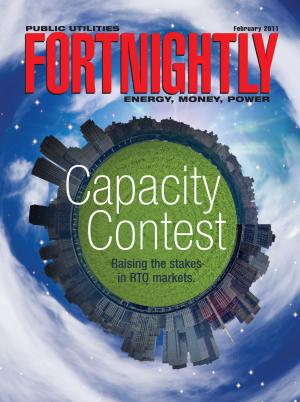 Back in the early days of the independent power industry, non-utility generators fought bitterly to overcome barriers that utilities erected to prevent their success. When large industrial users wanted IPPs to come and build inside-the-fence cogeneration plants, utilities tried to retain those customers with special incentive prices—prices that IPPs alleged were cross-subsidized by captive ratepayers. When such tactics failed, some utilities refused to provide backup service to departing customers, forcing them to choose between reliability and the freedom to shop. And when IPPs wanted to wheel power to customers down the road, utilities refused to interconnect them, or charged exorbitant rates for transmission access.
Arguably all these tactics were fair enough in the context of the regulatory compact; utilities spent billions of dollars building infrastructure to serve their state-approved franchises. They couldn't just surrender the wholesale power business to a bunch of highly leveraged upstarts. In any case, given the contentious history of deregulation in the United States, it comes as no surprise that many IPPs still don't trust the utility industry to play fair.
Over time that distrust has expanded to include not just regulated utilities, but also FERC-authorized regional transmission organizations (RTO).
A dramatic case in point: In New Jersey, IPP developer LS Power convinced state legislators that the PJM Interconnection's capacity auction was driving up power prices in the state and making it impossible to finance the new power capacity needed to bring those prices down. As Fortnightly was going to press, Gov. Chris Christie (R-N.J.) was expected to sign legislation that would require the state to contract for 2,000 MW of new generating capacity to be built in New Jersey and offered in PJM's auction at $0/MW—in effect subsidizing the construction of new IPPs and dumping their power into the market (see " Capacity Contest ").
Maryland is taking a similar approach, with the PSC proposing to compel the state's investor-owned utilities to enter long-term power purchase agreements (PPA) for 1,800 MW of power capacity. The proposal resulted directly from a petition by IPP company Competitive Power Ventures, which had asked the PSC to order utilities in the state to negotiate a PPA for the company's proposed 600 MW St. Charles combined cycle plant.
CPV won the support of Maryland Gov. Martin O'Malley, who called PJM's capacity auction "perverse," and urged the commission to order long-term contracts. "Maryland cannot be held hostage to the failure of deregulation and broken energy markets," he told the commission.
But have the markets really failed? Are capacity auctions broken? Or are they just sending accurate price signals—albeit sometimes painful ones—based on locational constraints?
And in America's hybrid-regulated, crazy quilt of a power market, how can anybody tell the difference?
Local Constraints
In the debate over electric market competition, middle ground seems conspicuously absent.
On one side, capacity auctions are perverse and prejudicial. They're rewarding those with the most market power, discouraging new plant development, and subjecting hapless customers to