Deck:
Preparing for New England's capacity transition.
Author Bio:
Paul J. Hibbard is a vice president in Analysis Group's Boston office. He was chairman of the Massachusetts Department of Public Utilities from 2007 to 2010. The author is currently providing services under contract with ISO-NE, including some matters related to topics discussed in this article. The work described herein, however, stems from data and analysis obtained, developed, and executed by Analysis Group independent of ISO-NE, and doesn't use or rely on any non-public information from ISO-NE.
Preparing for New England's capacity transition.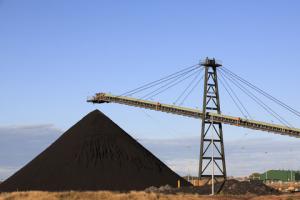 There is no shortage of opinion—including in these pages—about how much of our nation's aging coal, oil, and natural gas electric fleet will be retired in the coming years. The North American Electric Reliability Corp. (NERC) estimates that up to 76 GW of primarily coal- and oil-fired capacity will be retired or derated by 2018, with virtually no region of the country unaffected. 1 For New England, NERC's analysis suggests that up to 4 GW of capacity could face retirement or derating, considering deteriorating market economics and the capital investments required to comply with the combined requirements of forthcoming EPA rules on air emissions, cooling water, and coal ash disposal. 2
The proliferation of studies and flurry of activity around retirement aren't merely exercises in political maneuvering or consulting gone wild; announcements about retiring plants have been emerging steadily over the past year (at least), including in New England.
For example, on Feb. 10, 2011, Dominion Resources Services submitted to the region's transmission organization, ISO New England, a request to permanently retire all four units of its Salem Harbor power plant by June 2014. 3 When this finally happens, roughly 750 MW of coal- and oil-fired capacity, in the most densely populated load pocket within New England (NEMA/Boston), will be permanently retired. Dominion and industry analysts have cited the combination of impending environmental compliance costs and deteriorating capacity and energy market conditions in New England—including the potential for sustained low natural gas prices—as key reasons for retirement. 4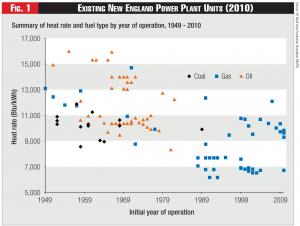 Dominion could be just the tip of the iceberg. While New England has substantial new, efficient, combined-cycle natural gas capacity that would be relatively unaffected by the combined EPA rules, it also has a significant number of older, less-efficient fossil-fueled units that are at risk (see Figure 1) . Consequently, other aging oil and coal facilities in the region could soon follow in Dominion's footsteps.
Competition and Resource Planning
Analysis Group considered how New England's marginal prices and emissions profile would be affected by the retirement of coal-fired capacity, offset by the addition of various configurations and quantities of natural gas, wind power, and hydro resources. 5
In New England, reliability needs are met through a combination of competitive markets for capacity, reserves, and energy and, absent a market response, backstop regulated cost-of-service transmission development. The system has worked well: Since restructuring, the region has reliably added more than 12 GW of generation (primarily combined-cycle natural gas plants), nearly 3 GW of demand resources, and enough new transmission to virtually eliminate congestion in the region. Additional transmission projects