Author Bio:
Michael T. Burr is Fortnightly's editor-in-chief. Email him at burr@pur.com. The C Three Group in Atlanta provided financial analysis for this report.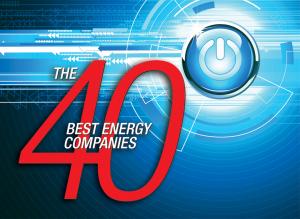 Our annual ranking tracks the publicly traded electric and gas companies that produce the greatest value for shareholders. Despite the year's topsy-turvy financial markets, perennial performers like DPL, PPL and Exelon return to the top of the list. Others face looming cap-ex burdens as regulators impose new mandates and requirements. Leading companies are positioning for growth, despite a challenging landscape.
As this issue of Public Utilities Fortnightly was going to press, the global financial markets were convulsing. Between European bailout talks and American political tail-chasing, stock traders couldn't seem to decide which piece of bad news to follow at any given moment. Consequently the markets went into a tailspin; the Dow Jones Industrials Average (DJIA) lost almost 14 percent of its value between July 21 and August 19.
Amid that stomach-churning tableau, the exercise of analyzing last year's financial performance for the top 40 U.S. utilities might seem a bit superfluous. After all, with stock averages going through intra-day swings of 6 percent or more, the utility industry's glacial pace of change seems downright boring by comparison.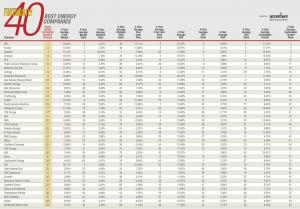 On the other hand, for investors weary of the market's spastic behavior, "boring" probably sounds pretty good right about now. And that's why, in times like these, many investors retreat to the stocks of utilities like those in our annual top-40 ranking (see Figure 9) .
As a veritable showcase of the industry's stability, this year's F40 rankings look remarkably similar to last year's. Most notably, among the top 10 companies, only two names have changed. First, last year's #4-ranked company, Mirant, is gone entirely, since it merged with RRI Energy to become GenOn Energy—a new issue that we'll include in our survey after it's achieved four years of positive earnings.
Second, the western gas utility Questar jumped into the F40's #3 position, up from #12 last year. But like Mirant's exit, Questar's ascent is attributable to a one-time phenomenon—the spin-off of oil and gas exploration and production company QEP Resources. The divestiture was structured as a dividend to shareholders, equating to a 180-percent annual yield—which compares to Questar's previous four annual dividends that yielded between 0.9 percent and 1.5 percent. Although the F40 model is designed to compare long-term performance, the QEP deal brought Questar's four-year average dividend yield up to almost 46 percent—an order of magnitude greater than most companies in the F40, and enough to push Questar into the top five F40 ranks.
Apart from these two anomalies, this year's top 10 is virtually the same as last year's, with one minor change: National Fuel Gas and PSEG swapped between 6th and 7th places. Ho hum, right?
Wrong.
The apparent stability in the F40 belies a more interesting truth: namely, transformative forces already have affected shareholder performance for many bellwether utility companies. And notwithstanding the current panic in the financial markets, companies in this industry face a promising future. "If you're playing in the