Author Bio:
Michael T. Burr is Fortnightly's editor-in-chief. Email him at burr@pur.com. The C Three Group in Atlanta provided financial analysis for this report.
Our annual ranking tracks the publicly traded electric and gas companies that produce the greatest value for shareholders. Despite the year's topsy-turvy financial markets, perennial performers like DPL, PPL and Exelon return to the top of the list. Others face looming cap-ex burdens as regulators impose new mandates and requirements. Leading companies are positioning for growth, despite a challenging landscape.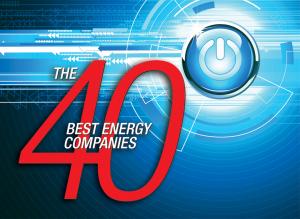 As this issue of Public Utilities Fortnightly was going to press, the global financial markets were convulsing. Between European bailout talks and American political tail-chasing, stock traders couldn't seem to decide which piece of bad news to follow at any given moment. Consequently the markets went into a tailspin; the Dow Jones Industrials Average (DJIA) lost almost 14 percent of its value between July 21 and August 19.
Amid that stomach-churning tableau, the exercise of analyzing last year's financial performance for the top 40 U.S. utilities might seem a bit superfluous. After all, with stock averages going through intra-day swings of 6 percent or more, the utility industry's glacial pace of change seems downright boring by comparison.
On the other hand, for investors weary of the market's spastic behavior, "boring" probably sounds pretty good right about now. And that's why, in times like these, many investors retreat to the stocks of utilities like those in our annual top-40 ranking (see Figure 9).
As a veritable showcase of the industry's stability, this year's F40 rankings look remarkably similar to last year's. Most notably, among the top 10 companies, only two names have changed. First, last year's #4-ranked company, Mirant, is gone entirely, since it merged with RRI Energy to become GenOn Energy—a new issue that we'll include in our survey after it's achieved four years of positive earnings.
Second, the western gas utility Questar jumped into the F40's #3 position, up from #12 last year. But like Mirant's exit, Questar's ascent is attributable to a one-time phenomenon—the spin-off of oil and gas exploration and production company QEP Resources. The divestiture was structured as a dividend to shareholders, equating to a 180-percent annual yield—which compares to Questar's previous four annual dividends that yielded between 0.9 percent and 1.5 percent. Although the F40 model is designed to compare long-term performance, the QEP deal brought Questar's four-year average dividend yield up to almost 46 percent—an order of magnitude greater than most companies in the F40, and enough to push Questar into the top five F40 ranks.
Apart from these two anomalies, this year's top 10 is virtually the same as last year's, with one minor change: National Fuel Gas and PSEG swapped between 6th and 7th places. Ho hum, right?
Wrong.
The apparent stability in the F40 belies a more interesting truth: namely, transformative forces already have affected shareholder performance for many bellwether utility companies. And notwithstanding the current panic in the financial markets, companies in this industry face a promising future. "If you're playing in the right places, there will be a lot of opportunities," says Jean Reaves-Rollins, managing partner of the C Three Group in Atlanta, which developed the Fortnightly 40 model and provides financial analysis for each year's report. "You've got to have a supportive regulatory environment, but there is growth happening and more to come."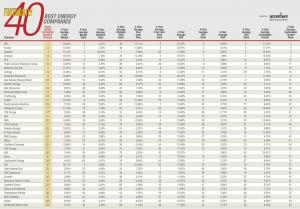 A closer analysis of the industry's leading performers reveals what approaches will be successful for coping with the industry's challenges and pursuing its opportunities.
Chutes & Ladders
Stability reigns not just in this year's top 10, but across the entire survey (see Figure 3). For the first time in four years, no companies in the F40 ascended in the rankings by more than 50 percent, and only one (CLECO, #15) rose by more than 30 percent. None1 dropped more than 30 percent, and just two companies (EQT and NRG) fell by more than 20 percent.
The stories of these ascending and descending companies, however, outline a narrative of macro-scale industry trends involving fuel supplies, infrastructure investments and operational strategies. Perhaps the biggest factor affecting several companies is the price of natural gas, driven lower by an expanding bubble of North American shale resources.
EQT's fortunes have followed those prices downward. EQT—which owns more than 1,000 miles of gas pipelines as well as other midstream and upstream assets—is in a four-year run of negative cash flow, resulting from weaker earnings and an aggressive capital construction program. EQT spent nearly $890 million in gas well development last year, mostly in Appalachian shale formations. The company also has a rising debt-service burden, having added $700 million in debt to its balance sheet in 2009. Consequently EQT's F40 rank has fallen from 11 in 2009 to 21 last year and 30 this year—in spite of the company's strong operating profits and returns. Over time, EQT's investments seem likely to position the company for even stronger returns in a gas-hungry market.
NRG's recent history tells a similar story with rather different details. NRG (#20) has maintained a strong positive cash flow, despite a hefty capital budget ranging from $706 to $899 million each year for the past three years. The company is growing its generating portfolio, through acquisitions and new construction. Although NRG failed in its bid to acquire $1.4 billion worth of generating assets from Dynegy last year, CEO David Crane suggested in a subsequent analyst presentation that its buying strategy would continue for the foreseeable future. "I think the absolute best time to be buying combined cycle power plants most probably will be in the first part of 2012," he said. However, low power prices have taken their toll on NRG's operating returns—most of which are derived from wholesale power assets—and kept the company from holding onto last year's #11 rank.
For the future, though, NRG appears to be well positioned for solid performance. Its decision in April 2011—in the wake of the Fukushima-Daiichi nuclear disaster—to scrap plans to build two new nuclear reactors in Texas will help by reducing expenses and cap-ex growth. And strong electricity demand during this year's hot summer likely will help the company maintain solid earnings and cash flow to finance its growth plan.
Going the other direction in the rankings, CLECO returned to the top 40 this year—i.e., the 15th spot—after a one-year absence. The company's rank last year was dragged down by four years of heavy capital spending and negative cash flow. But during 2010 CLECO completed some major projects—including the largest circulating fluidized bed boiler in the country, the 600-MW petroleum coke-fired Madison unit—and in 2009 successfully completed a rate case that rolls those new assets into the rate base. Additionally CLECO closed a $304 million transfer of the $580-million Acadia power plant from an affiliate to CLECO Power, and replaced a tolling agreement for a 775-MW combined cycle plant. The consequence of these transactions was to increase the company's operating income substantially, boosting CLECO back into the upper ranks of the F40.
Other companies on the rise in the F40 include gas companies Piedmont Natural Gas and AGL Resources. Also integrated utility DTE Energy leaped from #29 last year to 17th position this year. All three companies also tell similar tales of falling gas prices, growing assets, and rising cost pressures—but in different and instructive ways.
Fueling Growth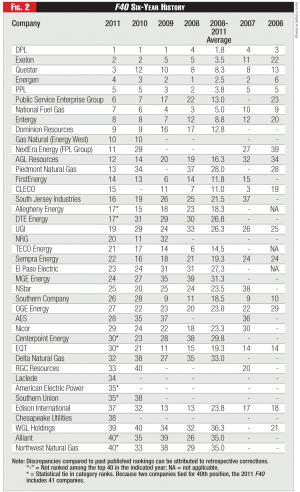 Piedmont Natural Gas went through the second-most dramatic rise in this year's ranking, going from 34th position to 13th, mostly on the strength of strong financial returns and positive free cash flow. Additionally Piedmont has benefited from a solid track record of growth, with assets growing by nearly 12 percent since 2006, and revenues growing by almost 20 percent. These are remarkable numbers for a company that's almost solely focused on retail gas distribution.
"We've been blessed with strong customer growth, about double that of our peers," says David Dzuricky, Piedmont's senior vice president and CFO. "Our markets have been vibrant in all three of the states we serve." Piedmont delivers natural gas to 1 million customers in the Carolinas and Tennessee—most of them in North Carolina. Until the recession began, the company was adding nearly 35,000 customers a year in its residential markets—a 3 percent market growth rate. But the company doesn't expect that residential growth rate to continue. Instead it's seeing rapid growth in the power generation industry, and is investing in pipeline infrastructure to serve power plants.
"Our core markets are down right now, but we've filled that hole with power generation delivery projects," Dzuricky says. "Our cap-ex forecasts are higher than ever, even higher than before the recession. Power generation customers are coming to us not only because of the environmental attractiveness of gas versus coal, but also because pricing is less volatile." Specifically, adding domestic resources outside of the Gulf of Mexico is serving to diversify the gas supply in the United States, and reduce the effects of hurricanes and other factors that can constrain supplies.
AGL Resources, on the other hand, has succeeded in spite of low natural gas prices, not because of them. "Our storage and trading businesses are troubled by increasing shale gas, because those businesses make a lot of money when prices are high," says Drew Evans, CFO of the Atlanta-based AGL. "Industrial demand has diminished, so there isn't a lot of parity in supply and demand. Reduced profitability in those businesses has the greatest impact on our ability to grow earnings."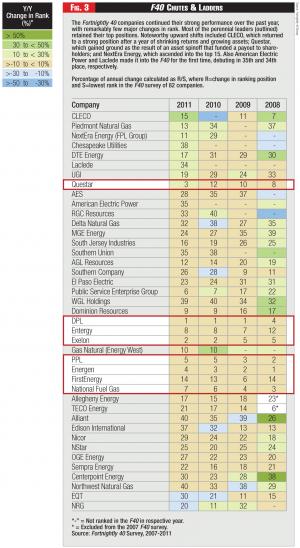 Fortunately for AGL's shareholders, the biggest share of the company's business isn't in midstream operations, but in retail distribution, serving 2.5 million customers in Georgia and several other states. AGL is growing that business through mergers and acquisitions—most recently with a $2.4 billion deal to buy Illinois-based Nicor. The merger would almost double AGL's size, in terms of customers served. Such mergers, Evans says, have allowed AGL to defer rate cases in most of its territories: "We've been able to improve efficiency and stay ahead of inflation by consolidating back-office functions, such as engineering, IT and administration."
He adds that this efficiency-focused strategy has helped the company in its current bid to acquire Nicor. To the degree Illinois regulators expect natural gas rates to increase as a result of rising prices or capital spending, Evans says merger synergies will help to offset those costs. "We're not buying Nicor for growth, but because it makes more sense to serve 4.5 million customers instead of 2.5 million."
Waste Not, Want Not
Another outstanding F40 performer—DTE Energy—is pursuing growth in midstream gas operations, specifically transportation systems associated with the Marcellus shale formation. The company plans to invest about $280 million in gas gathering and pipeline infrastructure, through its Bluestone Gathering subsidiary. But like AGL and many other utility companies, the main storyline at DTE doesn't involve growth, but cost containment. And that's the other major trend driving performance among companies in the Fortnightly 40: deploying technologies and efficiency strategies to improve service and drive costs downward.
The state of Michigan provides a crucible of major trends affecting many utility companies. Industrial, commercial and residential demand fell substantially during the Great Recession, and while demand has rebounded in 2011, companies are under pressure to keep costs to a bare minimum—even while they must replace aging infrastructure and invest in new equipment to meet compliance obligations (see Frontlines, "Cap-Ex Conundrum").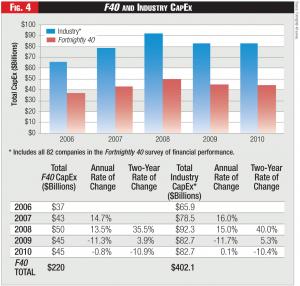 Fortunately for DTE, the recession arrived in the middle of a long-term program of process optimization, so the company was well-prepared for the pressures it's faced.
"We started on a journey of continuous improvement almost 10 years ago," says David Meador, DTE's CFO. "We asked employees across the company to look at their processes and find ways to improve and drive out costs. Many corporate cultures don't allow that to happen because people are afraid to lose their jobs. But for us, going into 2007 we saw the auto industry declining, and anticipated we'd lose 7 percent of our industrial load. So we told employees that if they'd help us find ways to reduce costs, we wouldn't have layoffs. We were able to rally employees around us, and we took out $160 million in operating costs."
As a result, Meador says 2009 was among DTE's strongest years ever, in terms of cash flow, and today O&M expenses are the same as they were in 2005. "We expect O&M costs to remain flat," he says. "By aggressively managing costs we are able to absorb inflation and new incremental costs that come along with installing environmental controls and other capital assets." DTE's cap-ex budget has totaled $4.8 billion since 2006, including $1.5 billion to comply with new EPA regulations through 2010; the company expects to spend another $400 million through the end of the decade on environmental controls at some coal-fired plants, while closing some others. Nevertheless, the company's cost-control strategy has allowed DTE to achieve strong cash flow (14th strongest in the F40 survey)—and thereby minimize rate increases that elicit backlash from customers and regulators.
As an example, Meador points to improvements in the company's field-force management processes. DTE began providing customers with a four-hour window for site visits, and set a goal of hitting that window 90 percent of the time. "This improves customer satisfaction and also drives costs down," he says. "We refined our truck routing to minimize drive times and fuel costs, and we started calling ahead to let customers know we're coming. If we roll a truck and then can't get in because the customer isn't home, it means we have to come back again. That's a wasted trip, which means wasted gasoline and time. We don't have that waste anymore, and now we're working to provide two-hour windows for customers."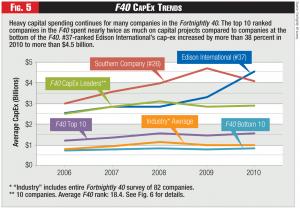 Additionally Detroit Edison is installing 800,000 smart meters, with the support of a DOE grant. The new meters also will help the company contain costs, Meador says, by avoiding unnecessary truck rolls for the 20 to 30 percent of customer calls that involve electrical problems on the customer side of the meter. "Now we can check and say 'We're fine to the meter, you need to call an electrician.' Or the opposite, if we have an outage to the meter, we might know even before the customer does, and we can roll a truck to where it's needed," Meador says. "Technology deployed right will reduce costs and improve customer service."
Strategic Operations
Leaders in the industry obviously focus on financial management, and many companies are pursuing value with asset investments and acquisitions. As a general matter, bigger companies with stronger balance sheets have better access to the low-cost capital they need to finance their strategic plans.
However, amid the quest for greater scale, operational issues are becoming more important, as customers and regulators demand greater efficiencies—and as companies look for new ways to generate returns in a changing market. Ultimately, efforts to improve operations might distinguish winners from losers, especially in those parts of the country where economic and political forces are driving changing expectations.
"How do companies become leaders in using new energy technologies, versus being reactive to what's happening?" asks Robert Laurens, a partner with Accenture. "The mark of a true industry leader is looking ahead to see what's coming, and making options-based investments to gain skills."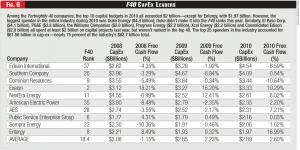 Beyond just gaining efficiencies on operational processes, this means pursuing new business opportunities that emerge in tandem with new technologies and changing customer demands (see "Navigating in the Age of Uncertainty"). "The industry has struggled with this," Laurens says. "For example, who's going to play in the new field of customer energy management? It's not as easy as some players might have thought, and we've seen recent announcements from Google and Microsoft that they are getting out of that business. What's the role of the utility in defining interaction with customers? Leaders will make option-based investments that allow them to learn."
The same strategic thinking applies to upstream technologies and resources; a company that invests in new power generation or storage technologies, or partners with companies that have more experience with solar or wind projects, will be in a better position to understand how these new resources fit into the overall portfolio.
Reaves-Rollins of the C Three Group adds that many companies in the industry now find themselves in a unique position to assert such leadership. With the economy balanced between recession and recovery—but with this year's hot weather driving very strong energy sales figures, compared to last year's—companies now have an opportunity to look ahead.
"This is a time when everyone needs to be looking at their strategies and asking whether they're on the right course," she says. "Because if you're not, you now have ways of getting out of it. The weak economy provides a good excuse for making a course correction." That can include everything from a company's commitment to retrofitting coal-fired power plants or building nuclear facilities, to its aspirations for fostering electric vehicle deployments.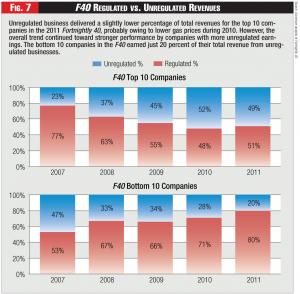 "Now is the time for setting a new strategic course," she says. "A year from now, I'm not so sure. The economy might be stronger or it might be worse. But right now, you've got a lot of options."
Endnote:
1. Three of last year's top 40-ranked companies (besides Mirant) are missing from the F40 this year—Allete, Constellation Energy, and New Jersey Resources. Allete was ranked #37 in 2010, which was its debut year in the F40, so it didn't have far to fall to dip below 40th position. Constellation returned to the F40 in 26th rank last year for the first time since 2007, largely on the strength of a one-time cash infusion from selling 49.9 percent of Constellation Energy Nuclear to EDF—as well as two years of very low stock prices, which resulted in an inflated ROE figure. And New Jersey Resources' rank slipped for no apparent single reason—just slightly weaker metrics in several categories.