Generation & Markets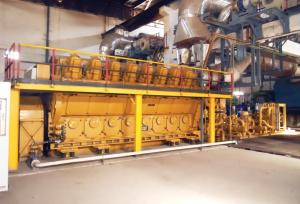 GE and Toshiba signed a memorandum of understanding to form a global strategic alliance, under which the two companies would jointly develop select combined-cycle power generation projects around the world. The companies will explore the formation of a strategic joint venture to develop next-generation combined-cycle power projects with higher thermal efficiency.
Alberta Newsprint Co. (ANC) contracted Caterpillar to develop a turnkey power plant using 10 Cat G16CM34 natural gas generator sets, at a facility in Whitecourt, Alberta, Canada. The 65-MW facility will use Caterpillar's medium-speed, reciprocating engine generator sets, making it Caterpillar's largest power plant installation in Canada.
Duke Energy's Buck and Riverbend steam stations, coal-fired power plants in the Charlotte area, will retire two years earlier than scheduled, drawing to a close more than eight decades of operations at each facility. Both stations had been slated for retirement in April 2015 in advance of upcoming federal environmental regulations; however, the company elected to retire Buck Units 5 and 6 and Riverbend Units 4 through 7 on April 1, 2013.
Constellation completed an aggregate 5.7-MW (DC) solar generation project for Portland General Electric (PGE) in Lake County, Ore. Constellation financed the system, and owns and operates it, selling output to PGE at a fixed rate under a 25-year agreement. The system comprises more than 20,000 ground-mounted photovoltaic (PV) panels. The project is expected to generate approximately 10 million kWh of electricity per year.
GE will install WindControl advanced software to help maximize energy output at two First Wind projects in Maine. The two wind farms are located in Rollins and Stetson. The Rollins site has 40 GE 1.5-77 turbines while Stetson contains 55 turbines. The WindControl software automatically controls the output of each turbine, versus an approach that depends on starting and stopping units to match changes in power demand.
EDF Renewable Energy , formerly enXco, started operations at the 150-MW Bobcat Bluff wind project in Archer County, 20 miles south of Wichita Falls, Texas. The project, consisting of 100 GE 1.5-MW turbines, spans about 12,500 contiguous acres. EDF Renewable Services will operate and maintain the facility, while EDF Trading provides energy management services and acts as the qualified scheduling entity. EDF Renewable Energy acquired the project in March 2012 and began construction in April.
Pattern Energy's Ocotillo wind project in Southern California's Imperial Valley began commercial operation, transmitting energy to the Sunrise Powerlink, a newly constructed 117-mile, 500-kV transmission line connecting San Diego and the Imperial Valley. The 265-MW Ocotillo project has 94 turbines now operational. An additional 18 turbines are expected to be installed in the spring of 2013. San Diego Gas & Electric (SDG&E) will buy the output under a 20-year agreement.
Siemens was awarded a long-term service program contract extension for the Phu My 3 combined-cycle power plant. The facility is a build-operate-transfer financed 740-MW power plant located in Ba Ria, Vung Tau Province, Vietnam. Siemens will provide comprehensive maintenance services for the plant's two SGT5-4000F turbines, one SST5-5000 steam turbine, and three generators.
Sempra U.S. Gas & Power completed construction of Mesquite Solar 1,