Generation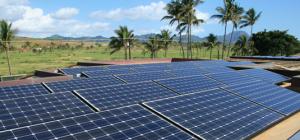 Abengoa and BrightSource Energy agreed to jointly develop, build, and operate what the companies say will be the world's two largest solar power towers at a site in California. The companies expect jointly to permit and finance the 500-MW Palen Solar Electric Generating System. Abengoa will build the plants as the engineering, procurement, and construction (EPC) contractor, and will lead the operation and maintenance (O&M) of the plants once online. BrightSource will provide the solar field technology and plant design. The Palen project consists of two 250-MW units located in a Department of Interior Solar Energy Zone in Riverside County, Calif. Construction is expected to begin at the end of 2013 with startup in 2016. 
GE began operating a prototype of what it calls the world's most efficient high-output wind turbine, the 2.5-120, at a test site in Wieringermeer, Netherlands. The turbine integrates energy storage and forecasting algorithms while communicating with neighboring turbines, service technicians, and operators. GE says the upgrades will yield a 25 percent increase in efficiency and a 15 percent increase in power output compared to GE's current model. 
Wisconsin Public Service contracted ABB to upgrade the control system on its Weston Unit 3, a 360-MW Combustion Engineering tangential-fired, drum boiler supplying steam to a General Electric turbine-generator, located in Rothschild, Wisc. As the turnkey supplier, ABB is responsible for all aspects of the project, including control system design, implementation, testing, site installation and startup. ABB's design and implementation activities will include review of existing plant systems and operation, I/O list development, hardware configuration, control logic, high performance graphics, NERC-CIP compliance, networks and interfaces. Also ABB will provide its Symphony Plus control system.
Hawaiian Electric Co. dedicated the new 5-MW Kalaeloa solar farm in West Oahu, Hawaii. The 36-acre solar farm is managed by Bright Plain Renewable Energy and was designed and built by SunPower. Solar modules are mounted on SunPowerT0 Tracker systems. Hawaiian Electric is expected to buy project output under a 20-year, fixed-price contract. Construction began in July 2012, and operations began in December.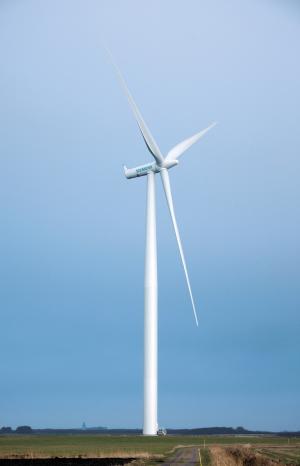 Alstom awarded a contract worth approximately $35 million to SPX to supply an air-cooled condenser for a new 835-MW gas-fired, combined-cycle power plant that Alstom is building under EPC contract for Dalia Power Energies in Israel. With two 417-MW units, the Tzafit plant is expected to be the country's largest privately owned power station. Located 40 kilometers southeast of Tel Aviv, the plant is scheduled to be commissioned in 2014. 
Samsung Renewable Energy and Pattern Energy Group contracted Siemens Energy to supply and install 124 wind turbines—its 2.3-101 units—for the 270-MW South Kent wind project in Canada. Installation is scheduled to begin this year, startup in spring 2014.
Amerifreight awarded a contract to Sunvalley Solar to install a 329-kW solar system, comprised of 1,316 high efficiency 250-Watt polycrystalline solar panels. The installation is scheduled to begin mid-2013.
Fluor contracted ABB to install the 125-MW Arlington Valley II photovoltaic power project, owned by LS Power Group. The project, located in Maricopa County in the town of Arlington, Ariz., consists of five blocks of crystalline silicon PV arrays on a single-axis tracking system, along with a SCADA system to monitor and control the various plant systems, including trackers, inverters, substations, the well water supply and treatment system, and the interface with the plant meteorological station. ABB's North American Renewables team began installation in January.
Transmission
Georgia Power chose 3M's ACCR overhead conductor to double the transmission capacity on a set of lines that cross wetlands near Savannah, Ga. The upgrade is on a 16.7-mile line linking the Kraft generating plant in Savannah with the McIntosh plant north of the city. The project resolves potential capacity issues by approximately doubling the 230-kV circuits' line capacity, replacing a steel core conductor with a 3M conductor light enough to be accommodated mostly by existing infrastructure. 
ATCO Electric selected Quanta Services subsidiary Valard Construction to install transmission infrastructure for the Eastern Alberta Transmission Line (EATL) project. Valard will install approximately 310 miles of 500-kV high-voltage direct current (HVDC) transmission line between the Edmonton and Calgary regions. Valard is responsible for all construction aspects of the project, with completion expected by the end of 2014. 
American Transmission Co. is seeking approval from state regulators to rebuild 58 miles of existing 138-kV transmission lines in portions of four southeastern Wisconsin counties: Waukesha, Jefferson, Dodge and Washington. Work on the project includes replacing the majority of the structures and adding new conductors and fiber optic wires to 35 miles of the line. ATC anticipates regulatory approval in spring 2013 and the start of construction in fall 2014. The estimated cost of the project is $64 million with completion expected in spring 2017.
Lone Star Transmission, a subsidiary of NextEra Energy, completed energization of approximately 330 miles of new 345-kv transmission lines and associated facilities. The project, which includes four circuits and five substations, stretches from Scurry County, northwest of Abilene to Navarro County, just south of Dallas. The project is part of a transmission grid improvement program that will add approximately 2,300 miles of 345-kv lines to deliver power from the Competitive Renewable Energy Zones (CREZ) in west Texas and the Texas panhandle to the Dallas-Fort Worth area and other population centers in Texas. 
Southwest Power Pool (SPP) approved the Elm Creek to Summit transmission line project in central Kansas. ITC Great Plains will construct approximately half of the 60-mile, 345-kV line connecting the ITC Great Plains Elm Creek substation, northwest of Aurora, to Westar Energy's Summit substation. ITC Great Plains, in partnership with Mid-Kansas Electric Co. (MKEC), will build the northern portion of the line and will co-own and operate it with MKEC. Westar Energy will build, own, and operate the southern half of the line. 
Smart Grid
Municipal Energy Agency of Nebraska (MEAN) contracted Open Systems International (OSI) to supply a new SCADA and generation management system based on OSI's Monarch (Multi-platform Open Network ARCHitecture) platform. The system will include OSI's next-generation, .NET-based graphical user interface; advanced SCADA functionality; advanced alarm management system; real-time and historical trending; automatic generation control and dispatch; energy market control algorithm; and market operations system software products. 
Piedmont Municipal Power Agency (PMPA) selected Tantalus to provide the communications network for its smart grid system. PMPA is a joint agency formed by 10 municipal utilities in northwestern South Carolina. Tantalus will provide load management tools and an AMI overlay that allows PMPA member utilities to remotely read any existing Itron electric, water, and gas ERT meters, and allows consumers to view their usage data over the Internet. PMPA will procure and maintain the smart grid communication network and load control devices for its members. 
ComEd completed digital upgrades to a substation that will help improve reliability for ComEd customers on the South Side of Chicago. The Wallace substation is expected to reduce the frequency and duration of power outages by analyzing up to 1,500 pieces of information every two seconds and alerting ComEd system operators when, or even before, problems arise. The Wallace facility is the first substation to be transformed into a so-called "smart substation" under the smart grid law enacted by the Illinois General Assembly in 2011. ComEd expects to transform 10 substations into smart substations over the next five years.
DR & Conservation
Minnesota Valley Electric Cooperative (MVEC) will launch a new residential demand response (DR) program this summer using wi-fi communicating thermostats and the EnergyHub Mercury DR software platform. The initial deployment is expected to include 1,000 thermostats. Participating co-op members will have access to web and mobile applications for remote thermostat control and management, as well as automatic efficiency features. MVEC plans to use the DR management capabilities of the EnergyHub Mercury platform to reduce peak demand.
Energate is working with GE to supply residential DR solutions as part of the GE PowerOn Precision software platform. The agreement will use GE DR management software to control Energate's DR platform and in-home technologies, which include smart communicating thermostats, home energy gateways, in-home displays, load control software, and communicating power switches. 
EnerNOC extended one of its utility contracts to deliver energy efficiency solutions to commercial and industrial (C&I) energy users. Two industrial energy efficiency programs, as well as a monitoring-based commissioning program for conditioned space, will be extended through the end of 2014. The program is administered by Pacific Gas & Electric and funded by California utility customers under the authority of the California Public Utilities Commission. 
Metering
SP PowerAssets Limited (SPPA) contracted Silver Spring Networks to deliver the network and control platform for the initial phase of its advanced metering infrastructure (AMI) project. Under this contract, SPPA, which is a member of the Singapore Power Group and owns the electricity transmission and distribution assets in Singapore, will deploy Silver Spring's IPv6-based wireless networking platform across its service territory. Silver Spring partnered with STEE-Infocomm, a division of Singapore Technologies, for this project and will provide a variety of implementation and logistics support.
EVs & Storage
NSTAR established a new hotline to provide customers with a source of information about electric vehicles and EV technology. The information center hotline is a part of a pilot program the company is launching in partnership with the Massachusetts Department of Energy Resources to identify a cost-effective approach to establishing EV-charging infrastructure within the commonwealth. The hotline includes advice on vehicles and related equipment, payment options, optimal placement of charging equipment, and best industry practices. Representatives will also provide cost estimates to operate and charge EVs.
ChargePoint will install more than 80 electric vehicle (EV) charging stations around New York, through a $1 million incentive from the New York State Energy Research and Development Authority (NYSERDA). Last year, Gov. Andrew Cuomo announced $4.4 million being awarded to 10 EV companies, municipalities and other entities, including ChargePoint, to bring 325 charging stations to New York. Earlier this year, Cuomo announced Charge New York, a program that calls for investment in 3,000 public and workplace charging stations by 2018.
People
Navigant named Ralph Luciani as director at Navigant's Energy practice in Washington, D.C. Luciani specializes in analyzing economic and financial issues affecting the electricity industry. Previously he was a v.p. at CRA International.