Deck:
Developing a leadership role for utilities in alternative technologies.
Author Bio:
Andrew Kosnaski  previously was vice president of system planning for the Tennessee Valley Authority.  Ramesh ("Rudy") Shankar  previously served as TVA's chief technology advisor and vice president of technology innovation. This article represents their views and not TVA's.
Developing a leadership role for utilities in alternative technologies.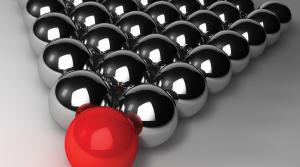 The American economy is undergoing rapid change, with innovation and technology bringing goods and services most Americans could only have dreamed about decades ago. Witness the replacement of telephone land lines with cellular access with larger bandwidth for new and varying content. The electric utility industry isn't immune to these forces. Advancements in almost every area of power generation are changing how we do things, from removing harmful pollutants from emissions streams to providing new ways of giving end users choices in how they use electricity in their homes. Advancements in the areas of nuclear technology, from the development of the next generation AP1000 reactor design, to the emergence of small modular reactors as plug-and-play options for nuclear generators, exemplify the way technology has affected traditional generating sources in our industry. 
However, in addition to these evolutionary technological changes, which enhance the traditional utility business, there are other, revolutionary technological changes that could fundamentally affect the very foundations of that business model itself, by giving consumers the choice to bypass the grid and the local utility itself. An alarmist interpretation suggests that revolutionary technology could throw the sector into a death spiral where customer migration off the grid results in higher rates for those customers remaining – first creating a cross subsidy from wealthier to poorer customers, and eventually fueling a self-perpetuating cycle of further erosion as rising costs drive more customers to seek off-grid alternatives. With electricity growth projected to remain flat ( see Figure 1 ) or even to decrease through the next several decades, utilities will be hard pressed to balance expenses with revenues unless new channels are opened to pursue revenue opportunities.
One logical solution to this dilemma is to prepare for the transition by positioning to take advantage of it. To accomplish this, utilities would establish an early presence in several key, potentially revolutionary technologies for distributed generation. Moreover, utilities' mission would broaden from providing electricity to customers over wires, to powering electric devices for consumers whether over wires or at the customer's site. 
Regaining Leadership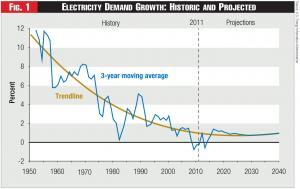 A long-term trend of decreasing investment in research and development by utilities might account for their skittishness about new technologies, but players like Google and Microsoft with their deep pockets might have signaled that the game has forever changed. But instead of ceding leadership to new market entrants from Silicon Valley or elsewhere, utility companies should consider developing partnership roles where they bring operational expertise in managing the supply and demand for stable and secure energy future. 
Power company planners annually develop a cost-based planning framework to develop a portfolio strategy with the goal of serving load at the lowest possible cost. However, such an approach can't be relied upon to support investments in nascent technologies since many of