Author Bio:
Lori Burkhart is the Managing Editor of Public Utilities Fortnightly.
Phil Murphy, before he was Governor of New Jersey, campaigned in part on creating an ambitious Energy Master Plan that would put the state on a path to one hundred percent clean energy by 2050. He's a smart guy, because it helped get him elected. And the PUF team was warmly welcomed by those energy stalwarts charged with drafting and implementing now Governor Murphy's plan at the New Jersey Board of Public Utilities.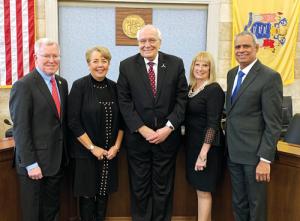 It's serious work, but it's fun too, as you will hear Staff attest. And the New Jersey BPU is big, with some two hundred and twenty-five Staff, because in 2003 it established the Office of Clean Energy to help administer its programs. Talk about forward thinking. And its President Joseph Fiordaliso isn't just BPU's head honcho, his is a cabinet-level position in the Murphy administration, giving a direct pipeline to the Governor's office. 
The BPU moved to Trenton from Newark eight years ago to be closer to government and is busy consolidating three offices into one building. The PUF team attended a BPU meeting in the State House Annex, among the last, as the new meeting room is opening at BPU headquarters. It's one of the oldest Capitol buildings in the country, with stained glass windows that affix the Annex on all sides depicting scenes that make New Jersey the Garden State. Gigantic stained glass bees flying toward huge stained glass fruit! We're guessing the new offices won't have those. Listen in on what's ahead in New Jersey.
New Jersey Board of Public Utilities conversations: