Deck:
Fortnightly Annual Feature
Author Bio:
Steve Mitnick is President of Lines Up, Inc., Editor-in-Chief of Public Utilities Fortnightly, and author of "Lines Down: How We Pay, Use, Value Grid Electricity Amid the Storm."
Each year, we continue to see an increased focus on diversity in the utilities workforce and spend. Ask any leader in the utilities industry, and they will tell you how important those factors are to the success of their company.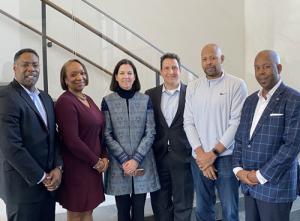 Diversity is no longer about simply meeting quotas. It is about reflecting customer demographics, encouraging inclusion and innovation, and maximizing equal opportunity for everyone. Community and utilities leaders know the workforce must mirror customer demographics and the neighborhoods they serve.
PUF spoke with leaders from AABE, Ameren, Evergy, Exelon, Southern Company, and Burns & McDonnell about diversity spend and diversity in the workplace, what they are doing to promote inclusion, and why it is crucial to the success of their companies. Read on to learn more about these fascinating issues, the challenges, and where they see their initiatives going in the future.
Diversity in Utilities Workforce and Spend conversations:

Lead image: At the Burns & McDonnell diversity roundtable, from left to right, Bryan Umstead, supplier relationship management, Duke Energy, Crystal Ross-Smith, director-diversity & inclusion, Ameren, Bridget Reidy, EVP-Exelon & COO-Exelon Business Services, Jim Niemiec, VP-operational services & CPO, Southern California Edison, Kevin Bryant, EVP & COO, Evergy, Johnny Howze, VP-supply chain management, Southern Company.