Author Bio:
EPRI Board Director Brian Savoy is executive vice president and chief strategy and commercial officer for Duke Energy.
Stan Connally is executive vice president of operations at Southern Company and chair, president and CEO of Southern Company Services. Maria Pope is president and CEO of Portland General Electric. Lisa Barton is executive vice president and COO of American Electric Power. Matthew Ketschke is president of Con Edison of New York. And Brian Savoy is executive vice president and chief strategy and commercial officer for Duke Energy.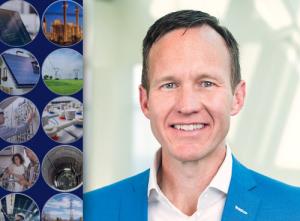 Connally, Pope, Barton, Ketschke, and Savoy are evidently very busy individuals. Their day jobs are some of the most important within the country's electric utilities industry. Yet they are pitching in to help lead the world's premier electric research institution. Indeed, they have just been elected to its highest leadership positions.
So, the Public Utilities Fortnightly team asked them, why? What is motivating them to devote the time and energy necessary to play a big role in setting the course at EPRI? What they told us follows.
PUF: What does it mean to you to be involved in EPRI's governance?
Brian Savoy: I'm honored to serve on the board and have a voice in shaping how we address some of the most challenging issues the energy industry has ever faced. As directors, we understand the importance and benefits of working together and how to leverage the experience and expertise of member companies. I'm deeply committed and supportive of EPRI's work and contributions to helping us address issues and solve the complex problems of today and on the horizon. I hope my personal engagement and contributions will continue to position EPRI as a global leader in research, development and innovation.
PUF: How does your participation help your companies serve the customer?
Brian Savoy: As a member of EPRI, we benefit from the deep collaboration that happens across the organization and member companies to work through the challenges and opportunities we are managing as an industry. The innovative solutions we're working to develop as we address the impact of severe weather events, climate change, and decarbonizing our generation fleets, requires strong technical expertise and a wide range of experience. Also, as our customers' expectations continue to evolve, we must adapt accordingly to ensure we're providing the energy, products, and services our customers need and demand.
These expectations, along with the role of technology and competition are driving forces that we must address — and we are addressing through the research at EPRI. We're learning from each other and creating solutions that will benefit and have a positive impact for our customers and the industry.
PUF: How do you expect, through this participation, to contribute to EPRI's growing impact on our energy future?
Brian Savoy: As the chief strategy and commercial officer for Duke Energy, several of the issues we're experiencing in the industry are my core responsibilities for our company. I will continue to bring the perspective of one of the largest energy service providers in the nation, as well as insights and learnings from my professional experience to the conversation. When needed, I will encourage and challenge the organization to balance risks and opportunities to propel our industry forward to remain relevant and create sustainable value for our customers.
As we look to the future, it's important we understand the challenges and issues before us when it comes to ensuring everyone has access to clean, safe and reliable energy. My goal is to ensure EPRI is well positioned to support the industry to achieve this goal as we move forward.
EPRI Board articles: