Author Bio:
EPRI Board First Vice Chair Maria Pope is president and CEO of Portland General Electric
Stan Connally is executive vice president of operations at Southern Company and chair, president and CEO of Southern Company Services. Maria Pope is president and CEO of Portland General Electric. Lisa Barton is executive vice president and COO of American Electric Power. Matthew Ketschke is president of Con Edison of New York. And Brian Savoy is executive vice president and chief strategy and commercial officer for Duke Energy.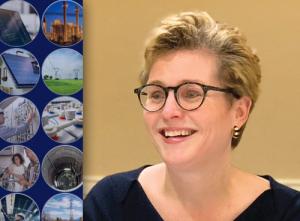 Connally, Pope, Barton, Ketschke, and Savoy are evidently very busy individuals. Their day jobs are some of the most important within the country's electric utilities industry. Yet they are pitching in to help lead the world's premier electric research institution. Indeed, they have just been elected to its highest leadership positions.
So, the Public Utilities Fortnightly team asked them, why? What is motivating them to devote the time and energy necessary to play a big role in setting the course at EPRI? What they told us follows.
 
PUF: What does it mean to you to be involved in EPRI's governance?
Maria Pope: It's a privilege to serve on the EPRI board as vice chair. Our industry is known for collaboration and mutual assistance in the face of challenges. Today, EPRI is pivotal in identifying affordable and reliable carbon reduction pathways for industry and government. Their leadership is critical in driving innovation to ensure everyone has reliable, affordable, and equitable access to electricity as we work toward achieving economy-wide net zero by 2050.
PUF: How does your participation help your companies serve the customer?
Maria Pope: Customers depend on us to deliver safe, reliable, and affordable clean energy. Through our long-standing partnership with EPRI, Portland General Electric has been afforded the opportunity to collaborate on several initiatives ranging from distribution automation, underground networks, solar hosting capacity, system inertia, among others. In the early days of the pandemic, EPRI's role in bringing utilities together globally to quickly assess and address COVID risks and solutions was invaluable. Today, EPRI's sustainability model, platform enabling early detection and assessment of potential wildfires, and the advancement of electric vehicle planning tools are transformational for customers, communities, and PGE.
PUF: How do you expect, through this participation, to contribute to EPRI's growing impact on our energy future?
Maria Pope: The electric power industry is transforming at a rapid pace. Thoughtful coordination at every step will be required to efficiently integrate renewable resources, ensure resiliency of the grid, and maximize the many customer benefits and challenges of a rapid transition to cleaner-energy technologies. Through our collaboration, and the experts EPRI brings together, we can turn these challenges into opportunities and lead the clean-energy transformation. EPRI sits between the utilities directly serving customers and the many universities, National Labs, the Department of Energy, regulators, and legislators providing unbiased technical expertise. EPRI is a global convenor and leader, fostering a bright energy future for everyone.
EPRI Board articles: