Deck:
Environmental Emissions: The cost to power markets of the Clean Air Interstate Rule depends on the ability to trade mercury.
Author Bio:
Peter Rosenthal is Washington bureau chief at Argus Media, a global energy markets publisher. Contact him at prosenthal@energyargus.com.
Environmental Emissions: The cost to power markets of the Clean Air Interstate Rule depends on the ability to trade mercury.
Billions of dollars of ratepayer money will be spent in the next decade on pollution-control equipment to meet new rules that amount to an Environmental Protection Agency (EPA) bet that mercury can be traded like soybeans, oil, and more pertinent, SO 2 and NOx.
Most of the projected $52 billion in new equipment—scrubbers for SO 2 and selective catalytic reduction units (SCRs) for NOx—are a result of tighter limits on those two pollutants, according to EPA estimates.
By throwing in mercury, the EPA has provided cover for utilities that were reluctant to spend on one of those other devices, while giving an immediate and long-term boost to the handful of companies that make equipment aimed at curbing mercury.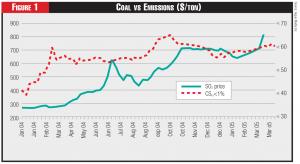 Both of EPA's latest rules—the Clean Air Interstate Rule (CAIR) for SO 2  and NOx, and the Clean Air Mercury Rule—will have dramatic impacts on the type of fuel used for current and new plants. They also will determine whether new control equipment is installed, and the value of emissions allowances. The impact realized from mercury will be felt later than initially envisaged, as the first round of emissions cuts in 2010 are expected to be achieved strictly from the "co-benefits" of installing NOx and SO 2 controls on coal-fired boilers. Incentives to make early reductions—a handicap for Western low-sulfur coal—and uncertainty over the rules, are affecting plant owners' near-term emissions-control decisions.
First, look at the rules themselves. CAIR cuts the current cap on SO 2 emissions levels from the 10.6 million tons emitted in 2003 to 5 million tons in 2010, and to 4.3 million tons in 2018. However, according to the rule finalized March 10, the reductions will come only in the 28 Eastern states where the creation of pollutants is at its most acute.
The current cap-and-trade regime for SO 2 applies nationally. Those states not part of the new CAIR program will remain under the Acid Rain regime that was created as part of the 1990 Clean Air Act amendments. Acid Rain rules still will govern the trading program in CAIR states, although with the fewer tons of SO 2 allowed.
Utilities and merchant generators in the states governed by CAIR are speedily adding new SO 2 controls to their large coal plants, including wet flue-gas desulfurization units, or FGDs—the most effective and expensive scrubbing devices. This is the wave of controls that some had expected under the Acid Rain program, which instead led to massive fuel switching that continues to this day. To meet those earlier SO 2 rules, existing plants changed to low-sulfur coal, and today, nearly every new fossil-fired unit built since 1995 runs on natural gas, which has much lower emissions of SO 2,  and other pollutants.
CAIR also reduces NOx from 3.2 million tons in 2003 to 1.5 million tons in 2009, and