Deck:
The new chairman discusses the meaning of the Energy Policy Act of 2005.
Author Bio:
Lori Burkhart is Fortnightly's legal editor.
The wide-ranging Energy Policy Act of 2005, signed into law by President Bush Aug. 8, already is affecting the energy industry—and guaranteeing that the Federal Energy Regulatory Commission (FERC) will be a very busy agency.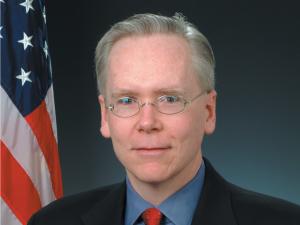 After years of speculation, the bill finally repeals the Public Utility Holding Company Act of 1935 (PUHCA), likely leading to an expected uptick in utility mergers. So the law sensibly expands the authority of FERC over a number of holding company activities.
FERC approval now is required for an electric utility holding company to acquire securities or to merge with another utility. FERC further is given authority under the new law to review costs charged to utilities under inter-affiliate transactions, and FERC and state regulators will examine the books and records of companies in any electric or gas utility holding company system.
Other big changes for FERC: the commission must adopt incentives for investment by transmission companies, using performance-based rates, assured cost recovery, and rates of return sufficient to attract new capital. Also, FERC will appoint and oversee an electric reliability organization to set and enforce mandatory reliability requirements.
The commission reacted immediately by releasing an updated strategic plan for fiscal years 2005-2008. The first goal of the new plan is to promote development of a robust energy infrastructure, including implementation of the infrastructure provisions of the law. The second goal is to prevent the exercise of market power by reliance on effective competition. The third goal is prevention of the exercise of market power by reliance on effective regulation. Each goal contains numerous corresponding objectives.
FERC Chairman Joseph T. Kelliher then appointed veteran FERC attorney Cynthia Marlette to a newly established position overseeing the implementation of the commission's obligations under the energy bill. "The Energy Policy Act requires the implementation of 15 rulemakings in a very short period of time, and represents the most significant changes in FERC's responsibilities in 70 years," Kelliher said, adding that he is determined to meet the implementation deadlines set forth in the new law.
Public Utilities Fortnightly went right to the top at FERC and asked the new chairman what the future holds for the commission.
Fortnightly: Now that you have the top job at FERC, how would you describe your management style?
Joseph T. Kelliher: I am not sure how I would describe it. I want to have a fairly tight agenda, a fairly short list of top priorities. I don't think it is possible to have 101 priorities, so I think it is important to triage and decide what is most important and commit more resources to those things. That is one way I am going to proceed.
I have great confidence in the FERC staff; FERC has a very professional staff. What I'd like to do is identify goals and then work with staff and my fellow commissioners on how to identify options on how to pursue certain goals.
Fortnightly: So will we be seeing more or fewer generic rulemakings?
JTK: We certainly will see a lot that Congress has required us to undertake. The new energy bill [H.R.6, The Energy Policy Act of 2005] has about 15 undertakings, not all of which are rulemakings. But Congress has given us more work in the new energy bill than the commission has been given since 1935 and 1938. So we have a lot of significant responsibilities, and most of those rulemakings are mandatory. Some are optional under the bill, but we have a lot of mandatory proceedings we have to undertake.
There are some other things I have been calling for awhile, like reform of our open access transmission rules and reform of our gas-storage pricing rules. I also think we need to look at a mid-course correction in our RTO policy to assure cost accountability by RTOs. So those are all things that are discretional in the sense that Congress hasn't required us to do them, but I really think we have to act in those areas to be consistent with some of the legal duties that Congress has given us in the past.
Fortnightly: Have you gotten everything you wanted in the new energy bill?
JTK: I don't think you ever get everything you want, but I think this bill is much better than I would have guessed—certainly much better than I would have guessed a year ago. It has almost everything that we wanted, but not quite everything.
Fortnightly: What is missing?
JTK: One thing missing is something that was raised fairly late, and that is offshore gathering lines. That is an issue that really hasn't been encompassed in legislation for years and was something that we raised earlier in the year and tried to revive in the summer. As you probably know, FERC has in the past tried to assert some jurisdiction over offshore gathering facilities, particularly spun-down facilities, and we have lost a string of court cases. I think basically the conclusion is that current law permits monopoly rents for offshore gathering facilities, and that is something I didn't think was very good policy. I thought if that is what current law provides, we should try and change current law, and we should seek jurisdiction over offshore gathering facilities. Now, when Congress passed the Natural Gas Act in 1938, there was very little offshore natural gas production, and that law provided for state jurisdiction over gathering facilities. Virtually all gathering facilities were onshore, so that division between state and federal jurisdiction worked. But as production moved more and more offshore, it ceased to work, because you don't have state jurisdiction outside of state waters. There is a regulatory gap and I thought we should try to fill it. That wasn't something that was included in the legislation, but in large part because it was something that was outside the scope of the bills that Congress has considered in the past couple of years. But I think it is still something we should urge Congress to consider, as it still makes sense.
Fortnightly: During your Feb. 11, 2003, confirmation hearing, Sen. Ron Wyden of Oregon referred to the Western energy crises and called FERC's enforcement record "dismal," do you anticipate that on your watch FERC will become more aggressive concerning rogue behavior by energy companies?
JTK: Congress is only now in this bill giving us the kind of enforcement tools that the commission has needed for a long time. We will for the first time have civil penalty authority for violations of gas law. Our Natural Gas Act (prior to the new energy bill) has no civil penalty authority. If you look at the Federal Power Act, for most violations of that act similarly FERC cannot impose any kind of civil penalty. I think FERC actually has a very good record on enforcement given how weak our enforcement authorities were up to this point. Now Congress must think that we are a credible enforcer or they would not have given us the significant tools they did under the new energy law.
Fortnightly: I last interviewed you in January 2004, and as I looked back on that interview, everything you advocated—from the direction of RTO policy to establishment of mandatory reliability standards—has happened or is happening in the new energy bill. Did you actively work to push your agenda at FERC and on Capitol Hill?
JTK: FERC this year has been pretty significantly engaged with Congress in getting the energy bill passed. Sometimes in the past we were not as engaged, and this time we were. This time we were on the playing field. So I think that was a bit of a difference, but I don't think it took a great fortune teller to guess that if Congress were to enact an energy bill there would have been reliability provisions in it. That has been a common feature in all proposed energy bills. So I can't take credit for that. That provision has passed Congress a number of times. It passed the Senate unanimously as a free-standing bill. I am glad to see that Congress finally enacted it, because the last three major, regional power blackouts were caused in part by violation of voluntary reliability standards. I guess the third time is the charm.
Fortnightly: What does PUHCA repeal mean to FERC?
JTK: There are all kinds of theories about what might happen in the wake of PUHCA repeal. Even with PUHCA we have seen significant mergers occur. Exelon-PSEG and other large mergers have occurred notwithstanding PUHCA. So there are theories on what might occur in the wake of PUHCA's repeal.
We have actually seen very significant entry into the electricity business by the financial sector in recent years. We have seen efforts by financial sector companies to acquire regulated utilities in Arizona and Oregon. If you go back three years, most of the generation acquired from distressed sellers has been from financial sector companies. So the financial sector is in the electricity company business, and they increasingly have entered in recent years. Maybe with PUHCA repeal you will see more entry by the financial sector. Maybe the interest would extend to regulated utilities, rather than just the generating units.
You also might see more entry by foreign companies. There already has been significant entry in the U.S. by foreign companies—the British utilities, German utilities. There has been interest in the past by Spanish utilities, and Japanese utilities are rumored to have an interest. Perhaps you will see some foreign acquisitions proposed.
There always are rumors about the major, integrated energy companies. The Exxon Mobils, would they enter the utility business? PUHCA discourages some of that, and so it will be interesting to see what happens with PUHCA repeal.
PUHCA currently does serve as a barrier to acquisition of some small utilities. There are small utilities in some states that may not be particularly efficient, but the integration requirements in PUHCA present a barrier to acquisition of them by other companies, so perhaps with PUHCA repeal you might see some small utilities that will be acquired that might not have been attractive under PUHCA.
Fortnightly: How does FERC intend to incent electric transmission investment as required by the new energy bill without stepping on the toes of state regulators?
JTK: I don't see that it necessarily involves any kind of conflict. We want to see transmission built, and we recognize that states have jurisdiction over transmission siting. Under the new law there is some provision for transmission siting authority, but that will be limited to so-called national interest transmission corridors. If you look at most transmission projects that are built, they are very short legs. They are 10-mile, 20-mile segments, and they are not 300-mile projects. It is very different from the interstate pipeline projects, where lots of them run across four states and are 300 miles long.
Most of the transmission projects are very short in length, but because the grid is an interstate grid, a small leg built outside Atlanta can have a very significant effect on transmission in the entire region.
States will continue to site the vast bulk of transmission projects. I don't think that there will be very many projects that will fall under the category of national interest corridor projects and therefore be subject to some kind of federal siting. So if you deal with the reality that states will continue to site most transmission projects, FERC can encourage investment in transmission. But ultimately, states will decide whether it gets sited. That dynamic will result in some kind of complementary approach.
Fortnightly: Where is the appropriate place to draw the line between "serving native load" and "preventing competitive access?"
JTK: The commission historically does support native load and there is a native load preference in . I think the commission historically has not acted in a way that somehow diminishes the importance of serving native load. That was a provision in the legislation that, strictly speaking, we didn't think was necessary because it reflected something we already do. But we didn't have any objections to how it ultimately came out.
One answer would be that if we come up with policies that encourage more investment in transmission, that would serve to remove some of the constraints, and then you wouldn't necessarily have to make a hard choice. If the transmission system were built out so that it can support interstate commerce, you wouldn't necessarily have to make a hard choice between native load and access by the competitive companies.
Fortnightly: Hedge funds and private equity funds have acquired a large portfolio of competitive power plants. Sooner or later they will sell those assets, and utilities appear to be the most likely buyers. What does such "re-verticalization" mean for competition and price transparency in the wholesale power markets?
JTK: I know there is a perception that the commission is hostile to these re-integration proposals, but our record would suggest otherwise. There have been at least eight of these re-integration proposals that the commission has considered in recent years, and we actually have approved all eight of them. Now, some of them we have set for hearing to deal with the discrete factual issues. But we ultimately have approved them all. The OG&E acquisition, there was some mitigation in that case, but OG&E in that application actually proposed mitigation, so they acknowledged in their application that there was an impact on competitive markets. They proposed mitigation to offset that, and ultimately that mitigation agreed to was a little bit more robust but not substantially different, I don't think.
In the other acquisitions I don't think there was mitigation, so we have approved eight out of eight re-integration proposals. The commission is not hostile to these proposals as long as they meet the statutory standards. The statutory standards are that there cannot be a negative impact on rates, regulation, or competition. If there is a negative impact, we have some ability to mitigate that and we have done that in the past.
Fortnightly: Does FERC under the energy bill have increased siting jurisdiction over liquefied natural gas (LNG) facilities?
JTK: We retain the jurisdiction that we already have. There was a cloud put over our existing jurisdiction by the lawsuit in California, but Congress really re-confirmed the jurisdiction that we have now. That is exclusive jurisdiction to approve LNG import facilities. We think that is important because historically the United States has produced most of the gas that we consume. In recent years it has been about 85 percent of the gas that we consume we produce here in the United States. But typically we have imported the rest from Canada. Canadian production has dropped for two years in a row, and that really unnerved people. That almost has been an unspoken assessment—that the Canadians will always be able to make up our shortfall. That is one reason why the commission does have its policies toward LNG import facilities, and the more quickly we can act on LNG import projects while assuring the safety of the projects, the lower we will see gas prices go, and the lower the levels of volatility in pricing.
Fortnightly: Where do you intend to move with hydroelectric policy?
JTK: With hydro we have the integrated licensing process, and we are implementing that. So the major focus of what we are doing in the hydroelectric area is implementation of the major licensing reform rule from two years ago.
The energy bill has some provisions on hydro licensing that really affect how the federal resource agencies act, but that has implications for us. Under current law, we have to accept certain conditions. Certain conditions are mandatory—we have to include them in a license. There has been criticism that sometimes the federal resource agencies, when they develop a mandatory condition, that condition might not have any legitimate, scientific basis. It might not be supported by the record, it might be an arbitrary condition, and we under law have to accept it. The legislation provides some procedural protections for licensees so that if they believe a mandatory condition has been proposed and is unsupported, they have some procedural rights to challenge it and to propose an alternative. I think that makes sense. It is good policy, and hopefully then we will see fewer arbitrary conditions being attached to our licenses.
Fortnightly: As chairman of FERC, what issues are at the top of the agenda moving forward, and do they include reformation of open-access rules?
JTK: Sure, reforming definitely is one of my top priorities. Among the others are trying to accelerate the California refunds. The California electricity crisis started in May of 2000, when the first blackouts and price spikes occurred. Here we are now, five years later, and the refund proceeding is still ongoing. So I have directed staff to develop options on how we can accelerate the California refund process, while respecting the due process rights of the different parties. Once those options are developed I will talk to my colleagues and see what we agree on.
Another area where I want to be active is gas-storage pricing reform. I think we need to look at both our cost-based policy and our market-based policy toward gas-storage pricing, with the goal of increasing gas-storage capacity and promoting more efficient use of whatever capacity we have. Last year we saw record levels of gas in storage, and we saw very high levels of volatility. To me that means we don't have enough storage capacity. If we increase storage capacity, we should see lower levels of volatility.
We need to look at RTO costs. There has been a lot of public concern about RTO costs—that the costs are too high and they are increasing at too high a rate. I think the commission needs to undertake some type of mid-course correction with respect to RTOs and to assure that their costs are just and reasonable.
We also have a big piece of business from the energy bill. Right now with those four priorities and the energy bill, I think we have our hands full for awhile.
Sometimes there is a sense from the outside that the commission completely controls the course of events, but in truth, people send us filings that we don't necessarily anticipate and those filings raise interesting and complicated issues. We have a pretty full plate and I expect we will be adding to it in coming months.