Deck:
Budgets are expected to increase, even as new IT challenges present themselves.
Author Bio:
Christian Hamaker is managing editor of Public Utilities Fortnightly.
Change is inevitable, but for CIOs and technology officers in the energy field, change sets the parameters and ignites possibilities as they try to keep pace with current customer demands, and those expected in the near future.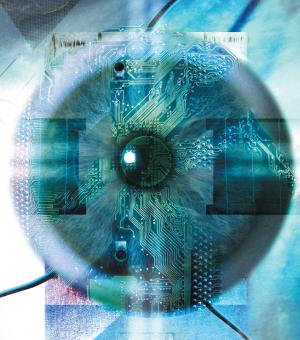 As the utility industry continues its march—some might call it a retreat—toward a slow-growth, back-to-basics fiscal mentality, tech officers must find the balance between budget limitations and effective customer service. New computer systems, transmission technologies, and reliability issues—all put pressure on company CIOs and technology experts who play a key role in energy delivery and customer satisfaction.
The price tag for such efforts continues to loom large for information technology (IT) execs. A recent report from Energy Insights ("IT Budgets of Large Electric and Gas Utilities: Approach Planning With Cautious Optimism") shows that 43 percent of energy utilities with IT budgets in excess of $550 million expect their 2006 IT budgets to increase, helped by provisions in the Energy Policy Act of 2005.
According to the report, median IT spending among large North American utilities organizations was $80 million in 2004, while the mean was just above $131 million. Combined electric and gas utilities spent $111.56 million on IT; electric utilities spent $127.402 million. "Respondents are even more optimistic about their 2009 IT budgets, with 52 percent expecting budgets to increase," the report states. Figure 1 breaks out expected IT expenditures for the next three years, while Figure 2 shows 2009 expectations.
For our annual CIO/CTO forum, Public Utilities Fortnightly talked with tech/information specialists at four companies representing different sectors of the energy industry:
Patricia Lawicki, CIO at California utility Pacific Gas and Electric Co. (PG&E);
Ken Fell, CIO at the New York Independent System Operator (NY-ISO);
Mark C. Williamson, vice president, major projects, at American Transmission Co.; and
John Seral, CIO at GE Energy.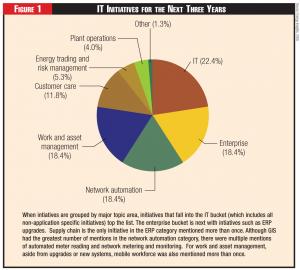 Together, the interviews show how technology—both in the office, and in the delivery of energy—shapes the different role each officer plays, and how these officials try to manage NIMBYism, regulators, and other things that sometimes help, sometimes hinder their companies.—Christian Hamaker
Patricia Lawicki, CIO
Pacific Gas and Electric Co.
Fortnightly: You've been on the job about a year, correct?
Patricia Lawicki: Yes, nine months. Every month counts as a CIO. You learn more and more as you go through. I have a staff of 1,200.
Fortnightly: The role of CIO is different at each organization. What does it encompass at PG&E?
PL: Some CIOs are in charge of customer-service components, but I'm not. What I take care of are the actual systems that produce customer bills. I run all of the IT. I run the data center, all the servers, all of the programs, the software, the desktops, the networking, the radio systems, the phone systems.
Fortnightly: How has technology at the organization changed since you joined PG&E?
PL: Technology overall just continues to evolve, and every year is like light years.
Specifically, here at PG&E, one of the things we've done with technology and our technology budget is take a more focused approach to it. So, we've centralized most of our IT spend in general, and our overall vision [has] more focus on how we're going to spend those technology dollars.
In the past, perhaps, it was a little more spread out. Now there will be larger projects, but they'll [have] more impact on the business overall.
Fortnightly: Is your company facing any unique challenges?
PL: I was with Nisource for eight years. I was the corporate CIO, but everything was centralized. So I had the entire organization for Nisource.
At PG&E, some of the immediate and different challenges I'm facing as a CIO that I didn't in my prior role is the focus regulators have in ensuring that energy is utilized as efficiently as possible. There's a very keen focus on that. Much of what we do is focused on ensuring we have a lot of renewable energy available.
One of the projects we need to undertake is an AMI (advanced metering infrastructure) project, so that we can provide time-of-day pricing to our customers. They can have choices—if they use energy in the middle of the day it's a different price than it will be at midnight or 10 p.m. That's a mandate from the California Public Utilities Commission. Of course, we're very supportive of that, and we want our customers to have that type of flexibility.
Fortnightly: How far along are you in your implementation of that project?
PL: We're beyond the early stages of research. We've got a very exciting project going. It's been a long effort. It was initiated before I got here but really began to get legs, I think, the beginning of this year. It's really taken off.
We have a proposal to enable our entire service territory with advanced meters over the next five years. We recently got approval to roll out 5,000 meters in Vacaville. We're going to have those up and running in the spring. We just finished some contract negations [involving that project] this week.
Fortnightly: What percentage of overall revenues constitutes IT spending at PG&E?
PL: The general industry average is probably between 2 and 4 percent. We fall within that range.
It's a challenging question to answer. Everybody has different things in their IT group. I've got a business unit where we lease cellular space, and that's in IT. That's actually a revenue generator for the organization. We use our tower and infrastructure for cellular contracts. We actually have a group build those and hang the devices on the towers.
I have a SCADA organization. We've got an internal telecommunications group that actually runs the phone lines in certain cases. So it's hard to compare, but we're right within that 2 to 4 percent range.
Fortnightly: Is that a stated company goal to stay within that range?
PL: I've worked in all sorts of environments. Sometimes it varies from year to year with how the company's doing. Specifically, what's more important at PG&E is what we're spending the money on, than saying hard and fast, "This is the target we're going to hit."
Certainly, everyone has budget pressures, and there are always more technology projects you want to do than your budget allows. There's always a supply-and-demand problem. What has evolved at PG&E in the time I've been here is the focus by executive leadership around the vision and goals for the corporation overall. That's what really helps a CIO. Starting in January-March 2005 time frame, as [PG&E CEO] Peter Darbee became more and more involved in setting the goals for this organization, he really had a concerted effort to make sure we had an aligned vision, and objective. So when technology projects came in, we were able to establish a governance process whereby any technology project—and as I described, these are now larger, more focused projects—are focused on those specific goals, and [on] where Darbee wants to take the organization.
Much of that is around providing better customer service and being able to respond to outages in better time, being able to determine quickly what assets we should be replacing due to known maintenance conditions, or predictive maintenance.
When something comes in now, the business, with our facilitation, goes through a process where we evaluate anything that comes in, and says, "Does this align with our goals and objectives and where we want to take the corporation?" We can score it.
Fortnightly: You mention equipment that might need to be replaced. Have you addressed any system vulnerabilities?
PL: We have a very large investment we're making in securing our infrastructure, but we don't describe exactly what we're doing. I wasn't referring to just technology assets, but to distribution assets: transformers, other pieces of equipment where we know and can mine data to tell us, in a predictive manner, that these only have a useful life of 12.5 years, for example. If we replace them at 12 years, we're less likely to see an outage. Those are the kind of projects that would get funding, versus an upgrade in the payroll system, for instance.
All of that falls under my responsibility. The determination of how to spend our technology dollars is governed by a committee that I'm the chair of. But it's done by business people. Ther e's a robust governance structure here because we have a very good understanding of where Peter Darbee wants to take this company.
What makes a CIO's job easier from that respect is to have executive leadership alignment and good leadership and objectives of where you want to take the company. I've worked in a lot of different environments, and when you don't have that, it's always challenging to determine how to spend your technology dollars. Here it's very easy for me to literally pick up a piece of paper and say, "This is what we want to spend our dollars on. This is the company's focus." Anything else is nice to have.
Fortnightly: Has the Energy Policy Act of 2005 affected your job?
PL: Not necessarily, but if there are compliance issues, that has to go to the top of the list. So if a regulated mandate comes out from our commission, or even from the federal level, we have to comply with it. That would go to the top of the list, despite where the company is headed. Sometimes there's alignment and sometimes not, but you just have to do those things because that's what it takes.
Much of that is around renewables and, I believe, clean-air legislation. We have very minimal fossil-fuel generation in California. The other thing is PG&E already has a very robust renewables program. We've been at the forefront of those types of things. Ever since I've been affiliated with the utilities industry, PG&E has always been known as one of the leaders in renewables and renewable energy.
Fortnightly: What are your plans for the company year?
PL: One of the programs PG&E is embarking on is transformation—understanding our current state today and going through this exercise we did earlier this spring to reset our vision, objectives, and goals. We did an analysis of what it's going to take to move us from where we are today to get better aligned with this vision and objectives.
Most of the technology spend is around improving customer service. When you look at our advanced metering project, what it does for us is enable us to do time-of-day metering, do predictive outages so we can dispatch crews before we get the phone call, and begin to work on problems.
It will allow us to read meters more accurately and produce better bills. Especially in some of our outlying areas it's challenging to get the meter reads, and you can imagine in San Francisco proper, with the hills and inside meters, how challenging it is to get meter reads at times. Those are the kinds of investments we're making through this process.
The other [investments] I described are in and around our service personnel—being able to do more automated dispatching, know where they are in relation to an outage, and being able to dispatch the crew that's closest; knowing where all our vehicles are. If we need a specific kind of vehicle or truck, we're able to identify that vehicle in the yard and know where it is, so someone can get the closest vehicle. It's all around better customer service.
Fortnightly: PG&E announced it would close several bill-payment offices. Did you have any input into that decision?
PL: While it sounds almost counterintuitive, [the move] actually is to provide better customer service. We have offices that are open that maybe 13 customers all day walk into and pay their bills. What we want to do is take those dollars we're spending to keep those offices open and use it to provide better customer service to another footprint.
We're opening and enabling a lot of remote offices that will be open longer hours—just like you see banks and grocery stores that have extended hours. The offices we plan to close are only open 9 to 5, Monday through Friday, and we just need a better way for people to walk in and do their business.
Look at what the banks have done to tag on to grocery stores or other facilities to provide better customer service: That's what we're looking to do. What we're saying is, you'll still have that payment channel, but maybe you'll go to where you do your banking as well, or where you do some other business, some other local facility that you visit anyway—for instance, a senior center that might take your bills.
We'll also enable more electronic transactions, especially for our younger customers in the state of California. That's how they want to do business with our company.
Mark C. Williamson, VP– Major Projects
American Transmission Co.
Fortnightly: What transmission technologies does ATC use, and which have been the most effective?
Mark C. Williamson: To start at the beginning, our most effective technology is the old technology of poles and wires. There's quite a bit of development in the wire technology, the conductor, but at its base we're still using the old tried-and-true for the most part, other than some of the conductor technologies, which have improved. We're still using primarily single monopole steel, although occasionally we use wood poles on lower-voltage things.
We do have improvements in some of the basics. Some of the concrete is now designed to make sure it doesn't leech chemicals into wetlands and things, but it's still very much nuts and bolts technology at its base. That's the bread-and-butter work.
Conductor-wise, we have been increasingly using twisted conductor, which resists some of the galloping when you get freezing rain, when the wind actually forms a wing on the wire and it flies up and down—which causes bad things to happen when they run into each other. There are some new technologies and wire design that minimize these things.
We've experimented in different places with some more exotic emerging conductor technologies. At some of our scenic river crossings, we use a new ceramic-based conductor that has a ceramic core rather than a steel core, which you can pull up very tight. It doesn't sag. The ceramic core resists a lot of the sagging properties of steel, so you can string it up almost like piano wire, at long distances across things like scenic river crossings, where you don't want to see the poles on each end.
Fortnightly: What drives the experimentation with new technologies?
MCW: It's two things. It's the money on the other end. A lot of these things turn out to have lower life-cycle costs, and we're starting to try to look at life-cycle costs rather than just first costs. For example, the galloping conductor thing. When you get galloping, it's a maintenance nightmare to go out and make sure the conductor's not scarred from flashovers or phase-to-phase faults. You'd have to go buff and polish and put protective shielding over it, because it causes a weakening of the conductor in that spot. If you can keep the conductor from galloping, you don't have a huge maintenance follow-up if you wind up that way. So it's a little higher first cost, but life cycle-wise it has a huge present value effect. So cost is one of the two chief drivers.
The other is aesthetics. We have these areas where for some good reason—it's not run-of-the-mill—we need to do something out of the norm in terms of sagging or tensioning.
Fortnightly: What constitutes "out of the norm"?
MCW: Wisconsin has a lot of both federally and state-protected wetland forest, natural scenic areas that are at the very high end of environmental protection characteristics. In areas where we have to reduce visual impacts or the number of poles, we put increased span length. As an aside, our highest voltage in Wisconsin is about a 900-foot pole-to-pole span. With these exotic conductors we can get as much as 2,500 feet span-to-span, so you've cut the number of poles almost in half and the cost of the wires. You save money on the pole installation and the concrete installation, but the wire is significantly more expensive than a regular wire. That's the tradeoff, but it also reduces both the number of poles, and this wire can be tensioned up quite a bit tighter, so that you get less sagging, less clearance requirement, less visual impact.
Fortnightly: The company is coming up on its fifth anniversary. What have been the biggest changes that affect what you do during those five years?
MCW: Probably the biggest change is the recognition of the amount of highest-voltage interconnection we needed to make. We took over the [Arrowhead to Weston] project that was so controversial in Wisconsin from Wisconsin Public Service. That's really increased our focus on construction. At the same time, the amount of new generation being sited in Wisconsin, though I suppose it was foreseeable in some ways, is a little more than any of us in the business expected. So the generation interconnection transmission has turned out to be just hugely capital intensive. And long projects—we're talking 220 miles for Arrowhead, the projects to hook up the Green Bay company's new coal generator at [Weston Four], about 100 total miles in the 345. There's a big push in Wisconsin now, taking a look at the MISO regional market, to make sure Wisconsin isn't disadvantaged in that. That's got the potential to be another 200-mile extra high-voltage project.
So the sheer number of projects that have cropped up in the five years of existence looking at transmission-only, and finally getting to the needs of Wisconsin that have been accumulating for the last 20 years has caused us to focus more on construction and construction techniques and materials than we ever thought would happen. That's been the biggest change in perspective at the company. We went from what we thought would be an operating company, which started that way—we've improved operations by any measure in terms of outages and operability—to now what is not only a top-class operating company but a first-class building company.
Fortnightly: Your latest 10 Year Assessment of system needs says $3.4 billion will be required going forward. How much of that goes toward technology spending?
MCW: If you looked at it on an IT basis, it's probably not that dramatic—$10 million plus or minus for what we consider IT or high-tech. But of that $3.4 billion, probably a good half a billion is in some of these material sciences technologies—better concrete, better wire, like we've been talking about.
We continue to look at improvements in transformer technology. There's been a lot of study in how you make transformer cores to reduce losses. Of course, that's on a life-cycle basis. Using the electricity to heat up material that's used in the transmission process is an utter waste of everybody's money. As we look at life-cycle costs, things like transformer core material become very important to reduce the transformer losses. Some of the terminal equipment—the capacitors and reactors that keep the power factors on the system within the right tolerances for reliability—have huge improvements in material science that reduce losses.
Fortnightly: What about office IT spending?
MCW: We have a much more inclusive system at ATC than is probably the utility norm, so the vice presidents—and there's only five of us—get together periodically to talk about major expenditures across areas. You get a good briefing, and you get to weigh in before we make a final decision on any major costs.
Fortnightly: How do you anticipate your job will evolve in the coming years?
MCW: Two things really have changed: public involvement and regulatory approval. We now approach public outreach as though we were doing local election campaign politics. That's our model. We go out and invite everyone in a study area, literally tens of thousands of people, to get involved in the siting and routing process of new transmission lines.
We do a lot of direct mailing, town-hall meeting things, where we bring in our experts and invite people to come talk about the issues and get them involved in the routing and siting process. Then we get the regulatory community involved early on with the local people, so we can, in advance of seeking regulatory approval, assess where the best place to put these facilities is. They don't feel like they get stuck with the project when it's all done. It comes as no surprise.
It takes us a couple of years before we ever file with the regulatory community. That's probably the single biggest difference with how we go about just getting started with projects. The 10 Year Assessment is our vehicle for doing that, so we try to publish that broadly. We let everybody in an affected area—huge swaths of our service territory—know that these things are coming. We try to push a dialogue with them on how to get involved with the key regulators, [and] with who at our [company] makes the key siting decisions. That's been the single biggest change.
Fortnightly: How difficult is NIMBYism in your service area? Is it a growing problem?
MCW: I don't think it's growing. You're always going to have a few people who are difficult and don't want to deal with you. Their reaction is to find a million ways to say no. But that's an extreme minority. Ninety-nine percent plus of affected people will, reluctantly, when you engage them [with] "walk in my shoes, here's why we need it, let's check it out, let's dialogue for a while"—most people will reluctantly come to the conclusion that this stuff actually is needed. It needs to go somewhere. Society won't work if we don't site these facilities.
It's a tradeoff in organized society. That actually seems to have resonance with people. I've been pleasantly surprised, but not unexpectedly. If you let people have a real oar in the water of how these facilities get approved both on a need and on a siting basis, 99 percent of the people are reasonable about it.
At the end of the day you get a few people whose beliefs are strongly held, maybe not based on fact, but they're strongly held, righteous beliefs. Those people you can sympathize and deal with. But the NIMBYs—they get it but just don't want it by them—get pretty isolated. Actually, you get their neighbors on them, just saying, "Put it somewhere else doesn't solve anybody's problem."
Fortnightly: What's ATC's relationship with regulators like?
MCW: This one's another positive story. After about our second year, both the environmental regulators—the Wisconsin Department of Natural Resources and our economic and construction authority regulators, the public service commission—realized that if we didn't all get together and talk about how we were going to administer our building program, we would deluge their agencies in a way they couldn't handle and slow things down to a point where we couldn't provide the service that was needed. So as we've developed this public-outreach model and used this campaign model of how you get poles and wires elected to public office, we've involved them and they've been instrumental in helping us shape this program to the point where they now have compacts with each other, with our agricultural protection agency—because Wisconsin still has a huge rural component to it—and increasingly get compacts with the federal government and with us about how we jointly administer this work. So, for example, all the staff people get involved at the same time from these disparate agencies. You can make a coordinated decision and not have to go at these folks serially.
They've been just great at trying to work out interagency differences so that you get a common voice and common policy decision. They've actually formalized that both in written compacts and statutes between the agencies, and as it affects applicants, particularly us, since we're by far the biggest user of their regulatory services. We have a statutory priority list with all these folks to determine where to put facilities in order of priorities.
Fortnightly: Does the Energy Policy Act of 2005 impact your business?
MCW: Not really. Many of the things in it we were already doing. The involvement of federal agencies in routing and siting—DOE's going to coordinate that—we've already had great independent relationships with all the public landowners and public agencies that affect land use in our state, including the federal folks.
Another big area was reliability measures. In Wisconsin, our commission has mandated that people actually follow the reliability rules, so some of the skirting around the edge that other people have seen we haven't seen in Wisconsin. We certainly welcome other people having to play by the rules.
Fortnightly: What's happening with transformer technology?
MCW: Every year you see material improvements that cuts the transformer loss, which is something we're constantly looking at. The loss component—the amount of energy used to heat up this equipment—is one of the things that costs everybody in our state a lot of money. We have relatively higher losses because most of our equipment is relatively fuller of electricity, and losses work by the square of the current. So if you've got double the current you've got four times the losses. Since all of our stuff is full and overloaded already, we have a higher loss component than many. We're quite conscious of trying to lower our losses as part of our mission.
As for manufacturers of this technology, you still get a small amount manufactured by GE and Westinghouse, but increasingly it's people in central Europe. ABB has some significant plants, Siemens has some significant plants. Overall, we've found that central European technology is both more efficient in terms of these kinds of things we're talking about and actually more cost-effective in terms of first costs.
Ken Fell, CIO
New York Independent System Operator
Fortnightly: How has the technology at your organization changed since you joined NY-ISO?
Ken Fell: We became an ISO in November of 1999. I joined Sept. 1, 2000. I'm not a utility guy. My background includes General Motors, Sprint, and a software development start-up.
The technology here has changed significantly in the past year. We've changed all of our EMS (energy management systems) and market ops software. We worked with ABB to replace that. We brought in enterprise integration technology, new portal technology, and we're working a lot more with more state-of-the-art integrated software utilizing JAVA optimization and simulation technology, data-warehousing technology, etc. The technology has changed substantially and will continue to change over the next three to four years.
Fortnightly: What are the unique challenges NY-ISO is facing in the coming year?
KF: It's probably twofold. Number one, we have to become a mature company over the next year. By that, I mean we need to refine and improve our execution on our processes we have here.
The ISOs themselves are basically deemed to be financial services type of companies, so we have to pass pretty stringent process audits. In the case of NY-ISO, we also made a decision to become Sarbanes-Oxley compliant. We've been able to pass both of those in the last year, but we will need to continue to fine-tune our processes and how we execute. For us, that's a pretty difficult thing to do, not because we aren't capable but because we're pretty finitely constrained. We function as a not-for-profit business. The budget we have for the size of business we run is relatively small. I'm not saying it's inadequate; I'm saying it's finite. We have to be able to do a lot with a little.
At the same time we have to implement a couple of strategic projects. We need to replace our billing and settlement system with something that's more state of the art, and we need to replace our market information system, which includes the user interface. So we're going to be working on some pretty large projects over the next couple of years, and at the same time trying to improve our execution on how we deal with things, and the quality of what we put out to the marketplace.
Fortnightly: What percentage of NY-ISO's budget goes toward technology spending?
KF: We run about a $7 billion a year business, and my IT budget is in the $40 million to $45 million range. That's about two-thirds of 1 percent. For a technology-based company, that's certainly not a lot of money.
It's a sensitive subject, because we are not-for-profit. We basically work as an exchange, where we bring buyers and sellers of electricity together. So it's a very large market. At the same time, we have a lot of pressure from our customers to keep our costs down, because they pay our bills.
When I go to get a budget approved, for example, I need to get it approved through management at the NY-ISO, then through a budget steering committee made up of our customers, and then through our board. So you really have to be able to show return on investment, and where we're adding value to the customer.
I don't necessarily feel like I don't have an adequate budget. I just feel like I'm expected to do a lot with what I have.
Fortnightly: How does the regulatory community affect your role as CIO?
KF: We have to answer to FERC [the Federal Energy Regulatory Commission] primarily. We have some relationship with the public service commission in New York, but predominantly it's FERC. I don't know that it necessarily affects what I do here, but it does, I think, impact all of the ISOs/RTOs (regional transmission organizations), because there's a lot of emphasis coming from FERC to share technology across the ISOs/RTOs to be able to mitigate some of the costs.
We do have a CIO committee that's made of the CIOs or senior-most IT managers from each of the ISOs/RTOs in North America. What we're looking at trying to do is find the technology that's shareable. We all run different markets, so you can't have everything the same, but you can have infrastructure elements, or something like Web standards, that we could implement. That's what we're trying to work on as a group.
Fortnightly: How far along is that? When do you expect to come up with those solutions?
KF: We actually have project plans. Effectively, we don't have the same target dates, because it's difficult to control where we're spending our time as a group when we have to spend most of our time dealing with issues from an individual ISO/RTO perspective. We have identified three or four major projects we're trying to work on together that could in fact involve shareable technology across the ISOs/RTOs.
Fortnightly: Will the Energy Policy Act of 2005 affect your role?
KF: I don't think so, from a technology perspective. From a security perspective, more than a reliability perspective, I have some concerns, because the new NERC [North American Electric Reliability Council] cyber-security standards, if we get pushed to implement those, it's going to require me adding a fair number of people, and software and hardware dollars to do that.
I'm not saying that's the wrong thing to do. I am saying that it's going to give me an opportunity to have to go back and be able to communicate that to the market participants on our board. That money is not in our budget. It's something we decided we would go back and communicate if in fact it happened, and get the money at that point.
There's not a formal date set for NERC implementation of cyber-security standards yet. I think that's going to happen early next year. But right now, we know that what they're asking us to do, with the documentation that we'd have to provide, it's going to cost each of the ISOs/RTOs a fair amount of money.
Fortnightly: Do you outsource any of your IT?
KF: Based on the business we're in, I don't do what most people construe as outsourcing. I just don't do it. We're very concerned about security, especially offshore type of outsourcing. So therefore, our staff here—or it will be next year—is pretty much 100 percent employees.
We do projects that are staffing peaks. If I'm going to do a new billing and settlement system, we will work with a partner company, whether it be an IBM or a local consulting firm, to provide resources to staff that peak and implement that technology. Most of that work is done either on site or at a domestic location where we can ensure security standards. I think the business we're in deters us from doing a lot of outsourcing or offshore type of work.
Fortnightly: How have you addressed any system vulnerabilities?
KF: We've been putting a lot of emphasis on two areas. One is external penetration. We have the Department of Homeland Security and Department of Energy contract people to come in and conduct a test. On external penetration, we feel very confident and have pretty good marks coming back that we've done a good job of preventing someone from being able to get in from the outside.
The next area that's vulnerable is internal. We feel pretty good about where we are. By internal, I mean an employee or consultant working inside would be able to get to something he can't get to. We're feeling pretty confident that we're probably in the upper 20 percent of any company on anything they've done there.
So we've put a fair amount of time and effort into it, because we have to. It's a big concern of the board. Physical security isn't in my budget, but all of cyber-security is.
Fortnightly: How does a CIO's role at an ISO differ from a CIO's role at a public utility?
KF: I don't think there's a whole lot of difference. CIO today is a senior management role, and you have to be very good at bridging technology and business. We're a service group and we basically are chartered to be able to solve business problems. I have to have a very good relationship with all my peers and they have to have confidence that we're in place to help them solve problems.
The difficulty sometimes gets to be that a lot of the people in the utility world are very bright people from an engineering perspective but haven't had a real strong focus on the market side of the business. From an EMS perspective, they understand it really well. When I go in and try to sell technology like enterprise architecture integration in order to support a more flexible market, that's something that I have to spend a fair amount of time at, conveying knowledge.
We're pretty much business people first, technology people second.
Fortnightly: NY-ISO acquired new office space recently. What will that integration entail on your end?
KF: The big one is we're going from five buildings today to two, and I have a backup computer facility in one of our leased buildings that we're moving to a new data center in the new building, which we're going to own. My challenge is to move all of the failover equipment to the new facility without incurring a single point of failure, or any ability to failover if I have a problem at our main control center.
So, the reality is I need to be able to move a lot of equipment with a little bit of seating of new equipment, and at the same time still maintain the ability to failover if I should have a problem in our control center.
My management is helping to put together a plan on how to do that. We'll probably work with a professional company—a Hitachi or an IBM—to help do that planning. It needs to be not only well planned, but we have to execute that plan precisely to make sure we don't have an issue. If I had to failover and we had an outage, that would be just devastating to the market.
That's going to take place in the last quarter of 2006.
John Seral, CIO
GE Energy
Fortnightly: You're in charge of three different divisions at GE. How does that affect your role as CIO?
John Seral: Right: Energy, aviation, and rail. I've been with GE Energy for three-and-a-half years, and the other two since September.
There's very little difference between the three. They're all long-cycle businesses. Two of them are turbine manufacturing businesses. The good news is that we've found a lot more synergies between energy and aviation, because they both manufacture turbines. From an IT standpoint, they're exactly the same business and process, even though they're different industries. We're making the same widget. So we're able to simplify even further and say, which platform do we want to be in, and we can consolidate.
Fortnightly: How has the technology at your organization changed within the past year?
JS: Without a doubt, the focus has changed. We're spending a lot more time on [Sarbanes-Oxley], and on security. Within GE, we have two initiatives, one of which is simplification—reducing the number of platforms that we have, not only to reduce expense but complexity, and to gain speed. Also, we're doing a lot more ERP [enterprise resource planning] implementation—not more ERPs, but consolidation of more businesses into the same ERPs.
This simplification and ERP work applies across all of GE, not just my three divisions.
Fortnightly: What does that simplification look like?
JS: A typical GE business has about 1,500 connected applications. We're trying to reduce that about 10 percent a year—about 150 applications. This includes business acquisitions. The net number has to decline every year. The benefit of that is huge, not only from simplification in IT and lower operating costs, but from the business standpoint it standardizes where the data is, our ERPs, and our business processes.
Fortnightly: What unique challenges does your company face?
JS: I don't know if it's unique, but globalization is a major challenge. Somewhere around 70 percent of our sales going forward are not in the [United States]. [But] our IT and technology department is not as global as the business already is. So our focus is to globalize ourselves, in terms of application capability, multilingual, multicurrency, telecom, and in getting our leadership spread out across the world.
Fortnightly: How will technology investment at your company change in 2006? What percentage of revenue constitutes IT spending currently?
JS: We're right around 2 percent. It's going to stay flat for 2006. Our operating budget will decline, but our investment will grow. Through simplification, we're going to lower our operating costs, but we're going to take that and reinvest it into new development and new technologies, such as security, digitization programs. We're going to put solutions in to automate some of the ID management and auditing, as well as enterprise resource planning (ERP) conversions.
Fortnightly: What trends are there in staffing in outsourcing?
JS: In staffing, the trend is to make sure that we own the intellectual know-how of all our key technology areas.
We are going to increase some of the hiring. We're a little bit too outsourced. We're going to hire back some of the key areas where we believe we believe we need to keep the know how within GE. With what's left of what's outsourced, more of that will go offshore from our home countries.
Fortnightly: Has the Energy Policy Act of 2005 affected how you do business?
JS: It's indirect. It's been favorable for wind and nuclear, we believe, and several other areas in environmental. Because of that, it's allowing IT to serve the business better and invest more.
A good example is nuclear. That's an area where we weren't doing a lot in IT, but now, certainly with the incentives in the nuclear industry, we're more bullish and are starting to invest more in IT as well, in anticipation of growing that business. Wind is the same way. If we didn't extend the credits for the wind business, we wouldn't be putting in any ERP.
Fortnightly: How has your role as CIO changed in the past year, and how might it evolve in 2006?
JS: Mine has changed drastically with the cross-business synergies, to be multi-business. The global nature of the business has changed my role drastically. Everything we do, we have to think of the rest of the world, versus just the [United States]. Tax implications, printing—anything has to be multilingual, multicurrency.
Everything's measured more in terms of the output than the input. We're measuring things in terms of processes. It doesn't matter that we put in the ERP. The go-live date is not important anymore. It's not the metric. My metric is when the business process changes and cycle time is changed in the business.
So, pick a cycle time: order to delivery. When that metric changes, that's when we claim victory. It's not when the ERP goes in. The process has to catch up to it, and that takes time.
So my job has changed more to measure process metrics than IT metrics.
Fortnightly: How have you tightened up security?
JS: The two areas that have really changed are [Sarbanes-Oxley] and IT security. We were doing a good job on both, but when Sarbanes-Oxley was passed, the bar was raised. GE raised the bar again internally. Our standards are even tougher, we believe, than the public standards are for Sarbanes-Oxley.
Our audit staff picked Energy as the place to audit our new standards, and we felt it. We had to increase our level of documentation. We had to secure more systems. We had to make sure access rights to applications were fully digitized, not just a manual process. We're struggling to keep up with that, but we're hitting our deadlines.
Number two, with security we're all learning as we go. It seems like every couple of weeks we get a new virus or worm that attacks a different element of the network or the technology stack. Because of that, we have to move faster in a different direction. We're putting more scanning, analytics, and reporting in our systems to make sure we stay ahead of the next potential threat. We're also building a lot of processes for when something does come that's unanticipated, so we can isolate it and shut it down very quickly.
Nobody wins the security game and can say, "I'm done." It's ongoing and is more and more demanding every week.