Deck:
FERC says it won't 'change' the native-load preference, but don't bet on it.
Author Bio:
Bruce W. Radford is editor-in-chief for Public Utilities Fortnightly.
When the Federal Energy Regulatory Commission (FERC) opened wholesale power markets to competition a decade ago in Order No. 888, it codified a system for awarding grid access known as the pro forma Open-Access Transmission Tariff (OATT), founded on physical rights, and on the fiction that electrons travel along a "contract path."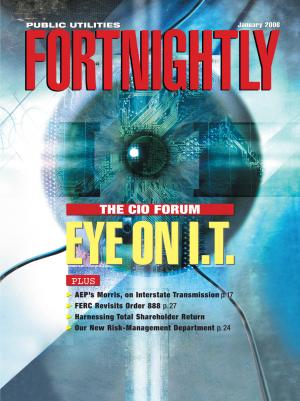 FERC wanted to erase discrimination in transmission. The way to do it, it thought, was first to identify as the paradigm the transmission service already provided by the traditional, regulated, vertically integrated electric utilities on behalf of their captive ratepayers ("native load"). Then it would adopt rules to prevent those utilities from behaving badly when they offered transmission service to the independent power producers (IPPs) that sought to compete. In short, FERC's electric policy would echo its successful restructuring of natural-gas pipelines, built on the notion of "comparable" service. In electric markets, as with gas, everybody would get transmission service "comparable" to the (presumed) high quality already enjoyed by utilities and their native load.
Since then, the regional transmission organizations (RTOs) and independent system operators (ISOs) have gone their own ways, designing their own distinctive grid tariffs, built instead on the idea of financial rights, with features quite different from the original pro forma tariff. For them, the OATT is largely irrelevant. (However, these special RTO tariffs still must guarantee rights to customers either equal to, or superior to, those available under the OATT).
By contrast, for those regions still doing things the old way (Southeast, Rockies, Great Plains, Desert Southwest, Pacific Northwest, etc.), the OATT is very much relevant, though perhaps a bit out of date after 10 years of heavy use.
The issues arise: Should the commission "tinker" with the OATT, making only surgical changes to make it current? Or, do events instead warrant a complete overhaul?
For the better part of the last year, FERC Chairman Joseph Kelliher had been asking exactly these questions, suggesting in his public statements that the time had come for the commission to re-examine Order No. 888 and the OATT.
Finally, early last fall, FERC put the matter on the table, issuing its landmark "notice of inquiry" on discrimination and preference in transmission services. (See, FERC Docket No. RM05-25, Notice of Inquiry filed Sept. 16, 2005.)
How far, then, can FERC go in reforming the OATT? Better yet, should the transmission service provided by vertically integrated utilities to their native load still stand as the paradigm?
The answer to some extent depends on the law—what Congress did or did not say in the recently enacted Energy Policy Act of 2005 (EPACT), where it supposedly reaffirmed what is known as the native load "preference." But what if native load is getting a raw deal? A growing number of studies how the RTOs and ISOs have captured significant economies of scale by designing grid services to accommodate a power plant dispatch across broad regions. Yet many native ratepayers miss out on these savings. This point has emerged clearly from the landmark report prepared by the Department of Energy1 and sent to Congress late last year. (See, The Value of Economic Dispatch: A Report to Congress Pursuant to Sec. 1234 of the Energy Policy Act of 2005, DOE, Nov. 7, 2005.)
Grid Gone Bad?
Consider what's been happening in real-world markets. The Transmission Access Policy Study Group (TAPS), an informal association of transmission-dependent utilities (TDUs) in more than 30 states, chaired by Roy Thilly, CEO of Wisconsin Public Power Inc., has documented a number of instances that it claims show how regional ISOs and vertically integrated utilities have stymied smaller TDUs in attempts to secure alternative and cheaper power sources to serve their ratepayers, and suggests that such examples show why FERC must revise the OATT.
TAPS asserts (in comments filed in FERC's tariff-reform docket by the law firm Spiegel & McDiarmid) that Southwest Power Pool said in 2001 that a system impact study (SIS) showed it would need $18 million of grid upgrades before granting 40 MW of firm point-to-point (PTP) transmission service for a 12-month term, from Grand River Dam Authority to Associated Elec. Co-op., on behalf of the Missouri Joint Municipal Electric Utility Commission.
Yet, according to TAPS, even after upgrades were completed to remove a limitation at the LaCygne-Stillwell facility, SPP had said that a new, subsequent SIS showed need for an added $35.7 million in upgrades for the same firm PTP service, for 24 months starting July 23. Compare the total cost for the grid upgrades—$1,300/kW, compared with the typical installed cost of about $500/kW for a gas turbine with a much longer useful life—and one begins to see why it can be difficult to get transmission built.
TAPS offers a number of other examples involving the Southwest Power Pool and other regions:
Nearly $30 million worth of upgrades as a condition of granting a request by Kansas Electric Power Co-op for 9 MW of long-term PTP service from Westar to Empire District Electric;
More than $7 million in upgrades for a request by Golden Spread Electric Co-op for 13 MW of transmission;
More than $48 million of upgrades for a request by Exelon for 150 MW of redirected (a change in delivery or receipt points) transmission service for 2004-2005;
Some $27 million in upgrades for 200-MW transmission service for one year (2005) requested by Cargill-Alliant; and
$74 million in upgrades for 620 MW in long-term transmission service (2003-13) for Tenaska.
(See, Comments of TAPS, pp. 13-14, FERC Docket No. RM05-25, filed Nov. 22, 2005, citing sworn testimony of consultant David Deramus [Bates White LLC], representing Calpine in FERC's generic case on market-based rates, Docket No. ER96-2495, filed Dec. 7, 2004.)
As TAPS sums up, "the grid is not meeting the needs of load-serving entities." Transmission limitations, it adds, are preventing customers from reaching economic and competitive sources without incurring "hefty costs."
Appearing before FERC staffers at a technical conference held in Washington, DC, in December 2004, Anne Kimber, an environmental systems engineer with the Iowa Association of Municipal Utilities had offered more evidence. She ran down a list of what she called "horror stories," involving attempts by small municipal systems in the Upper Midwest to gain grid access to economic power resources.
In a statement appended to her oral testimony, she highlighted in particular an attempt by three small Iowa cities, located within the control area of Mid-American Energy, and currently served by MEC, to go out into the market in search of competing power-supply bids. The low bidder, she reports, was the Municipal Energy Agency of Nebraska (MEAN), which she says submitted 10-year reservation requests for transmission service to MEC and the Midwest ISO (MISO). Of the three cities (Callender, Buffalo, and Sergeant Bluff), she claims that only the latter was able to obtain grid service necessary to purchase 7 MW of MEAN's Nebraska power.
In particular, Kimber questioned the accuracy of software employed to measure the possible impacts on various constrained flowgates.
According to the "scenario analyzer" used for MISO and the Mid-Continent Area Power Pool (MAPP), a regional reliability council), she reported, "transmission from MEAN to Callendar Iowa (0.6 MW) affected both the MAPP and MISO (Alliant) flowgates.
"Frankly," she concluded, "it is hard to believe that a transmission request this small could cause such big problems."
Testifying at the FERC conference, Kimber appeared pessimistic about the future.
"Several years ago," she said, "I would have said that RTOs are the solution. But my recent up-close-and-personal experience with MISO convinces me that the cure is worse than the disease.
"MISO is extremely inflexible. With respect to Callender, even a 50-kW adverse impact on the flowgate foreclosed the transaction." (See, Written Statement of Anne Kimber, FERC Docket RM04-7, filed Dec. 7, 2004.)2
Ain't Broke, Don't Fix
Most of the nation's traditional, regulated and vertically integrated electric utilities still governed by the OATT that have commented on FERC's inquiry argue that, on the whole, the discrimination in transmission causes few, if any problems. They insist that the evidence of discrimination is either entirely lacking, or else only weak and anecdotal. Further, if any sort of radical change should prove necessary, some in this group would want native-load rights strengthened, rather than weakened, such as by creating a guaranteed enforceable physical right to long-term transmission as an overlay to the load-based network tariff, where rights follow need. (See Sidebar, "Grid Services and Native Load Rights," p. 32.)
The Tennessee Valley Authority states the "ain't broke" argument as clearly as any utility:
"In TVA's experience, there are no longer problems associated with untimely processing of long-term transmission service requests.
"Improvements in the tools available to transmission providers … as well as an overall reduction in the number of requests being submitted … have combined largely to eliminate the backlog."
Instead, these companies suggest that FERC should pursue only "surgical" and piecemeal changes to the tariff, including a number of fine-tuning adjustments that FERC itself has suggested in its notice. Examples are new grid products, such as "partial" or "conditional firm" transmission, or hourly transmission service, to match the hourly granularity of some regional spot markets.
One commonly hears the argument, rather, that grid congestion and lack of infrastructure—lack of enough investment in the transmission grid to keep up with load—poses much greater problems than does behavioral discrimination.
For example, the Old Dominion Electric Co-op argues that FERC should amend the OATT to force RTOs to build new transmission capacity if gross congestion costs for a particular transaction or path will outweigh the construction and facility cost of curing the constraint.
Southern Co., meanwhile, urges FERC to keep rules flexible and allow transmission providers to negotiate one-on-one deals with power producers and grid customers to overcome obstacles. It cites several examples of how it was able to craft creative agreements for transmission-access service, with curtailments allowed, but only on specified conditions that would mitigate loss to the customer:
• Customer 1. Firm PTP service conditioned on the availability of capacity for the customer to export power out of its region (accepted by customer);
• Customers 2&3. Firm long-term service curtailable only if alternative capacity not available during specified intervals for scheduled maintenance outages for key high-voltage lines (accepted);
• Customers 4&5. Firm PTP service conditioned on customer's agreement to reduce gen output or accept curtailment if certain contingencies occurred on certain identified key grid lines (declined);
• Customer 6. One-year PTP service offered as temporary substitute for requested long-term service after certain upgrades could not be completed in time to honor the original request (declined);
• Customer 7. Long-term PTP allowing Southern to direct customer to reduce output in event of certain contingencies on key line, closure of which could damage customer's facility (declined initially, but offer still pending).
Most of the industry appears to believe that FERC's rules regarding rollover rights for expired transmission contracts are a disaster. FERC policy supposedly allows LSEs to recall contract rights if capacity needs to serve future load growth preclude renewing the contract for a third party, such as an IPP. Yet opponents (such as Duke Power) complain that FERC conveniently ignores their pleas, even when state regulatory authorities have conducted resource planning studies and have certified that the LSE's need to serve future load growth is genuine:
"To the best of Duke Power's knowledge, not one transmission provider has been able to satisfy the commission that native/network load growth dictate that rollover rights should be limited."
Another key issue involves calculation of ATC, or available transfer capability. FERC's inquiry asks for comment on whether improved standards for ATC calculation would improve fairness in granting and denying grid access. However, ATC remains a non-zero-sum moving target whose calculation is circular.
From San Diego Gas & Electric, attorney Don Garber sees ATC as a bankrupt concept:
"Static concepts like 'available transmission capacity' fail to capture the real-world circumstances that control-area operators face in providing transmission service. The dynamic, ever-changing grid seldom has so much excess capacity that the operator can confidently predict that a new transaction can be accommodated."
Garber and SDG&E apparently would rather place their bet on RTO tariffs, with a bid-based and security constrained dispatch:
"The great breakthrough on this front occurred with the emergence of locational marginal pricing, which fully accounts for the physical realities of contingency constraints by calculating the marginal cost of serving load at each grid location. …
"The difference in locational prices of any two points provides an accurate measure for pricing the marginal costs of transportation service between these points."
Other factors also make it problematic to adopt a single tariff definition for ATC. Grid operators in the East tend to define ATC in terms of thermal constraints, whereas, in the West voltage stability plays a greater role in defining ATC. At least one group has suggested that FERC should promulgate a special OATT applicable only to the western U.S., where long distances between grid nodes and reliance on energy-limited hydro resources with alternative environmental uses make eastern-style rules impractical.
And speaking of the West, FERC now must adapt any revised OATT to mesh with new section 1231 of the Energy Policy Act of 2005 (Federal Power Act, new sec. 211A). That section for the first time gives it jurisdiction over transmission service provided by heretofore unregulated utilities, such as municipal entities and customer-owned entities, and, perhaps more importantly, the federal power marketing areas, and TVA.
The Large Public Power Council, for example, would prefer a so-called "Lite" regime, with passive regulation only (public power required to file safe-harbor tariffs, for example).
By contrast, the Northwest IPP Coalition urges FERC to take a more active approach in exercising EPACT sec. 1231. It claims that the Pacific Northwest faces chronic and crippling grid congestion problems that won't likely see ready relief anytime soon from a regional grid operator, and further, that Bonneville Power Administration, the long-time "strongman" in the Pacific Northwest, appears no longer capable of stepping into the breach:
"Recent efforts by regional players to fix their own problems through development of 'Grid West' have stalled, just as 'IndeGO' and 'RTO West' failed before. … Opponents of Grid West (mostly BPA's public power utility customers) still clutch the belief that either BPA will somehow find the federal funding to fix regional transmission problems or that a contentious group of regional IOUs and public power utilities, each with different interest, will somehow coalesce. …
"BPA," the coalition claims, "is capital constrained and institutionally unable to exert the rationalizing influence it may once have [had]." (See, Comments of NIPPC, FERC Dkt. RM05-25, filed Nov. 22, 2005.)
Economics and Dispatch
Nevertheless, the compelling and stunning revelation to come out of the discussion over Order No. 888 and the OATT goes way beyond the notion of ensuring that all grid access remains comparable to the network transmission rights enjoyed by native load. It also goes way beyond any recommendation of remedies that FERC might undertake to mitigate behavior by transmission providers that might cause discrimination.
Rather, this view contends that even native load suffers untold discrimination under Order No. 888 and the OATT. And the reason, it seems, lies not with transmission providers behaving badly, but with the basic geographic design of the power grid, and the carving up of grid management into small, uneconomic fiefdoms.
In short, this view states that native load still served by stand-alone, vertically integrated LSEs even now is getting a raw deal, as measured in dollars. This alleged discrimination, the argument goes, comes from failure to take advantage of scale economies. It stems from paying more in rates to accommodate an inferior dispatch of a limited number of resources across a small footprint. So why should FERC jump through hoops just to design a tariff that assures comparable rights (that are equally bad)?
Rather, the solution to discrimination lies in broad and ruthlessly efficient regional centralization of the dispatch function, so that ratepayers can take advantage of the economies of scale present in the most fully diversified generating portfolio, as is now available to ratepayers served by RTO participants.
According to the ISO/RTO Council, ISO New England reports that wholesale electricity prices in its region have declined 5.7 percent ($400 million in savings since 2000. Similarly, PJM reports that fuel-adjusted energy prices dropped 4.2 percent ($500 million in annual savings) after integrating American Electric Power into the RTO. The council identifies some 10 studies calculating consumer benefits from a broad, region-wide economic dispatch. (Global Energy Decisions, ESAI, Cambridge Energy Research Associates, ERCOT, Synapse Energy Economics Inc., MISO, Center for Study of Energy markets, Lawrence Berkeley National Lab. (See, Comments of ISO/RTO council, pp. 10-11, FERC Dkt. RM05-25, filed Nov. 22, 2005.)
Consider also the Department of Energy's recent report to Congress on economic dispatch across the power grid, comparing practices conducted both by the RTOs, under their financial rights regimes, and by traditional, regulated, vertically integrated utility LSEs on behalf of native load.
The report contains a treasure-trove of lessons in basic economics. It identifies additional studies of costs and benefits gleaned from dispatch practices, concluding that a security-constrained economic dispatch (SCED) in the style currently conducted by RTOs in the Northeast United States, outshines all other methods in ratepayer benefits. So much so, in fact, that the study builds a strong case that anything less represents per se discrimination—much worse in dollar terms than any alleged behavioral irregularity in carrying out FERC's OATT.
Space precludes a full analysis here. However, among all the discussion of all the relevant characteristics of generating resources (fuel costs, startup costs, ramp rates, load following, reactive power, must-runs, must-takes, energy limitations, emissions limitations, etc.), and their profound effects on ratepayer costs, one question jumps out: How large should a dispatch area be?
The Southern Co. system, for one, performs economic dispatch for about 43,000 MW of resources (nuclear coal, hydro, pumped-storage hydro, gas-fired, oil-fired, and purchased power) across a region of 120,000 square miles.
That compares favorably with RTO dispatch portfolios:
New York. 335 generating stations, 37,500 MW capacity;
New England. 350 generators, 31,00 MW installed capacity, six states;
PJM. 163,800 MW of resources, 51 million consumers, 14 states, 164,260 square miles;
MISO. 132,000 MW capacity 16.5 million customers.
Nevertheless, as the report shows on p. 22, some dispatch areas (MEAG Power, Western Farmers Co-op, Nebraska Public Power District, Portland General Electric) claim less than 4,000 MW in resources, according little or no flexibility to LSEs and ratepayers. Why emulate that?
In submitting input for the report, Southern Co. advised that "areas smaller than approximately 10 times the largest generating unit in the dispatch area would be exposed to unacceptable risk from unit trips and failures of other equipment that could impose dispatch step changes greater than can be accommodated by available ramp capacity." (See p. 27 of the report.)
Congress and Politics
Why preserve the native-load "preference," as it appears that native load is getting no favors?
Former FERC Commissioner William Massey, representing the American Wind Energy Association (AWEA), submitted a remarkably concise analysis of past history and possible problems that should be must reading for anyone seeking to understand Order No. 888 and the OATT. His analysis supports much of what AWEA has been saying recently: that the promise of wind energy and other new technologies warrant a new way of looking at things, rather than a litany of why they won't work under current rules.
According to Massey, "Simply tinkering at the ends will not solve today's serious problems related to grid balkanization, transmission pricing, congestion management, planning, discrimination in grid access, and market foreclosure of competitors."
Massey adds: "I am not suggesting a resurrection of standard market design. Rather, I am saying that given the reality of slow RTO development, we cannot escape the need to address … the inadequate rules in effect today."
FERC's notice promises that the commission "is not proposing to change the native load preference established in Order No. 888."
Nevertheless, FERC does ask for comments on giving up the contract-path model, and abandoning a need- and load-based right to grid capacity, in favor of a contract-demand tariff keyed to reservations.
A contract-demand tariff would work in similar fashion to FERC's ill-fated Capacity Reservation Tariff of 10 years ago, which, as Massey explains, "would have put all customers on the same service."
All of this sounds suspiciously like the end of the native-load preference, as we have come to know it. In fact, such a change, if imposed today, would not appear to violate EPACT Sec. 1233 (Federal Power Act sec. 217), which defines the native load preference. That section states only that:
"The commission shall … meet the reasonable needs of LSEs to satisfy [their] service obligations … and to secure firm transmission rights (or equivalent tradable or financial rights) on a long-term basis for long-term power supply arrangements made, or planned, to meet such needs."
Thus, grid access rights for native load must prove sufficient to cover need, but nothing in the law says that FERC cannot require native load to acquire those rights by way of reservation.
Endnotes
1. For the study, the DOE surveyed state regulators and industry stakeholders in late August 2005, with assistance from industry associations. FERC also has convened and staffed a number of state-federal joint boards to study the issue of security constrained economic dispatch for various market regions and to report back to the commission and Congress, by Aug. 7, 2006. (See, Order convening Joint Boards, Dkt. AD05-13, Sept. 30, 2005, 112 FERC ¶61,353.)
2. Mid-American Energy's vice president and general counsel Steven Weiss responded in writing later to many of Ms. Kimber's accusations. Among other points, he denied charges that improved opportunities for small municipal utilities to participate with MEC in transmission planning, or to share with MEC in joint ownership of grid facilities, might have improved the situation. Weiss noted that the region already possessed a well-established model for collaborative transmission planning. "Ms. Kimber's own clients," he added, "already serve on planning committees which conduct such joint transmission planning and a number of municipal or cooperative utilities have co-ownership interests with MidAmerican in transmission facilities." In fact, Weiss added that approximately 33 percent of his company's (then) 1,158 miles of 345-kV lines were owned jointly with municipal utilities or their agencies. (See, Written Statement of Mid-American Energy, FERC Docket RM04-7, filed Jan. 21, 2005.)