Deck:
Banks are reshaping the energy-trading landscape. When the dust settles, utility companies will face different strategic horizons.
Author Bio:
Michael T. Burr is Public Utilities Fortnightly 's editor-at-large, based in Minnesota. E-mail him at burr@pur.com.
Banks are reshaping the energy-trading landscape. When the dust settles, utility companies will face different strategic horizons.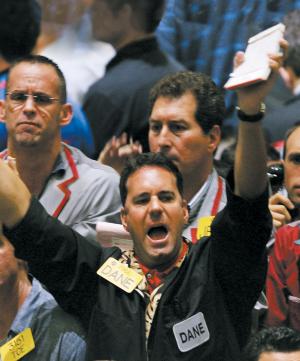 Frank Napolitano is wearing a new hat.
The Lehman Brothers investment banker, who has co-headed the firm's global power group since 2003, is now managing director and global head of origination and sales for Lehman's new energy-trading organization.
Napolitano's career move is more than just another title change on Wall Street. As part of a broad trend in the financial sector, it demonstrates a remarkable commitment of resources that banks and other financial firms are putting into the energy-risk market. More than a dozen major money-center banks and investment houses have launched or expanded their U.S. energy-trading operations in the past two years (see Table 1, "Power on Wall Street," p. 33). Additionally, more than 120 hedge funds and other investment groups have jumped into the energy-trading arena, in pursuit of stellar profits reported by some funds. The result is a market once again flush with volume, with the added benefits of more creditworthy trading counterparties, trading a richer variety of contracts.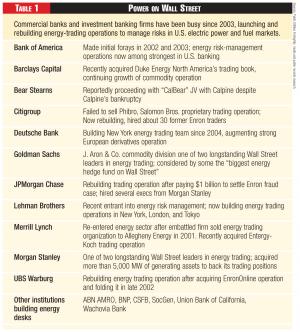 "We are building a customer-oriented business and not a proprietary trading shop," Napolitano says. "Corporate managers of energy companies are asking us to provide commodity solutions. Along with core corporate finance and capital markets strengths in the power and natural resources areas, we now have the capability of providing a commodity-related window for customers."
Wall Street's commitment of banking resources might signal a coming shift in the U.S. energy markets—a shift that could change the way utilities manage their energy-supply assets and price risks. "If the market keeps moving like it is, all but a few utilities will have the banks do their risk management and procurement," says Peter Fusaro, chairman of Global Change Associates in New York. "Banks have the management infrastructure, the balance sheets and risk-taking capabilities to manage energy risks. That's not the forte of a utility company, and many won't want the overhead anymore."
In addition to the infrastructure costs, that overhead includes compliance and investor-relations factors for investor-owned companies. Nevertheless, most utilities likely will move slowly and cautiously into the new world of energy-risk management. Until they are sure the U.S. energy-trading field is a stable place to expand their business, utility executives might be more inclined to stick with what they know—time-honored rate-recovery mechanisms, with minimalist hedging strategies.
Beyond Enron
In the months following Enron's bankruptcy in December 2001, trading volumes and liquidity for electricity commodities evaporated. The public conflagration of Enron, as well as Dynegy, Williams, and other boom-era market makers, sent electric and gas utilities fleeing from the energy-trading business. Even such aggressive companies as Duke Energy called in their unregulated bets and retreated to a "back-to-basics" bunker.
Less apparent than the flight of the utilities, but no less important, was the withdrawal of major financial institutions from electricity and other energy markets.
For example, less than a year after UBS Warburg acquired Enron's