New Opportunities: FirstEnergy Corp. named Bennett L. Gaines vice president and CIO. Prior to joining FirstEnergy, Gaines was vice president and CIO at Cinergy Corp. He succeeds C. John Daugherty, who has served as interim vice president and CIO since September 2005.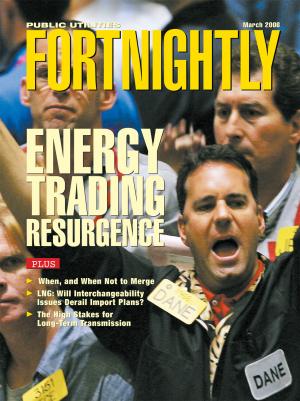 PPL Corp. named Matt Simmons vice president and controller. Simmons is currently vice president – finance, and controller for Duke Energy Americas in Houston. He has served in his present position for more than two years, after joining Duke in 2003 as vice president and controller for Duke Energy North America.
NorthWestern Corp., d/b/a NorthWestern Energy, named D. Louis Peoples to its board of directors. Peoples will stand for election at the company's next annual meeting. Peoples, president and founder of Nyack Management Co., previously was CEO and vice chairman of the board at Orange and Rockland Utilities and executive vice president at Madison Gas and Electric Co. Wisconsin.
The Nuclear Regulatory Commission's Advisory Committee on Reactor Safeguards (ACRS) re-elected Dr. Graham B. Wallis as chairman, Dr. William J. Shack as vice-chairman, and John D. Sieber as member-at-large. The ACRS advises the commission independently from the NRC staff on the safety and safeguards aspects of nuclear facilities and the adequacy of safety standards. Wallis was appointed to the ACRS in 1998, Shack in 1993, and Sieber in 1999.
Avista Corp. Senior Vice President and CFO Malyn Malquist named Vice President Christy Burmeister-Smith to take over the post of vice president and treasurer for the corporation. Previously, Burmeister-Smith was vice president and controller for Avista. Ann Wilson was named vice president and controller for Avista Corp. Wilson previously was vice president and controller for Avista Energy.
Aquila Inc. said its board of directors selected Patrick J. Lynch, who has been a board member since 2004, as chairman of its Audit Committee. Lynch, who retired in 2001 as a senior vice president and CFO of Texaco Inc., has been a member of Aquila's Audit Committee since joining the board.
Bruce Hamilton was named vice president of Duke Power's Oconee Nuclear Station. Hamilton began his career with Duke Power in 1973 as an engineer at Oconee. Ronald "Ron" Jones has been named senior vice president, nuclear operations, for Duke Power. Jones formerly was vice president of Oconee Nuclear Station in Seneca, S.C.
Dickstein Shapiro Morin & Oshinsky LLP welcomed former TECO Energy Inc. Senior Vice President Richard Lehfeldt to the Washington, DC, office as partner. From 1999 until 2005, Mr. Lehfeldt was senior vice president – external affairs for TECO Energy Inc. Prior to joining TECO, Lehfeldt was vice president, assistant general counsel, and director of North American legal operations for Edison Mission Energy.
Resigned: The Midwest ISO (MISO) board of directors accepted the resignation of James P. Torgerson, its president and CEO. The board named its current non-executive chairman, T. Graham Edwards, to serve as interim president and CEO while a national search is conducted for Torgerson's replacement. Edwards temporarily will step aside as chairman of the Midwest ISO's board of directors.
The MISO board elected its vice chairman, William P. Vititoe, to serve as its interim chairman. Vititoe is an original member of the Midwest ISO's board and has served as its vice chairman since April 2005.