Deck:
Forget the mega merger as a means to acquire new power plants. FERC's new rules may offer a better path.
Author Bio:
Romkaew Broehm Ph.D. is senior associate at The Brattle Group. Contact her at romkaew.broehm@brattle.com. The author thanks Dr. Peter Fox-Penner and Gary Taylor for their comments. All errors and views are the author's alone and do not necessarily represent the views of The Brattle Group or its clients.
Forget the mega merger as a means to acquire new power plants. FERC's new rules may offer a better path.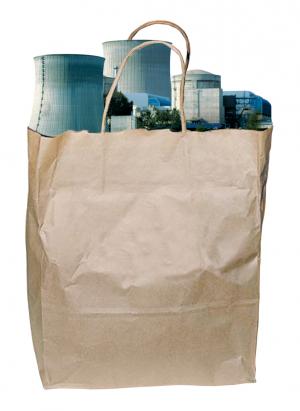 Predictions of a U.S. electric merger wave heated up last summer, when the Energy Policy Act of 2005 (EPACT) repealed the 1935 Public Utility Holding Company Act (PUHCA), thereby allowing acquisition of electric utility companies by foreign firms, domestic non-utilities, or other non-contiguous utilities. 1 Factors including demand growth for electricity, re-regulation, potential profitability of baseload power plants caused by high natural-gas prices, and competitive pressures have made the electric utility industry, particularly power generation, more attractive for investment and take-over activities.
Starting Feb. 8, 2006, any electric utility asset transfer with a value exceeding $10 million is subject to Federal Energy Regulatory Commission (FERC) approval. 2 Until recently, a utility asset transfer with a value of $50,000 has been subject to FERC approval. Section 203 of Federal Power Act (FPA) raises the threshold value of the transaction from $50,000 to $10 million. Will this increase in the minimum-threshold value be perceived as a lowering of regulatory hurdles, thereby spurring more electric utility plant acquisitions?
Close Look
Regulatory scrutiny at FERC and other antitrust agencies in the post-PUHCA era likely will be at least as involved as before. A review of previous plant acquisitions over the past two years shows that the average value of the assets sold well exceeded $10 million, triggering a FERC section 203 filing. 3 Nearly 50 electric-plant acquisition deals were completed in the past two years, resulting in a total of 46,384 MW and $13.7 billion worth of plant assets changing hands in 2004 and 2005.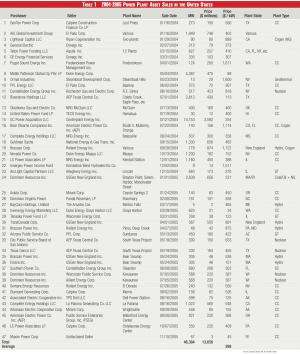 As shown in Table 1, the deals ranged from as little as $2 million to as high as $3.6 billion, with an average transaction value of about $280 million. At a weighted average value of $300/kW, the value of a 300-MW power plant is $90 million, far above the $10 million threshold. Additionally, structural changes and corporate realignments in the electric utility industry, combined with high fuel prices, would pressure regulators to undertake a thorough review, particularly if the transaction involves electric-gas consolidations. In Order 669, FERC already has implemented a new filing rule requiring Section 203 applicants to prove that their proposed transactions would not result in cross-subsidization. 4
Furthermore, Section 203 applicants that already have market-based rate (MBR) authority would need to file a change in status (CIS) within 30 days of their closing. 5 The CIS filing implements FERC's April 2004 Generation Market Power Analysis, specifically designed to determine if MBR authority should be granted. 6 The analysis has well-specified requirements and guidelines that contain some subtle differences from the Section 203 market-power analysis, and these differences may result in undesirable outcomes.
This article explains differences between