Deck:
Wind gains, but won't soon alter the fuel mix.
Some power markets may be seeing possible signs of recovery. Spark spreads appear to have bottomed out, and reserve margins have begun to fall in some markets. As Figure 1 shows, recovery is uneven, with many regions still experiencing excess supply and a few regions with peak reserves under 10 percent. The picture becomes somewhat distorted as utilities build new capacity inside their rate base and sign power purchase agreements with wind projects to meet state renewable portfolio standards.
Retirements on the Rise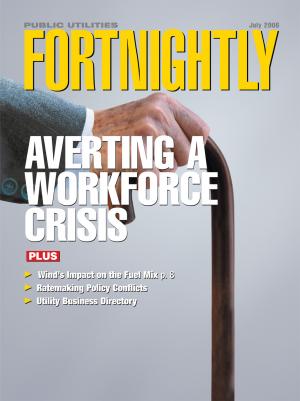 The retirement of old and inefficient power plants was an expected outcome of restructuring as was the overbuilding of new, more efficient plants, but never a noticeable trend. That may be changing as markets become better organized, liquidity grows, environmental regulations are stepped up, and competition becomes more intense.
A large number of announced retirements and mothballing in Texas have occurred, driven by the highly competitive and organized ERCOT wholesale market, open transmission access, a functioning retail market, and the wave of new plant development, which pushed reserve margins past 35 percent. The pressures of competing at the retail level means that companies no longer can rely on their old, inefficient capacity but instead must search out the lowest-cost plants.
On both the West Coast and East Coast, tightening emissions controls may induce retirements or fuel-switching away from coal. Near the close of 2004, New York announced settlements over air quality with AES and NRG Energy. By 2009, AES agreed either to install new emissions controls or shut down three of its small coal-fired plants totaling about 288 MW. In addition, it agreed to convert its 162-MW Greenridge plant to a clean-coal demonstration project. AES owns six coal-fired plants in central New York totaling approximately 1,400 MW.
Resource Mix and New Build
In the 1960s through the 1980s, the building boom in coal-fired generation plants led to a 150 percent rise in coal generation. Figure 2 shows coal capacity is now down to 32 percent of U.S. capacity market share, although coal's generation market share still exceeds 50 percent. However, Global Energy expects the contribution of gas-fired generation to the generation mix to rise significantly over the next 10 years. This increasing U.S. reliance on gas fuel and liquefied natural gas will have important consequences.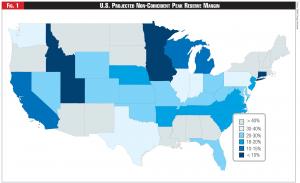 A large amount of capacity currently being developed could enter the market over the next few years. As of March 2006, 58,000 MW were in some form of permitting. In addition, approximately 18,000 MW (nameplate) were under construction. Two-thirds of this capacity is natural-gas-fired, and coal accounts for about 4,300 MW. Most of the remaining capacity is renewables such as wind.
Meanwhile, there are 61,000 MW of coal-fired capacity currently being developed in the United States.1 As indicated in Figure 3, most of this capacity is targeted for the Midwest, WECC, and Southeast. Development activity for coal-fired capacity in the Northeast is almost nonexistent. Not all of this capacity will be built, as the path from proposal stage to construction is full of obstacles. Still, as indicated below, progress is being made, and as of March 2006, 26,000 MW of capacity is being permitted. More than 4,000 MW are under construction.
Nuclear Energy Consortia Make Progress
In the United States, the president views nuclear power as part of a solution to environmental concerns and dependence on foreign energy supply. The Energy Policy Act of 2005 (EPACT) has introduced production tax incentives of 1.8 cents/kWh for nuclear energy. Three consortia of electric power companies are in early siting and permitting processes with the Nuclear Regulatory Commission (NRC) for approval of reactor designs that have been used in recent international projects.
Since 2000, existing nuclear facilities in the United States have increased their output level by about 1,500 MW. At the present time, 15,000 MW of new nuclear capacity is being planned, permitted or to be brought online by 2016. However, a great deal of uncertainty surrounds these projects and their estimated online dates given the extensive application process with federal and state regulators and uncertainties over financing. Given the lack of experience in building nuclear power plants in the United States for more than 20 years, in addition to the more competitive business landscape, the cost of constructing a new reactor is a significant uncertainty. Other important obstacles are safety issues and long-term fuel storage, as opposition to the Yucca Mountain site continues.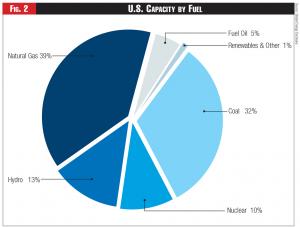 In a time of rising and volatile natural-gas prices and concerns about coal's contribution to global warming, this low-cost baseload capacity source has proven to be enormously valuable and profitable. Nuclear assets have had their share of the consolidation trend in the electricity industry. According to the Nuclear Energy Institute (NEI), nuclear plants had record output and stable costs in 2004. Plants in the United States generated a record 788.6 million MWh in 2004, breaking the 2002 record of 780 million MWh. NEI's figures put the 2004 average net capacity factor at 90.6 percent, trailing only the 91.9 percent achieved in 2002 and the 90.7 percent in 2001. The slightly lower capacity factor, despite the higher output, is a result of the recent nationwide uprating of nuclear units.
The burden of proving the financial viability of nuclear generation and its ability to overcome the two-decades old opposition falls on the shoulders of the first generation of reactors currently being pursued by the three nuclear consortia. Thus far, the NRC has awarded its design certification to four reactor designs including GE's Advanced Boiling Water Reactor (ABWR). GE's Economic Simplified Boiling Water Reactor (ESBWR) design still is under review by the NRC, while several others are being prepared for application. NRC approvals of reactor designs are only one of the many regulatory hurdles to nuclear-generation development. More significantly, the next few years are expected to witness some intense public and regulatory discussion before a broad acceptance is established to allow any of the current plans for nuclear facilities to break ground.
Wind Power Almost Doubled Since 2002
During the past three years, U.S. wind energy has doubled in capacity thanks to favorable public attitude, improving economics, technological advances, and government support.2 While making a good start, wind has a long way to go and faces a number of challenges in becoming integrated into supplier and load portfolios.
In the United States, according to the American Wind Energy Association (AWEA), 2,424 MW of new wind-generating equipment were added to the nationwide fleet in 2005. This considerable capacity added in 22 states easily breaks the 2001 (1,696 MW) record. At year-end, utility scale wind installations in 30 states across the country totaled 9,149 MW. As shown in Figure 4, installed wind capacity in the United States almost has doubled in the past three years (2003-2005). AWEA expects 2006 to be even a more active year for wind development, with additions projected at 3,000 MW. During 2006, wind energy is forecast to decrease the nation's dependence on natural gas by 5 percent.
Between 2008 and 2016, developers plan to add approximately 5,500 MW of wind turbines. Together, the October 2004 extension of the federal wind energy production tax credit (PTC) and the extension of the PTC under EPACT are expected to allow these developers to move ahead with their plans and spur even more wind development given the recent upsurge in natural-gas price volatility.
Another important driver of wind-power projects occurs in efforts by states to promote clean energy consumption. Today, twenty states plus the District or Columbia have passed renewable portfolio standard legislation requiring utilities to provide a certain minimum amount of power from renewable sources such as wind and solar.
Despite significant progress, wind and other renewable energy options face serious economic and technical limitations in displacing conventional fuels. The economic reality is that the future fuel mix for power generation will not change drastically. As GE Energy CEO John Rice put it, "Nothing we know of today could replace the hole that would be left if coal or nuclear were to leave."
Endnotes:
1. This amount excludes the already 45,000 MW of canceled or delayed projects.
2. Assessing the State of Wind Energy in Wholesale Electricity Markets, FERC staff briefing paper, November 2004.