Deck:
Innovation must play a key role in each company.
Author Bio:
Clark W. Gellings is vice president of innovation at the Electric Power Research Institute (EPRI). Contact him at cgellings@epri. com. Steve Hoffman is CEO of Hoffman Marketing Communications Inc. Contact him at steve@hoffmanmarcom.com.
Innovation must play a key role in each company.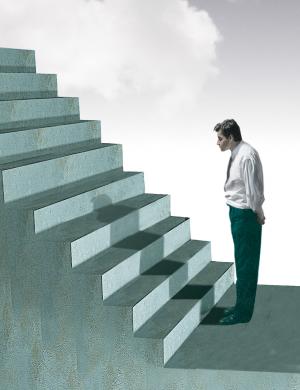 The electric power industry is at a crossroads, and the chosen path will have significant economic and social ramifications for decades to come. The industry faces serious technological challenges in each major part of the electricity value chain—from power production to power delivery and end-use. At the same time, cross-cutting issues such as the need to increase the resilience of the power system to security threats and the ongoing need to mitigate the impact of electricity production, delivery, and use on the environment pose formidable difficulties.
Yet, each challenge presents an opportunity. Meeting these challenges will necessitate the upgrade of our aging electricity infrastructure, which will improve the reliability and quality of power delivered to end-users. This, in turn, will improve economic productivity via reduced outage costs, fewer disruptions to sensitive equipment, and other economic benefits. Similarly, requisite advances in consumer connectivity, end-use energy efficiency, and more effective power markets will enable a range of consumer services, lower energy costs, and reduce environmental impacts. Advances in power production also promise tremendous benefits. Cleaner-burning fossil power plants will reduce emissions and sequester carbon dioxide to minimize global climate impacts, making more efficient use of resources.
Figure 1 classifies the top 10 utility technology challenges, using traditional categories, but all unified by one concept: innovation.
Challenge 1 Improve Utilization of Power-Delivery Assets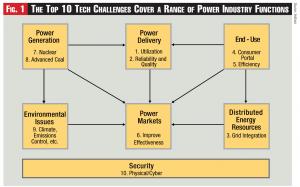 Technological innovation can help us make better use of what we have. The electric power industry is the most asset-intensive industry in the world. The value of U.S. transmission and distribution assets alone exceeds $350 billion. Upgrading this tremendous asset base to extend its life and enhance its capabilities is one of the most pressing needs the industry faces.
One way to improve power-delivery asset utilization is to increase transfer capacity using existing rights of way. On transmission systems, technology improvements that promise this capability include increasing the voltage, reconfiguring conductors into a more compact arrangement, using high ampacity conductors, and installing high temperature superconducting cables. The high ampacity conductors feature composite or carbon fiber cores, providing higher current-carrying capability. Under high rates of power flow, their greater strength and lighter weight compared with typical conductor cores reduce sag at high temperatures. This allows greater loading of lines that are now clearance limited or thermally constrained.
In addition, the new conductors are more corrosion resistant and promise a longer service life. High-temperature superconducting cables potentially can carry three or more times as much current as conventional cables of the same size and may be suitable for retrofit in some underground transmission conduits and underground transmission rights of way.
Another way to improve utilization of existing power-delivery assets is to monitor equipment operation, enabling real-time rating of facilities. Transmission-system technologies that can accomplish this include wide area measurement systems (WAMS), dynamic thermal circuit