Deck:
IT officers are getting more efficient, but guess what keeps them up at night?
IT officers are getting more efficient, but guess what keeps them up at night?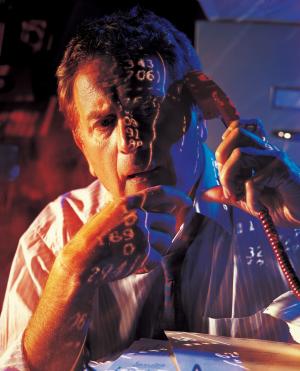 Utility innovation is pushing Internet-technology (IT) investment forward, but security still causes utility chief information officers (CIOs) to lose sleep.
Xcel Energy CIO Mike Carlson, who takes pride in the company's well established leadership in IT innovation, isn't resting on those laurels. "I'd like information security to become a lot easier," he says. "It's probably the thing that keeps us up awake right now. There's got to be a way to make it easier. It's going to require some investment, but unfortunately, it's not the type of investment that shows a natural return."
Investment isn't as large an issue for the Department of Homeland Security (DHS), for which President Bush has proposed a budget of $34.4 billion in the coming year—up $2.3 billion from last year's funding level. The department manages the nation's overall critical infrastructure and key resources protection framework, and oversees National Infrastructure Protection Plan development and implementation. "A corporate environment isn't all that different from the systems management we have here [at DHS]," says Scott Charbo, CIO for DHS. "If you're a co-op, you probably have a lot of the same challenges I do."
At Bonneville Power Administration (BPA), an arm of the Department of Energy (DOE), CIO Larry Buttress doesn't receive anywhere near the level of IT funding for DHS, but he worries about BPA's critical infrastructure. "I'd have to say security is becoming more and more of an issue for us," Buttress says. "That's the one thing I want to make sure we do a good job of."
For transco ITC Holdings, it's not security so much as mergers and acquisitions (M&A) that are having the biggest impact on IT considerations. Late last year, the company completed its acquisition of Michigan Electric Transmission Co. (METC). "The complexity of maintaining a real-time SCADA system with 200-plus geographically dispersed locations cannot be overstated," says ITC Holdings Director of Information Services and Facilities, Denis DesRosiers.
Our "CIO Forum" highlights these four IT professionals, as they grapple with challenges related to funding, staffing, and outsourcing. And a little insomnia.
Mike Carlson, CIO, Xcel Energy
Fortnightly: You've been CIO since February of last year. What prepared you for your new responsibilities?
Carlson: I spent three years here as practice lead with Arthur Andersen doing integration work when New Century Energies Inc. and Northern States Power Co. merged. Following that, I came here to head up the Program Management Office (PMO). We basically re-engineered the PMO for a value-delivery model. Following that, I picked up responsibility for what we call Business Transformation and Governance, which continued the PMO but leveraged the technology investment for incremental transformation and change. Two-and-a-half years ago I picked up the operations side of it, which, in our case, predominantly is an outsource model with IBM. For almost two years I was responsible for all of our IT operations.
In addition to traditional IT, I also own Utility Innovations and transformation initiatives from a value-creation perspective for the company. Lastly, I own security