Deck:
Utilities showed strong gains last year, but other industries are gaining ground.
Utilities showed strong gains last year, but other industries are gaining ground.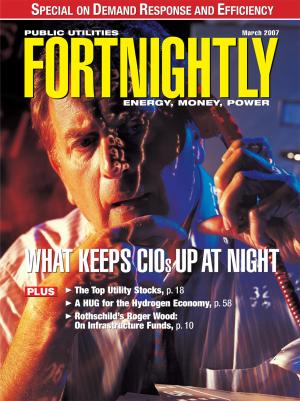 "Risk comes from not knowing what you're doing."  —Warren Buffett
Confirming what many at individual utilities already knew, the Dow Jones Utilities Index posted another year of solid gains in 2006 (see Figure 1) .
The Dow Jones Utility group rebounded following the collapse of the energy sector in 2001-2002. Yet after unprecedented 20-plus percent gains for three consecutive years (2003-2005), another year of such gains would have been tough, and it was. In fact, in 2006, the Dow Jones Industrial Average beat the Utilities Index for the first time since 2003 (see Figure 2) .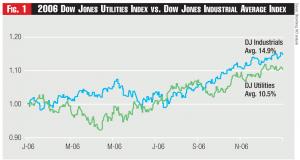 Key drivers for the gain for the Utility Index were AES, Centerpoint, PG&E, FirstEnergy, and Duke Energy (completed merger with Cinergy), which all posted stock price gains of more than 20 percent in 2006. Laggards, which recorded stock price gains of less than 10 percent, were Con Ed (reliability problems), Edison International, and PSEG (failed merger with Exelon). 1
As might be expected, in connection with both the near-term and longer-term historical investor performance of the utility sector, there's a story within the story. Further, this performance history provides a context against which the impact of both current and emerging issues can be assessed.
To examine how well utility investor have fared, dividends also must be considered; therefore, we examined the Total Shareholder Return (TSR)— dividends plus change in stock price—of some 80-plus utility companies. We considered TSR performance in 2006 and over a three-year time period. 2
To understand the impact of alternative strategies on investor performance, we grouped these companies by their asset mix, business focus, and corporate strategies into the following categories.
Energy Delivery . Companies in this group formerly were considered integrated electric and gas utilities. However, in connection with restructuring initiatives, these companies sold their power-plant assets. What was left was the so-called "wires and pipes" or energy delivery business.
Gas Distribution . Companies in this group actually are quite similar to energy delivery companies except for one difference—their delivery business consists exclusively of "little pipes" ( i.e., delivery to energy end users). They have no "wires" business and no significant presence in connection with "upstream" gas businesses ( e.g., interstate pipelines).
Integrated Gas . Companies in this group operate across the natural gas value chain—gas production and marketing, gas processing, interstate pipelines and storage, and gas distribution.
Power Generation . There are only a few companies in this group. They do not have a significant presence in the retail or energy delivery business. Their primary business focus is in developing and operating unregulated power plants.
Integrated Electric and Gas. This is the largest group. It consists of companies that have power-plant assets (sometimes regulated, sometimes non-regulated) as well as