Deck:
Can markets co-exist with renewable mandates?
Author Bio:
Bruce W. Radford is editor-in-chief of Public Utilities Fortnightly.
Part way through the recent conference on electric competition, held Feb. 27 at the Federal Energy Regulatory Commission (FERC) headquarters, in Washington, D.C., it was so quiet you could hear a hockey puck slide across the ice. No, hell had not frozen over. Rather, it was Commissioner Marc Spitzer, who had found a clever story to ease the tension and allay fears that FERC somehow might want to undo the sins of the past, and give up its dream of workable markets for wholesale power: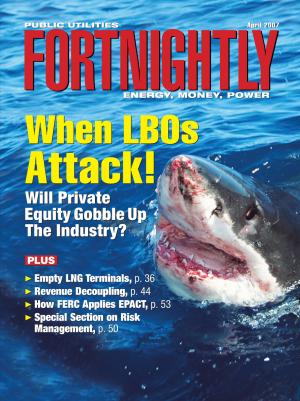 "My son in his hockey game gave up a couple of goals—a couple of goals early—and instead of playing harder he asked for a do-over. That's the way with kids. They want do-overs sometimes."
That was as close as the commission came all day to ordering a do-over in electric competition. When Chairman Joseph Kelliher had asked the opening panel about killing competition—putting the toothpaste back into the tube—M.I.T. economics professor Paul Joskow had ready his convincing reply:
"You can't put the genie back in the bottle … unless you're going to expropriate the generators' property."
In fact, Commissioner Spitzer echoed that theme a week later, as the guest luncheon speaker at an industry conference in Arlington, Va. (The Thirteenth Annual FERC Briefing, March 7, 2007, sponsored by EXNET.)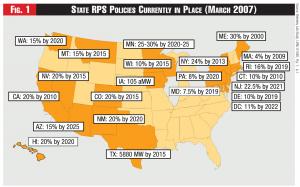 As Spitzer explained over dessert and coffee at the Ritz Carlton in Pentagon City, "not even Stalin was able to rewrite history."
All the same, threats still remain that could undermine the market regimes now in place at the regional transmission organizations (RTOs). One threat, in particular, comes from global climate change and from mandatory renewable portfolio standards.
Can competitive power markets co-exist with government mandates for more renewable energy, or planning that dictates investments in specific resources deemed to offer public benefits?
Consider: What is the point of locational marginal pricing (LMP), which offers market price signals at thousands of points on the grid, if regulators will simply mandate a fixed market share for renewable energy, without regard to price? How do LMPs help reveal where to build new plants for maximum profit, if the next new unit is a wind turbine? Or perhaps an oceanfront hydro facility built to capture wave or tidal energy? Each must locate where the energy resides; none can simply choose a site at the highest-priced node.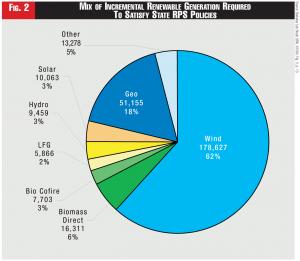 Roy Thilly, president and CEO of Wisconsin Public Power Inc., who testifies frequently on behalf of transmission-dependent utilities, often urging infrastructure ahead of market structure, explained in a nutshell why competitive markets seem to many not to offer the right solutions to today's problems:
"Power plants are not being built by LMP signals. Wind has to be built where there's wind. LMP tells you to build it at the load. Coal has to be built where you can site it, where there's an opportunity for carbon sequestration, where there is water, where it is permittable. Nuclear is not going to be built at the load centers. So building the robust transmission system is absolutely key … sitting back and waiting for scarcity pricing or LMP signals … is simply going to leave us with a very inadequate system."
Former Congressman Glenn English, now head of the National Rural Electric Co-op Association, points out that government and its regulators always have been engaged in one way or another in mandating preferences for energy development:
"If you recall," said English, "we decided in the 1970s we were short of natural gas. Then we decided we had plenty of natural gas. Now we're deciding we're short of natural gas. We had to switch from natural gas to coal because we had plenty of coal. Now we decide we can't use coal. …
"If we're going to incorporate renewables," he adds, "if we're going to deal with climate change, we're going to have to take some action that's far more aggressive than what we've had up to date, and that means that Congress will most likely lead the way."
By contrast, Harvard Professor Bill Hogan, a market advocate, concedes that regulation remains essential to make electric competition work, but he uses the terms "Big R" and "Little R" to illustrate the problem of engineering the right mix of rules.
By Little R, he means setting up financial incentives to allow market participants to make their own decisions on fuel choices and resource development, and then to "allow those incentives to unfold."
By contrast, says Hogan, "Big R regulation is the opposite, which is creeping integrated planning.
"It's a slippery slope problem," he warns. "Regulators are called on to mandate this and mandate that until we reach a very expensive breaking point."
California's New Mandate
If there is a breaking point approaching, it may be in California, where lawmakers have accelerated the state's renewable energy portfolio requirement—20 percent for all utilities and all load, regulated or not—from 2017 to 2010, less than three years away.
It is there that the California Independent System Operator (Cal-ISO) has asked FERC for a special regional waiver from federal transmission funding rules to help build new, high-voltage trunklines designed to help develop and connect multiple new renewable energy projects to the ISO-managed grid, especially in distant or remote areas. Already, however, one can see difficulties arising in how this new initiative will mesh with the ISO's plans for its new regional market regime. The future Cal-ISO market, known as the MRTU (Market Redesign and Technology Upgrade), envisions a day-ahead market styled after "day two" RTO markets in the Northeast, with nodal pricing, LMP, financial transmission rights for hedging congestion (CRRs), and a bid-based and security constrained dispatch.
This new Cal-ISO grid planning initiative (see "States of Denial," January 2007) would apply not only to new wind energy projects, but also to all so-called "location constrained resources," such as solar energy, geothermal power, or even landfill gas. The ISO's recent proposal, to create a new category of transmission assets, known as MURT or MRT (multi-user resource trunklines), would recover grid expansion costs through the ISO-wide transmission access charge (TAC), which is collected by the ISO's participating transmission owners (PTOs). In essence, this new mechanism essentially would allow rolled-in rates for investments made to accommodate merchant power developers. It would pass grid financing costs through to all transmission customers taking service under the ISO tariff. And it would apply for the financing of radial, non-networked lines, which ordinarily would be defined under FERC policy as generation tie-lines, required to be funded by the generators themselves.
As the ISO has noted, the traditional rule of "generator pays" works poorly in the case of renewable energy projects, and especially for wind farms. That's because development cannot proceed without large and costly new grid investments, but the transmission project greatly outweighs the actual building of the individual power-plant units, both in cost and complexity. The actual planning, development, siting and construction of power plant units, such as the wind turbines, could well continue for years to come, under the direction of many different and competing project developers—each too small to fund the transmission trunkline that makes it all possible.
The classic example of the problem, where renewable energy development languishes for lack of transmission, was seen in the failed Antelope Valley project, where Southern California Edison had tried unsuccessfully to get FERC to approve rolled-in rates for gen-tie lines to a mammoth future wind project in the Tehachapi Mountains. In that case, however, FERC Commissioner Nora Brownell and Chairman Pat Wood had indicated they might have OK'd the idea if it had been proposed on a generic basis by the Cal-ISO, rather than by a single individual transmission owner, such as Edison, for its own power project. (See Docket EL06-80, July 1, 2005, 112 FERC ¶61,014.)
In fact, in the time that has passed since FERC denied Edison's request, the Market Surveillance Committee of the Cal-ISO (Frank Wolak, chairman) issued a formal opinion concluding that several "market failures" conspired to deny grid access to developers of renewable energy projects. This finding has bolstered the ISO's case. (See, Opinion on Alternative Treatment of New Transmission for Interconnection of Renewable Generation, Oct. 6, 2006.)
So now comes Cal-ISO with its formal proposal filed at FERC, which differs in many particulars from Edison's failed request. The grid-financing mechanism would apply only to location-constrained resources within "Energy Resource Areas." And the proposal describes these ERAs as regions "not readily accessible" to the Cal-ISO grid, as certified by the state public utilities commission (CPUC) and the California Energy Commission (CEC). The proposal also contains an aggregate dollar cap, equal to 15 percent of the ISO-wide transmission revenue requirement under the TAC tariff. That would limit how many MURT lines can be financed in this way. Also, once the plant developers actually complete and interconnect some of their generating units, they will start to pick up a portion of the grid-financing cost, reducing the PTO share of the costs and easing the burden on transmission customers. In addition, all subsidized MURT facilities would be developed initially under the ISO's grid-planning protocols, and the line itself would be placed under ISO control after completion. (See, Petition for Declaratory Order, FERC Docket No. EL07-33, filed Jan. 25, 2007.)
Quantifying Benefits
Part and parcel with California's aggressive renewable portfolio standard comes a typical problem: How does one define the public benefits that come from renewable energy? Also, how do we evaluate the effectiveness of the "Big R" regulatory regimes that prove necessary to carry out such programs, such as the Cal-ISO's novel plan for financing transmission to facilitate renewables development?
To that end, Ryan Wiser and the Lawrence Berkeley National Laboratory (U.S. Dept. of Energy) recently released a comprehensive study analyzing the methods, findings, and results of 28 distinct cost-benefit studies, all performed since 1998, evaluating state-level or utility-level impacts of state-mandated RPS programs.
While the study focuses on retail rate impacts, it also observes that some of the public benefits of state RPS policies are not well understood. Moreover, the study finds no universally accepted method for analyzing the cost-benefit impacts of state RPS programs. As the study authors explain, benefits could come in many forms, such as employment gain, mitigation of retail electric rates, improvements in fuel diversity, mitigation of wholesale power prices, avoidance of fuel costs, mitigation of fuel prices (such as the natural-gas price) and reductions in carbon dioxide emissions. (See, Cliff Chen, Ryan Wiser, Mark Bolinger, Weighing the Costs and Benefits of State Renewables Portfolio Standards, A Comparative Analysis of State-level Policy Impact Projections, Lawrence Berkeley Lab, DOE, March 2007, available at http://eetd.lbl.gov/ea/ ems/reports/61580.pdf.)
Interestingly enough, the CEC already has completed its own cost-benefit study of the Cal-ISO's new plan. In a very preliminary finding, the CEC concludes that Cal-ISO's grid financing plan should be expected to develop enough renewable energy by 2012 to trim the wholesale ISO power price at peak demand, from $129/MWh to $121/MWh. Also, it would drop the market clearing incremental heat rate at peak demand from 12,914 Btu/kWh, to 12,099 Btu/kWh, assuming a natural gas price of $10/MMBtu. (See, Assessing System Benefits of Renewable Trunkline Transmission Projects, Calif. Energy Commission, December 2006.)
Nevertheless, the comments on the Cal-ISO plan, filed at FERC through mid-March, reveal at least several key problem areas:
• Abandonments and Free Riders. Since the actual renewable project development would lag the grid buildout, perhaps by years, how can the ISO ensure that the renewable gen units will show up as planned? If they don't, then a subsidized MURT might end up abandoned. The ISO believes it has solved the problem by requiring proof of "adequate commercial interest," with a minimum 25 to 35 percent capacity subscription requirement (completed interconnection agreements with plant developers), plus another 25 to 30 percent of demonstrable and tangible interest. This looks a bit like the sign-up procedure that would occur with a natural-gas pipeline open season. However, some say a 50-percent firm subscription is needed. Also, once the line is built, there is nothing to prevent a gas turbine or coal-fired plant from interconnecting with the MURT facility as a free rider, since FERC policy guarantees equal access.
• Assured Physical Access. Second, will load-serving entities assure themselves of the necessary congestion rights to gain access to these newly developed renewable-energy sources, after they have paid the subsidy as a transmission customer? The financial transmission rights that RTOs have developed assume that LSEs will be hedging prices. But in this case, the renewable mandate operates as a sort of physical overlay on top of the financial market. Without some sort of cap-and-trade program, where LSEs can buy and sell renewable energy certificates, it remains likely that auctions and allocations of purely financial transmission rights on behalf of LSEs will not guarantee access to the actual renewable resources. After all, RTO-style transmission hedging rights are keyed to anticipated grid congestion and the aggregate collection of aggregate price differentials between grid nodes. These financial rights are based on price, not on emissions or other physical characteristics.
• Market Fairness. Why is this wholesale rate subsidy needed, when state law already guarantees cost recovery through retail rates set by the state public utilities commission for transmission expansions that access demonstrated renewable resource areas found necessary for the achievement of the state's RPS mandate? (See Cal. Pub. Utils. Code sec. 399.25; and Cal. P.U.C. Decision D.06-06-034, June 15, 2006.) Also, how will other market players react? Will Cal-ISO's transmission rate subsidy offer fair treatment to market players that already have invested their own dollars to develop renewable resources?
Consider the case of the Imperial Irrigation District, which has not joined the Cal-ISO as a participating transmission owner, but which owns grid assets and actively is engaged in upgrading its network to bring more renewable energy on line. In particular, Imperial has been collaborating with Citizens Energy and San Diego Gas & Electric to develop the Green Path Project, designed in particular to deliver geothermal energy to the Cal-ISO grid.
Green Path would forge new connections from the Imperial Valley Substation to San Diego Gas & Electric Co.'s Sunrise Powerlink line, and from the proposed Devers II substation to the Hesperia substation, within the service area of the Los Angeles Department of Water and Power. Also, Imperial says it already has constructed a 230-kV collector system to facilitate future delivery of renewable energy from the Salton Sea area to Cal-ISO. With certain minimum upgrades to these existing facilities, Imperial claims it could boost delivery of renewable energy to Cal-ISO by anywhere between 600 to 1,600 MW.
Thus, Imperial protests mightily when Cal-ISO identifies the Salton Sea area as an example of an Energy Resource Area (an area "not readily accessible to the Cal-ISO grid") that would be perfect for a MURT trunkline project.
Imperial wants to know how the Cal-ISO can describe the Salton Sea area as an ERA "not readily accessible to the Cal-ISO transmission grid," when Imperial already has invested its own nickel in Salton Sea grid upgrades. This disregard, says Imperial, suggests that the Cal-ISO's new subsidized regime for trunkline financing will attract the smart money for renewable energy development, and leave Imperial's existing grid-upgrade projects uncompetitive and stranded.
"The fallout," writes Imperial, "if applied carte blanche to all California regardless of efforts underway in neighboring control areas, could be catastrophic.
"Imperial's transmission investments would be stranded … by generators that tie in directly to the ISO-controlled grid.
"Cal-ISO is requesting that other utilities subsidize the cost of building these new transmission lines."
For its part, however, the ISO seems rather nonplussed, at least according to its answer filed at FERC on March 14:
"The fact that Imperial, a non-FERC jurisdictional entity, is engaged in efforts to bring such generation to the grid simply demonstrates the accuracy of the Cal-ISO's statement that the Salton Sea is an area rich with potential renewable resources."