Deck:
The Southeast again is the battleground for fuels, technology, and market structure.
One sure sign of recovery in boom-and-bust power-generation markets is the renewed growth in the planning and construction of power plants. Active efforts are underway in generation development in the Southeast markets in spite of the high levels of generating reserve margins. With its traditional utility-dominated market structure and a preference for baseload generation, the Southeast is the battleground for the next round of power-generation development. Power-project development almost always is driven by optimists, and in the Southeast there are champions for coal, nuclear power, natural-gas combined-cycle, and even some interest in renewables developing in Florida. The Southeast thus is an interesting laboratory for testing whether the traditional integrated utility environment can produce least-cost, best-fit solutions faster, better, and cheaper than merchant-energy competitors. It also will be a challenge for regulators to balance the need for reliable, diversified fuel and power mix with the earnings-growth ambitions of these large-scale proponents.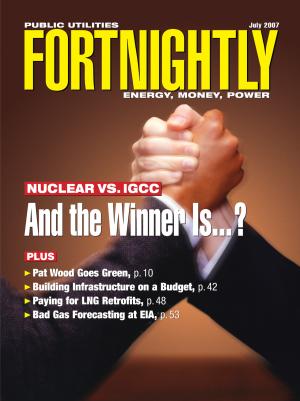 Global Energy's Spring 2007 Southeast Power & Fuels Market forecast identified 13,742 MW of power generation capacity likely to begin operation by 2012. Between 2000 and 2010, around 81,000 MW of new capacity will have entered the Southeast markets. This represents a significant amount of new generation for the Southeast system with an annual peak load of 236,376 MW expected in 2007. Much of this new generation is natural-gas-fired generation that has been constructed in the vicinity of load centers (see Figure 1 for a detailed view).
Over 23,000 MW of this generating capacity is located in Florida, over 11,500 MW in Georgia, and over 8,900 MW in Mississippi. Much of the rest of the new generation is located near major population centers across the Southeast. This high level of generating capacity additions has increased the potential for transmission congestion in the Southeast. The wave of new additions has increased transmission flows in areas not considered in previous transmission plans. This has resulted in an increased reliance on transmission loading relief (TLR) measures during the past few years. In the SERC Reliability Corp. (SERC) region, 238 TLRs were called in 2004, 428 in 2005, and 399 in 2006.
Gas-price and supply volatility continues to encourage Southeast utilities to pursue the development of coal-fired generators. However, growing environmental concerns, specifically relating to greenhouse-gas (GHG) emissions, may inhibit the progress of the cheaper pulverized coal technology. Beyond the current plant-development activity and well into the future, Global Energy has reviewed resource buildout and has made several adjustments. In our Spring 2007 forecast, we include over 13,000 MW of long-term generic coal-fired capacity that will be added in the latter half of the forecast period.1 In addition, we assume new nuclear entry and new integrated coal gasification combined-cycle (IGCC) entry of around 5,000 MW and 500 MW, respectively, in the Spring 2007 forecast. Most of the remainder of the resource additions is gas-fired.
Against this resource-planning backdrop, planning-reserve margins continue to be high across most Southeast market zones. Our analysis has indicated that reserve margins in SOCO, Entergy, and TVA will remain at or above 20 percent through 2010. By the end of this decade, VP, FRCC, and AECI will need additional capacity to maintain their planning-reserve targets. The Southeast region, as modeled by Global Energy, includes all or parts of 13 states. Figure 2 presents a snapshot of the Southeast region.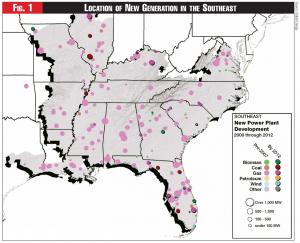 Merchant generator profitability continues to be problematic. Excess generating capacity and low wholesale prices have caused spark spreads for gas-fired generation in the last few years to be lower than the levels sufficient to provide decent financial results.2 Further, many of the new plants find themselves on the wrong side of congested transmission lines. In Global Energy's forecast, if weather conditions are normal, gas-fired merchant generation will continue to face financial challenges. However, as the electricity markets gradually re-emerge from the historic overbuild, they will show signs of recovery with market heat rates elevated from their low 2004 and 2005 levels. This trend is expected to continue during the following few years, offering improved value for merchant generators in the region. At the same time, the continuation of high natural-gas prices over the next few years is expected to keep spot-market prices relatively high since natural gas-fired generation is on the margin frequently, especially during on-peak summer hours.
Figs. 4 and 5 illustrate the new capacity additions since 2000 and the fuel mix of announced power projects in the Southeast, respectively. As shown in Figure 4, development activity in the Southeast markets indicates that the free fall from the peak year of 2002 has come to an end. Between 2007 and 2020, developers plan to add over 41,000 MW of generating capacity. As demonstrated in Figure 5, these additions now suggest a more balanced resource mix as opposed to the recent building boom with a greater presence of coal and nuclear fuels, inspired among other things by the growing volatility in the natural-gas markets. Renewable capacity development still is limited in the Southeast.
Figure 3 illustrates the current status of announced power projects in the Southeast.
Recently, the electricity markets have witnessed renewed interest from power plant developers in coal-fired capacity. In the Southeast, there are 1,323 MW under construction and expected to be on line by 2010. Another 11,000 MW is in different stages of development.
Southeast at the Forefront of Nuclear Resurgence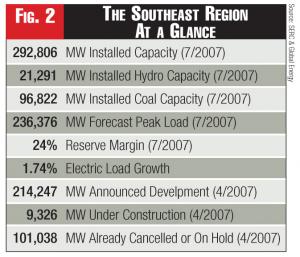 With strong federal and industry support, nuclear energy is gaining momentum as a primary energy choice of the future. The recent approvals of early site permits (ESPs) by the Nuclear Regulatory Commission (NRC) brings more transparency to the new licensing process, and the continued interest by utilities and independent producers alike to develop new facilities demonstrates that the nuclear industry is poised for a revival. The Southeast is leading the development activity with 49 percent of the announced nuclear capacity planned in the VACAR, Entergy, Southern Energy, TVA, and Florida markets. As shown in Figure 6, this translates to approximately 16,800 MW of announced nuclear-generation capacity with commercial operation planned between 2014 and 2020.
The NRC recently approved the ESP application for Entergy's Grand Gulf site in Mississippi. This represents the first ESP approval for a nuclear facility by the NRC. The approval for Southern's Vogtle site is expected in 2009. Southeast utilities are also members of different consortia formed to test the licensing process and construction feasibility. Entergy Nuclear, Southern Co., TVA, Duke, FPL, and Progress Energy are members of the NuStart consortium, which also includes other utilities, developers, and equipment manufacturers. TVA leads another consortium established to evaluate the viability of adding a GE Advanced Boiling Water Reactor at a TVA site. NuStart selected TVA's Bellefonte and Entergy's Grand Gulf sites for which the construction and operating license (COL) permit application process is expected to commence in 2007. GE's ESBWR design was designated for Grand Gulf while Bellefonte will host the Westinghouse Advanced Passive (AP) 1000 design. COL applications for Entergy's River Bend, Southern Co.'s Vogtle, and Progress Energy's Harris nuclear facility sites are planned for submission around 2008.
Despite the robust development activity for nuclear capacity, a great deal of uncertainty surrounds these projects and their estimated on-line dates given the extensive application process with federal and state regulators, financing challenges, spent-fuel storage problems, security concerns, and NIMBY pressures. At the same time, the government continues to push for more funding and to ease the permitting process. As the nation continues to strive for indigenous fuel sources and a clean, low-emissions environment, nuclear power is emerging as an attractive option. It remains to be seen if nuclear power manages to overcome the obstacles and become the energy choice of the future in the Southeast and other regions.
Southeast utilities are leading the nuclear-generation comeback. They are attracted by prospects for reducing their reliance on volatile fuel sources and leveraging the current federal support and incentives for the nuclear industry. Southeast utilities are the most active among developers of new nuclear units in the nation, with plans to add more than 16,000 MW of new facilities.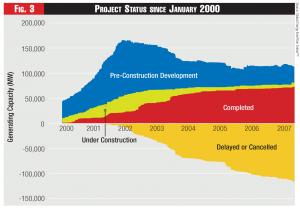 After decades of dependence on natural gas and fuel oil as the primary sources of energy, Florida is taking steps to diversify its fuel mix. The Florida Public Service Commission (PSC) is promoting the use of renewable-fuel sources and is encouraging development of clean-coal technologies and nuclear energy. Although natural gas will dominate the future generation mix in the state, the steps taken to promote alternative fuel sources may help maintain supply reliability and price stability for customers.
TVA is responding to current market conditions by pursuing a private-like business model. Moving from a three-member, full-time board to a nine-member, part-time board with a chief executive officer, TVA is drafting a strategic plan that places more emphasis on customer relationships, operating efficiency, and financial performance. With several distributors threatening to leave the system for alternative suppliers, TVA has made providing reliable power at competitive rates its priority. TVA successfully has managed to convince all but two of the withdrawing members to reinstate.
Florida's outlook towards its electricity market is changing as it takes stock of its heavy reliance on gas-fired generation. Extreme volatility in natural-gas and fuel-oil markets has exposed Florida to electric-power supply and price risks. With 74 percent of its generating capacity mix fired by natural gas and fuel oil, Florida is ready for a shift to a balanced fuel mix. The Florida PSC called for the development of more renewable generation and initiated rules to help renewable generators enter into long-term contracts for power with electric utilities. The FPSC also encouraged increasing the supply of solid fuel generation such as nuclear and clean-coal technologies.
Little Enthusiasm for Renewable Energy in the Southeast
Meanwhile, renewable energy has taken a backseat in the Southeast to more traditional generation options. Many states have established targets for renewable supply sources—Renewable Portfolio Standards (RPS). But so far the Southeastern states have made little progress toward the promotion of renewable-portfolio goals, except for Florida, where the PSC has taken steps to expand the opportunities for alternative sources of electricity. Also, a controversial 50-percent RPS target is being proposed by lawmakers in Florida. Renewable energy initiatives in the Southeast are difficult to achieve because of several factors that include relatively poor wind regimes present in the region and the regulated vertically integrated utility nature of the markets.
Currently, approximately 526 MW of renewable capacity in the Southeast either are under construction or may begin construction in the near future. Beyond the next few years, we expect that renewable supply will be built at about the same rate as has been recently added in the Southeast. Global Energy has forecast that developers would build another 6,550 MW of renewable generating capacity between 2010 and 2031. Even with these assumed additions, renewable capacity including hydroelectric resources only will meet 3 to 4 percent of the Southeast energy needs by the end of the forecast period.
Transmission, siting, and environmental issues facing renewable, nuclear, and coal technologies mean that natural gas-fired generation continues to be the technology of choice, as reflected by the fact that about 69 percent of the generic long-term capacity additions is gas-fired. Abundant natural-gas storage and the construction of the LNG plant in Baja Mexico seem to be ameliorating concerns about natural-gas prices. Further, gas-turbine technology is seeing improvements in efficiency. The Frame 6 CCCT technology with its improved heat rate is being demonstrated. The recent commercialization of the MS100 gas turbine has focused the market on the realization that an operationally flexible, easy to construct, 100-MW simple-cycle unit can have a heat rate of 8,600 Btu/kWh. These units are particularly attractive in meeting local reliability concerns and may be an alternative to transmission lines that are not popular.
RTO? Who Needs an RTO!
The Southeast stands out as the only Eastern regional electricity market that remains committed to a traditional power-industry structure where vertically integrated utilities provide bundled generation, transmission, and distribution services. The market structure has stabilized in the Southeast as all proposals for regional transmission organization (RTO) formation were put to sleep. With retail rates among the cheapest in the nation, Southeastern states have little incentive to advocate electricity market restructuring.3 Regulators are concerned that restructuring wholesale-power markets might cause more cheap baseload power to flow north resulting in higher market prices in the South. State regulators also are concerned about losing their jurisdiction over electricity markets to federal regulators.
On the other hand, independent power producers (IPPs) in the Southeast continue to demand that vertically integrated utilities adopt measures to relieve congestion and provide improved transmission access for competitive suppliers. Aggressive merchant-capacity development in recent years has created a capacity glut in the Southeast. This overbuild, coupled with transmission limitations against reaching load centers, created a financial burden on merchant generators who became saddled with declining value and margins. With abundant, low-cost resources at their disposal, ample reserve margins, and no significant transmission bottlenecks, utilities in the Southeast have been reluctant to change the status quo and pursue an RTO/ISO structure, which comes with high administrative costs. Southeast utilities argue that losing access to systems paid for by their customers may jeopardize their efforts to meet native load in the most cost effective manner.
At the same time, repetitive merchant complaints combined with a commitment from the Federal Energy Regulatory Commission (FERC) to a competitive wholesale power market, have culminated in market-power proceedings against major Southeast utilities. Consequently, several utilities have been evaluating alternatives for complying with FERC's open and fair transmission-access requirements without having to relinquish full control of their transmission assets. Entergy Corp. began receiving independent coordinator of transmission (ICT) services from the Southwest Power Pool (SPP) in 2006. Duke Energy and EON U.S. also adopted similar plans, with the Midwest Independent System Operator (MISO) and SPP, respectively, administering the non-discriminatory access to their system.
Entergy's ICT plan represents the utility's approach to providing competitive access to its grid without giving up full control of the transmission system. SPP began its oversight of Entergy's system as its ICT in November 2006. The ICT and the Weekly Procurement Process (WPP) it administers are expected to benefit independent power producers by creating opportunities to compete for native load more effectively. The ICT plan widely is considered a step in the right direction in spite of skepticism regarding the ICT's lack of independence from Entergy, and whether it can alleviate congestion and provide non-discriminatory access to all customers. Entergy's plan has inspired other transmission-owning entities such as Duke Energy, EON (on behalf of its Kentucky LG&E and Kentucky Utilities subsidiaries), and MidAmerican to implement similar plans, all of which went into effect last year. Duke chose MISO as its ICT. EON and MidAmerican began taking services from SPP and TranServ, respectively.
Southern Co. recently settled with merchant generators and accepted FERC's settlement terms to prevent barriers to market entry. At the same time, the nation's largest public power company, the Tennessee Valley Authority (TVA), is developing a strategic plan to cope with changing market fundamentals by improving its operating efficiency and performance, and developing strong customer relationships. TVA is responding to competitive market forces as some of its distributors have been complaining about rising rates and have given notices to withdraw from the utility.
Slicing & Dicing SERC
The SERC Reliability Corp. (SERC) is the regional reliability organization responsible for the coordination of the operation and planning of the bulk power system across 13 Southeastern states. SERC is one of the largest NERC regional markets both in energy and peak demand. SERC is highly interconnected with the transmission systems in the neighboring NERC regions of RFC, FRCC, and SPP. The general characteristics of the electricity markets in SERC are summarized in Table 1 (see p. 18).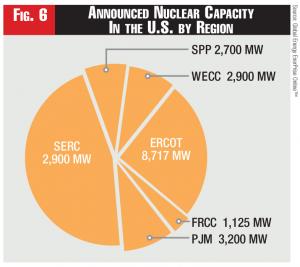 Through January 2006, SERC had been divided into four subregions. These four subregions include the Virginia and Carolinas (VACAR) subregion (further divided into VACAR North-Virginia, and VACAR South-Carolinas); the TVA subregion; the Southern subregion (consisting of the states of Georgia, Alabama, part of Mississippi, and the panhandle of Florida); and Entergy (parts of Arkansas, Louisiana, Mississippi, and Texas). Entergy, Southern Co., TVA, Duke, Carolina Power & Light, and Dominion Resources are the dominant players in the SERC subregions.
In November 2005, NERC approved the merger of the reliability councils of MAIN, ECAR, and MAPP into Reliability First (RFC), which became operational on Jan. 1, 2006. Some of MAIN utilities have opted out of RFC and chose to join SERC instead. Among these was Ameren, which became part of SERC in January, extending its footprint into Illinois as shown in Figure 7. Other new Illinois-based SERC members include Southern Illinois Power Cooperative and the Illinois Municipal Electric Agency. With the influx of new Illinois-based members, SERC added a fifth subregion to its system—the Gateway subregion. The integration of the Gateway subregion into SERC expanded the reliability organization's scope to include MISO members for the first time.
Effective Jan. 1 2007, SERC's footprint expanded further to integrate Louisville Gas and Electric Co. and Kentucky Utilities Co., operating subsidiaries of EON. EON changed its regional reliability council membership from RFC to SERC as part of its withdrawal from MISO in September 2006. EON contracted with TVA to serve as its reliability coordinator and delegated independent transmission operator (ITO) duties to SPP. To address coordination and seams issues, EON plans to utilize the Joint Reliability Coordination Agreement among TVA, MISO, and the PJM Interconnection.
Endnotes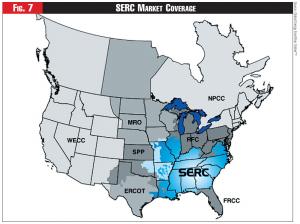 1. In addition, we include about 12,000 MW coal-fired additions to repower older coal-fired capacity that retires during the study period.
2. This continues to be true despite the fact that higher natural gas prices have provided improved on-peak spark spreads for new, highly efficient gas-fired generation.
3. Historical retail electricity rates have averaged 7 to 7.5 cents/kWh in the South compared with 12 cents/kWh or more in New England and New York.