Deck:
Despite a favorable outlook for utility finance, cost pressures are straining rate structures.
Author Bio:
Michael T. Burr is editor-in-chief of Public Utilities Fortnightly . E-mail him at burr@pur.com.
Despite a favorable outlook for utility finance, cost pressures are straining rate structures.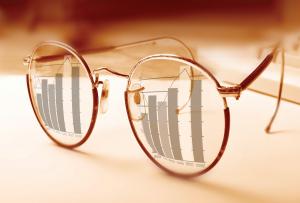 During the depths of the sub-prime lending crisis, when lenders and investors seemed on the verge of panicking, MidAmerican Energy went to market.
Specifically, in late August 2007, the Iowa-based utility holding company issued $1 billion of unsecured 30-year senior bonds, with a 6.5 percent coupon rate and a "BBB+" rating from Fitch. The flotation wasn't just successful; it was oversubscribed.
"We saw significant demand beyond the billion dollars," says Joe Sauvage, managing director and co-head of Lehman Brothers' global power group, which served as MidAmerican's bookrunner. "For the right transactions with the right structure, there is significant appetite—at the right market moment."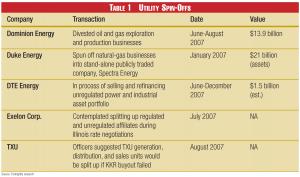 In some situations, utility securities actually might benefit from volatile financial markets, as nervous investors and lenders seek a relative safe haven for their money. And few investments appear safer today than U.S. electric and gas utilities. Utility-stock valuations remain within sight of historic high levels, with price-to-earnings (PE) multiples exceeding 14-to-1. Balance sheets are strong, with most utilities having completed refinancing of their highest-cost debt obligations in the last few years. And dividend payouts are holding steady, even rising in some cases, as companies reward investors after a long period of relative austerity.
From a more pessimistic point of view, however, the industry's financial health arguably has nowhere to go but downward in the months and years to come.
Utility companies are bringing monumental capital-expenditure plans before rate regulators just as they're dealing with a barrage of rising costs—for fuel and other commodities, as well as labor, pension-fund obligations, and interest payments. Additionally, with the threat of greenhouse-gas (GHG) regulation looming in the 2009 to 2013 time frame, utilities are facing unpredictable environmental-compliance costs.
Many utility companies and their investors expect regulators will support utilities' capital requirements with progressive rate structures, including accelerated rate-recovery for cap-ex spending. But as costs escalate, utilities' rate demands seem certain to test the limits of regulators' support.
"This dynamic will lead to regulatory strains," says John Young, CFO of Exelon Corp. "Companies will have to be very creditworthy to deal with all these issues that come at them, and state regulators will be the arbitrator."
To better understand the forces affecting utilities' access to capital markets, Public Utilities Fortnightly recently interviewed a group of 10 energy-finance luminaries:
William Rogers , Senior Vice President, CFO & Treasurer, Sierra Pacific Resources/Nevada Power;
John Young , Executive Vice President & CFO, Exelon Corp.;
James Hempstead , Vice President & Senior Credit Officer, Moody's;
Richard Cortright , Managing Director, Standard & Poor's;
Jeff Bodington , Principal, Bodington & Co.;
Robert Petrosino , Director of Credit Research, Barclays Capital;
Joe Sauvage , Managing Director, Lehman Brothers;
David Nastro , Managing Director, Morgan Stanley;
Leonard Hyman , Senior Consultant, RJ Rudden Associates; and
Stephen Maloney , Senior Consultant, Towers Perrin.
The Other Shoe
Fortnightly: How is the subprime meltdown affecting utilities' access to capital markets?