New Opportunities: Sempra Energy said J. William Ichord joined the company as vice president of government relations. He will direct local, state, and federal governmental affairs. Previously, Ichord was managing director of global affairs and international counsel of the American Chemistry Council.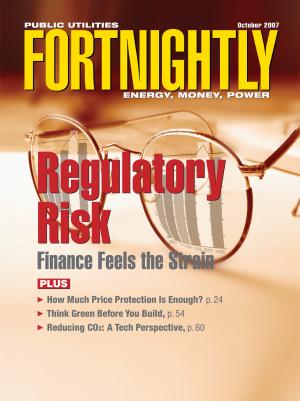 DPL Inc. appointed Frank F. Gallaher to the boards of directors of DPL and The Dayton Power and Light Co. Gallaher's career spanned more than 30 years with Entergy Corp. Since retiring from Entergy in 2003, Mr. Gallaher has been consulting with a variety of clients throughout the electric utility industry.
The board of directors of NiSource Inc. elected Deborah S. Coleman, executive vice president and COO of the National Urban League, to the NiSource board of directors. Before joining the National Urban League, Coleman spent more than 20 years with Ford Motor Co. in various corporate positions. She will serve on the following committees: Environmental Health & Safety; Corporate Governance; and Nomination & Compensation.
The National Association of Regulatory Utility Commissioners (NARUC) tapped former NARUC President Jim Sullivan as the new chairman of the association's Critical Infrastructure Committee. Sullivan, president of the Alabama Public Service Commission, replaces former Chairman Sandra Hochstetter of Arkansas, who left earlier this summer. Developed on an ad-hoc basis after the Sept. 11, 2001, terrorist attacks, the Critical Infrastructure Committee gives state regulators a forum to identify, study, and propose solutions to utility infrastructure security and delivery concerns, with a particular focus on facilities necessary to produce, transmit, and deliver natural gas, electricity, water, and telecommunications services.
FirstEnergy Corp. announced that Richard J. Horak, previously director, Integrated Business Planning, has been named to the position of assistant controller. John W. Judge was named director, Integrated Business Planning for FirstEnergy. Judge previously was director of Commodity Supply Planning for FirstEnergy Solutions, FirstEnergy's competitive subsidiary. The changes were effective Sept. 2, 2007. Horak joined the company in 1973 and was named to his most recent position in 2004. Judge joined FirstEnergy in 1998 and was named to his most recent position in 2004.
Awarded: The Florida Municipal Electric Association (FMEA) named Spiegel & McDiarmid partner Cynthia Bogorad as its associate member of the year. FMEA described Cindy as a "person of great intellect; someone who is able to wrap their mind around the most complex of issues and break them into understandable and digestible pieces … a devoted and trusted counselor."
Retired:Pepco Holdings Inc. said Tom Shaw, executive vice president and COO, retired on Sept. 1, 2007, after 36 years of service. Joseph M. Rigby, senior vice president and CFO of PHI, replaced Shaw as executive vice president and COO effective Sept.1. Paul H. Barry, formerly senior vice president and chief development officer of Duke Energy, replaced Rigby as senior vice president and CFO.
Deceased:Edward McGaffigan Jr., the longest serving member of the U.S. Nuclear Regulatory Commission (NRC), died after a long battle with melanoma. He was 58. He was appointed to the commission by President Clinton in 1996 and 2000, and by President Bush in 2005. On Nov. 3, 2006, he became the panel's longest serving member.