Deck:
FERC would relax price caps—sending rates skyward—to encourage customers to curtail loads.
Author Bio:
Bruce W. Radford is publisher of Public Utilities Fortnightly.
About four months ago, at a conference at Stanford University's Center for International Development, the economist and utility industry expert Frank Wolak turned heads with a not-so-new but very outrageous idea.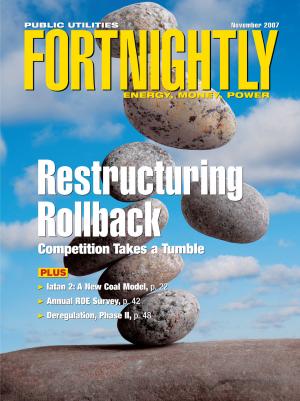 Wolak, who serves as chairman of the Market Surveillance Committee of the California Independent System Operator, suggested if regulators really want electric customers to curtail load during shortages or emergencies to aid reliability or boost system resources, they should simply remove all bid caps, price caps, and other similar market controls. Let the price float free—maybe even as high as $100,000/MWh in a single extreme peak hour, which translates at the retail level to $100/kWh.
Now there's the way to get some demand response.
Wolak suggests that allowing such inflated prices at the wholesale level, and then passing them along at retail to ratepayers, offers the best and perhaps only way to cure market abuses and curb market power exercised by monopoly power producers.
"Without the active demand-side participation enabled by charging final consumers prices that reflect hourly wholesale prices, electricity suppliers will face a final demand that is virtually inelastic … and implies significant opportunities for suppliers to exercise unilateral market power."
He much prefers such scarcity pricing (letting prices climb during shortages without controls) to the current regime, which first slaps on price controls to deny revenues to power producers, and then designs complex artificial incentive schemes (ICAP, LICAP, RPM, and FCM) to recapture the "missing money" to pay them back.
Wolak presumably was speaking for himself, and not the regulators at the Cal-ISO. His paper, "Managing Demand-Side Economic and Political Constraints on Electricity Industry Re-structuring Processes," is a compelling read.
And in offering up his paper for industry consumption, Wolak likely knew other regulators lately have been thinking along the same lines.
In particular, FERC in a recent case has now suggested nearly the same thing—relaxing price caps, offer caps, and similar market controls—to encourage greater demand response (See FERC Docket Nos. RM07-19, AD07-7, issued June 22, 2007).
In the case, FERC is exploring ideas for incremental improvements to organized wholesale power markets run by regional transmission organizations (RTOs) and grid system operators (ISOs). The case can be seen as the bookend or analog to Order 890, issued in February 2007, in which FERC ordered improvements to the Open Access Transmission Tariff (the OATT, first codified in 1996 in Order 888), which governs wholesale bilateral power transactions largely outside of RTO or ISO management.
In this companion case, FERC suggests ideas for incremental improvements to the regional power markets in four areas: demand response, long-term contracting, market monitoring, and stakeholder representation in the workings of RTOs and ISOs. Implicit in this package is the notion RTO/ISO regional markets are working pretty darn well and require only fine tuning. As FERC explained in its introductory comments: "The commission is not seeking to fundamentally redesign organized markets… Our goal is to make incremental improvements … without undoing or upsetting the significant efforts that have already been made in providing demonstrable benefits to wholesale customers."
The Market Doubters
This latest FERC initiative is an Advance Notice of Proposed Rulemaking (ANOPR). Rather than propose concrete rules, FERC floated some ideas to solicit industry comments or alternative recommendations aimed at achieving the same basic objectives.
For example, FERC has offered four different alternatives for scarcity pricing to boost demand response, including Option 2, which would allow demand bids by energy buyers to set the market price.
Led by the American Public Power Association, many constituencies oppose scarcity pricing. They contest the notion RTO markets have produced benefits and require only a modest tweaking. Not only that, APPA called for a formal investigation of RTOs and their market structures.
Others have questioned the purpose or mission of RTOs. Back in May, Sens. Joe Lieberman and Susan Collins, the chairman and ranking minority member of the Senate Committee on Homeland Security and Governmental Affairs, asked the U.S. Government Accountability Office (GAO) to study RTO mission statements, planning processes, startup and operating costs, annual operating budgets, and cost-benefits analysis of existing and proposed policies. The GAO answered that it would start work around the first of September.
Other industry players also have questioned whether RTO markets are so successful as to require only incremental improvements.
For example, in a telling observation, the Blue Ridge Power Agency (a municipal anti-market traditionalist whose members nevertheless all operate within the PJM footprint), notes that traditional, long-term, cost-based power requirements contracts are becoming difficult to find:
"The clearing prices set in PJM's spot markets are affecting the prices and terms sellers in the bilateral market offer for longer-term power supplies." In other words, suppliers increasingly are indexing their deals to established pricing benchmarks in the RTO's regional spot market. One would think, however, that such indexing would indicate well-functioning markets with reliable pricing.
The National Rural Electric Cooperative Association (NRECA), among others, has joined APPA in opposing the notion that prices must climb skyward so that retail customers will "feel enough pain to provide enough demand response to mitigate prices."
Nevertheless, there appears to be at least some industry support for FERC's scarcity-pricing idea. As the Electric Power Supply Association (EPSA) states, "Until price caps are lifted, demand response participation will be inadequate." EPSA's comments, as with most from the utility industry, were filed at FERC in mid-September.
Just six weeks ago, the Midwest Independent System Operator (MISO) proposed what could well be the first tariff in the United States that seeks to price an electric utility service in terms of what the customers will pay to avoid a system failure. In this case, the scarcity price could rise as high as$3,500/MWh.
MISO proposes a sloping demand-curve mechanism to calculate a market-clearing price for operating reserves above the market-wide offer cap for sellers of energy. By no mere coincidence, the MISO proposal mirrors the third of the four alternative options FERC has vetted in the ANOPR for introducing scarcity pricing to boost demand response.
In MISO, the proposed tariff would feature a minimum price of $3,500/MWh, which, according to MISO, reflects its best estimate of VOLL, or Value of Lost Load, in the event of an involuntary curtailment to customers. Through a combined "co-optimization" of markets for reserves and energy, this $3,500 clearing price in the reserves market would carry over to the energy market. The result could be a day-ahead energy price in MISO of $3,500/MWh, consistent with the region's averred plans to establish an "energy-only" market. That means MISO markets would operate without such capacity incentives as New York's ICAP market, New England's Forward Capacity Market (FCM), or PJM's Reliability Pricing Model (RPM)—all designed to solve the so-called missing money problem. Generators in MISO would collect their full compensation from energy prices, missing money and all. (See FERC Docket No. ER07-1372, filed Sept. 14, 2007.)
The MISO plan remains very complex, defying easy explanation in this space. Suffice to say it mirrors many ideas summarized last spring by Harvard Professor William Hogan, in a paper he prepared for FERC's technical conference on demand response (See Hogan, William W., "Acting in Time, Regulating Wholesale Electricity Markets," FERC Docket AD07-7, May 8, 2007). Later, Hogan filed his own comments to FERC's ANOPR, recommending a MISO-style demand curve.
Hogan argues, essentially, that RTO/ISO markets fall short by failing to reflect in their algorithms many of the informal and unofficial, seat-of-the-pants, stop-gap steps grid operators take during shortages before ordering involuntary curtailments.
"These operating practices are in general a good thing," writes Hogan in his comments.
"What is not a good thing is that these many operating practices have not been integrated with the pricing provisions in the organized markets."
Approval of MISO's scheme is not assured, but FERC OK'd the basic outlines of the MISO plan, including the $3,500 scarcity price, in a "guidance order" on an earlier version of the MISO plan. (See Docket No. ER07-550, June 22, 2007, 119 FERC ¶61,311.)
Yet MISO's plan wins a Bronx cheer from TAPS, the Transmission Access Policy Study Group. Writing for TAPS, lawyers Robert McDiarmid and Cynthia Bogorad, of Spiegel and McDiarmid in Washington, D.C., say the MISO plan is inconsistent with consensus-building decision-making because FERC failed to win approval from regional stakeholders.
"One can readily imagine," they write, "the cries directed to Capitol Hill that the commission is proposing 'son of SMD.'"
Infrastructure Requirements
The U.S. Department of Energy has defined "demand response" as:
"Changes in electric usage by end-use customers from their normal consumption patterns in response to [a] changes in the price of electricity over time, or [b] incentive payments designed to induce lower electricity use at times of high wholesale market prices, or when system reliability is jeopardized."
The FERC staff endorsed the DOE's demand-response definition recently in a monumental study offering a wealth of information about opportunities and developments in DR, including results of programs offered both by load-serving entities (LSE) and by RTOs and ISOs (See FERC Staff Report, "Assessment of Demand Response & Advanced Metering," September 2007).
The FERC staff report also highlights progress at utilities and state PUCs in the installation of hourly interval and advanced metering infrastructure (AMI). California, a leader in DR technology, already has approved AMI programs for two investor-owned utilities, and has a case pending to set DR benchmarks and goals for 2008 and beyond (See CPUC Docket No. R. 07-01-041, filed Jan. 25, 2007).
In the future, such AMI investments should help utilities and state regulators to design dynamic retail electric rates that more closely mirror the pricing peaks and volatility appearing in RTO and ISO regional power markets. For example, the FERC staff study highlights legislation enacted last year in Illinois to require electric utilities to consider and evaluate dynamic retail pricing to facilitate DR from retail customers. The law directed the Illinois Commerce Commission to evaluate whether such pricing, coupled with AMI, would produce net benefits for customers (See Ill. Compiled Statutes, sec. 5/16-107[b-5].)
Overall, however, the staff report indicated AMI efforts had achieved precious little market penetration across the 50 states. That impressed FERC Commissioner Suedeen Kelly, who seized on the point this past summer in opposing the commission's exploration of scarcity pricing.
Kelly issued a concurring and dissenting opinion on the commission's ANOPR proposals, suggesting scarcity pricing only would offer windfalls to power producers because the industry lacks the metering technology and telemetry necessary to create retail pricing that signals short-term shortages and emergencies, or to allow consumers to respond to those signals.
"The technology and associated demand response capability must be in place before we consider raising or eliminating these price caps," Kelly wrote.
Aggregation and Cherry-Picking
The DR business comes with a new utility industry segment known as ARCs, or "Aggregators of Retail Customers." Examples are new companies such as Boston's EnerNOC Inc., Oregon's EnergyConnect Inc., and Energy Curtailment Specialists, headquartered in Buffalo, N.Y. In their ANOPR comments, these new companies provide information about their services, market shares, and typical customer profiles.
ARCs pose a policy problem, however. The act of aggregating demand curtailments of small, individual retail customers and offering the reduction to markets as a reliability or capacity resource looks very much like customer-supplied generation that displaces default standard-offer energy supplied by an LSE. It cannot easily be distinguished conceptually from a customer in a non-choice state exercising retail-supply choice. In the ARC case, the customer sells a competitive decremental curtailment, but that is little different from buying competitive incremental energy.
For this reason, FERC has proposed requiring markets to allow ARCs to aggregate retail customers, but only if no state laws or regulations bar the practice. That way, FERC does not impose its own a pro-markets policy on a state that prefers cost-of-service regulation. But it's no assurance, according to NRECA General Counsel Wallace Tillman, in his ANOPR comments submitted on behalf of the co-op association.
As Tillman explains, the laws in most states will be silent on the question, as state laws setting up retail utility service structures were not drafted with DR and ARCs in mind.
Tillman also explains how DR aggregation threatens to push the camel's nose into the tent—to introduce de facto retail choice into a non-choice state through the back door.
"Where states declined to adopt retail choice," Tillman notes, "the states decided to leave risk management, including the use of demand response, to LSEs rather than individual customers. Those states selected an insurance pool approach to power supply." In other words, by averaging costs across consumers, the pool reduces the risks to any individual consumer.
"By contrast," as Tillman continues, "those states that adopted retail choice chose to shift the obligation to address market risks to individual consumers."
To respect policy choices of individual states, Tillman advises FERC to clarify its position. It must concede that if a state has opted out of retail choice, then FERC lacks authority to mandate that markets must allow consumers in such states to submit their individual loads to ARCs to aggregate offers of DR resources to wholesale markets, including RTOs and ISOs.
"If the commission does not provide this clarification," notes Tillman, "RTOs and ARCs effectively would be allowed to cherry pick the best load-response resources out of existing LSE demand-response programs. This would … strand investments made to serve the cherry-picked customers."
By contrast, consider the aluminum industry giant Alcoa. Its ANOPR comments report that its smelting plants (operating at a low DC voltage but very high amperes) can respond with demand reductions "precisely and within seconds," ranging anywhere from a fraction of a megawatt to 50 MW or more. That represents a much more efficient peaking resource than even simple-cycle gas turbine generators—though such interruptions cannot run longer than three to four hours for a single facility, without losing product.
However, Alcoa also possesses extensive private electric generating capacity (hundreds of megawatts in the Southeast), some of which it uses to run its smelting operations. Thus, Alcoa suggests that responsive load could combine with generation and bid in a packaged deal.
"This package," Alcoa notes, "could provide superior performance by combining an accurate, fast-responding load that would then hand off to a slower-responding source [generation], thereby perhaps restoring the ability of the first load [DR] to provide an additional response as necessary."
Such analysis from Alcoa only restates the obvious—that DR operates conceptually in a manner indistinguishable from electric power production. Thus, efforts to maintain separation between FERC jurisdiction over "generation," versus state PUC jurisdiction over "retail service," likely will prove impossible.
It also suggests if retail choice succeeds, it will happen not on account of attractive deals from energy retailers, but from DR that turns retail customers into de facto self-generators.
Deviations & Double Dips
The markets themselves also find fault with some of FERC's suggestions for demand response.
The commission proposes that during supply emergencies (and maybe other times, too) it should bar RTO/ISO markets from assessing various types of uplift penalties for load deviations that stem from customer participation in DR.
This correction seems a no-brainer, but in fact has drawn criticism from among the market community, which maintains the deviation penalties account for real costs—costs that don't go away simply because of DR.
In a similar example, FERC suggests demand resources supply certain types of ancillary services, such as operating or even spinning reserves, if technically capable. And to facilitate that, FERC says markets should allow DR to bid into reserve or ancillary services markets without also having to offer bids into the day-ahead energy market. However, RTO/ISO markets customarily practice what they call "co-optimization," whereby the ancillary and energy markets are combined into a single auction, with DR resources required to bid in each category, and they don't want to give that up.
One issue looks like a red herring, however.
The Edison Electric Institute has argued for the last year or so that it is wrong to offer a reward to the party offering DR (which often reflects reliability or capacity benefits accruing to the market at large), and then to allow the DR seller also to pocket the energy-cost savings from not purchasing the energy in the first place. EEI says such a practice represents double compensation. FERC then asks in its ANOPR whether EEI's argument is correct.
In fact, PJM seems to bolster the EEI argument through a practice that some call a "generation offset," whereby it reduces the DR incentive payment by the generation- and transmission-cost portions of the DR offeror's retail bill. And ISO New England "reconstitutes" its DR incentive payments, as it calls it, by essentially backing off capacity payments in its FCM process, equaling capacity incentives paid directly in recognition of the DR-resource offer.
Even so, the great majority of ANOPR comments submitted to date reveal a clear consensus that EEI's argument won't hold water.
As the Sacramento Municipal Utility District puts it, "this 'double benefit' is not materially different from the benefit received by generators who are also customers of LSEs and whose sale of generating capacity may serve to reduce the prices paid for power by all customers, including itself."
In fact, Congress itself seems to disagree with EEI. In section 1252(f) of the 2005 Energy Policy Act, which promises federal encouragement of DR, Congress says "the benefits of such demand response that accrue to those not deploying such technology and devices, but who are part of the same regional electricity entity, shall be recognized."
Alcoa sums up the industry sentiment: "The double compensation contention is a chimera."