New Opportunities: Pacific Gas and Electric Co. elected William D. Arndt to the newly established post of vice president, project management and program office. Arndt joins PG&E from Exelon Corp., where he served most recently as senior vice president, financial operations.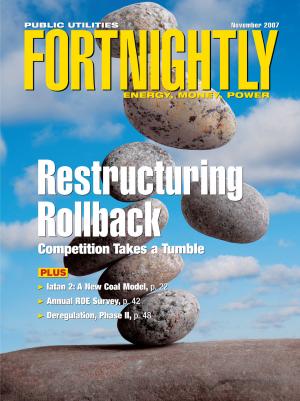 Calpine Corp. promoted Zamir Rauf to treasurer and senior vice president of finance. Rauf joined the company in 2000 and has worked in strategic finance, financial structuring and project finance.
FirstEnergy Corp. named William D. Byrd, director of rate strategy, vice president and chief risk officer, effective Nov. 1, 2007, succeeding Kathryn "Kitty" W. Dindo, who retired. Byrd began his career in 1977 at Ohio Edison Co., a predecessor company of First Energy, as a business analyst. Dindo joined First Energy in 1998 as vice president of non- regulated energy services and business groups. She was named to her current position in 2001.
The U.S. Nuclear Regulatory Commission assigned David Dumbacher as senior resident inspector at the Callaway nuclear plant, near Fulton, Mo. In 2002, Dumbacher joined the NRC at the Region IV office in Arlington, Texas, as a reactor engineer. He has served as resident inspector at the Callaway nuclear plant since 2004.
The board of directors of PNM Resources elected its newest member, Robert Nordhaus, a former general counsel at the U.S. Department of Energy. An attorney with Washington D.C.-based Van Ness Feldman, Nordhaus served as first general counsel at the Federal Energy Regulatory Commission and was appointed to the highest legal position at the Department of Energy by President Bill Clinton.
The New York Power Authority named James H. Yates senior vice president of marketing and economic development. Yates, who has more than three decades of experience in the electric utility industry, joined the Power Authority in 1995 as director of business marketing and economic development.
Xcel Energy named Tim E. Taylor president and CEO of Public Service Co. of Colorado, one of the four operating companies for the electric and natural-gas utility. Previously, as vice president for asset management, Taylor was responsible for managing the performance, utilization, and capacity planning of the company's electric distribution, and natural-gas transmission and distribution assets. He also was responsible for supply chain.
Wiggin and Dana LLP hired Daniel P. Venora as a partner in its New Haven office. He joins the firm's utilities and regulated industries practice group after 18 years at Northeast Utilities, where he was an assistant general counsel.
Elster Integrated Solutions, part of Elster Group, appointed Ed Gray as vice president of regulatory affairs. Gray has 30 years of electric utility experience, including leadership positions at the National Electrical Manufacturers Association, Electric Power Research Institute, Nuclear Regulatory Commission, and Tennessee Valley Authority.
Dominion Resources hired Richard Stavros as business planning manager. Stavros previously was executive editor of Public Utilities Fortnightly.
Deceased: OGE Energy Corp. said company Chairman and CEO Steven E. Moore lost his battle with cancer after more than eight years. He was named President and COO of OG&E in August 1995 and was elected a member of the board of directors in October 1995. In May 1996, he was named chairman of the board, president, and CEO.