Deck:
Federal loan guarantees raise hopes for new reactors planned by affiliates of Constellation and NRG.
Author Bio:
Scott M. Gawlicki, a Fortnightly contributor based in West Hartford, Ct., has been writing about the power industry for nearly 20 years. Email him at s.gawlicki@excite.com.
When President Bush signed the 2008 Omnibus spending bill last December, he effectively released the federal loan guarantee funding that nuclear developers say is critical to building the country's first nuclear steam generators in decades—and reinvigorating the industry as a whole.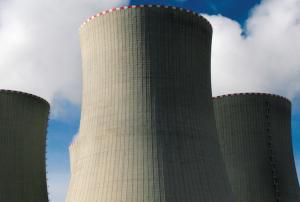 The $555 billion spending package allocates $38.5 billion in loan guarantees for energy projects that avoid, reduce or sequester greenhouse gases, including $18.5 billion for new nuclear plant construction, $2 billion for uranium enrichment, $10 billion for renewable energy and energy efficiency, and $8 billion for clean coal technology.
As such, the bill represents a major milestone for two developers in particular—Princeton, N.J.-based independent power producer NRG Energy; and Baltimore, Md.-based UniStar Energy—which were the first to submit combined construction and operating license applications (COLAs) to the Nuclear Regulatory Commission in 2007.
Each is in the process of spending tens of millions of development dollars on everything from regulatory applications and engineering to reactor vessels and other long lead-time components.
But make no mistake; with Wall Street still squeamish about the nuclear power option, financial structures for new nuclear projects remain very much in flux. Qualifying for the Department of Energy (DOE)-administered federal loan guarantee program likely will be the key to determining whether these multi-billion dollar projects actually make it to the finish line (see Sidebar, "Subsidy Rate: The Final Linchpin").
"Without the loan guarantees, there is no nuclear," says George Vanderheyden, CEO of UniStar Nuclear Energy, a joint venture between Constellation Energy Group and the EDF Group (EDF) that hopes to build at least four new reactors over the next decade—including a third reactor at Constellation's Calvert Cliffs plant on the Chesapeake Bay.
"The loan guarantee program creates an incentive for development by lowering the funding cost and increasing the profitability of these early units," adds Steve Winn, an executive vice president with NRG, which is looking to add two units to its South Texas Project (STP) in Bay City, Texas. "Without support from the government, lenders will have a difficult time getting comfortable with nuclear."
Starting Gate
The loan guarantee program is actually one of three important incentive programs for nuclear power development. The federal government, again through the DOE, also is offering $2 billion in federal risk insurance that will protect builders of the first six advanced reactors from litigation and regulatory hang-ups that delay commercial operation and the cash-flow it generates. The program provides $500 million to developers who build the first two units, and $250 million each for the next four.
Add to that a production tax credit of 1.8 cents per kilowatt-hour—which will allow developers who put advanced nuclear reactors into service by 2021 to generate millions of additional dollars for the first eight years of operation—and it's easy to see why first movers like NRG and Constellation have their project-development pedals pushed firmly to the floor.
But with the 2008 loan guarantee funding now approved, exactly where do these two "first movers" stand? While each still claims they've made no firm commitment to going forward, both are spending millions to be ready to begin construction in 2010 and begin delivering electricity to the grid by 2015.
Each has established partnerships to share the financial risks and help speed the project along. Though Constellation/UniStar filed a partial COLA for Calvert Cliffs in July 2007 (to ensure it qualified for the production tax credit), NRG Energy was the first to file a complete COLA and have it docketed (reviewed and accepted as complete) by the NRC in November.
Designed to accommodate four units, NRG's STP plant currently consists of two reactors that went online in August 1988 and June 1989, supplying roughly 2,700 MW of power to load centers in southern Texas. The twin units are owned by NRG Energy (44 percent), CPS Energy of San Antonio (40 percent) and Austin Energy (16 percent).
NRG plans to add two new units based on the NRC-certified U.S. Advanced Boiling Water Reactor (ABWR) developed by General Electric, Hitachi Ltd. and Toshiba Corp.
Though the COL application/docketing is a significant milestone—it took more than a year to complete the application, which consists of some 20,000 pages—the real work has only just begun.
"The COL process, including the time we spent on the application, may take three-and-a-half to four years," Winn says. "We hope to be especially responsive during the review and shorten that process. At the same time, we need to complete our engineering and site preparation so we're at the starting line, ready to go, when we receive our license. Our plan is to begin construction in mid-2010."
While the COLA, federal loan guarantees, risk insurance and production tax credits certainly will reduce STP's risk profile and enhance NRG's ability to secure financing, Winn says NRG also is taking other measures.
For example, he says that choosing a proven technology, (the ABWR), and having Toshiba, which built the first ABWR, involved in its design, engineering and construction, is another form of risk mitigation. Kashiwazaki-Kariwa Unit 6, which Toshiba built for Tokyo Electric Power Co., took 39 months to build and began operations in 1996.
Locating the two units at an existing plant site pre-designed for future expansion is also a plus. "We want to create as much certainty as we can, because any delays will be borne by our shareholders," he says. "There are site-specific benefits here, including an existing cooling pond designed to serve four units, which means we don't have to build and maintain new cooling towers. The transmission system is already in place, and we have a major port nearby for equipment deliveries. So we see it as an easy site to build on."
Though the ownership structure still hasn't been finalized, NRG expects to own a 40 percent stake in the new units, with CPS taking another 40 percent, and the City of Austin taking the remaining 20 percent. As of press time, Austin had yet to commit.
Queuing Up
Tokyo-based Japan Steel Works, through Toshiba, is responsible for fabricating the long-lead-time components, including the twin reactor vessels, for NRG's project. Since there is no longer a nuclear-manufacturing presence in the United States, Winn says first movers hoping to benefit from federal incentives need to get in the manufacturing queue with suppliers in Japan or France ASAP.
UniStar Nuclear's Vanderheyden agrees. UniStar is the nuclear business model jointly developed in 2005 by Constellation Energy, the French reactor vendor AREVA NP Inc. and the French electric utility Electricite de France. Unlike NRG's single-plant approach, UniStar's stated goal is to lead a "nuclear renaissance" in the United States by licensing, constructing and operating a fleet of advanced nuclear power plants.
The company submitted a partial COLA for Calvert Cliffs in hopes of beginning construction by 2010. But UniStar also is looking well beyond that. The company wants to build at least three more units at plants owned and operated by other electric utilities, including: Pennsylvania Power & Light's Susquehanna nuclear plant near Berwick, Pa.; AmerenUE's Callaway nuclear plant in Callaway County, Missouri; and two units for Amarillo Power in Texas. It also hopes to add reactors to Constellation's upstate New York Nine Mile Point Nuclear Station and R.E. Ginna Nuclear Plant.
"Under our business model, we need a fleet of at least four units in the first phase," Vanderheyden says. "Nobody has made a decision to build a plant yet, but we're all moving as quickly as we can." The company hopes to have Calvert Cliffs producing power by 2015, with succeeding projects moving down the same developmental path and starting up in 2016, 2017, and 2018. "With Calvert Cliffs we're laying the groundwork we need to make all this viable," Vanderheyden says.
UniStar's sourcing issues are at least partially resolved by AREVA, which brings the consortium its evolutionary power reactor (EPR) design, as well as its nuclear component manufacturing facility in Chalon-St. Marcel, France. AREVA signed a contract in July 2006 to supply the first 45 ultra-heavy forgings for Calvert Cliffs, including the reactor pressure vessel and steam generator. Further, AREVA and BWX Technologies Inc., a subsidiary of McDermott International, signed an agreement in 2006 to upgrade BWX's U.S. nuclear power plant component manufacturing capabilities, which further supports the UniStar business model.
"It's been so long since nuclear components were built here that the U.S. has basically lost its manufacturing infrastructure," Vanderheyden says. "Right now, the only nuclear component suppliers are in Japan and France. If you analyze the global supply chain, there are certainly pinch points."
In addition to manufacturing capabilities, Vanderheyden says U.S. developers may have to tap the international markets for project management and engineering expertise as well.
"We have to grow quickly," he says. The company expected to expand its staff from 75 to 100 by the end of 2007, with more hiring to come. "We're looking at developing up to $16 billion in projects over the next eight years, and most experienced project and contract managers in the U.S. have retired by now. And once these units are completed, we'll need nuclear engineers and plant operations professionals too."
In the meantime, UniStar intends to finalize the Calvert Cliffs COL application by March 2008 and apply for a loan guarantee for the project as soon DOE finalizes its 2008 Title XVII solicitation process.
Concurrently, AREVA submitted the EPR design—a 1,600 net MW pressurized water reactor that already is under construction in Finland and France and in the pre-licensing phase in the United Kingdom and China—to the NRC for design certification in December 2007.
Finally, UniStar has ordered the steam turbine for Calvert Cliffs from French steam turbine supplier Alstom, which recently announced it will be expanding its manufacturing capabilities in Chattanooga, Tenn.
"We've basically executed everything on the critical path to get our first reactor on-line by 2015," Vanderheyden says. "The next step is to arrange the funding and that's a highly complicated process. It will take a year to put together information for the Federal Financing Bank and other institutions."
Critical Mass
While project sponsors have made remarkable progress addressing many of the uncertainties they face, the ultimate price tag and financing structures for new nuclear plants in the United States remains unknown.
Though the general consensus on the cost of a new reactor is in the $4 billion to $6 billion range, Vanderheyden says the actual cost of the UniStar units hasn't been determined yet. "We're looking at $2,400 per installed kilowatt, in 2005 dollars," he notes. "But that doesn't include the cost of interest during construction, the cost of fuel, the federal loan guarantee subsidy fee and the cost of everything from concrete and steel, to nickel and copper."
Standard & Poors credit analyst Arthur F. Simonson puts the price tag closer to $4,500 per installed kilowatt, especially considering the estimated cost of a base-load coal unit now stands at roughly $4,000 a kW. The actual cost of an advanced reactor will be determined by the way the project is funded, and that can't be established until a project's loan guarantee and the corresponding subsidy fee are hammered out.
As a result, exactly how nuclear developers will finance their projects, and what structures they will use, remains to be seen. But project sponsors seem unlikely to finance nuclear projects on the strength of their corporate balance sheets, with a $6 billion unit representing roughly one-third of Constellation's market capitalization, and two-thirds of NRG's.
"That's putting all your eggs in one basket," Simonson says. "If the project doesn't work out, it could crater the whole company. So as a risk management tool, a special purpose entity financed on a non-recourse basis makes the most sense to me."
Financing plans will continue evolving as project sponsors get closer to making firm commitments to move forward. In the meantime, development work proceeds, and costs continue mounting. While Vanderheyden won't reveal how much UniStar has spent on development thus far, he did say "the number is substantially north of $100 million."
At some point, nuclear development in the United States will reach a critical mass, and the next generation of reactors will begin construction. Whether that happens in 2010, as NRG and UniStar hope, or later depends on factors that are difficult to predict—just like the many uncertainties affecting America's nuclear future.