Deck:
Federal loan guarantees raise hopes for new reactors planned by affiliates of Constellation and NRG.
Author Bio:
Scott M. Gawlicki , a Fortnightly contributor based in West Hartford, Ct., has been writing about the power industry for nearly 20 years. Email him at s.gawlicki@excite.com.
Federal loan guarantees raise hopes for new reactors planned by affiliates of Constellation and NRG.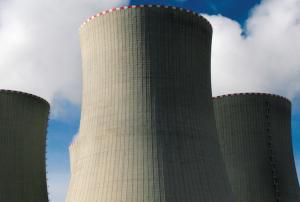 When President Bush signed the 2008 Omnibus spending bill last December, he effectively released the federal loan guarantee funding that nuclear developers say is critical to building the country's first nuclear steam generators in decades—and reinvigorating the industry as a whole.
The $555 billion spending package allocates $38.5 billion in loan guarantees for energy projects that avoid, reduce or sequester greenhouse gases, including $18.5 billion for new nuclear plant construction, $2 billion for uranium enrichment, $10 billion for renewable energy and energy efficiency, and $8 billion for clean coal technology.
As such, the bill represents a major milestone for two developers in particular—Princeton, N.J.-based independent power producer NRG Energy; and Baltimore, Md.-based UniStar Energy—which were the first to submit combined construction and operating license applications (COLAs) to the Nuclear Regulatory Commission in 2007.
Each is in the process of spending tens of millions of development dollars on everything from regulatory applications and engineering to reactor vessels and other long lead-time components.
But make no mistake; with Wall Street still squeamish about the nuclear power option, financial structures for new nuclear projects remain very much in flux. Qualifying for the Department of Energy (DOE)-administered federal loan guarantee program likely will be the key to determining whether these multi-billion dollar projects actually make it to the finish line (see Sidebar, "Subsidy Rate: The Final Linchpin").
"Without the loan guarantees, there is no nuclear," says George Vanderheyden, CEO of UniStar Nuclear Energy, a joint venture between Constellation Energy Group and the EDF Group (EDF) that hopes to build at least four new reactors over the next decade—including a third reactor at Constellation's Calvert Cliffs plant on the Chesapeake Bay.
"The loan guarantee program creates an incentive for development by lowering the funding cost and increasing the profitability of these early units," adds Steve Winn, an executive vice president with NRG, which is looking to add two units to its South Texas Project (STP) in Bay City, Texas. "Without support from the government, lenders will have a difficult time getting comfortable with nuclear."
Starting Gate
The loan guarantee program is actually one of three important incentive programs for nuclear power development. The federal government, again through the DOE, also is offering $2 billion in federal risk insurance that will protect builders of the first six advanced reactors from litigation and regulatory hang-ups that delay commercial operation and the cash-flow it generates. The program provides $500 million to developers who build the first two units, and $250 million each for the next four.
Add to that a production tax credit of 1.8 cents per kilowatt-hour—which will allow developers who put advanced nuclear reactors into service by 2021 to generate millions of additional dollars for the first eight years of operation—and it's easy to see why first movers like NRG and Constellation