Deck:
In the wake of the banking crisis, utilities lead the way to financial stability.
In mid-September, as this issue was going to press, a storm was raging on Wall Street. From Lehman's bankruptcy and acquisition by Barclays, to the transformation of Morgan Stanley and Goldman Sachs into full-fledged banks, to the historic nationalization of U.S. mortgage debt, the financial landscape was changing at a bewildering pace.
But despite the tumult on Wall Street, many of the things that were true about access to capital for U.S. utility companies on September 1 remain more or less true on October 1 and November 1—except now they're doubly true, in spades, with big exclamation points.
Namely, a handful of factors will determine the terms on which companies in this sector can raise capital—credit quality, liquidity, the ability to generate cash flow, and support from industry regulators.
These factors always have differentiated winners from losers in the U.S. electric power and gas industry, and that hasn't changed. The stakes of the game, however, have changed—with losers facing dire choices (i.e., Constellation Energy's rescue by MidAmerican Energy). Fortunately, however, most companies in this sector find themselves in reasonably good shape for accessing debt and equity financing. In this uncertain and volatile market, capital will flow first toward the most stable and secure investments—such as power plants, transmission lines and rate-regulated utility operations.
"Recent market turmoil has been driven by concerns about liquidity and systemic risk, rather than fundamentals," says David Nastro, managing director of Morgan Stanley's global power group. "The current market isn't indicative of the sector's ability to raise capital. As we return to a more normal new issue environment, the utility industry will lead the way as investors focus on strong credits, with long-lived hard assets and solid cash flows."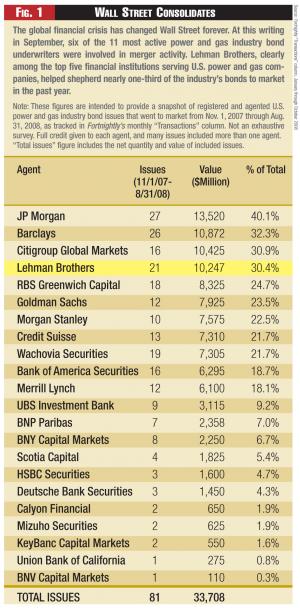 Moreover, the Enron crisis now appears to have been a blessing in disguise, because it forced companies in this industry to purge their bad debt, putting them in a strong position as the post-Lehman era begins (see Figures 2, 3 and 4).
"In this environment, utilities now are enjoying the benefits of back-to-basics strategies," says James Hempstead, a vice president and senior credit officer with Moody's Investors Service. "Back-to-basics strengthened the resiliency of their business plans and made them a good port to harbor for investors."
The industry's relative stability, combined with the country's growing concern about energy issues, might lead toward an historic investment in power and gas infrastructure.
At the same time, however, the industry faces game-changing risks. No one can know whether the federal mortgage bailout will restore long-term confidence to the capital markets on which power and gas companies depend. And even if the bailout works, financial institutions might decide some of the services they've provided to energy and utility companies are now too risky and capital intensive for the profits they deliver.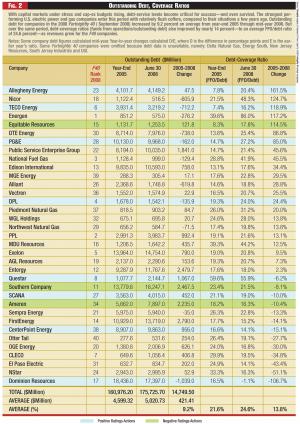 The result could be a major upheaval in the way the industry finances operations and participates in energy markets.
The End of I-Banks
The energy industry still is grieving the loss of two major investment banking institutions—Lehman Brothers and Merrill Lynch—and trying to understand the implications of their acquisition by Barclays and Bank of America, respectively. Additionally, on September 21 the Federal Reserve cleared Goldman Sachs and Morgan Stanley to become bank holding companies, even as Morgan Stanley was announcing a strategic partnership with Japan's Mitsubishi UFJ Financial Group.
Despite the shakeup (see Figure 1), these firms presumably will continue providing investment banking and risk-management services to the industry—and arguably they'll be more flexible when the market stabilizes. "The changes on Wall Street, in which the investment banks will now be regulated by the Federal Reserve, will expand opportunities for funding," Nastro says. "Broader access to the Fed window will provide additional liquidity and flexibility."
On the other hand, from the utility industry's perspective, Wall Street's consolidation might be bad news—if only because it means competition is shrinking among providers of financial services. And just as important, commercial banks bring a different strategic focus and financial model, compared to those of stand-alone investment banks. Whether the new banking model will benefit energy and utility companies seems uncertain at best.
"This dramatic reshaping of Wall Street has an immediate impact on the utility sector," says Mark Williams, executive-in-residence at Boston University's finance and economics department. "Losing all of the independent investment banks will reduce competition for underwriting utility bond deals, and less competition will equate to higher fees."
Additionally, as the financial-services industry consolidates and downsizes, firms will lose institutional knowledge and experience that's developed over a period of years and even decades. "Having a banker who knows the company's management, its history and its risk appetite can be invaluable when structuring bonds, as well as providing M&A guidance," Williams says.
Further, banks' approach to the market might change as U.S. lawmakers seek to impose greater regulatory controls on the financial-services industry. Momentum toward re-regulation already was building before September. "The systems of setting bank capital requirements, both economic and regulatory, which have developed over the past two decades will be overhauled substantially in light of recent experience," wrote former Federal Reserve Chairman Alan Greenspan in a March 2008 Financial Times commentary.1 September's financial crisis and the related federal bailouts open the door to broader government intervention into the financial-services industry than almost anyone would have predicted a year ago.
Plus, non-U.S. institutions that already operate under tighter regulatory standards are playing a bigger role in American capital markets—the most obvious examples being Barclays' acquisition of Lehman Brothers, and Mitsubishi's one-fifth position in Morgan Stanley. "We'll see a lot more global players than we're used to seeing," says Jean Reaves Rollins, managing partner with the C Three Group in Atlanta. "Maybe you'll be dealing with some of the same people, but they'll be working on global banking terms—and European [and Japanese] banks are more conservative than American banks."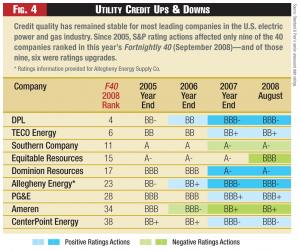 Tighter controls and stricter credit-quality standards—whether they result from federal regulation or cross-border takeovers—will drive financial firms to adjust their policies and strategies, and to rationalize their organizations accordingly.
Sources told Fortnightly that Barclays PLC hasn't decided how it will integrate Lehman's investment banking and trading operations, but assuming the transaction moves forward, the bank will evaluate the business prospects of individual departments and the performance of individual bankers to determine the final structure of the merged firm. In other words, Barclays will keep the people and operations that best match or complement its business models and opportunities, and the rest will be sold off or disbanded.
To some degree, the same thing likely will happen up and down Wall Street in the wake of the financial crisis. Some attrition will happen immediately, and other aspects of the consolidation might play out over months and years—as institutions re-evaluate their strategic interests in an evolving market. If this evaluation leads the banks to cut back or eliminate some service areas, the consolidation might have serious implications for power and gas companies.
"The market I'm most concerned about is trading and marketing and its relationship to liquidity," Hempstead says. "The entrance of financial institutions into this market was a positive trend. What would happen if the big counterparties left the market?"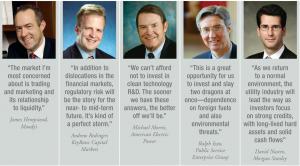 From a credit perspective, Hempstead identifies concerns that trading volumes could dry up, bid-ask spreads might widen, and more trading business might move to commodities exchanges such as NYMEX and the ICE, where collateral requirements are entirely formulaic—i.e., a certain sized trade requires buyers and sellers to post a certain amount of collateral.
To the degree counterparties no longer can lean on firms like Lehman Brothers to backstop their trading positions, they'll have to post their own collateral—potentially further straining balance sheets already stressed in the credit crunch. This would be problematic especially for companies whose business plans depend on liquid markets for energy commodities and derivatives—a-la Constellation Energy, which earned 84 percent of its 2007 revenues in unregulated markets. Another example is Texas Competitive Electric Holdings (TCEH), the former TXU Corp., whose portfolio-based hedging program raised concerns in a recent ratings opinion. "TCEH's imperfect hedge structure cannot fully mitigate downside cash flow risks," Moodys stated. The company's debt coverage ratio, under 5 percent in the short term and less than 10 percent in the intermediate term, leaves "very little cushion to absorb any unexpected 'speed bumps.'"
Rising collateral requirements could reshape the U.S. energy markets—as well as the roster of competitors in those markets. Companies focused on wholesale gas and power trades might find themselves getting squeezed out, while energy suppliers that rely on markets for commodity-risk management will bear the rising costs of constrained and opaque markets.
The bottom line for utilities: unpredictable commodity prices, rising costs for ratepayers, and growing pressure on already strained regulatory relationships.
Big Build Slowdown?
Companies in the U.S. power and gas industry steadily have increased their budgets for capital expenditures in recent years—spending more than $80 billion in 2007, according to this year's Fortnightly 40 survey.2 This spending is attributable to the industry's widely anticipated Big Build—a major investment surge in power generation, pipelines and T&D assets. And as cap-ex budgets have grown, companies have seen their free cash flow fall into negative numbers.
This trend seemed likely to continue for the foreseeable future—but then the week of September 15 occurred, paralyzing the capital markets and casting serious doubt on many of the assumptions built into utility companies' cap-ex plans. In the most worrisome scenarios, the industry could put the brakes on all discretionary cap-ex, stopping the Big Build just as it got going. While unlikely, this could happen if the capital markets seize up the way they did in mid-September, when the financial markets were gripped in fear and money-market traders stopped buying even commercial paper, the bread and butter of U.S. corporate finance. 3
"In that situation, everybody is petrified to do anything," Rollins says. "There might be a flight to quality, but how do you define quality in that type of market?"
Assuming such a seize-up doesn't happen again—at least not for any prolonged period—the definition of "quality" will continue to include energy and utility companies with good credit ratings.
"Financials have just gotten hammered, but in a flight to quality there's a lot of demand for utility paper," says Andrew Redinger, managing director and head of the utility and alternative energy group at KeyBanc Capital Markets. "The market is just dislocated right now."
As long as the market remains dislocated, accessing capital will be more difficult and expensive, even for high-quality issuers. Terms for bank debt, for example, already were costly and restrictive before September 15, with 3- and 5-year loans almost disappearing and 364-day loans prevailing among the few transactions that were happening. After the September crisis, banks seem unlikely to cut their rates or relax terms any time soon, and raising capital in public markets for debt and equity likely will become more challenging too, as companies' ratings come under stress and investors demand a higher risk premium.
"Increasing volatility will result in capital becoming more expensive," Nastro says. "The market will differentiate issuers based on credit qulity, potential to generate cash flow, and regulatory relationships. And new issue windows will become narrower, so companies must be ready to go to market when those windows are open."
This is particularly true for equity markets, which were whipsawed violently by unfolding events in financial markets. Companies that brought significant equity to the market before the crisis set in—such as Xcel Energy, which finished selling 15 million shares on September 15, and another 2.25 million on September 18—looked like geniuses compared to others who were scrambling for cash in a panicked market.
"It makes sense to pre-fund as much as possible, on your terms rather than having terms forced on you," says Tim Kingston, a managing director with Goldman Sachs and head of the firm's power and utility investment banking group. "Forward thinking CEOs have learned that lesson and are pre-funding a significant portion of their capital requirements."
How big those capital requirements might turn out to be, however, will depend on multiple factors—including the economy's growth rate.
Some forecasts call for $1 trillion in capital expenditures by the U.S. utility industry between now and 2025, assuming electricity demand grows roughly on par with modest GDP growth. But those forecasts seem less certain now than they did before September 2008. Current sentiment suggests the financial crisis will constrain economic growth for at least two or three years, and maybe longer.
"It comes down to the customer having a certain amount of money," says John Whitlock, a managing director with Standard & Poor's. "Eventually you get to the point where people say, 'No more,' and you get demand destruction."
Additionally, rising costs and economic turmoil translate into regulatory risk, as companies ask utility commissions to approve capital expenditures on top of pass-throughs for operating costs.
"In addition to dislocations in the financial markets, regulatory risk will be the story for the near- to mid-term future," Redinger says. "It's kind of a perfect storm. Can consumers digest rate increases given all the other pressures? Commissions will struggle, and companies will fare the best if they are working together with commissions on how best to implement their overall plans."
If rate cases go badly, or the economy takes a major downturn, economic realities might force companies to scale back or postpone some investments. However, as long as financial markets continue functioning, most utilities won't scrap their cap-ex plans—especially for investments required to satisfy regulatory obligations..
"The economy will affect demand growth, but a lot of this stuff has to be built anyway," Rollins says. "A big chunk of what utilities are planning must be spent because we're having reliability issues. Plus emissions standards and renewables requirements are driving spending."
And arguably some companies might accelerate their investments, taking advantage of falling prices for building materials and labor, and an increase of available contractors in a slowing industrial market. Plus, if political winds continue blowing in their current direction, the industry might benefit from a wave of financial incentives for capital investments and energy technology development and demonstration.
"This is a great opportunity for us to invest and slay two dragons at once," said Ralph Izzo, chairman and CEO of Public Service Enterprise Group, during a Fortnightly CEO teleconference on September 19. "We can address our dependence on foreign fuels and also environmental threats that have long-term economic consequences."
Buying Time
On September 19, as the Wall Street crisis seemed to be easing, a bipartisan group of senators known as the "Gang of 20" announced that after the November elections they would introduce a revised version of an energy bill known as the New Energy Reform Act, or "New Era." The draft revision reportedly proposes to extend federal incentives for efficiency and renewable energy development—including extending the production tax credit to 2012—and would dish out billions in funding to commercialize alternative fuel and electric vehicles. It also incorporates legislation sponsored by Rick Boucher (D-Va.) that would create a retail electricity surcharge to fund $1 billion for carbon capture and sequestration (CCS) technology development.
Whether the New Era legislation goes anywhere—or how aggressive it might turn out to be—remains uncertain. But its growing momentum suggests conditions are coalescing for a major U.S. focus on clean-energy technology and capital investments.
"We need a moon shot for energy," Rollins says. "NASA did as much or more for the economy as it did for innovation and technology development. If I were a utility CEO, I'd be lobbying Congress for technology R&D support."
Indeed, some utility CEOs are doing just that. "We can't afford not to invest in clean technology R&D," said Michael Morris, chairman and CEO of American Electric Power, during Fortnightly's September 19 teleconference. The previous day, Morris participated in a USEA discussion panel with Rep. Boucher and Rep. Fred Upton (R-Mich.) to discuss the Boucher CCS surcharge proposal, 4 which AEP supports along with EPRI, NARUC and several other utility companies. "The sooner we have these answers, the better off we'll be as a country, and frankly as a world."
The same statement applies to uncertainties in the financial markets. Those uncertainties, together with a reform-themed campaign season, might prompt lawmakers to drive money into the U.S. electric power and gas industry at levels not seen since the New Deal.
Next year, depending on how the U.S. economy looks from Wall Street and Capitol Hill, the utility industry might embark on a new investment path—leading America out of its financial crisis, and toward a cleaner and more secure future.
Endnotes
1. Alan Greenspan, "We will never have a perfect model of risk," Financial Times, March 16, 2008.
2. Michael T. Burr, "The Fortnightly 40 Best Energy Companies," Public Utilities Fortnightly, September 2008.
3. "Trader: Commercial Paper Markets Sees Buyers' Strike," WSJ.com Wall Street Crisis Blog, Sept. 18, 2008.
4. "Boucher, Upton, Morris Carbon Capture Legislation Panel," Energy Policy TV, Sept. 18, 2008, available at http://video.energypolicytv.com.