New Opportunities: Hawaiian Electric Industries named James A. Ajello senior financial v.p., treasurer and CFO. He was senior v.p., business development at Reliant Energy.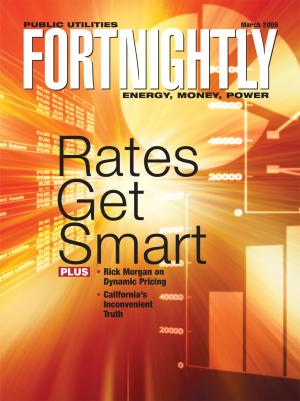 Black Hills Corp. selected Robert A. Myers as senior v.p. of human resources. He had served as the company's interim human resources executive since June 2008, and was a partner with Strategic Talent Solutions.
Constellation Energy appointed Carim V. Khouzami as executive director, investor relations. He most recently served as director, corporate strategy and development, succeeding Kevin W. Hadlock who was appointed CFO at subsidiary, Baltimore Gas & Electric.
Pinnacle West Capital announced Chris Froggatt and Barbara Gomez switched positions, with Froggatt now v.p. and treasurer, and Gomez now v.p., controller and chief accounting officer.
Arizona Public Service hired Denise R. Danner as v.p. and controller for Arizona Public Service, and was senior v.p., controller and chief accounting officer with Allied Waste Industries.
Long Island Power Authority named Howard Steinberg as acting chairman upon resignation of James L. Larocca, who left to become a member of the New York PSC.
FirstEnergy named Charles E. Jones senior v.p., energy delivery & customer service, and Donald R. Schneider president of FirstEnergy Solutions, the competitive services subsidiary.
Exelon announced Chaka M. Patterson assumed an expanded role as v.p. and treasurer, and Karie L. Anderson has been promoted to v.p., investor relations, Patterson's previous position.
Pinnacle West elected Don Brandt, Pinnacle and APS president and APS CEO, to the position of board chairman and appointed him Pinnacle CEO. He succeeds Bill Post, Pinnacle chairman and CEO, who will retire April 30, 2009. Post will remain a board member.
American Electric Power named Joseph N. Jensen senior v.p. and chief nuclear officer of its D.C. Cook Nuclear Plant.
AREVA appointed Michael W. Rencheck president and CEO of AREVA NP, replacing Tom Christopher who will continue part time as vice chairman through June 2009. Rencheck was senior v.p. and chief nuclear officer at American Electric Power's nuclear generation group.
AmerenUE named Scott Sandbothe manager of regulatory affairs for the Callaway Nuclear Plant. He has been with the company since 1982.
American Transmission Co. named John C. Procario as president and CEO. He was senior v.p. and COO of regulated businesses for Cinergy Services.
AGL Resources announced organizational changes. Ralph Cleveland is promoted to executive v.p., engineering and operations. Hank Linginfelter, executive v.p., utility operations, assumed responsibility for governmental and regulatory affairs. Bryan Batson, senior v.p., external affairs, has assumed added duties of governmental affairs and is named senior v.p., governmental and regulatory affairs. Lindsay Thomas, senior v.p., governmental relations and a former U.S. congressman, announced his retirement. Jim Kibler, v.p., governmental affairs, replaces Thomas and is responsible for state and federal legislative activities. Kevin Madden, executive vice president, external affairs, announced his retirement in November. Melanie Platt, senior v.p., human resources and president of AGL Resources Foundation, assumed responsibility for corporate communications. Donna Peeples, v.p., sales and marketing, assumed the role of v.p., corporate communications and chief marketing officer.
We welcome submissions to People, especially those accompanied by a high-resolution color photograph. E-mail to: people@pur.com.