Deck:
Renewable mandates will shift power to FERC but pose problems for RTOs.
Author Bio:
Bruce W. Radford is publisher of Public Utilities Fortnightly.
A recent survey conducted by the U.S Office of Personnel Management and reported by the Washington Post on March 13 ranked the Federal Energy Regulatory Commission as eighth best of some 37 federal agencies in terms "talent," and third in "leadership and knowledge."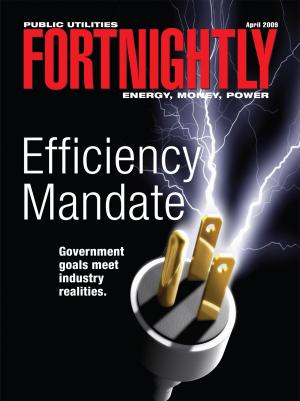 Those skills were never so evident as when acting FERC chairman Jon Wellinghoff trooped up to Capitol Hill on March 12, to testify before the Senate Committee on Energy and Natural Resources regarding a new legislative proposal, known as the Clean Renewable Energy and Economic Development Act (S. 539), introduced March 5 by Senator Harry Reid (D- Nev.).
Wellinghoff gave a boffo performance on Capitol Hill, revealing himself to be an unabashed promoter both of renewable energy and of FERC's ability to make it a reality. He more than held his own in debating with the committee's more conservative Republican senators.
On the bill's fundamental purpose—to expand the electric transmission network to boost development of wind, solar, and geothermal power—Wellinghoff assured the Senate committee that yes, his agency is perfectly capable, if called upon, to take over from the states and the regional system operators virtually all essential tasks of orchestrating construction of a massive green-grid expansion, if the new Congress, as expected, enacts a 20-percent federal renewable portfolio standard (RPS).
Among other points, the bill asks the industry to identify geographic areas across the country that contain outstanding potential for renewable energy development, borrowing on the CREZ concept ("Competitive Renewable Energy Zones") first adopted in Texas. The bill then would set up two super-regional entities —one each for the Eastern and Western Interconnections, to be funded by a new federal rate surcharge.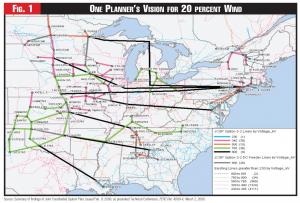 These two interconnection-wide entities would conduct all planning, siting, and cost allocation required for a complete green makeover of the nation's transmission grid to tap renewable energy from the Great Plains and Intermountain West and transport it to more populous consuming areas.
Though state agencies could "consult" in the process, FERC would step in and take over if needed—a prospect that seems increasingly likely, given what we have seen lately with green-grid project proposals.
Back at the committee hearing, a few Senators inquired about the need for renewable energy versus more traditional nuclear and large-scale, fossil-fired central-station technology. On this topic Wellinghoff came loaded for bear, well prepared by his staff.
He did not flinch one iota, for example, when Sen. John McCain (R-Ariz.) asked him point blank whether nuclear power should qualify under S. 539 as "renewable." "No," was Wellinghoff's one-word answer.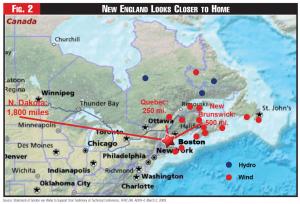 "Remarkable," replied the dour-faced McCain, who said nothing more.
Nor did he blink when Tennessee's Bob Corker had sought to ruffle FERC's sails by asking how much redundancy was required under a 20-percent federal RPS to make up for wind's intermittency. Wellinghoff clearly embarrassed the Republican when he quickly shot back that no, wind actually requires less redundancy, due to its wider dispersion of smaller units. It is the larger-capacity Palo Verde nuclear plant in Arizona, Wellinghoff noted, that by contrast stands as the largest single contingency in the Western Interconnection, requiring the greatest degree of redundant investment.
That's what you get with impressive talent and leadership.
So it fell to the ranking minority member, Sen. Lisa Murkowski (R-Alaska), to redeem the Republican cause. Toward the end of the hearing, she finally extracted a concession of sorts from Graham Edwards, acting president and CEO, Midwest Independent Transmission System Operator, Inc. (MISO). Murkowski asked him about the study released February 9 by the Joint Coordinated System Plan (JCSP), representing MISO, PJM, TVA, and other regional planning agencies (see Figure 1), which had reported that $80 billion was needed for new grid lines in just the Eastern Interconnection to accommodate a 20-percent federal RPS mandate. Edwards responded that for analysis purposes the JCSP planners had assigned only a 15-percent capacity factor to wind resources, recognizing its intermittency.
The Audacity of Wind
To better understand the problem, consider FERC's recent experience with a handful of individual transmission line cases—covering a wide range of projects featuring both DC and AC lines, rate-based and at-risk merchant investment vehicles, and geographic areas both within and without established RTO zones:
• Green Power Express. Sponsor: ITC. 12,000 MWs AC capacity. 3,000+ miles 765 kV. Dakotas to Chicago, Twin cities and SE Wisc. Regions: MISO, PJM, MAPP. $10 billion to $12 billion. Request pending for rate incentives. (FERC Dkt. ER09-681. See, www.thegreenpowerexpress.com.)
• Chinook/Zephyr. Twin merchant projects, each sponsored by TransCanada. (A) Chinook: 3,000 MWs DC, 1,000 miles 500-kV, Montana to Nevada. (B) Zephyr: 3,000 MWs DC, 1,100 miles 500 kV, Wyo. to Nev. Authority granted for each to award 50 percent of line capacities to a private wind developer and "anchor tenant," outside of any open season or OASIS solicitation. (Dkt. Nos. ER09-432, ER09-433, Feb. 19, 2009, 126 FERC ¶61,134. See, www.transcanada.com/company/zephyr _chinook.html).
• Tallgrass/Prairie Wind. Two projects, sponsored by Electric Transmission America (AEP & MidAmerican Energy), with co-sponsors OGE Energy (Tallgrass) and Westar (Prairie Wind). TG: 170 miles 765 kV in Oklahoma; PW: 230 miles 765 kV, in Kansas. Rate incentives granted on condition of project being approved by planning agencies. (Dkt. Nos. ER09-35, ER09-36, Dec. 2, 2008, 125 FERC ¶61248. See, www.tallgrasstransmission.com, and www.prairiewindtransmission.com.)
• Quebec-New Hampshire. A single line sponsored by Hydro-Quebec, NStar, and NE Utils. 1,200 MW DC. Length unknown. Quebec to southern New Hampshire. ISO New England Region. Seeks to award access rights to line owners, without open season and/or OASIS offer, and to sell transported energy in bilateral deal outside of regional market, in exchange for participant-funding by sponsors. The request is pending, but so far has drawn vociferous opposition from virtually all power industry sectors. (FERC Docket No. EL09-20.)
• Maine Power Connection. Central Maine Power, Maine Public Service. 200 miles 345 kV. ISO-NE region. Would interconnect proposed wind projects in N. Maine with rest of New England. Order granting rate incentives granted. (Docket EL08-77, Nov. 17, 2008, 125 FERC ¶61,182.) Application for state certificate of need dismissed without prejudice by state regulators. (Maine P.U.C. Docket No. 2008-256, Feb. 5, 2009.) Project apparently is now on hold. (See, www.mainepowerconnection.com.)
In New England, RTO rules allow socialization of grid-expansion costs among all member utilities across the RTO footprint, if the project will qualify as a "METU" (Market Efficiency Transmission Upgrade) that reduces the delivered price of retail electricity. But importing emission-free hydropower from Canada does little to cut power bills in New England, as the wholesale price is set by gas-fired generation, which clears on the margin in the ISO-NE regional market. State regulators have questioned why New England ratepayers should pay for green-grid expansions, like the Maine Power Connection project, if they (the ratepayers) get no benefit on the bottom line. (For more see the prior column, "Transmission is Bubbling," Fortnightly, October 2008.)
The Quebec/New Hampshire project sponsors have learned from the Maine experience. They seek to fund their line themselves, without the region-wide cost contribution that has proved unacceptable to New England regulators. But as a quid pro quo, they seek to bundle up the energy product and "take it private"—excluding the energy from trading in the regional spot market, and reserving the green-energy benefits for themselves—a move that would seem to violate FERC's open-access policies, and create an impermissible wholesale bundling of transmission and energy services.
Tallgrass and Prairie Wind illustrate how FERC's policy under Order 679 permits project sponsors to apply for, and receive, generous rate incentives even if the project has not yet won certification from the applicable regional or state-run procedural body for planning, vetting and approving grid projects, as long as FERC conditions the grant of incentives on such future vetting and approval.
That policy encourages multiple and potentially duplicative grid projects to seek incentives from FERC. Witness the example that some call "Bloody Kansas," whereby Joseph Welch, chairman, president and CEO of ITC Holdings, was driven to post an open letter to recite how his company had worked for months with state and local officials on a green-grid expansion to bring wind power to Kansas ratepayers, only to see a competing local utility jump in after the fact, seeking in effect to co-opt the project as its own. (See, Joseph L. Welch, "To the Governor, the Legislature, and the People of the Great State of Kansas," Jan. 9, 2009, at: www.itcgreatplains.com/pdfs/letterOfImportance.pdf.)
TransCanada, the lead sponsor of the proposed Chinook and Zephyr merchant transmission lines, has fallen back on experience in the natural gas industry, where new pipeline developers conduct an open season to gauge interest and attract equity investors. FERC now has accepted TransCanada's proposal to carve out a 50-percent capacity interest on each line for private use by a wind-project developer serving as an equity investor and "anchor tenant."
Finally, the Green Power Express (GPX) represents an entirely new breed of project. As noted in last month's column, "Titans of Transmission," GPX sponsor ITC and its leader Joseph Welch seized on President Obama's campaign call to bring wind from the Dakotas to Chicago, to the tune of a monster grid construction plan thought to cost anywhere between $10 billion and $12 billion.
But project opponents call the GPX plan premature, since it has not been vetted by a grid-planning process in any affected region, and thus might never even win approval. Moreover, with GPX not fitting the mold of the typical grid addition, opponents chafe that ITC and Welch have asked FERC for recovery of startup and development costs, plus rate-of-return incentives and rate-base formula rates under applicable RTO tariffs, but have asked FERC also to fashion an entirely new super-regional planning procedure for the project (akin to the Reid proposal), which would bypass planning rules already in place in MISO, PJM, and MAPP, where GPX would lay down lines.
One project opponent finds all this too much to bear: "Here we are faced with an enormously expensive, speculative undertaking that seeks the right to recover, among other amounts, unquantified funds it has already expended in pursuit of something that might turn out to be unwise and dropped." (See, Protest of American Mun. Pwr. – Ohio, p. 2, FERC Dkt. ER09-681, filed March 2, 2009.)
Others say it is not enough that ITC has modeled its project on Obama's campaign rhetoric. According to Montana Consumer Counsel Robert A. Nelson, GPX is "as breathtaking in its audacity as it is in its scope."
Build and They Will Come
Speaking at the technical conference held at FERC on March 2 to explore the integration of renewable resources into the wholesale electric grid, PJM's senior vice president of operations, Michael J. Kormos, echoed the arguments of ITC's Joseph Welch, and many others, that current regional grid-planning rules that focus only on system needs, such as load growth or actual requests for generation interconnection, don't seem to work anymore for a "Build It and They Will Come" project, such as the GPX, and others in the works as well, such as AEP's Pioneer Project (see, FERC Dkt. ER09-75), sponsored by Electric Transmission America, AEP's joint venture with Mid-American Energy.
Kormos wants FERC to open a rulemaking to consider a new "third-tier metric," beyond reliability and congestion, with inputs to reflect the public-interest value of green power.
He advises against a purely interconnection-wide planning regime, as proposed in the Reid bill, preferring instead to rely on regional planning at the RTOs, in coordination with each other. So does ISO New England CEO Gordon van Welie, who urged at the technical conference that any transmission planning effort for the Eastern Interconnection as a whole should follow "an iterative process where regional plans serve as the basis and are coordinated and harmonized by a federal entity."
RTOs, he said, should remain "as the primary planning authority for managing the integration of renewable within their footprint."
Yet when Energy and Natural Resources Committee Chairman Bingaman (D-Ariz.) asked at the Senate hearing if grid planning should be conducted on a wider footprint, such as across the entire interconnection, Wellinghoff saw no problem. "The West is doing it now," he said, "through the Western Governor's Initiative."
Any move toward interconnection-wide planning not only erodes the turf of RTOs, but raises questions about what to do with the alphabet soup of ad hoc regional grid study groups that have sprung up recently, such as UMTDI (Upper Midwest Transmission Development Initiative), RGOS (MISO Regional Generation Outlet Study), and CAPX2020, shorthand for Transmission Capacity Expansion Initiative by year 2020.
How would these groups mesh with a new super-regional or interconnection-wide planning regime, imposed by Congress?
CAPX2020 group members, Great River Energy and Minnesota Power, for example, already have proposed a trio of 345-kV grid projects in the Upper Midwest as part of the group's approved portfolio of Phase I projects, and have won a recommendation for a certificate of need from an administrative law judge at the Minnesota PUC. (See, Recommended Order, Minn. PUC Dkt. E002/CN-06-1115, Feb. 27, 2009.)
These three CAPX2020 projects might well compete or overlap with GPX. Moreover, UMTDI reportedly is considering the development of offshore wind turbines in the Great Lakes, closer to load centers in Chicago, Milwaukee and the Twin Cities than the Dakotas, which could trump the GPX plan.
Then comes CARP, the "Cost Allocation and Regional Planning Initiative," formed by the state PUCs that make up the Organization of MISO States. Testifying at FERC's March 2 technical conference, Wisconsin utility commissioner and OMS President Lauren Azar reported that CARP soon would hold its fourth meeting on trying to resolve who benefits from green-power development, and how to allocate the grid-expansion costs incurred to reap those benefits.
As Azar explained, MISO's current cost-sharing method, as provided for under the RECB regime ("Regional Expansion Criteria and Benefits," pronounced "Wreck-Bee"—yes, that's right), has proven unworkable.
Consider that Otter Tail Power, a small-sized utility, reportedly is faced with more than 10,500 MW in new interconnection requests for wind energy gen projects, with implications of costly transmission expansions for Otter Tail ratepayers. That prospect reportedly prompted Otter Tail's JoAnn Thompson to raise questions about the impact of regional grid-cost allocations in a presentation she gave to MISO's RECB Task Force on February 27. Otter Tail Power confirmed that, to preserve its options, it filed notice with MISO on Dec. 31, 2008, of its possible intention to withdraw its membership from the RTO.
Searching for Certainty
Otter Tail's story reveals a fundamental truth: The difficulty lies not so much in the planning, which can be made objective and has been made mandatory by FERC in Order 890. Rather, the problem rests with the region-wide allocation of costs for all those miles of new grid—a job that by default has fallen to the RTOs, who then must find a rationale to assign those costs to transmission-owning members whose allegiance to the regional grid organization, as measured under FERC Order 2000, remains purely voluntary.
ITC's Joseph Welch said as much in written comments he submitted at FERC's March 2 technical conference, helping explain why his company's GPX project seeks a new paradigm for planning and siting.
He explained that RTO market participants and stakeholders remain free to defend their own interests in RTO planning sessions, but that if the RTO should attempt to impose a solution that serves the regional interest, "the stakeholder may threaten to leave the RTO, using membership fees as leverage."
This asymmetry produces an inherent conflict of interest at RTOs, Welch testified, requiring a "larger planning footprint."
Welch cites MISO's ill-fated Western Markets proposal as evidence of MISO's susceptibility to such pressures. (See, prior column, "Wooing the Western Wind," Fortnightly, Feb. 2009, and the order rejecting the plan, at FERC Dkt. ER08-637, Feb. 19, 2009, 126 FERC ¶61,139.)
Yet an even more radical view comes from ISO New England CEO van Welie, who appears to advocate nothing short of a retreat from one of FERC's most hallowed open-access principles, the independence of the wholesale transmission sector from any participation in the energy market.
As van Welie testified before FERC, the New England region is now "starting to gravitate towards a model that would overcome concerns … by bundling energy and transmission costs into delivered energy price contracts."
In other words, van Welie and ISO-NE are leaning toward the solution proposed by Hydro-Quebec, NStar, and Northeast Utilities for the Quebec/New Hampshire grid project that has drawn so much heated opposition from across the electric industry.
Even so, van Welie remains adamant that stakeholders will demand the reciprocal certainty of contracts as a price for funding the new green grid.
"The regional overlay plans give you a sense of what's possible," he concedes, "but who decides for the purpose of the model whether natural gas is $5 per MMBtu or $12? Who decides if transmission construction costs will stay the same, as estimated, or whether you will have unexpected inflation?
"RTOs," he says, "are ill-positioned to take this next step."