New Opportunities: Duke Energy named Lynn J. Good group executive and CFO, replacing David L. Hauser, who left Duke to become chairman and CEO of FairPoint Communications.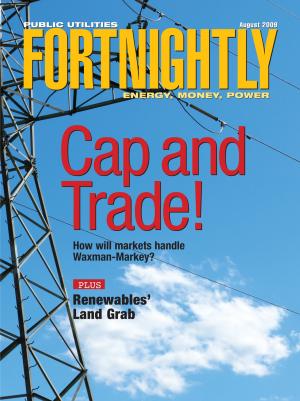 Pepco Holdings named Anthony J. Kamerick as senior v.p. and CFO, replacing Paul H. Barry, who resigned. Also, Pepco Holdings appointed BobJubic as project manager for the Mid-Atlantic Pathway, from his position as manager of environmental planning.
WGL Holdings and Washington Gas Light announced succession plans, with Terry McCallister becoming chairman and CEO effective Oct. 1, succeeding James DeGraffenreidt, who will retire that day. Adrian Chapman, v.p. at the utility, will become president and CEO of both companies. Roberta Willis Sims will become v.p.-regulatory affairs and energy acquisition at the utility, from v.p.-corporate relations. Sims is succeeded by Eric Grant, director of corporate communications at the utility. Douglas Staebler, v.p. at the utility will assume increased responsibilities for field operations, and Gautam Chandra, v.p. for business process outsourcing and non-utility operations for WGL Holdings, also will become v.p.-business development, strategy and business process outsourcing.
Pinnacle West Capital appointed David P. Falck as executive v.p., general counsel and secretary of Pinnacle West and Arizona Public Service. He was with Public Service Enterprise Group.
PPL named Gregory N. Dudkin senior v.p.-operations for PPL Electric Utilities. Previously Dudkin was with Comcast.
Progress Energy named Vincent M. Dolan to succeed Jeffrey J. Lyash as president and CEO for Progress Energy Florida.
Northeast Utilities named Jeffrey D. Butler president and CEO of Connecticut Power and Light Co., replacing Raymond P. Necci, who retired.
Nicor Gas promoted Becky Bacidore to v.p. human resources, from assistant v.p. human resources.
The North American Electric Reliability Corp. named Michael A. Walker its chief financial and administrative officer. He was deputy general counsel at National Grid USA.
PPL Generation named Timothy S. Rausch its senior v.p. and chief nuclear officer.
Viridity Energy announced that Allen Freifeld, a member of the Maryland Public Service Commission, joined the company as senior v.p. external affairs.
Ventyx promoted COO Steve Carpenter to president, and Vince Burkett to executive chairman of the board from CEO. Both will continue in present roles as COO and CEO.
Babcock Power Inc. announced selection of Michael D. LeClair as president and CEO, succeeding Jim Wood, who retired.
FMI announced that Griffith R. Morris joined FMI's Utilities Market Group as managing director of utility business development.
International Battery appointed Ake Almgren as CEO and president. He was CEO and president of Capstone Turbine Corp.
Boards of Directors: Portland General Electric appointed Kirby A. Dyess to its board. She is principal of Austin Capital Management LLC.
Edison Electric Institute elected Anthony F. "Tony" Earley Jr. as chairman of the board. He is chairman and CEO of DTE Energy.
Retirements: PPL Montana announced the retirement of Brad Spencer, v.p. and COO for eight years.
We welcome submissions to People, especially those accompanied by a high-resolution color photograph. E-mail to: people@pur.com.