New Opportunities: El Paso Electric promoted George A. Williams to senior v.p. and COO. J. Frank Bates, who has served as president and COO, will continue as president until retirement in March 2010.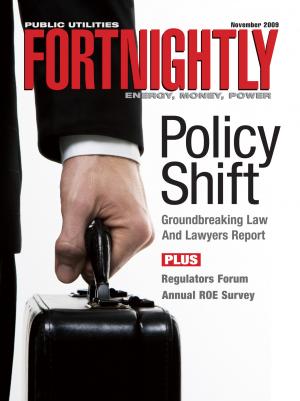 Idaho Power promoted Darrel Anderson, IDACORP and Idaho Power's senior v.p. of administrative services and CFO, to executive v.p. of administrative services and CFO. Dan Minor, Idaho Power's senior v.p. of delivery, is promoted to executive v.p. of operations. Lisa Grow, v.p. of delivery engineering and operations took on new responsibilities as senior v.p. of power supply. Vern Porter, general manager of power supply is promoted to v.p. of delivery engineering and operations.
ConEdison Solutions hired Jim Mueller as v.p. of customer operations. He had been with the parent company, Consolidated Edison Co. of New York.
Exelon Corp. appointed John Stough as v.p. and chief development officer for Exelon Transmission Co., a new venture on transmission lines. He joins the company from American Electric Power.
PPL Corp. promoted J. Matt Simmons to chief risk officer from v.p. and corporate contoller.
Constellation Energy hired Christopher J. Close as CFO for Constellation Energy Resources, its commercial business division. He was v.p. of finance for Exelon Generation. Robert (Bob) J. Gauch Jr. was appointed v.p., credit workout, a newly created position. He was with Citibank.
The Organization of PJM States elected Steven A. Transeth as president. He is a commissioner with the Michigan Public Service Commission.
Electric Power Research Institute (EPRI) hired Carolyn Shockley as v.p. of fossil generation. EPRI's Bryan Hannegan will lead an expanded renewable energy effort and will continue as head of EPRI's environmental sector.
The American Wind Energy Association hired Chris Chwastyk as v.p. of federal legislative affairs. He was chief of staff to Texas Congressman Chet Edwards.
Andrews Kurth LLP announced that Scott A. Brister joined the firm as partner. He was a justice at the Texas Supreme Court.
Dickstein Shapiro announced that Michael F. Cusick joined the firm as a partner in its energy practice.
McDermott Will & Emery LLP hired David Birchall as a partner at its London office. He is with the firm's global energy practice.
In Memoriam: The Illinois Institute of Technology announced the passing of Henry Linden, a faculty member and Max McGraw Distinguished Professor, member of the advisory board of the Wanger Institute for Sustainable Energy Research and the director of the IIT Energy + Power Center.
Boards of Directors: Spectra Energy Partners, LP, appointed two new directors to the board of its general partner. Theopolis Holeman is group v.p. of Spectra Energy Corp.'s U.S. operations and J.D. Woodward III is president of Woodward Development.
American Electric Power elected James F. Cordes to its board. He is retired executive v.p. of The Coastal Corp.
Progress Energy elected to its board John D. Baker II, the president and CEO of Patriot Transportation Holding.
NSTAR appointed James S. DiStasio to its board. He is a retired partner of Ernst & Young.
Entergy elected Stewart C. Myers to its board. He is the Robert C. Merton Professor of Financial Economics at the MIT Sloan School of Management.
Centrica announced that Nick Luff, finance director and Mark Hanafin, managing director of Centrica Energy and Europe, were appointed directors of venture production and assumed positions on the board.
We welcome submissions to People, especially those accompanied by a high-resolution color photograph. E-mail to: people@pur.com.