New Opportunities: Xcel Energy announced that David L. Eves, president and CEO of Xcel subsidiary Southwestern Public Service (SPS), is the new president and CEO of Public Service Co. of Colorado (PSCo), also a subsidiary. Eves replaced Tim Taylor, president and CEO of PSCo, who retired Dec. 31, 2009. Riley Hill, formerly COO of SPS, succeeded Eves as president and CEO of SPS.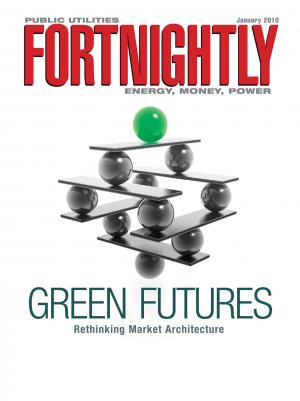 Reliant Energy appointed Tom Gros as senior v.p. of sales. He was managing director of strategic solutions for Tradition Energy.
CH Energy Group promoted James P. Laurito to executive v.p. of the holding company and its subsidiary, Central Hudson Gas & Electric. He succeeded Carl E. Meyer who retired Dec. 31, 2009.
Oncor Electric Delivery promoted Charles Jenkins to COO. Rob Trimble, previously Oncor's president and COO, will remain president until his retirement on April 1, 2010.
Alliant Energy appointed Kay Pashos as v.p. of regulatory affairs and deputy general counsel.
Elster Group appointed Simon Beresford-Wylie as CEO. He was CEO of Nokia Siemens Networks and a member of the Nokia Group executive board.
NARUC elected new officers, including Vermont Public Service Board commissioner David Coen as president, succeeding Frederick Butler of New Jersey. Also elected were commissioners Tony Clark of North Dakota as first v.p., and Susan Parker of Alabama as second v.p.
California ISO appointed Brenda Thomas to the new position of v.p., human resources. Thomas was executive director of human resources.
North American Electric Reliability Corp. appointed Gerry Cauley to serve as president and CEO effective Jan. 1, 2010. He replaces the retiring CEO Rick Sergel. Cauley was president and CEO of SERC Reliability Corp.
The Nuclear Regulatory Commission appointed James T. Wiggins, previously deputy director of the office of nuclear reactor regulation, as the new head of the office of nuclear security and incident response (NSIR). Roy P. Zimmerman, previous head of NSIR, is the new head of enforcement. Cheryl L. McCrary, deputy director of the office of investigations, is the new head of that office.
Black & Veatch hired Ernie Wright as senior v.p. in its global energy business. Wright was industrial group president and board member of a large U.S. general industrial construction company.
Gas Turbine Efficiency appointed Kevin M. Dotts as CFO. He was executive v.p. and CFO at Earthlink.
Wind Capital Group hired Robert Craig as senior v.p., finance; Bob Bergstrom as senior v.p., business development; and Pat West as senior v.p., operations. They were with Banc of America Securities, Babcock & Brown and Invenergy, respectively.
AVI-SPL hired Mary Jo Nye as business development manager for subsidiary, the Control Room Group. She was strategic sales director for Open Systems International.
Boards of Directors: GridWise Alliance elected Mark Maddox to a second term on its board. He is senior v.p. at Arcadian Networks and a former assistant secretary at DOE.
MGE Energy and subsidiary Madison Gas and Electric announced the election of James L. Possin to both boards. Possin is a tax consultant.
Atmos Energy elected Kim R. Cocklin to its board. Cocklin is president and COO of Atmos Energy.
Retirements: Southwest Gas announced the retirement of Dudley J. Sondeno, senior v.p. and chief knowledge and technology officer.
Accolades:EPRI named Clark Gellings as an EPRI fellow, in recognition of more than 28 years of technical innovation and leadership. Gellings is v.p. of technology at EPRI.
We welcome submissions to People, especially those accompanied by a high-resolution color photograph. E-mail to: people@pur.com.