Deck:
Can a broadly based committee resolve the nuclear waste dilemma?
Author Bio:
John Bewick is a former secretary of environmental affairs for the Commonwealth of Massachusetts, and director, verification and validation services, with Enviroplan Consulting. A frequent contributor to Public Utilities Fortnightly, Bewick, who holds a graduate degree in nuclear science, is covering the nuclear Blue Ribbon Commission's work on an ongoing basis for Fortnightly and Fortnightly.com.
Can a broadly based committee resolve the nuclear waste dilemma?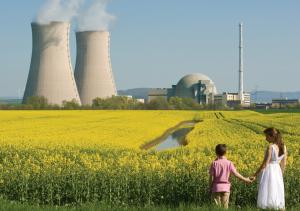 In January, the Obama administration appointed a high-powered Blue Ribbon Commission on America's Nuclear Future (BRC) to address one of the nation's great continuing dilemmas, the management and disposition of nuclear waste.
Delivering his charge to commission members at their organizational meeting, Energy Secretary Stephen Chu set forth their challenge, and gave the commission a two-year time frame to work with. The commission isn't tasked to site a repository, but rather to look at the whole nuclear fuel cycle, and at what technologies might be available in coming years that will affect that cycle. He wants commission members to review how things should be set up as technology progresses, both to reduce the amount of or the toxicity of the material separated from spent fuel, and to determine how to dispose of what won't be wanted, the residual material, in the future, both near term and long term. He also asked the BRC to recommend changes to the decision process.
Among other guideposts for the commission, Secretary Chu pointed out that the NRC has made clear that dry-cask storage above ground is safe for decades—possibly 100 years. However, he also suggested the commission needs to deal with the problems that might emerge after those decades elapse, including the possibility of high-burnup reactors that might reduce the lifetime of the waste and change what's needed for disposal in the future.
Given this broad set of marching orders, cynics might argue that the BRC provides nothing more than political cover for the Obama administration—to lend credence to its stated support for zero-carbon emitting nuclear development, and to show that it's working on an alternative to the Yucca Mountain repository that it took "off the table" last year. But at their first meeting earlier this year, the BRC commissioners themselves expressed determination to avoid becoming just another Washington committee providing a report for the National Archives. As evidence of their intent, the second session in late May provided an excellent seminar on the range of complex issues BRC members must weigh in their deliberations.
The composition of the commission itself is reassuring. One Washington nuclear scientist observed (under condition of anonymity) that with the makeup of the commission's membership, it must be taken seriously. Appointed members include knowledgeable members, capable of crafting both a sensible technical road map for the future as well as one that will be politically credible. Those with respected political credentials include former Congressmen like Phil Sharp and Lee Hamilton (BRC co-chair), Senators Pete Domenici and Chuck Hagel, former NRC chairman Richard Meserve, and former National Security Agency Chief Brent Scowcroft (the other co-chair). On the technical side Exelon CEO John Rowe, MIT