Deck:
Can a broadly based committee resolve the nuclear waste dilemma?
Author Bio:
John Bewick is a former secretary of environmental affairs for the Commonwealth of Massachusetts, and director, verification and validation services, with Enviroplan Consulting. A frequent contributor to Public Utilities Fortnightly, Bewick, who holds a graduate degree in nuclear science, is covering the nuclear Blue Ribbon Commission's work on an ongoing basis for Fortnightly and Fortnightly.com.
In January, the Obama administration appointed a high-powered Blue Ribbon Commission on America's Nuclear Future (BRC) to address one of the nation's great continuing dilemmas, the management and disposition of nuclear waste.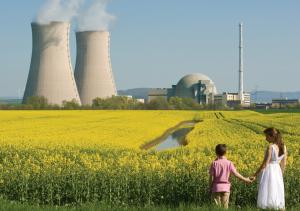 Delivering his charge to commission members at their organizational meeting, Energy Secretary Stephen Chu set forth their challenge, and gave the commission a two-year time frame to work with. The commission isn't tasked to site a repository, but rather to look at the whole nuclear fuel cycle, and at what technologies might be available in coming years that will affect that cycle. He wants commission members to review how things should be set up as technology progresses, both to reduce the amount of or the toxicity of the material separated from spent fuel, and to determine how to dispose of what won't be wanted, the residual material, in the future, both near term and long term. He also asked the BRC to recommend changes to the decision process.
Among other guideposts for the commission, Secretary Chu pointed out that the NRC has made clear that dry-cask storage above ground is safe for decades—possibly 100 years. However, he also suggested the commission needs to deal with the problems that might emerge after those decades elapse, including the possibility of high-burnup reactors that might reduce the lifetime of the waste and change what's needed for disposal in the future.
Given this broad set of marching orders, cynics might argue that the BRC provides nothing more than political cover for the Obama administration—to lend credence to its stated support for zero-carbon emitting nuclear development, and to show that it's working on an alternative to the Yucca Mountain repository that it took "off the table" last year. But at their first meeting earlier this year, the BRC commissioners themselves expressed determination to avoid becoming just another Washington committee providing a report for the National Archives. As evidence of their intent, the second session in late May provided an excellent seminar on the range of complex issues BRC members must weigh in their deliberations.
The composition of the commission itself is reassuring. One Washington nuclear scientist observed (under condition of anonymity) that with the makeup of the commission's membership, it must be taken seriously. Appointed members include knowledgeable members, capable of crafting both a sensible technical road map for the future as well as one that will be politically credible. Those with respected political credentials include former Congressmen like Phil Sharp and Lee Hamilton (BRC co-chair), Senators Pete Domenici and Chuck Hagel, former NRC chairman Richard Meserve, and former National Security Agency Chief Brent Scowcroft (the other co-chair). On the technical side Exelon CEO John Rowe, MIT Nuclear Department Head Prof. Ernest Moniz, and Allison MacFarlane, an environmental expert from George Mason University, bring a mature practical understanding of the issues.
In its first sessions, in addition to the directives from Secretary Chu, the BRC received testimony from expert witnesses who articulated many of the hurdles that a re-invigorated spent-fuel management program must address. The commission's process is open to public scrutiny and comment. The issues as they are being laid out for the BRC seem clear, and though challenging, they aren't insurmountable. But whether the BRC can overcome the hurdles before it and bring about meaningful change to nuclear waste management might depend on the ability of its leaders to focus on a mission that's both politically and practically achievable.
Political Context
Understanding this commission's purpose and timing requires understanding a complex political context.
In 1982, the Nuclear Waste Policy Act established the federal government's responsibility to provide a place for the permanent disposal of high-level radioactive waste and spent nuclear fuel by 1998. The act also set forth the generators' responsibility to bear the costs of permanent disposal. As a requirement, a nuclear waste fund was created from charges on nuclear electricity users. Thus, the ratepayers would pay for the development and construction of the needed waste-disposal facilities.
Since 1984, nuclear power ratepayers have paid more than $17 billion into the nuclear waste fund that grew over time to $34 billion and now has a balance of $24 billion. The National Academy of Sciences (NAS) alone has performed about 140 studies since 1956, and spent some $4 billion on siting at Yucca Mountain facilities out of the $13 billion expended to date. With the cancellation of the Yucca Mountain option, the ratepayers have received nothing in return for their massive investment. Representing the utilities and these ratepayers, the National Association of Regulatory Utility Commissioners (NARUC) forcefully articulated the outrage of their constituents at the BRC sessions. They decried the failure of the federal government to meet its obligation under the 1982 act to begin accepting nuclear waste by 1998. Thus the BRC begins its work in the context of the federal government's $30 billion failure to develop a site for storing the nation's nuclear waste.
The Yucca Mountain site was shut down at least in part because of the opposition of Senate Majority Leader Harry Reid (D-Nev.). In principle, it could be resurrected if either Senator Reid loses re-election to a candidate who supports the repository, or if NARUC wins a lawsuit it has mounted against the federal government to prevent the shutdown.1 Either outcome could affect the commission's ultimate recommendation.
Many states and cities are opposed to having nuclear waste facilities within their borders, even though most states currently store such waste. Likewise, Nevada has said no to Yucca Mountain, but recent polls indicate support might be increasing—particularly for facilities that aren't perceived as merely a dump for nuclear waste.2 Thus, in spite of broad popular opposition, the prospect for siting nuclear spent-fuel management facilities is difficult, but not hopeless. The BRC heard National Conference of State Legislators spokesperson Sally Young from Maryland and Sen. Domenici both point out there are multiple cities and states interested in housing such facilities, even as they acknowledged that support sometimes dwindles when a concrete proposal is made. (See "Nuclear YIMBY").
Turning theoretical support into lasting commitments will require a siting process that's more attuned to public sentiments than previous processes were, including the possibility of giving cities and towns a veto over such a facility. Defining such a process might prove to be one of the BRC's most important tasks, if policymakers hope to garner public confidence in any future siting efforts.
Buying Time with Interim Storage
Although the BRC doesn't need to specify interim and permanent storage solutions in its recommendations, it does need to redefine the path forward. Several experts, including Kevin Crowley of the National Academy of Sciences (NAS) and Matthew Bunn of Harvard's Managing the Atom project, have advised the BRC to focus on interim storage of spent fuel from shut-down power plants for the next hundred years, and then to set in motion a new process for permanent storage. Most experts concur that permanent storage in a geologic formation is needed. There's also agreement that the United States has decades to develop the technical understanding needed to complete the permanent storage facility. With an interim storage facility in place, the public interest would be fully protected in the short term.
The urgent need for a consolidated interim storage facility was highlighted for the BRC by the testimony of Frank Marcinowski, deputy assistant secretary for regulatory compliance in DOE's Office of Environmental Management. He described the broad and scattered storage for spent nuclear fuel and high-level wastes throughout the United States. Adding to the urgency, Mark Holt of the Congressional Research Service warned that reactor pools have reached their capacity, increasing the immediate need for dry cask storage.
This situation is adversely affecting local communities, because valuable real estate is unusable due to current storage practices. As reactors shut down, abandoned sites such as the 700-acre Palisades site on Lake Michigan are prevented from being converted to new uses by the continued presence of spent-fuel repositories. Michigan Public Service Commissioner Greg White, representing NARUC, pointed out that 10 reactors have been permanently shut down at nine sites. A consolidated facility for transfer and storage of waste from shut-down nuclear plants is a high priority.
There seemed to be a consensus among both witnesses and members of the commission that a step-wise approach to siting would build public confidence and trust. The steps would include establishing a consolidated interim storage facility for shut-down reactors, and establishing a consultative approach to potential permanent disposal in a geologic formation. The consultative approach would move forward with more clarity after regulatory standards have evolved, and, possibly, after new reactor types have reduced the quantity of long-term wastes.
As Bunn put it, "We should not put permanent repositories on an indefinite back-burner, but should establish a credible repository program, in part because this is likely to be important to gaining public acceptance for interim storage sites."
This is true whatever nuclear fuel-cycle options the United States pursues. Thomas Cochran of the National Resources Defense Council (NRDC) argued that the BRC needs to get the geologic storage program back on track. The prevailing sentiment is that the United States can take time to develop permanent storage with a consolidated interim storage facility so that there will be better understanding of the technologies, and more public support for a long-term solution. How to manage, fund, and develop long-term storage is a vital issue on the BRC agenda.
Reprocessing Realities
Invited experts speaking at the BRC's May meeting expressed almost unanimous opposition to reprocessing of spent nuclear fuel—some because of the high costs, some because of the technology involved, and others because of the increased risk of proliferation.
Harvard University's Bunn put proliferation in perspective when he said: "Reprocessing and recycling using the only technologies now commercially available means separating, fabricating and transporting tons of weapons-usable plutonium every year—when even a few kilograms is enough for a bomb. This inevitably raises risks of nuclear proliferation and nuclear terrorism not posed by direct disposal."
The BRC heard witnesses say that because of this proliferation risk, reprocessing should be studied but not implemented until there's more certainty about how to prevent materials from being weaponized, and international agreements are established to manage the risks.
But the issue is more complex than the experts' testimony indicated. If there's a great increase in demand for nuclear power, as the commission discussed with DOE Program Analyst Matthew Crozat at its initial meeting, then demand for uranium will increase and reprocessing will become a source of reactor fuel as well as an opportunity to reduce the amount of spent fuel requiring permanent geological storage.
How we treat nuclear wastes in the future might be determined, in part, by whether or not we'll need the energy contained in the waste. At present, most experts agree that reprocessing is both too expensive and unnecessary, since there seems to be plenty of uranium ore available. That might change, however, and reprocessed fuel might become needed to achieve long-term national energy sufficiency and supply new reactors built to fight climate change.
Reprocessing also might be the best way to get spent fuel into a form that's safer for long-term disposal. This would be accomplished by removing the long-lived material, leaving fission products that have short half-lives and are easier to store permanently in a geologic formation. Such objectives would require new reactor and reprocessing technologies that haven't yet been developed. Thus the commission's recommendations need to allow for a dynamic evolution of response to future events, and must weigh economic and proliferation factors in the context of long-term energy goals.
Focusing the Mission
The commission's mandate is very broad and could easily be overwhelming to ordinary mortals. The commission doesn't have the time to solve every problem of nuclear waste disposal and management. Indeed, experts suggest that some of the more intractable problems of reprocessing, proliferation and permanent geologic storage can, and should, be dealt with over the decades to come.
To achieve effectiveness and results, the commission arguably must narrow its focus. Short-term storage naturally rises to the top of an action agenda. Witnesses speaking at the May BRC meeting expressed the nearly unanimous opinion that dealing with short-term interim storage is the commission's most important task, along with establishing a management process for addressing the longer term fuel-cycle issues.
Some experts, like Crowley of NAS, advised the BRC that the entire process needs to be revised, and that the DOE effort over the past decade won't result in a long-term solution because of the narrow way the Nuclear Waste Policy Act mandates solutions. This perspective largely echoes what NAS said two decades ago in a 1990 position paper.3 Experience since then has reinforced the same conclusion.
Two management options emerged from preliminary BRC testimony: Either a new, independent agency with funding directly from the nuclear waste fund, independent of annual Congressional appropriation; or a new corporation to be established and run by the nuclear industry with some kind of federal oversight and funded directly from the nuclear-waste fund.
Tom Sanders of the American Nuclear Society (ANS) called for creating an independent entity to oversee management of the current and expected stockpile of U.S. spent nuclear fuel. And Commissioner Greg White of the Michigan PSC and NARUC urged consideration of other organizational alternatives. He pointed out that Canada has a "well-managed interim storage program in place" with a "nuclear waste management organization, responsible for the repository program, created and managed by the nuclear reactor owners." (See "Spent Fuel Management Models.")
During the BRC meeting in May, there seemed to be strong support for turning much of this management over to the private sector—perhaps through the new U.S. Nuclear Waste Management Corp. recently proposed by Senator George Voinovich4 —or to an independent nuclear-waste management agency separated from DOE, with a reliable funding mechanism independent of annual Congressional appropriations. Norris McDonald of the Nuclear Fuels Reprocessing Coalition called for "a financially autonomous, federal corporation to replace DOE."
Moving forward, the commission proposed to establish three sub-committees to deal in detail with the questions of storage, reprocessing and disposal. The scope of the sub-committees and membership are being reviewed with Energy Secretary Chu, in advance of the BRC's next meeting in July.
No matter what approach the BRC takes, the potential scope of its mandate is enormous, time is limited, and focus is essential to success.