New Opportunities: Chesapeake Utilities named Michael P. McMasters president and CEO, due to the planned retirement Jan. 1, 2011 of CEO John R. Schimkaitis.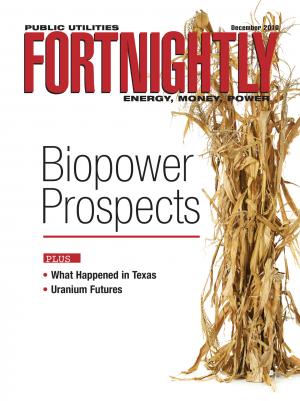 Duke Energy appointed Doug Esamann president of its Indiana service region. Esamann was interim president since October 12. He replaces Mike Reed, who, according to Associated Press reports, was dismissed upon conclusion of an ethics inquiry into Reed's previous role on the Indiana Utility Regulatory Commission. Duke dismissed attorney Scott Storms as a result of the same inquiry.
American Transmission named John Flynn v.p. of business development, a newly created position.
Allen Nye joined Oncor as senior v.p. and general counsel. Nye is a partner at the Dallas office of Vinson & Elkins.
FirstEnergy Corp. promoted Kevin Burgess to assistant controller. He was assistant controller, FirstEnergy Utilities. Jon Taylor, formerly manager, financial reporting and technical accounting at FirstEnergy Utilities, was promoted to Burgess's previous position.
Alliant Energy hired James H. Gallegos as v.p. and general counsel. Gallegos was vice president and general counsel at Burlington Northern and Santa Fe Corp., and before that a staff attorney with Qwest. He replaces Barbara J. Swan, who is retiring as FirstEnergy general counsel and president of Wisconsin Power & Light (WPL) subsidiary. The company named John O. Larsen to succeed Swan as WPL president.
Stacy Kilcoyne was named v.p., human resources for Southern Company. Kilcoyne brings more than 30 years of experience to the position.
GeoGlobal Energy named Joe Cleary director of construction.
David W. Hilt joins Quanta Technology as v.p. of regulatory services. Formerly, Hilt was v.p. of compliance at the North American Electric Reliability Corp. (NERC). He also served as v.p. of operations and engineering at NERC.
The New York Independent System Operator (NYISO) retained former FERC Commissioner Suedeen Kelly as a strategic energy policy advisor. Kelly is a partner with Patton Boggs.
The Organization of MISO States elected Michigan Public Service Commissioner Monica Martinez president of the organization.
Gridwise Alliance Chairman Guido Bartels was re-appointed to the United States Department of Energy's (DOE) Electricity Advisory Committee.
Boards of Directors: Dr. Steven R. Specker was elected to the Southern Company board of directors. Specker recently retired from the Electric Power Research Institute (EPRI), where he served as president and CEO from 2004 to 2010.
Bob Dawson, president and CEO of SouthernLINC Wireless, a Southern Company affiliate, was elected to the 2011 board of directors of CTIA-TheWireless Association.
Solar Electric Power Association (SEPA) elected five new members to its board of directors and re-elected one member to serve an additional term. They are: Eran Mahrer, director of renewable energy, Arizona Public Service; Luis Reyes, CEO of Kit Carson Rural Electric Cooperative; Theresa Williams, senior policy advisor, Western Area Power Administration; Mark Dougherty (re-elected), director of distributed generation and renewable programs, Long Island Power Authority.
The American Solar Energy Society (ASES) elected three new members to its board: Mary Guzowski, associate professor of architecture, University of Minnesota; David Panich, co-owner, Panich + Noel Architects; and Phil Smithers, technical services leader, renewable energy unit, APS.
Empire District Electric announced that Bill Helton will retire from the board on April 28, 2011. Thomas Ohlmacher has been nominated to fill the board vacancy and will stand for election at the company's annual meeting of stockholders. Ohlmacher has been president and COO of Black Hills non-regulated energy group since 2001.
We welcome submissions to People, especially those accompanied by a high-resolution color photograph. E-mail to: people@pur.com.