Deck:
Solar and wind developers learn to shift project risk to the grid.
Author Bio:
Bruce W. Radford is publisher of Public Utilities Fortnightly.
Much has been written about the so-called chicken-egg problem. That's where wind and solar developers can't go forward without transmission expansions built and financed by others, but utilities won't commit to new grid construction out of fear that the new gen projects won't show up as promised.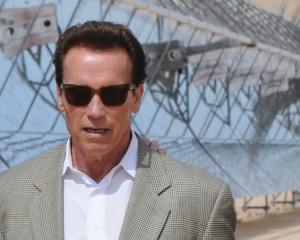 In fact, this quandary supplies a major impetus behind FERC's proposed new rules for regional transmission planning, still pending at this writing. FERC would attack the problem head-on, requiring planners to honor and accommodate "policy-driven" renewable energy mandates as an engineering imperative, just as they must plan the grid to maintain reliability or reduce congestion. (See Notice of Proposed Rulemaking, Docket No. RM10-23, June 17, 2010, 131 FERC ¶61,253.)
Under FERC's proposal, planners presumably would map out future grid configurations from the top down, achieving the most efficient layout without regard to individual project locations. Everyone would know where they stand, even before wind or solar projects are sited. Developers then would have less reason to announce a new renewable project on spec, simply as a means to fish for a possible grid connection. And utilities, presumably, would be spared the indignity of chasing after each new wind farm or solar array with ad hoc grid expansion plans in order to get their proposals vetted and approved ahead of others. This new regime, it is hoped, would become much less piecemeal and random.
But now, just as FERC's rulemaking effort nears fruition, a new model has emerged—one that seemingly allows both gen and grid developers to have their cake and eat it too, with the potential, perhaps, to outflank some aspects of FERC's vision for an open and inclusive regional planning process. This model is made possible by transmission rate incentives granted by Congress in the 2005 Energy Policy Act for a completely different purpose: to overcome what was then seen as years of inadequate transmission construction budgets. And regulators dare not dally today on any such rate request, else they be found guilty of overstepping deadlines for stimulus funding and DOE loan guarantees under the American Recovery and Reinvestment Act. Together, these factors align to save power producers having to finance grid upgrades for their own wind and solar projects, and at the same time help utilities build rate base with new grid construction, insulated from the risk of gen project cancellations.
And FERC's Order 679 policy makes incentives available to any grid expansion that can qualify as "non-routine"—a test easily satisfied by any project that is costly or subject to the risk of cancellation of the underlying generation project. The nuclear plant projects of the 1970s and 1980s also were costly and high-risk. But utilities that chose to bet the company in that way were rewarded not by rate incentives, but with prudence reviews.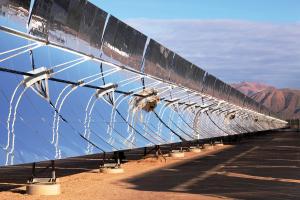 A key champion of this new model, the former California Governor Arnold Schwarzenegger, sent two letters to FERC late last year in the dying days of his administration, each urging the commission to use this incentive-based technique to bypass the chicken-egg quandary get new solar and wind projects quickly up and running, rather than to let them languish in the queues, awaiting approvals for financing and grid interconnection:
"We must not let projects fail," he wrote in October, "because of the slow pace of our bureaucracies.
"They should be able to stand or fail on their own merits."
Yet there remains a key philosophical objection to this clever new way of solving the chicken-egg problem. In the plainest of terms, it takes a share of gen project risk and reallocates it to transmission and to the grid's captive ratepayers.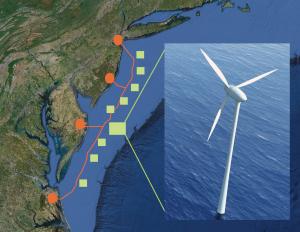 So far, in the cases in which this objection was raised, FERC has rejected it, finding no evidence that project risk was being shifted to third parties in the form of higher rates. Yet, if FERC continues to endorse this model, it could undermine the commission's efforts to remake regional transmission planning along the lines of a top-down process.
Solar is Served
The story begins with a case filed in December and still pending at FERC in late January. In this instance, Southern California Edison asked for special cost and rate guarantees to cover its planned $1.5 billion investment (including pensions and administrative costs) for building grid network upgrades to interconnect some 3,700 MW in new solar and wind projects under development by independent power producers in the Mohave Desert and along the Arizona border. (See, Petition for Declaratory Order for Incentive Rate Treatment, FERC Docket EL11-10, filed Dec. 9, 2010.)
One of the projects seeking grid connections, the 1,000-MW Solar Millennium Blythe project (concentrating solar, parabolic trough), which won certification approval from the California Energy Commission on September 15, reportedly will constitute the largest solar generating facility in the world, and will include four separate 250-MW units, each costing in excess of $1.3 billion. (See Solar Millennium Blythe siting case at www.energy.ca.gov.)
To justify its request for rate incentives—including recovery of investment even if gen projects should later become abandoned—Edison cites the sheer enormity of its planned transmission expansion program. According to Paul Hunt, Edison's director of regulatory finance and economics, Edison plans grid expansions costing some $5.5 billion over the next five years (facilities under control of the California ISO), or more than three times its total transmission plant, as valued as recently as year-end 2008. This program, Hunt asserts, could stress the balance sheet without current rate recovery of ongoing investments through a FERC-approved CWIP allowance (for Construction Work in Progress):
"SCE will have difficulty executing its aggressive capital spending plans during the next few years without eroding its credit quality.
"[I]f FERC does not grant SCE's requested CWIP incentive … SCE will have to rely more heavily on external financing." (Affidavit of Dr. Paul Hunt, Dec. 8.)
Of course, Edison could have asked the wind and solar developers to finance the connections up front. Yet, by taking on that obligation itself, through a specially crafted large generation interconnection agreement (LGIA) signed with each developer project that is made conditional on the requested rate incentives, Edison ensures a win-win. The LGIA promises upfront financing for grid connections to solar projects—saving the developer some skin—but allows Edison to back out if projects don't move forward. The petition for rate incentives guarantees cost recovery even if the LGIA and the grid expansion are abandoned (due to gen project cancellation). Moreover, if FERC should deny the petition for transmission rate incentives (refusing to grant cost recovery for CWIP accounting and in the event of project abandonment), then the LGIAs also will become void, leaving the solar project sponsors on the hook for financing grid upgrades, and at risk for losing ARRA stimulus funds and DOE loan guarantees.
In this case, the Blythe project is so massive that it must be pursued in different stages, with the last stage to be completed only toward the end of this decade, so as to give enough time to Edison to complete its "West of Devers" grid expansion to assure deliverability of Blythe power. The project is so big, in fact, that project ownership must be divided between different sponsors, and fenced off through a special "partial termination" clause in the grid interconnection agreement, so that project risk associated with the second-phase segments won't imperil credit or financing for phase one, as Schwarzenegger noted to FERC in his second letter, sent at the close of last year. (See, Letter of Governor Arnold Schwarzenegger, Dec. 22, 2010, FERC Docket Nos. ER11-2316, ER11-2318, EL11-10, filed Jan. 3, 2011.)
Yet because of this partial termination clause, the interconnection won't conform with ISO tariffs, as Schwarzenegger went to great lengths to explain:
But under FERC's Order 679 policy, such risks not only are tolerated, but in fact serve to justify the need for incentives.
Smoking Gun?
Eyebrows were raised in late December, however, when Solar Millennium LLC sent a letter to FERC urging approval of one of the interconnection agreements executed between Edison and project developers and linked with Edison's request for incentives.
The letter in question urged FERC approval of the phase-two LGIA for Palo Verde Solar II. It also warned that the project would need to be restructured if FERC didn't OK cost recovery for Edison in case of project abandonment, so that the solar sponsor then would have to assume the upfront financing of the grid upgrades. (See, Letter of Solar Millennium LLC, FERC Docket ER11-2316, filed Dec. 8, 2010.)
Seizing on the language of this letter, the City of Redding, Calif., along with the City of Santa Clara and the M-S-R Public Power Agency, protested both Edison's request for rate incentives and various other requests for approval of LGIA's for gen project sponsors. These municipal agencies thought they had at last found a smoking gun to show that without a grid financing commitment from Edison, solar developers would seek a higher price for their energy output. Thus, the objectors alleged that Edison's promise to pay for grid upgrades for renewable energy projects was tied to the expectation of cheaper energy rates for Edison's retail customers, and therefore higher rates for Edison's transmission customers, including wholesale customers not buying energy from Edison. If proven, such a tying arrangement could violate standards of conduct that require retail energy marketing to be held separate from wholesale transmission.
Yet the public power agencies had raised the same objections with other interconnection agreements, only to see FERC reject the claims for lack of evidence in the Desert Sunlight and Calico Solar orders issued late last year. (See, Docket ER10-2169, Oct. 7, 2010, 133 FERC ¶ 61,019; Docket ER10-796, Dec. 6, 2010, 133 FERC ¶61,200.)
Now, however, armed with that letter, the municipal agencies they felt sure they had a better case, and filed a new protest to oppose FERC approval of Edison's proposed interconnection agreement for a 60-MW wind facility sponsored by Granite Wind LLC, which also included a special plant abandonment clause.
But late last month FERC rejected that claim, again finding no cause to link a utility's upfront grid financing with rate concessions from the renewable energy project sponsor:
"We do not find that the letter by itself establishes evidence of unduly discriminatory or anticompetitive conduct by SoCalEdison …
"We also agree … there is no evidence … that SoCalEdison' agreement to provide up-front funding of network upgrades, subject to conditions, is violative of our standards of conduct." (Docket ER11-2177, Jan. 20, 2011, 134 FERC ¶61,031.)
Interestingly enough, however, if the cities should choose to protest the LGIA for the much larger Blythe solar project, and its link to Edison's request for transmission rate incentives, they might just as well cite Governor Schwarzenegger's correspondence of late December, which echoed the same concerns expressed by Millennium Solar.
In his December letter, urging FERC to approve the rate incentives and the series of LGIA's linked to that request and to the 1,000-MW Blythe Solar Millennium Project, Schwarzenegger reiterated the same argument—that without the guarantee of abandoned plant recovery, as proposed in both the LGIAs and Edison's request for rate incentives, the price of renewable solar power sold by the project would be different:
"To the extent that abandoned plant treatment is not approved," the governor writes, "the economics of the project will have to be restructured … and a price increase would be sought."
Crying for Transmission
To find a more classic case for transmission rate incentives, consider the Atlantic Wind Connection, the $5 billion undersea high-voltage DC line proposed last fall by Trans-Elect, with funding support from Google Energy and the Japanese trading firm Marubeni. The line would run off the coasts of New Jersey, Delaware, Maryland, and Virginia. Although it's claimed to be the first offshore transmission highway in the U.S., the AWC would partly mimic never fully realized Project Neptune, which, as originally proposed 10 years ago, was also planned to run under the Atlantic Ocean shoreline, from the Canadian maritime provinces (or perhaps Maine) down to landfalls in Boston, Connecticut, New York City and New Jersey, as this reporter noted 10 years ago in this magazine in the Frontlines column. (See, Jules Verne's Grid, Public Utilities Fortnightly, Feb. 15, 2001)
And as Google's Green Business Operations Director Rick Needham noted last October in the "Official Google Blog," the AWC when built out will be able to interconnect 6,000 MW of offshore wind turbines—enough to serve approximately 1.9 million households. ("The wind cries for transmission," at googleblog.blogspot.com.)
Trans-Elect and the AWC project companies of course have asked FERC for transmission rate incentives. In direct testimony and affidavits from Brattle Group principals Johannes Pfeifenberger and Samuel Newell, the applicants provide a detailed analysis of how the project will produce more regional benefits and efficiencies than would a series of separate, east-west radial lines running out from the existing PJM grid to individual offshore wind farms. Moreover, Pfeifenberger and Newell show how the AWC project will still produce net benefits, through greater coordination and flexibility throughout the PJM grid, even if the AWC offshore line never actually interconnects with any offshore wind projects. (See FERC Docket No. EL-13, filed Dec. 20, 2010.)
In this sense, the AWC grid proposal represents more of a top-down regional transmission solution, just as if it were the product of policy-driven planning of the sort envisioned by FERC's now pending rulemaking in Docket RM10-23, rather than the reactive sort of proposal as seen in California, where the plan emerges out of FERC's Order 2003 process for generation interconnections.
This contrast invites discussion both about the purpose of FERC's Order 679 policy on transmission rate incentives, and whether the commission's vision of policy-driven regional planning, designed to be responsive to state-imposed renewable energy mandates, can stand up to the attractive safe-harbor guarantees that Southern California Edison is seeking under its very different way of solving the chicken-egg problem.
For example, the commission in the past has been known to bend the rules and grant rate incentives to speed projects along so as not to overstep milestone deadlines and thereby lose stimulus funding or DOE loan guarantees. FERC did so as recently as last October, when it granted transmission rate incentives for Southern California Edison for its Eldorado-Ivanpah transmission line project and its combined Red Bluff substation and Lugo-Pisgah transmission line project, in order not to jeopardize ARRA stimulus funds and load guarantees. (See, Docket EL10-1, Oct. 29, 2010, 133 FERC ¶61,108; Docket EL10-81, Oct. 29, 2010, 133 FERC ¶61,107.)
The commission did so even though the projects had failed to satisfy Order 679, as they had been approved through CAISO's generation interconnection process, rather than a fully open regional transmission planning process:
"We find that certain of the incentives that SoCal Edison requests for the projects are justified in light of a combination of policy reasons, including the exigencies of the deadlines imposed by the American Recovery and Reinvestment Act."
Yet now signs are emerging that FERC realizes what's at stake and might be willing to tighten the process for awarding incentives.
As December came to a close, FERC handed down a pair of companion decisions aimed at making it more difficult for utilities to win transmission rate incentives simply by combining several grid expansion projects together into a single request to boost the total cost of construction and thereby qualify the combined project qualifies as "not routine."
In theory, under its Order 679 policy, FERC will consider three categories of factors in determining whether a project is routine:
• Scope: Dollar investment, size, increase in transfer capability, involvement of multiple entities or jurisdictions, effect on the region.
• Effect: improvements in reliability, reductions in congestion costs.
• Challenges and Risks: siting difficulties, long lead times, financing challenges, regulatory and political risk.
And on some past occasions, FERC has applied these tests to an aggregated group of projects when presented for consideration in the aggregate. However, in the recent companion cases, (one involving PJM and Public Service Electric & Gas, the other Oklahoma Gas & Electric) the commission ruled that applicants for incentives must now supply evidence and proof of the non-routine nature of the grid expansions not in the aggregate, but on a project-by-project basis. (See, PJM Interconnection, Docket ER11-1985, Dec. 30, 2010, 133 FERC ¶61,273; and Okla.G&E, Docket ER11-112, Dec. 30, 2010, 133 FERC ¶61,274.)
Nevertheless, does this new policy of treating projects separately actually make sense, given the real-world ways of construction financing?
In his affidavit (cited previously) in support of Edison's pending request for transmission rate incentives for grid expansion projects to interconnect the Millennium Solar and related projects, Dr. Hunt notes that lenders will view Edison's previous and current financing requests as a single combined corporate risk, despite any insistence from FERC that the need for incentives must be determined separately, project by project. Hunt describes the problem that Edison will face in attempting simultaneously to finance many large grid expansions, such as the Tehachapi Renewable Transmission Project, the Devers-Colorado River Transmission Project, Eldorado-Ivanpah, Lugo-Pisgah, Red Bluff, and the new set of network upgrades designed to serve the Blythe and nearby solar developments:
"When the financing requirements of the [new] transmission projects are added to the financing requirements of these aforementioned projects [Tehachapi, etc.], they pose considerable adverse effects on SCE's cash flow and financial metrics. This is because the total investment is approximately $3.1 billion over the period from 2010-2014, a figure that represents approximately 14 percent of SCE's total system investment during this period."
Hunt reminds FERC that when seeking financing, Edison will be treated just like any homeowner seeking a mortgage who is also carrying old school loans or credit card debt:
"Investors will view the transmission projects in light of SCE's total transmission and capital spending. While investment in the [current] transmission projects is significant, it is not this investment alone that concerns investors, but the size of SCE's total transmission investment and total capital investment."