New Opportunities: James H. Lash was promoted to president, FirstEnergy Generation for Akron. Lash is currently president and chief nuclear officer for FirstEnergy Nuclear Operating Co.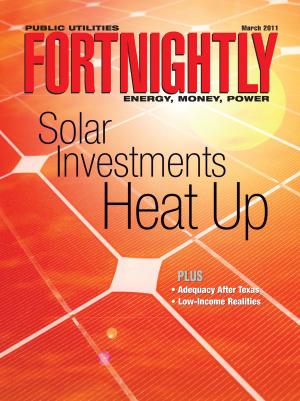 FirstEnergy also promoted Peter P. Sena to president and CEO of FirstEnergy Nuclear Operating Co., James V. Fakult to president of Maryland Operations, and Dennis M. Chack to president of Ohio Operations.
Ohio Edison promoted Donald A. Moul to regional president. Moul was v.p., nuclear support, for FirstEnergy Nuclear Operating Co.
Toledo Edison promoted Randall A. Frame to regional president. Frame was director, utility and corporate sourcing, supply chain.
Constellation Energy made several changes within its leadership team: Jennifer E. Lowry was named v.p. and treasurer, from assistant treasurer, and Stephen J. Woerner became v.p. and CIO. Previously Woerner was v.p. of transformation. The company also named Reese K. Feuerman to the newly created role of v.p., operational finance. Feuerman was previously CFO and treasurer at Baltimore Gas & Electric.
Chesapeake Utilities named William B. Zipf v.p. of Eastern Shore Natural Gas Co.
Puget Sound Energy and its parent company, Puget Energy, appointed Steve R. Secrist v.p., general counsel and chief ethics and compliance officer.
Dominion Resources promoted Daniel Weekley to v.p. of government affairs.
Moanica Caston was elected v.p. of diversity by the Georgia Power board of directors.
Ross Ridenoure joined Parsons as v.p. of nuclear energy initiatives. Previously Ridenoure was senior vice president, chief nuclear officer and site manager for Southern California Edison's San Onofre nuclear plant.
California Gov. Jerry Brown appointed Carla Peterman to the California Energy Commission. Peterman was a researcher at UC Berkeley's Energy Institute at Haas School of Business.
Washington Gov. Chris Gregoire reappointed Commissioner Philip Jones to a second six-year term on the Washington Utilities and Transportation Commission (UTC).
Robert L. Crowell was named head of development at OwnEnergy. Crowell will be responsible for seeing all of the company's community wind farm projects through construction.
Ice Energy named Robert L. Davis as v.p., utility market development. Davis previously was director of strategic planning for R.W. Beck, and a utility analyst for Gainesville Regional Utilities before that.
Peter Mastic joined National Wind as president and chief development officer, with overall responsibility for project development and project finance. Mastic was previously founder and CEO of Third Planet Windpower.
The Smart Grid Consumer Collaborative (SGCC) appointed Patty Durand as its full-time executive director.
The Biomass Power Association (BPA) announced that Gary Melow has been appointed state projects coordinator.
Boards of Directors: The Babcock & Wilcox Co. named Anne R. Pramaggiore to its board of directors. Pramaggiore is president and COO of ComEd.
GridWise Alliance announced that Bob Shapard, chairman and CEO of Oncor, will serve as the next chairman of its board of directors. He succeeds Guido Bartels, general manager of global energy and utilities for IBM.
USEC's board of directors elected M. Richard Smith as a director. Smith brings nearly 40 years of power industry engineering, construction, project management and M&A experience.
EnergyHub announced that David Brewster has joined its board of directors. Brewster currently serves as president of EnerNOC.
We welcome submissions to People, especially those accompanied by a high-resolution color photograph. E-mail to: people@pur.com.