Deck:
In the Pacific Northwest, you either spill water or spill wind.
Author Bio:
Bruce W. Radford is publisher of Public Utilities Fortnightly.
Back in 1941, when Woody Guthrie sang the praises of the Grand Coulee dam ("to run the great factories for old Uncle Sam … Roll on, Columbia, roll on"), he likely never imagined that its owner, the Bonneville Power Administration (his songwriting patron), might someday be forced to give away its clean, green hydropower for free, or even pay customers to agree to take it.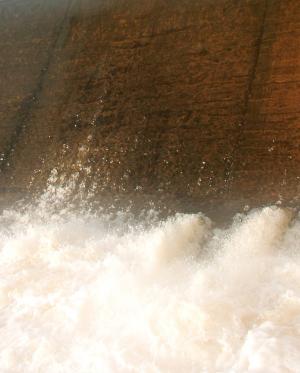 Yet that is exactly where BPA could find itself today, due to the interplay of high water runoff, weak local load, and a huge, sudden influx of wind-powered generating capacity in the Pacific Northwest.
That prospect arises under one of the most complex cases to be brought before the Federal Energy Regulatory Commission in years. In essence, the wind industry has asked FERC to rule that if BPA wants to continue to play its traditional New Deal role in bringing cheap power to the people, while simultaneously promoting irrigation, agriculture, flood control, recreation, fish and wildlife, and other environmental aims, it will need to do so under modern-day market precepts—which, under certain conditions of stream-flow dynamics and electric supply and demand, might imply a zero or even negative price for its hydro output.
The immediate culprit isn't wind, however, but greater volumes of spillway discharge. This increased "spill" creates high levels of TDG—"total dissolved gas"—and the dangerous resulting GBT (gas bubble trauma, when gas bubbles invade the tissues of aquatic organisms) that can prove fatal to the health of fish (especially salmonids) native to the Columbia River System.
Jason Sweet, a fishery biologist for BPA, explained the problem in testimony he gave in June in the aforementioned case now pending at FERC: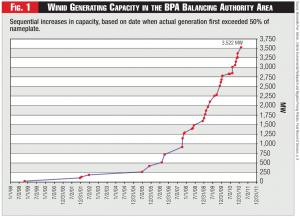 "When water is spilled from a dam it entrains air as it plunges to the spilling basin or plunge pool at the base of the dam. The momentum of the fall carries the water and entrained gases to great depths … and under increased hydrostatic pressure, the entrained gases are driven into solution, causing supersaturation of dissolved gases…
"When TDG levels exceed equilibrium and become supersaturated, the potential … for gas bubble disease or gas bubble trauma increases …
"As the levels of TDG increase, the incidence and severity of GBT also increase[s]…" (see, Affidavit of Jason C. Sweet, pp. 3, 7, FERC Dkt. EL11-44, filed July 19, 2011).
This need to boost the spill can occur especially in late spring, from mid-May to mid-June. That's when high-volume runoff from melting snowpack conspires with the reduced load requirement that typically attends this shoulder season. That, in turn, forces BPA to run a lesser volume of water though its power generating hydroelectric turbines—a situation exacerbated in recent years by a growing wind power sector that displaces BPA's traditional hydropower, creating the same effect as if the new wind resources had actually shrunk BPA's load even further.
And moreover, this growing wind industry tends to behave differently from more traditional fossil-fired thermal generation. For one thing, wind turbines operate with no variable fuel costs, giving wind farm owners little reason to ramp down, even if low load sends prices falling. Also, the wind farm and its customers lose federal production tax credits and state-issued renewable energy certificates when the resource goes off line. That provides yet another reason why wind generation won't go quietly to allow BPA to power its turbines and avoid harmful spill in managing volatile flows on the Columbia and its tributaries, and why BPA has begun to face serious difficulties in meeting its statutory obligations. Then consider that BPA expects to see a doubling of wind capacity in the next few years, up from the 3,522 MW reported to be on line as of February 2011. That doubling, it's believed, will represent a 1,900 percent (nearly 20x) increase in wind generating capacity over just six years (see Figure 1).
BPA explained in its answer to the wind industry complaint, filed on July 19:
"In the past, Bonneville has managed high-water events by marketing its excess FCRPS generation [the Federal Columbia River Power System] at low prices in the Pacific Northwest and California. This strategy has been successful because thermal generators have been willing to be displaced by low-cost hydro…
"Today, however, with the combination of legally mandated spill requirements and the interconnection of a significant amount of wind generation on Bonneville's system (which does not voluntarily curtail when prices approach zero), Bonneville is unable to continue to manage high-water events to meet its environmental obligations without employing additional tools."
Just what those tools might look like became clear in May, during this year's spring runoff, the fourth highest since 1929, as the Pacific Northwest experienced a record cold and wet spring, driven by the same La Niña weather pattern that brought scorching temperatures to the nation's heartland this summer.
Redispatch Regime
On May 13, BPA announced a new interim solution for managing high-flow, load-load conditions on the Columbia, to remain in place for 12 months, known as the "Interim Environmental Redispatch and Negative Pricing Policies."
Under this new regime, developed through a stakeholder process that began after the spring 2010 runoff pushed resources to the limit, BPA announced that, if necessary to avoid harmful spill and satisfy its statutory obligations—to preserve fish and wildlife, to market low-cost hydropower to state and municipal preference customers, and to operate and recover costs in a businesslike fashion—it wouldn't agree to accept a negative price in order to over-generate and divert water through dam turbines. That is, it wouldn't agree to pay customers, as the market otherwise would dictate, for the privilege of running its turbines to avoid harmful spill when to do so would produce output in excess of the actual hydropower load requirement. Rather, it would simply curtail non-federal generation as needed—thermal plants first, followed by wind—and replace that power with its own turbine-generated FCRPS output, and send it to the would-be thermal and wind off-takers, using the same transmission capacity and schedule rights owned by the curtailed thermal and wind plants. And BPA under this policy wouldn't consent to pay a negative price, nor would it agree to compensate curtailed wind generators for lost PTCs and RECs (see, Final Record of Decision, May 13, 2011).
Contemporaneous with adoption of its new environmental redispatch policy, Bonneville notified its generation interconnection customers that it was unilaterally revising each existing large generator interconnection agreement to clarify that nonfederal generators (such as thermal and wind) would be bound to comply with orders from the balancing authority (BPA) directing them to reduce generation. In fact, in its final record of decision, Bonneville stated that these unilateral amendments would simply clarify existing contractual rights.
BPA's new policy kicked in almost immediately after its adoption. Beginning on May 18, and extending through July 18, BPA redispatched (i.e., curtailed) approximately 97,000 MWh of wind generation (5.4 percent out of some 1.76 million MWh of wind generation produced during that period) to deal with the 2011 high-water event. During the same period, BPA sold approximately 250,000 MWh of federal hydropower generation at a price of zero.
The wind industry quickly replied, with Iberdola, NextEra, Invenergy, PacifiCorp, and Horizon joining in a complaint filed at FERC alleging that by displacing wind with hydropower, BPA in effect was confiscating transmission rights, denying comparable service as required by FERC Order 890, and unlawfully abrogating generation interconnection agreements. The complaint suggests numerous remedies, including the idea that FERC exercise its authority under Federal Power Act 211A to compel Bonneville to file a reciprocity open-access transmission tariff (OATT) (FERC Dkt. EL11-44, filed June 13, 2011, amended June 17, 2011).
At its heart, the complaint argues that while BPA remains bound to meet public policy goals, the law nevertheless should roll the costs of these environmental tasks into BPA's power marketing activities, as a cost of doing business, either by forcing BPA to pay negative prices, or else compensate curtailed generators for lost revenues.
As stated by attorney Donald Kaplan (K&L Gates), representing PPL Companies, "BPA seeks to use its market power over transmission … to avoid costs to its customers associated with … spill and water constraint requirements…
"BPA has shifted the costs of complying with environmental regulations from its power customers to its transmission and interconnection [wind] customers."
Kaplan suggests that BPA's environmental redispatch policy is really "just a discriminatory solution to an economic problem" (Comments of PPL Companies, filed July 17, 2011).
Other opponents worry that Bonneville's redispatch policy will impose a chilling effect on wind industry development. Caithness, which received a partial loan guarantee from DOE last December to aid $1.3 billion in financing for its planned 845-MW Shepherds Flat project in eastern Oregon—one of the world's largest wind projects—warns Bonneville that state RPS laws in the Pacific Northwest "will never be met" if BPA can expropriate wind project transmission rights by unilaterally amending signed interconnection agreements.
Portland General Electric voices concern that BPA policy will send "false signals" about grid flow patterns because it substitutes hydropower for wind without changing the transaction e-tags.
As Xcel adds, "failure to correct the generation source on the e-tag will result in tags showing production of renewable energy credits that in fact may never have been produced."
Overall, Bonneville argues that its redispatch policy involves generation dispatch, not transmission, and so FERC has no cause to get involved. As Bonneville explains, it was forced to act because of the particular attributes of wind generation—with subsidies from PTC and REC revenue streams. Thus, as Bonneville notes, "wind operators are seeking to export their lost opportunity cost to another party"—namely BPA's hydropower preference customers.
But on the subject of e-tags and mislabeled RECs, Bonneville counters that in September 2010 at the California Public Utilities Commission, it had proposed that the PUC could allow California utilities to count for RPS compliance the eligible but curtailed renewable power that otherwise would have been generated in the BPA balancing area in the absence of any redispatch ordered by BPA to avoid excessive spill harmful to fish—only to see the idea rejected, as wind developers in California had opposed any rule that might undermine public confidence that all renewable energy earning RECs was actually being generated and delivered to load (See Affidavit of Douglas Marker, Attachment A to Answer of Bonneville Power Administration, FERC Dkt. EL11-44, filed Aug. 15, 2011).
In fact, Bonneville touts various efforts it has taken to support wind developers in its balancing area.
For example, Bonneville reports that it's working with the California Independent System Operator on a joint pilot project to better integrate BPA's intra-hour scheduling with CAISO's market approach. And back in 2009, Bonneville established a wind integration service charge, now known as VERBS (variable energy resource balancing service), to bill the costs of providing regulation reserves, load-following reserves, and imbalance reserves required to accommodate intermittent wind generation (see, "How BPA Supports Northwest Wind Power," May 26, 2011, available at www.bpa.gov).
On the whole, it's difficult to predict how the FERC might deal with Bonneville's redispatch plan and the wind industry complaint, particularly because of the unique status that BPA enjoys as a New Deal entity.
On one hand, given that FERC Order 890 made it optional for non-jurisdictional entities such as Bonneville to file reciprocity transmission tariffs, and promised only case-by-case, after-the-fact review of their open-access practices, what better test case than this one? As one wind developer suggested, if FERC doesn't apply FPA sec. 211A to this case, then the provision will become a "nullity."
Yet, as to whether Bonneville has properly met its statutory obligations, FERC must give way to the Ninth Circuit Court of Appeals—where, by the way, the wind industry complainants also have filed appeals (see, Motion to Lodge of Joint Intervenors, filed Aug. 2, 2011).
Several industry players have suggested that absent a rate case filing from BPA, FERC lacks any jurisdiction to rule on whether Bonneville's environmental costs of water system management should be allocated to and recovered from transmission customers—as occurs now under the environmental redispatch policy when Bonneville curtails wind generators to avoid excessive spill and safeguard fish—or whether those costs should be assigned to hydropower preference customers, by forcing Bonneville to pay a negative price to earn the right to generate the excess hydropower that achieves that goal.
In fact, good cause exists to treat the complaint as an unlawful collateral attack against a Bonneville administrative policy, review of which lies not with FERC, but only in the federal courts.
Nevertheless, the industry response to this case suggests an undercurrent of feeling that Bonneville has become something of a rogue actor by deciding openly not to file a safe harbor OATT, prompting a final ruling from FERC that BPA's OATT no longer qualified for open-access reciprocity (see Dkt. NJ09-1, April 12, 2011, 135 FERC ¶61,023).
In a recent white paper, Bonneville itself admitted that "BPA customers disagree on how high a priority the agency should put on seeking reciprocity, compared to other regional priorities" (see, "Conferring with customers on BPA's transmission tariff," BPA, Feb. 16, 2011).
As argued by TransAlta Energy Marketing, in commenting on the complaint, Bonneville's failure to maintain a reciprocal open-access tariff, among other actions, demonstrates that "BPA intends to operate its system in a vacuum without regard to national policies."
Fishful of Dollars
In written comments filed to help support the wind industry complaint, the Northwest Wind Group—an unincoporated BPA customer group composed of wind turbine manufacturers, trade groups and project developers—argued that Bonneville's exercise of wind generation curtailments under its environmental redispatch policy appeared to be designed more to save money for BPA and its preference customers, than to protect fish.
To support that allegation, the group presented numerous graphs and charts to show that Bonneville's redispatch curtailments were correlated more directly with day-ahead market prices at the Mid-Columbia trading hub, rather than TDG levels.
Thus, the group argued Bonneville could well have avoided the wind curtailments, since "if BPA had spilled the amount of water necessary to avoid curtailing the MWh of wind that were in fact redispatched, there would have been no significant or divergent increase in TDG levels." Rather, for the same degree of wildlife protection, the group suggested that Bonneville could simply increase its hydro generation when needed to avoid spill, sell it into the market at low or even negative power prices, and then offset any losses against the significant net profits expected from hydro sales conducted at other times—projected by BPA to reach $670 million in 2012, and $727 million in 2013 (Comments of Northwest Wind Group, filed July 19, 2011, amended Aug. 10, 2011).
In fact, Bonneville concedes that its wind curtailments appear more strongly correlated to price than to TDG levels, but stresses that this appearance is pure coincidence.
The wind curtailments, it argues, are best understood as a remedy for insufficient load to support turbine operation to absorb all the excess water behind the dams that otherwise would have to be spilled. As Bonneville explains, it can curtail wind and substitute hydro power only if it has unused turbine capacity available. Thus, Bonneville's environmental redispatch and wind curtailments tend to take place during times of low load and low power prices—which might or might not correspond to periods of high TDG levels.
"The mistake," Bonneville argued, in an answer filed August 15, "is concluding that this means there is no correlation between environmental redispatch and TDG levels."
Going Negative
While Congress created the Bonneville Power Administration in the spirit of New Deal egalitarianism, to serve the public good, BPA nevertheless remains bound by statute to be fiscally self-supporting—to ensure the distribution of low-cost power to its preference customers, yet operate according to sound business principles.
So why wouldn't BPA be required to pay compensation to curtailed wind generators, as a "sound business principle?"
As it turns out, the FERC initially sought comment on that very question in its notice of inquiry regarding redispatch and curtailment practices necessary to accommodate variable energy resources (VERs) in real time, and received comments from wind developers, including Iberdrola and NextEra, urging FERC to institute market reforms that would require payment of compensation to wind generation curtailed during an over-generation situation.
However, as was pointed out in written comments in the BPA case filed by the National Rural Electric Cooperative Association, FERC declined to propose such a rule in its still-pending proposed rulemaking on VERs, explaining that further study was required (See, Integration of Variable Energy Resources, Notice of Proposed Rulemaking, Dkt. RM10-11, Nov. 18, 2010, 133 FERC ¶61,149).
Meanwhile, Bonneville appears dead set against going negative—i.e., paying for the privilege of running its turbines to manage the hydraulic system when demand for electrical energy is lacking.
Bonneville concedes that negative prices sometimes prevail in power markets, but only for brief periods, and without much advance warning. By contrast, it argues, the heavy spring runoff in the Pacific Northwest can be anticipated and milked by resources such as wind, which can live off PTC and REC revenues, and thus run at a zero price for an extended period, sparking a race to the bottom.
Negative pricing, Bonneville argues, could produce the converse of the California power crisis seen a decade ago:
"CAISO was forced to offer sky-high prices to keep the lights on… Just as the ISO purchased power at any price to avoid blackouts, Bonneville could be forced to pay any negative price to avoid spill."