Deck:
Smarter States, Smarter Communities
Author Bio:
Sara Bluhm is the director of the Clean Energy Division of the New Jersey Board of Public Utilities.
PUF: What do you do at the New Jersey BPU?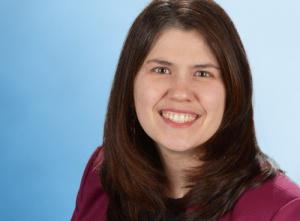 Sara Bluhm: I'm the director of the clean energy division at the Board of Public Utilities. We are one of the most exciting divisions in the state. We have the pleasure of being able to implement New Jersey's Clean Energy program, as well as the development of our renewable sector for solar and offshore wind. We're also working on cutting-edge technologies like alternative fuel vehicles, and battery storage.
PUF: You have a lot of responsibilities with New Jersey's involvement in clean energy.
Sara Bluhm: Yes. We are at a pivotal point in the industry where there is a lot of change occurring, and there is also a change in how regulators typically work. That's part of what makes this exciting. There is a lot going on, and there are many opportunities both to fulfill Governor Murphy's goals and to be on the cutting edge of different technologies that are impacting the energy sector.
PUF: What's happening in New Jersey in the areas of technology and data in transportation, resilience, micro grids, lighting, street lighting, and public safety?
Sara Bluhm: First and foremost, it all starts with a new administration. That's important to look at and capture. Under Governor Murphy's leadership, we were fortunate to be chosen as one of the five states within the National Governors Association's Smarter States initiative, and having a fresh administration allows us to do things differently than in the past.
New Jersey wants to be stronger and fairer, and we're also looking at how we can become smarter. We have been a birthplace of innovation, and we continue to position the state so that we are on the cutting edge.
A lot of that is looking at something as simple as working across agencies. We've been able to realize opportunities and plan together. If you look at it this year, our economic development agency was able to release an economic pathway forward for us that took input from other agencies.
If you look within it, we're featured for some of our wind work and the way that we collaborate. The BPU is currently heading up the energy master plan, which is an interagency work group. It's being able to figure out, what are the pathways to 2030, when we have a goal of 3,500 MW of offshore wind and 2050 when we have a goal of 100 percent clean energy?
We are taking a lot of innovative steps within technology, but at the same time sometimes it is something as simple as the agencies coming together to realize those opportunities and advance them quicker.
We've been very fortunate being part of NGA, but also the state has been doing a lot of smart things. For example, we have the most electric vehicles of any state in the PJM region.
We have a charging program for employers and public places within the state. We are looking at ways that we can improve future mobility cross-agency. We're able to look at ways that we can make New Jersey stronger and fairer. That goes back to looking at where we can improve through some of these technological items.
If you look at my agency specifically, under the leadership of President Fiordaliso, we are going through quite a whirlwind of advancement at the moment. We have the largest solicitation for offshore wind in the nation.
We're looking to add energy storage right now.
There is a micro-grid pilot program underway right now. We have a smart meter pilot program going on. There is a lot of collaboration, but we are also looking toward the future and how we position New Jersey in a state of innovation.
PUF: What can we expect in the next three to five years?
Sara Bluhm: We have impressive goals set. While the energy master plan isn't finalized yet, we're on track to release it in June of this year. That is going to have the pathways through 2030, as well as 2050, but you will see some earlier goals related to energy storage.
We have our offshore wind solicitations happening right now, and there are goals for electric vehicle deployment. We also have some pilots going on with our electric bus and transit system that'll be coming online within the next few years.
PUF: How do your vendors and advocates help drive this and accelerate these trends?
Sara Bluhm: We have engaged in a robust stakeholder process. For our energy master plan alone, we've had seven public meetings. We'll be picking up in the spring again, but we've had an active community solar stakeholder process.
One of the goals that the governor has set out is to put us on a pathway to a hundred percent clean energy by 2050. There have been many stakeholder processes around that. Then looking at our regular course of business, we have routine energy efficiency and renewable work.
Anyone is welcome at the table. Our door is always open for best practices and innovative thinking.
PUF: Why are these initiatives valuable for retaining and attracting new businesses and talented citizens who want to be in New Jersey?
Sara Bluhm: One of the things that has come out this past year has been the collaboration of cross-government agencies, and to be able to have a government that is working at its peak and able to deliver to its citizens, hopefully reducing costs at the same time. It's beneficial for everybody.
Being able to align our economic growth strategy, our energy plan, and other policies that are key to the governor's administration is beneficial for everyone. New Jersey is one of the densest states in the country, and we have a talented pool of workers.
We also have a great transportation system. As we're examining how we are able to improve our energy ecosystem, we're going to be able to realize that's for everybody, whether that's better traffic timing or being able to have reduced greenhouse gas emissions because we've got renewables. We're looking at all different sectors of the economy and different ways that we can improve people's lives.
New Jersey is the most improved state in energy efficiency this year, according to ACEEE. That's something that we're continuing to measure against our competitors and are looking at ways that we can improve to be able to show that New Jersey is where things are happening.
We've got the largest solicitation for offshore wind out of any state. We're looking to grow that industry here, but we're not forgetting about other areas. We're looking at how we can bring innovation and be able to remain cutting edge in New Jersey.

'Smarter States, Smarter Communities' interviews: