Deck:
New technologies are helping windpower mature as a viable power supply choice for utilities.
Author Bio:
Michael T. Burr is Public Utilities Fortnightly's editor-at-large. E-mail him at burr@pur.com.
Few people understand how to ride shifting winds better than Jim Dehlsen does.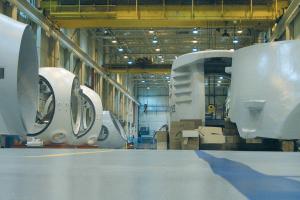 Dehlsen founded Zond Energy Systems 25 years ago, and steered the company through a series of major changes and challenges—the oil-price collapse of the 1980s; ambivalent energy policies, with on-again, off-again production tax credits; and the sale of controlling interests in Zond to Enron in the late 1990s.
Should it come as any surprise, then, that Dehlsen still is bullish on windpower's prospects?
"The market is finally coming alive for wind," says Dehlsen, CEO of Clipper Windpower, a highly Zondesque upstart that he co-founded with his son in 2001. "We've been at it for a long time. But only in the last couple of years have we seen a real willingness to make wind part of the mainstream power supply. And a lot of it is coming from utilities."
Some of the reasons are simple. For starters, market economics have made windpower more attractive than it once was. While prices for fossil fuels have oscillated wildly, wind's operating costs have held relatively steady. As a result, windpower has emerged as a nice, environmentally benign hedge against fuel-price risks, even if it isn't a big percentage of total generation.
But the current enthusiasm for windpower also is attributable to last year's renewal of federal production tax credits (PTC) for wind and other renewable energy sources, and a generally favorable political climate for extending the PTC again. At least two Senate bills were introduced earlier this year that would extend the credits (S.2398 and S.2401), and soaring energy prices are strengthening to PTC-renewal efforts.
Whether because of market forces or political fortune, wind energy seems to be sweeping into the power-industry mainstream. Such banking institutions as Goldman Sachs, JP Morgan Chase, GE Capital, and Standard Chartered Bank are putting big money into wind development. The new giant wind machines are generating up to 6 MW each, and true utility-scale wind projects are no longer a novelty. Technology advancements and new regulatory guidelines are facilitating grid integration, and new assembly plants in the United States have been announced. Even if they haven't entered full production, they have at least begun prototyping, and turning out some promising new designs.
But where these trends will lead depends on factors that are difficult to predict today. First-generation megawatt-scale turbines have suffered a raft of costly gearbox failures, and the durability of the latest multi-megawatt turbines has not been tested over a 20- or 30-year life span.
Although fuel-price pressures seem unlikely to abate any time soon, policy approaches for encouraging renewables remain in flux. The U.S. wind market has been weirdly distorted by a combination of ambivalent regulatory treatment and a technology patent that has limited turbine choices.
Given these uncertainties, only time will tell whether the current boom signals windpower's entry into the utility mainstream in America, or just another updraft in a notoriously turbulent business.
Best Year Ever
Business is booming for wind-turbine manufacturers. Worldwide, 2005 reportedly was the "best year ever" in the windpower industry, according to Danish wind consultants BTM Consult ApS. Turbine sales spiked 40 percent from 2004, with 11.4 GW of wind turbines sold, and last year's frenzied pace continues in 2006. Assembly plants are piecing together nacelles and rotors as quickly as they can get the parts for them, and virtually all major vendors selling into the United States have pre-sold their turbine output through the end of 2007.
"The PTC is the driver of installations in the United States," says Robert Gleitz, general manager with GE Power Systems' wind business. "We see the United States as a booming market until the end of 2007. The big question is what will happen after the PTC expires, if it isn't extended."
Although prospects for extending the PTC seem favorable, regulatory uncertainty has served to limit the potential of windpower in this country. Turbine manufacturers have learned the hard way that investing in U.S. manufacturing is a risky proposition, and their concerns logically pass through to the companies that supply their hard parts. "We are facing a tough situation with the supply chain," Gleitz says. "Getting components is a real challenge. With the on-and-off situation created by the PTC, our suppliers don't have sufficient visibility into markets to put money on the table and invest in additional manufacturing capacity."
The practical effects of this manufacturing bottleneck are twofold. First, it means prices for wind turbines have increased dramatically—reportedly 20 to 30 percent. Second it means only a certain number of new turbines will be available, whether more projects could capitalize on the PTC or not.
Also, U.S. developers can't always access the full range of turbine equipment available in the international market, exacerbating this situation. For example, Enercon GmbH of Germany builds the largest turbine in the world—the 6 MW E-112. But Enercon has no U.S. sales offices, and its turbines have been notably absent from U.S. wind markets since GE prevailed in a lawsuit and effectively enjoined Enercon from selling its variable-speed machines here without a technology license. In 2004, Enercon and GE settled their dispute with a joint licensing agreement, but that agreement has not yielded any U.S. sales announcements from Enercon.
Likewise Gamesa Eólica of Spain announced a licensing agreement with GE that would allow Gamesa to sell its variable-speed turbines in the United States. In February, Gamesa announced plans to build three additional manufacturing facilities in Pennsylvania to supply its 2-MW G8X variable-speed turbines for U.S. customers, with manufacturing set to begin as early as this summer.
A wider range of equipment choices would benefit the U.S. wind market, but GE's patent has not created an insurmountable barrier for manufacturers seeking entry into U.S. markets. GE is the U.S. market leader by far, selling 60 percent of the turbine capacity installed in 2005, according to the American Wind Energy Association (AWEA). But Vestas of Denmark, the global market leader, built nearly one turbine out of every three sold in the United States last year, and Mitsubishi supplied almost one in 10. Also, Vestas, Mitsubishi, Siemens, Gamesa, and Suzlon have developed workaround technologies that enable them to bring variable-speed machines into the United States, apparently without treading on GE's intellectual property. GE's patent itself has spurred innovation in finding new ways to accomplish variable-speed operation and VAR control, and to advance other goals.
"Almost all turbine manufacturers are now working toward more sophisticated control algorithms," says Christina Aabo, international product manager with Suzlon in the company's Denmark offices. "The turbine is becoming more intelligent, and has been for the past several years."
Better Beaters
Wind turbine technology is advancing at the front end, in control and automation systems, and at the back, in gearboxes and generators.
"We are spending our money to get higher efficiency turbines," Gleitz says. "We want capacity factors at the highest levels, and that means we must focus on improving the efficiency of blades to capture kinetic energy from the wind. The key question is how to convert energy from wind, and lose less in energy transformation."
As such, manufacturers are working on adaptive airfoil shapes that capture wind more efficiently across a range of wind conditions, as well as advanced materials that reduce various types of stress on the system.
"Well-designed blades are important," Aabo says. "But the main thing to get higher performance is to improve how it is operated."
Because wind speeds can vary substantially from the top to the bottom of a 90-meter rotor, adjusting pitch angle during the blade sweep to adapt to changing wind speeds can reduce the amount of stress being placed on the system. The result is less need to overrate components, and lower materials requirements and weight—which further reduce stress.
"We are working on optimizing individual blade pitch, as it goes through its sweep from top to bottom," Aabo says. Suzlon calls the technique "micropitching." "That's caused headaches for our control people, but we're getting it done."
The idea of adaptive blades is not especially new, but automation and control systems are getting steadily more complex and powerful as technology marches forward. The same is true of wind-park operations and control systems. "The brain of the windpower plant is the SCADA system that can operate the wind park to a high degree of efficiency," Aabo says. "Manufacturers are looking at projects as a power plant, taking a more holistic view."
The next generation of control systems is applying more intelligence to entire wind parks, managing operations according to dynamic wind conditions as well as power loads, both active and reactive. And even more broadly, project engineers and planners are analyzing wind resources with more intensive data-crunching capabilities, to inform equipment and facility design decisions.
"We're using historic weather data for 3-dimensional weather modeling, and combining that with the utility's load and operational data, to re-create what a hypothetical wind plant would have produced if it had been there," says Mark Ahlstrom, CEO of WindLogics Inc. in St. Paul, Minn. The models draw upon a huge database of historic global weather conditions, going back 57 years in some locations. Additionally, they incorporate topographic and surface features to further refine wind-resource simulations.
WindLogics was engaged by Xcel Energy and the Minnesota Public Utilities Commission to model the state's wind resources and analyze them in terms of hypothetical projects, including their effect on the transmission grid and their wholesale market implications. The model will simulate energy production on five-minute intervals at 152 points across the Minnesota landscape, as part of the state's mandate to increase renewable energy's market share to 20 percent of power consumed.
"To achieve such a high penetration of wind, you need to understand how higher percentages of renewable energy will impact the system," Ahlstrom says. "We're incorporating an AREVA grid-integration simulation, and we've had a lot of involvement with MISO [Midwest Independent Transmission System Operator]. It's the most extensive combination of modeling ever done in the windpower industry."
Innovations are emerging in less esoteric areas as well. In the aftermath of widespread durability problems involving large turbine gearboxes in the field, manufacturers have focused on hardening components and rethinking designs. "We believe the gearbox failures have occurred because as rotors scale up, RPMs slow down," Dehlsen says. "That translates into much higher torque, and the industrial gearboxes have reached their limits."
Clipper's solution to this issue is to use a pair of massive bull gears, driving four sub-gear sets that drive separate permanent-magnet generators. A prototype of its 2.5-MW Liberty turbine, using such a design, is operating at a National Renewable Energy Laboratories site in Wyoming.
"Our drive train splits the load path 16 times in the first stage, whereas a conventional gearbox will split it about four times," Dehlsen says. This dramatically reduces the forces applied to gear teeth, affording more generous structural margins and extending component longevity, while reducing gearbox mass. Furthermore, permanent-magnet generators save weight by eliminating the need for copper windings.
Other manufacturers also are developing unconventional approaches. Vensys, for example, is operating a prototype in Nova Scotia of a turbine that uses no gearbox at all, but instead directly drives a large permanent-magnet generator. Such developments are garnering a great deal of interest as manufacturers seek ways to improve efficiencies and reduce costs.
"A couple of years ago, watching newcomers in the field, we more or less laughed at them," Aabo says. "But now it looks like they are getting into something, and some of these technologies might break through."
Beyond Boom & Bust
Windpower often is touted as the world's fastest-growing power-generation technology. And in the face of historic fuel-price peaks, policymakers are more eager than ever to propel windpower's progress. As a result, the PTC seems likely to be renewed in Congress, and U.S. wind development will continue at a strong pace, even if structural factors constrain that growth.
"We are advocating a more stable and visible incentive for wind, because that's the only way this industry will be able to achieve independence," Gleitz says.
Moreover, for wind projects to attain strong economic fundamentals, the magnitude of incentives might need to increase in the future. As manufacturers and developers have pushed life-cycle costs lower to attract non-recourse project financing, the comfort margin for an economically and operationally stable project has shrunk as well.
The good news is that new developments in windpower technologies are taking some of the burden off life-cycle costs, even as they reduce chances for component failures. As that happens, utilities will become more comfortable with windpower as a reliable supply option, and PUCs and ratepayers more readily will encourage utilities to invest in wind capacity.
"Utilities, particularly those that don't have wind-project development experience, are becoming eager to acquire existing or new wind projects," Dehlsen says.
Utility investment is important because it commits ratepayers to financing windpower as a capital investment—not just as a tax-subsidy pass-through. This will expand the universe of wind-project sponsors, and bring low-cost utility capital to the wind-farming business. Ultimately, these developments may help to sustain a healthy windpower business for the long term, allowing it to fully enter the power-generation mainstream.