Deck:
Smart metering is coming of age. Is the utility world ready for it?
Smart metering is coming of age. Is the utility world ready for it?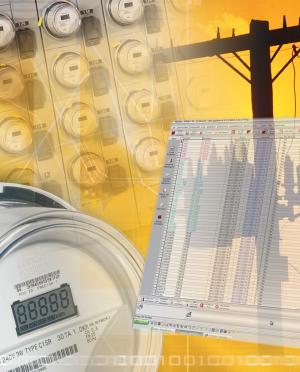 When Chris Hickman left Public Service of New Mexico (PNM) in 2004, he took his practical sense along with him.
Hickman managed PNM's capital-expense budget and led the company's T&D automation projects. During his 15-year tenure, Hickman learned firsthand how complex and difficult it can be for a utility to make big changes—technical or otherwise. As such, he understands the industry's reluctance to jump on the latest technology bandwagon.
"Our industry has done the same thing for 100 years," says Hickman, now executive vice president for regulatory affairs and business solutions at CellNet Technology in Colorado Springs, Colo. "That's because it worked very well. The U.S. utility grid was the greatest engineering achievement of the 20th century."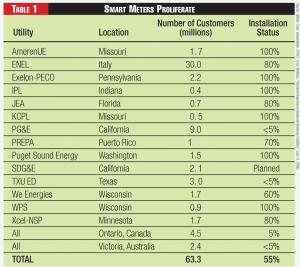 The 20th century is over, however, and Hickman is not the type of guy who is happy to rest on the laurels of yesterday. He expects more, and that leads him to ask tough questions, such as: "How can it be that most utilities cannot tell if your power is out?"
The answer to this question has driven Hickman—and a growing cadre of others in business and public-policy circles—to devote themselves to advancing smart metering as a vital step toward a bigger and more important goal: the intelligent grid.
"Smart meters are the enabling technology for a huge, revolutionary step forward for our industry," Hickman says. "It will change the way we do everything."
An intelligent grid would allow T&D operators to analyze orders of magnitude more data about operational conditions and load-patterns, and give them system control on a granular scale. It is a very powerful idea for the industry, with tantalizing potential benefits in load management, system engineering, marketing and other areas—some yet to be imagined.
This vision is taking clearer shape, as time-based rate programs become regulatory policy in many jurisdictions, including some U.S. states (see Table 1, "Smart Meters Proliferating") . In an ongoing series of policy proceedings, Hickman and other smart-metering champions are working to move the rest of the United States toward the same vision, one state at a time.
Transformation?
The term "transformation" has entered the pantheon of meaningless buzzwords, alongside words like "paradigm shift" and "optimization." Nevertheless, advanced metering infrastructure (AMI) and dynamic-pricing programs promise to transform today's utility industry into a somewhat different business—one that understands its customers' usage much better, and can provide service more efficiently, reliably, and securely.
"A decade ago, customer service was not high on utilities' priority list," Hickman says. "That has changed. And with a constrained grid and rising fuel costs, people are beginning to realize the incremental benefits of a smart grid."
An actual transformation might occur because two-way communications and standard-metering devices, collecting data on a real-time basis, would explode the amount of network information utilities can access. With built-in control systems, they also multiply the grid operator's ability to manage loads and control power flows. The operational possibilities are almost endless,