Deck:
AEP rekindles debate over grid pricing, but should the outcome hinge on majority rule?
Author Bio:
Bruce W. Radford is publisher of Public Utilities Fortnightly.
You might have thought the Feds closed the book on any broad, region-wide sharing of sunk transmission costs—especially after FERC ruled last spring in Opinion No. 494 that PJM could stick with license-plate pricing (LPP) for transmission lines already planned and built.
If you thought that, you weren't alone. Of 25 transmission owners (TOs) in the Midwest ISO (MISO), 24 voted recently to do the same for their market as well.
Starting in late 2006, the Midwest TOs had explored quite a few different pricing alternatives, including postage-stamp pricing to spread grid costs over a wide area, depending upon line voltage or other factors. But once the PJM ruling came down, the Midwest grid owners saw it as a "signal." They said FERC "likely would look favorably" on license-plate pricing for MISO for the long term.
The LPP model, of course, would see PJM, MISO and their participating TOs billing the costs of prior grid investments only to those customers (ultimately, the retail ratepayers) residing in the zones where the lines were built. For example, New Jersey ratepayers would pay nothing for using an Ohio transmission line to import cheap coal-fired power from Illinois. Factors such as line length, voltage, power flows or manner of use would make no difference, at least for these so-called "existing" facilities.
Consider, however, the resulting dismay of American Electric Power (AEP), the nation's leading booster and utility investor in extra-high-voltage (EHV) transmission lines (capacities ranging from 345 kV to 765 kV). AEP for years has led a crusade to convince FERC and the industry to rethink its pricing model for grid facilities built long ago—that voltage should matter more than vintage. In AEP's world, consumers across a broad swath of the Eastern Interconnection would pay at least something for the EHV lines lying within AEP's service territory—regardless of when they were built. In AEP's view, those EHV lines enable East Coast consumers to save big on long-haul power imports from the Midwest.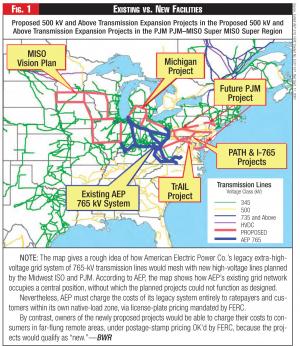 Nevertheless, on at least two prior occasions involving PJM pricing rules (the latest being FERC's Opinion 494) AEP had proposed its ideas to FERC through various and uncounted motions, affidavits and briefs, only to lose on the merits.
However, while AEP has failed to persuade FERC to adopt a full-scale voltage-based, "highway-byway" pricing regime for existing EHV lines, with region-wide cost-averaging based on load-ratios (known as "postage-stamp" pricing), FERC has agreed to go halfway, by dabbling with postage-stamp pricing for certain newly planned and constructed lines.
In Opinion 494, setting grid pricing policy for PJM, it OK'd 100 percent postage-stamp pricing for new lines 500-kV and up. Lesser new lines in PJM would qualify for a "beneficiary-pays" pricing regime, which assigns costs and rates selectively to various facility users, based on their measured usage and perceived benefits (see Opinion No. 494, Docket No. EL05-121, Apr. 19, 2007, 119 FERC ¶61,063).
Similarly, for MISO, in a pair of orders implementing that region's RECB program ("Regional Expansion Criteria and Benefits"), FERC also has approved a smaller 20-percent dollop of postage-stamp pricing for certain newly built lines that are 345 kV or greater. The first case (RECB-I) applies to projects built to meet reliability needs (see RECB-I, Docket ER06-18, Feb. 3, 2006, 114 FERC ¶61,106, on rehearing and clarification Nov. 29, 2006, March 15, 2007).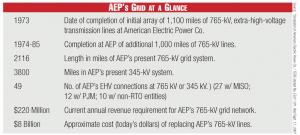 The second case governs economic projects to facilitate sales of lower-cost generation. (See, RECB-II, Docket ER06-18, March 15, 2007, 118 FERC ¶61,209, rehearing July 23, 2007.)
Nevertheless, these new pricing experiments for newly planned and built lines offer no help to AEP in recovering the embedded costs of its extensive existing EHV grid network, which includes a large array of 765-kV lines largely planned and built back in the 1960s, '70s, and '80s. Recovering those costs entirely from AEP native load would impose an enormous burden on the company's ratepayers. And, after all the adverse FERC rulings, AEP's day in court, it would seem, had come and gone.
Then in late summer came a new development that rekindled the entire debate. It gave a second wind to AEP and its relentless quest for fairness in regional transmission pricing design.
Path of Least Resistance
The origin for this second wind was the so-called "cross border" case. That's the case in which FERC several years earlier (in November 2004) had asked both MISO and PJM to explain, irrespective of each region's current grid-pricing rules, how they would propose to allocate costs and set transmission rates for new cross-border projects. Such investments would include new grid expansion projects that would straddle both regions: Those projects planned and built to capture significant benefits across the entire combined, MISO/PJM "super-regional" footprint.
Importantly, these new cross-border rules would apply after the close of a transition period during which FERC had worked to eliminate transmission-rate pancaking for transactions running between MISO and PJM, or into and out of the region. By first eliminating the so-called "through-and-out" grid charges, and then adopting a surcharge (known as "SECA") to soften the blow during a temporary transition period, FERC had pushed the industry toward a fully integrated and eventually seamless super-regional combined MISO-PJM market.
Thus, a key feature of this cross-border pricing investigation was for MISO and PJM to fashion new pricing rules that could prosper within the new vision. FERC urged MISO and PJM to convene extensive stakeholder conferences, and to report back by a deadline of Aug. 1, 2007, to propose "post-transition" rules that would take effect on Feb. 1, 2008.
Nevertheless, when it came time to submit their joint, post-transitional cross-border scheme, MISO and PJM offered nothing new. In the specifics, they chose not to file any sort of proposed tariff at all. Suggesting that their respective members were exhausted by too many late-night stakeholder sessions, MISO and PJM told FERC they would simply fall back on their existing tariff arrangements, a regime that now is being called the IRPD, or "Independent RTO Pricing Design." In reality, the IRPD was nothing but old wine in a new bottle.
In other words, for new cross-border projects—those with wide-ranging regional impacts—the IRPD promised no change from the status quo. That meant traditional license-plate pricing still would apply, with native-load ratepayers bearing the brunt, at least up until the time that MISO and PJM stakeholders might get up enough energy to reconvene and reconsider alternative pricing designs. (See IRPD, FERC Docket ER05-6-100, filed Aug. 1, 2007.)
Into this vacuum stepped AEP. Call it nerve, brass, cheek or gall—or an illegal collateral attack on FERC policy, as some have maintained—but AEP claimed this new cross-border case gave it the perfect right to seek a third bite at the apple.
And so in mid September, AEP filed a massive complaint at FERC, alleging license-plate pricing is unjust and unreasonable for high-voltage transmission lines that serve both local and regional needs, regardless of when the facilities are built. AEP proposes instead that FERC must adopt postage-stamp pricing (using region-wide cost allocations) for EHV lines with a capacity of 345 kV or greater. Or, if not, then at least for 500-kV lines, or 765-kV lines (see FERC Docket No. EL07-101, filed Sept. 17, 2007).
Clearly AEP still is bucking the tide. Its proposal still entails massive shifts in cost allocations and rate responsibility among utilities and regions. Loath to face disgruntled consumers (or their proxies on Capital Hill), FERC has warned such cost shifts could leave each RTO facing disgruntled members and threats of defection. AEP's complaint has attracted few outright allies, if any. Opposition from the major TOs appears nearly unanimous. Most have told FERC it must dismiss the complaint out of hand, under principles of res judicata and collateral estoppel. (Too many bites at the apple.)
Yet, by many principles of utility rate making, which traditionally seeks to align rate responsibility with cost causation and realization of benefits, AEP's arguments cannot be so easily dismissed.
Consider the Organization of MISO States (OMS), comprised of state utility regulators representing MISO-area ratepayers. While it opposes AEP, it acknowledges that the complaint raises "some thought-provoking issues," and concedes even that PJM's current grid-pricing regime, as approved in Opinion 494, "is unfair for AEP and its customers."
Comments submitted by Ohio Assistant Attorney General Thomas W. McNamee, on behalf of the Ohio Public Utilities Commission, argue that physical and commercial connections between grid users across the Midwest are not strong enough to warrant regional cost-socialization on a simple load-weighted basis. Yet rather than retreat to the past, McNamee urges FERC to conduct a precise cost allocation using RTO-style algorithms:
"The Ohio commission contends this is precisely what the commission [FERC] needs to recognize—that these are real measures, and that region-wide impacts can in fact be determined."
All the same, the mainline utility industry, now sometimes referred to as VITOs—the "vertically integrated transmission owners"—remain dead set against AEP, or any significant widening of cost-sharing for existing grid facilities already planned and built. As was seen in April, in FERC's Opinion 494, the VITOs have hit FERC where it is most politically vulnerable—by convincing the commission that cost shifts from postage-stamp pricing could undermine RTO participation and spark defections. That's why the smart money will bet on FERC to bow to majority rule and reject the AEP complaint.
Yet, as Ohio's McNamee asked, "Since when is rate-making a popularity contest?"
Regional Battlegrounds
For little G&T cooperative Buckeye Power Inc., license-plate pricing has proved a disaster, and things are getting worse.
Headquartered in Columbus, Ohio, Buckeye supplies wholesale power (some from its own generating plants) to its 25 member electric distribution retail cooperatives. Those retail co-ops serve some 360,000 residential, commercial and industrial retail electric customers, residing in parts of 77 of Ohio's 88 counties, with a combined load of about 4.06 MW.
License-plate pricing hurts Buckeye Power for multiple reasons, as consultant J. Bertram Solomon (GDS Associates) points out in testimony filed with FERC in the AEP complaint case (see "Comments of Buckeye Power, Inc.," FERC Docket No. EL07-101, filed Oct. 29, 2007).
First, most of Buckeye's proprietary gen resources are connected directly to AEP's transmission system within PJM, so Buckeye, just like AEP's native load, must help fund AEP's legacy EHV grid system through the payment of license-plate rates.
Second, those license-plate rates have ballooned recently. That's because AEP lost about $150 million in annual revenue support (its own numbers) when FERC eliminated the regional T&O rates AEP used to charge for transmission service on off-system sales of surplus power. The revenues were gone for good when FERC let the temporary SECA surcharge run out on a sunset date of March 31, 2006.
That forced AEP's license-plate rates to climb further, by about 50 percent, from about $1.08/kW-month, to the current network zonal service charge of about $1.76/kW-month.
All this has produced a transmission bill for Buckeye and its member co-ops of about $22.5 million per year, or more than 60 percent higher than $13.8 million in license-plate grid rates than Buckeye would have paid otherwise.
Buckeye's fate stands to worsen, in fact, as it also faces the dreaded "double whammy" that comes from FERC's approval of postage-stamp pricing in Opinion 494 for lines 500-kV and up in PJM.
Thus, in future years, as PJM utilities "play catch-up" by building more EHV 500-kV and 765-kV lines to facilitate Midwest power exports to the power-starved New Jersey and Baltimore/Washington areas in the East, and assigns those costs across the entire region, some costs will fall on Buckeye. Yet Buckeye still must help fund AEP's legacy EHV grid network, under license-plate pricing, without any cost support from other regions.
(By the way, of the 68-cent increase in AEP's grid charge per kilowatt-month, about 13.5 cents came from AEP's much-touted recent completion of its trouble-plagued and long-delayed $300 million 765-kV Wyoming to Jackson's Ferry transmission line in Southwest Virginia. With FERC Chairman Joseph Kelliher and U.S. Rep. Joe Barton (Tex.) in attendance at its May 2006 dedication, that line became energized on June 20, 2006. Planned way back in 1990, the line cannot qualify as a "new" facility. Thus, under PJM rules, it remains captive to license-plate pricing.)
Now move west, across the Indiana line, to Indianapolis Power & Light (IPL), another big loser in the grid-pricing game. Contrary to the Buckeye situation, however, IPL's beef is with MISO, rather than PJM, and it sees postage-stamp pricing as the enemy. IPL thus calls for a return to license-plate pricing for all grid facilities, both old and new, for its salvation.
IPL argues MISO's current grid-pricing regime (which includes some postage-stamp area-wide cost sharing for new EHV lines) has cost the state of Indiana millions in excessive transmission charges shifted to it from regions under postage-stamp pricing. To be exact, IPL estimates each year it must pay over $7 million to fund new third-party grid projects located elsewhere within the MISO footprint, just counting those projects approved by the RTO in MISO's 2006 transmission expansion plan (MTEP 2006). By contrast, however, IPL says it gets exactly zero in cost contributions from third parties for maintaining the IPL system, since IPL is not now expanding its 345-kV legacy grid system that loops the city of Indianapolis, and foresees no need to do so anytime soon. IPL claims its zonal transmission rate of $685/MW-month ($0.68/kW-month, in contrast to AEP's) stands as the second lowest zonal transmission rate in MISO, less than 35 percent of the average rate within the RTO.
Overall, IPL estimates this "imbalance" in out-of-region cost contributions, with respect to the state of Indiana as a whole, will balloon to $42 million by 2015 or $92 million by 2020, "as other areas of the MISO footprint 'catch up' in terms of transmission investment" (see Motion to Intervene and Protest of IPL, FERC Docket No. ER07-1261, filed Sept. 17, 2007).
IPL also cites data prepared by AEP in its complaint showing that postage-stamp pricing for all lines 345-kV and up in both MISO and PJM, as AEP has proposed, would drive up the cost of service for IPL's transmission-sector by 40 percent or more by 2012.
Thus, as with many other transmission owners, IPL voices a common refrain in its comments opposing the AEP complaint. It asserts that AEP's real motivation comes not from any noble effort to achieve fairness in transmission pricing regimes. Rather, IPL suggests AEP's complaint simply attempts to recover the transmission revenue the company lost when it chose to join PJM to secure the benefits of a wholesale power market, and thereby forfeited its right to collect pancaked T&O grid charges on its off-system sales:
"In effect," writes IPL, "AEP has 'solved' its problem of lost third-party transmission revenue credits by finding innocent victims to repay the money."
Alternative Plans
While AEP's complaint has made the biggest splash, many other proposals have emerged as well. One in particular deserves a detailed look.
At the same time MISO proposed to retain license-plate pricing indefinitely for legacy grid facilities in its so-called post-transition transmission pricing proposal, known as the "PTTP" (see FERC Docket No. ER07-1233, filed August 1, 2007), a splinter group made up of stand-alone transmission companies (MSATs) joined with Wolverine Power Supply Co-op. Inc., in floating an alternative plan that would impose a higher degree of regional cost-sharing.
The ad hoc MSAT coalition includes American Transmission Co. LLC (ATC)—the company set up by Wisconsin state law to take over much of that state's power grid. It also includes International Transmission Co. (ITC) and Michigan Electric Transmission Co. (METC), which acquired the transmission assets of Detroit Edison and Consumers Power, respectively.
The MSAT proponents would not ask FERC necessarily to abandon license-plate pricing for legacy grid facilities, as AEP wants. However, the MSAT plan would liberalize MISO's grid pricing regime by boosting the 20-percent share eligible for postage-stamp pricing under the RECB programs to a full 100 percent. Also, the MSAT plan would exempt RECB-II projects from having to satisfy MISO's special cost-benefit test for projects of 500-kV and up (see "Post-Transition Proposal, Midwest Stand-Alone Trans. Cos.," FERC Docket No. ER07-1261, filed Aug. 1, 2007).
The 20-percent postage-stamp sharing percentage MISO adopted for major new grid projects of 345-kV was derived largely from a load-flow study completed and reported to FERC two years ago. That study examined what would happen if a typical MISO utility were to decide to serve its native load using network generating resources located only within its own native-load control area. In that case, the study found on average about 20 to 30 percent of the transmission flows required to achieve that hypothetical dispatch would occur on lines external to that utility's native service territory. From that study came the notion to adopt postage-stamp pricing for remote utility zones to contribute 20 percent of the cost of major new grid projects, whether required for reliability, or desired for import-export benefits.
Now, however, the MSAT companies say that analysis is out of date. As they point out, the cited study was conducted before MISO introduced its "day-two" market with locational marginal pricing (LMP) and a region-wide dispatch. By contrast, the MSAT coalition claims now that when generation is dispatched on a regional basis with MISO, one sees external line flows of 75 percent (not 20 to 30 percent) relative to flows within the load-serving utility's native load territory. In short, grid sectors appear more closely connected, thereby justifying a higher degree of cost contribution from remote areas for a given new grid project.
Second, consider the cost-benefit test that MISO requires for postage-stamp pricing for new "economic" projects, and how MISO uses that analysis to allocate the 80 percent of costs for new grid projects not subject to postage-stamp pricing, and how the MSAT proposal would revise it.
In MISO, project sponsors seeking to spread costs around to third parties for new grid projects designed to spur generation development and create economic benefits must meet a cost-benefit test. Under the WGNL formula (weighted gain/no loss), project sponsors must calculate the savings in power-production costs and the reductions in LMPs that will occur if the new line goes through. With production savings weighted at 70 percent, and LMP differentials at 30 percent, sponsors must prove prospective benefits will exceed grid project costs according to a sliding ratio that ranges from 1.2 to 1, to 3.0 to 1.
The MSAT coalition balks at this hurdle. According to ATC, ITC and METC, these cost-benefit ratios will be largely "unattainable" for the larger, longer-term projects for which postage-stamp pricing was designed:
"The average length of time it takes to site and construct a 345-kV transmission line in Minnesota is seven years. If such a project is not immediately needed for reliability and must qualify as a regionally beneficial project in order to trigger regional cost sharing, it must meet a benefit-to-cost ratio of 2.4 to 1.0. …
"It is difficult to imagine many projects meeting this threshold, particularly considering the only benefits taken into consideration are those related to production costs and LMP reductions."
In fact, the Michigan Public Service commission concedes that MISO's cost-benefit test "may be difficult for larger projects to meet," but it insists on retaining it. Otherwise, ratepayers would be vulnerable to costly, gold-plated grid projects.
And Senior Attorney Bryan Little, commenting on the MSAT proposal on behalf of Consumers Energy, notes that once MISO includes a grid project in its annual transmission-expansion plan, there is no prudence review at FERC.
The MSAT companies counter by quoting FERC Commissioner Suedeen Kelly's recent comment that "it is better to spend a little more on transmission if it will spawn larger savings in generation."
Yet Consumers Energy remains wary. The MSATs "aren't planning to spend just a little more," writes attorney Little. "In reality they are planning to spend a lot."
Some Thought-Provoking Ideas
What should we glean from the fact those most unhappy with the status quo are:
• The single utility in the United States with the largest investment in legacy high-voltage transmission assets; and
• A group of stand-alone transmission owners (ATC, ITC and METC) that do not own generation and do not serve customer load, so their entire business plans and revenue opportunities can come only from building and operating transmission lines?
Many of the utility transmission owners that oppose the AEP complaint (the vertically integrated VITOs that have retained both transmission and gen plant assets) argue that a reduction in transmission revenues is the result that AEP asked for and deservedly got when it joined PJM. They see the loss of T&O charges and revenues as the logical quid pro quo for the enhanced opportunities to export and market proprietary generation accompanying participation in a regional RTO market, like PJM's. FERC should not trouble itself to make AEP whole on the transmission side; that support should come instead from the gen-sector.
Yet, what if AEP had joined the ranks of other traditional utilities and had divested itself of all its generating plants? Where would the revenue then have come from to replace that lost from the elimination of T&O charges and other transmission rates for transactions into, out of, and through RTO seams?
A telling observation comes from IPL, the utility that believes it already has all the grid assets it needs, and which opposes region-wide cost sharing, urging instead a return to license-plate pricing (local cost allocation only) for all grid facilities, whether new or legacy.
In opposing the MSAT proposal to expand postage-stamp pricing in MISO, advanced by a group of three stand-alone grid companies, IPL explained:
"The commission also must be cognizant of the specialized business model that is reflected in the petition … based on the construction [of] facilities without corresponding responsibility for generation, distribution or retail customer service. Thus, to the extent capital costs can be passed to customers beyond the footprint in which a local facility is being constructed, the business model is facilitated."
These comments would suggest there is something wrong with the idea of a transmission-only utility, or that transmission can serve as a profit-making sector. And yet FERC's policy direction so far has sided clearly with the majority. Call it rate-making by head count. By any measure, FERC so far has left scant room for a viable business model keyed only to the building of transmission lines.