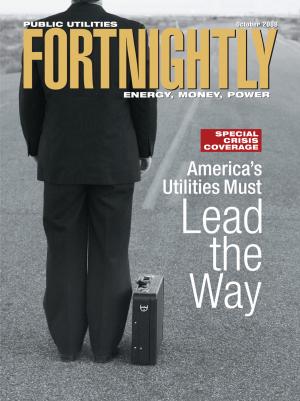 New Opportunities: Xcel Energy named David Sparby president and CEO of Northern States Power Minnesota. Sparby succeeds Cynthia Lesher who retired Sept. 30. Sparby headed Xcel Energy's government and regulatory affairs division and that role will be filled by Scott Wilensky as vice president of government and regulatory affairs.
Entergy Corp . appointed Terence Burke general counsel and chief legal officer for EquaGen, the joint venture operating company to be owned 50 percent by Entergy and 50 percent by Enexus Energy, the company Entergy will spin off as new owner of its wholesale nuclear plants. Steven Agresta was named executive vice president, general counsel and chief legal officer for Enexus Energy.
NorthWestern Energy appointed Robert C. Rowe as president and CEO. He was co-founder and senior partner at Balhoff, Rowe & Williams, and earlier served on the Montana PSC.
New York ISO promoted Henry Chao to vice president of system and resource planning from director of system and resource planning.
The Nuclear Energy Institute elected John (Jack) S. Keenan , senior vice president and chief operating officer at Pacific Gas and Electric, to its executive committee.
Avista announced Mark Thies joined the company as senior vice president and CFO in September. The position was held by Malyn Malquist , Avista's executive vice president who will continue to play an active role on the senior executive team.
Great Plains Energy , the holding company for KCP&L, realigned its executive team upon acquisition of Aquila, with John Marshall named executive vice president of utility operations, a new position. Mike Deggendorf will move from vice president of public affairs to senior vice president of delivery, a position previously held by Marshall. Bill Riggins is appointed general counsel and chief legal officer of Great Plains and Chuck Caisley is senior director of public affairs for KCP&L.
American Electric Power named Charles E. Zebula senior vice president and treasurer from senior vice president of fuels, emissions and logistics.
Calpine Corp. appointed Jack A. Fusco president and CEO, and also a member of the board. He succeeds Robert P. May who retired. Calpine named W. Thaddeus Miller executive vice president, chief legal officer and secretary. He was executive vice president and chief legal officer with Texas Genco.
Constellation Energy appointed Tony Padgett general manager of the Hillabee Energy Center, a partially completed 774-MW natural gas power plant in Alabama.
Pepco Energy Services hired J ohn Glynn as regional energy manager to enhance expansion into the New England energy market.
Kohlberg Kravis Roberts appointed John E. Bryson as a senior advisor. He is the retired chairman and CEO of Edison International.
American Water Works appointed Walter Lynch to the new position of president of regulated operations and John Young as president of American Water Services, a new entity to promote service offerings. Young will continue in his position as president of American Water Works Service Co.
Black & Veatch announced the promotion of Michael A. (Mike) Elzey to senior vice president of its Enterprise Management Solutions (EMS) division. Ross C. Hemphill joined that division as a director in its